UK and Europe weather forecast latest, September 11: Wet and windy weather to cover many parts of Europe
Wet and windy weather is forecasted to cover many parts of Europe as some areas go through temperatures falling. Meanwhile, parts of the UK will brace for heavy rain over the weekend before a severe heatwave.
UK's weather forecast
According to Express, two weather fronts are preparing to smash into the UK bringing powerful downpours for some northern areas. Scotland, Northern Ireland and parts of northern England are forecast to be worst effective.
However Met Office meteorologist Clare Nasir said temperatures will rise again next week. She said: "It will warm up into next week significantly turning hot in the south-east in the first part of the week with some warm sunshine pretty much anywhere."
Thursday will start cool for most of the country though it will be largely dry. Heading through the day Britain should expect cloudy conditions, with the sun sometimes breaking through, and some showers for northern Scotland later on.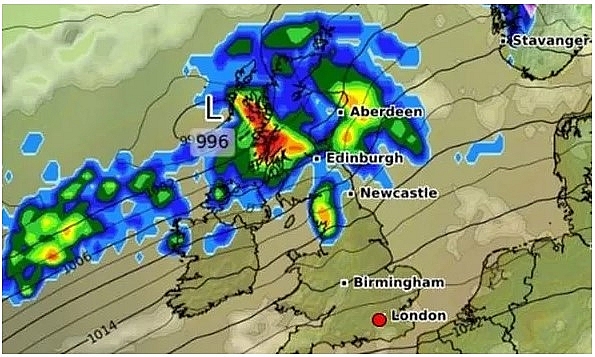 Heavy rain is expected over northern parts of Britain (Image: WXCHARTS)
Ms Nasir forecast: "A cold start, wrap up warm if you are out and about first thing. We could find the cloud building through the middle part of the day."
"Certainly for Scotland and Northern Ireland a band of cloud will come in from the Atlantic and bring in some showery bursts of rain which will affect northern and western parts of Scotland through the afternoon."
"Elsewhere it's a mostly dry end to the day and certainly we'll see some sunshine further south and east across England and Wales, temperatures here around 17-20 celsius, further north 14-16 will be your highs."
The first weather front will begin moving over northern parts of Britain towards Thursday evening. This will produce some heavy rain which will continue southwards through Friday and Saturday.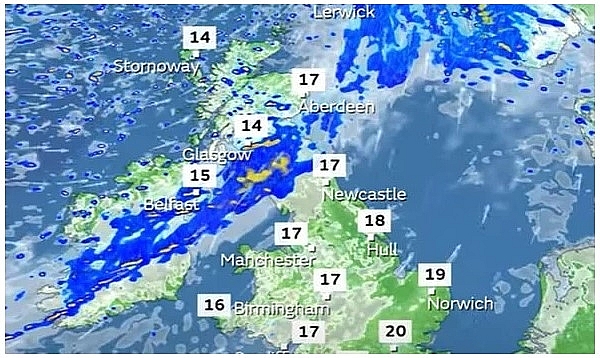 The rain will be brought over by two separate weather fronts (Image: GETTY)
However the south of England and midland's should remain relatively dry throughout the weekend.
Ms Nasir explained: "Through Thursday evening we will continue to see showery rain across the north and west of Scotland. It will intensify later as a weather front moves in."
"That will really herald a change in our weather across the north. We're likely to see some high rainfall totals through Friday and into the weekend."
"This weather front then sinks down towards mainland Scotland as well as Northern Ireland eventually reaching on Friday northern England later on in the day as well as the far north of Wales."
"To the south of that it's fine and dry with some sunshine, a bit breezier, and across the north we will see some showers arriving."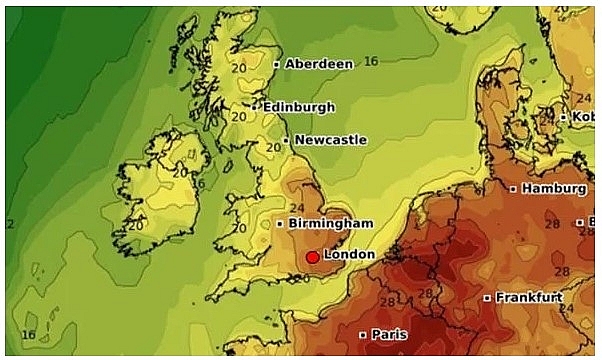 Parts of Britain should expect a mini-heatwave next week (Image: GETTY)
Saturday will see strong winds for much of the country with another weather front crashing into northern areas.
This is expected to bring more rain for Scotland and Northern Ireland. However temperatures will begin rising in England and Wales beginning a trend which continues into next week.
The highest rainfall is expected across western parts of Scotland.However there are no Met Office weather warnings currently in place for the next few days.
On September 11
Broken cloud affecting western areas of Wales and England on Friday, the risk of a few spots of rain on hills. Central and eastern parts will be brighter with sunny spells and staying dry through the day, Weather Online reported.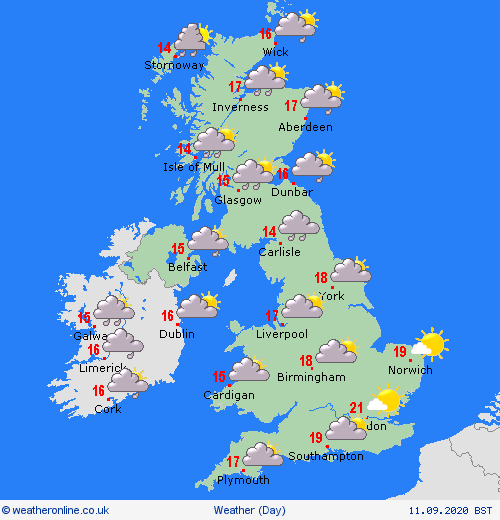 Photo: Weather Online
A front pushing south through Scotland as well as northern and western Ireland will be bringing cloud and outbreaks of rain, these most persistent in western Scotland. Windier in Scotland too with some more persistent rain reaching the north again later. Highs at 22C in the southeast, 15 to 18C elsewhere.
Europe's weather forecast
BBC WEATHER forecast a "wet and windy" week ahead for many parts of Europe as thunderstorms and heavy rain threaten to cause localised flooding in some areas while other regions experience temperatures falling.
BBC meteorologist Darren Bett warned that there is still rather unsettled weather across northern most parts of Europe. He said that there'll be some strong winds at times due to areas of low pressure, bands of cloud and rain. An area of cloud will also continue to move its way southwards across Scandinavia.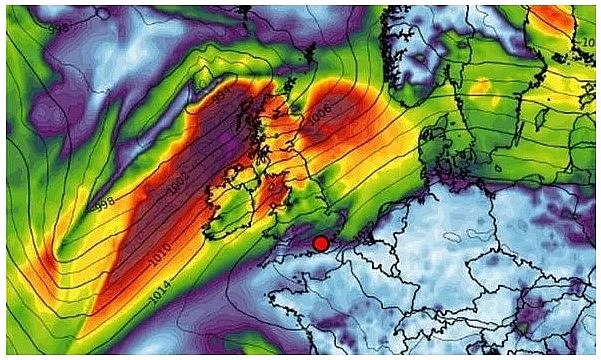 BBC Weather: Vicious winds whip Europe as intense thunderstorms threaten flooding (Image: WXCHARTS)
Mr Bett told viewers: "It will bring some wet and windy weather for the Baltic states. It will also introduce some fresher air. At the same time we've got some thunderstorms across some parts of the Mediterranean."
"It will probably be moving away from the Balearics heading towards Corsica, Sardinia and some other mainland areas of Italy."
He continued: "Towards the southeast of Europe, it's dry, hot and sunny. Nothing much will change here in the next few days.
"But coupled with those heavy showers through the Mediterranean, we'll get a few thunderstorms across the Alps."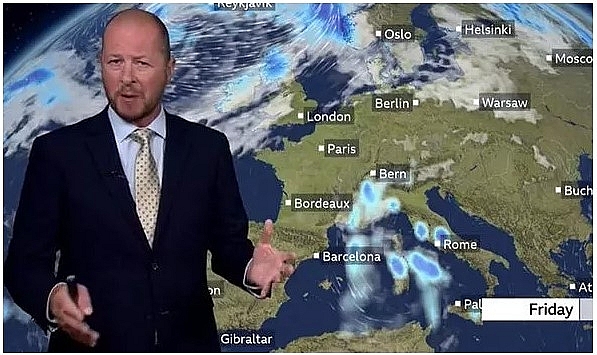 'It will bring some wet and windy weather for the Baltic states.' (Image: BBC)
"Then to the north of that band of cloud there, this is where we've got the cooler and fresher air."
The weather presenter added: "Some windy conditions will be around the Baltic states as well. The winds may ease off a little bit on Friday. Another spell of rain though will come into Norway."
Mr Bett said: "Still across central parts of the Mediterranean, this time there'll be the chance of some thunderstorms."
"Some heavy rain will threaten some localised flooding as well. Looking ahead over the next few days, there's some much warmer weather on the way for London and also in Paris."
"It will cool down and turn much more changeable across Iberia. Further east, it's still dry with plenty of sunshine, but a little bit cooler in Berlin."
On September 11
Fair again in Spain and Portugal on Friday. Showers affecting the Balearics with some heavy thunderstorms in Corsica and Sardinia. Heavier showers in northern Italy, but drier to the south. Greece and Turkey will be dry with good spells of sunshine and feeling warm as well, according to Weather Online.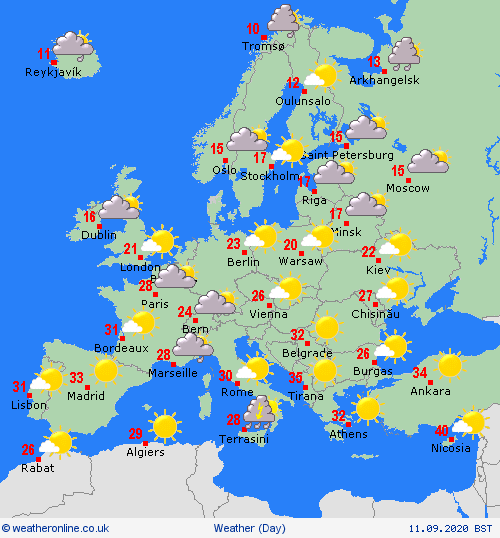 Photo: Weather Online
Showers in southern France. Fair across much of central and northern France with more sunshine. The Low Countries and Germany as well as Poland will have lots of sunshine and dry weather. Further sunshine and fair weather for Hungary and Austria whilst there will be some heavy showers in Switzerland.
Denmark will be dry with more spells of sunshine. Much of Sweden will be dry as well, and there will be sunshine here. Scattered showers for the Baltic States as well as Finland. Cloud and rain, some of it heavy in western parts of Norway where it is going to be windy as well.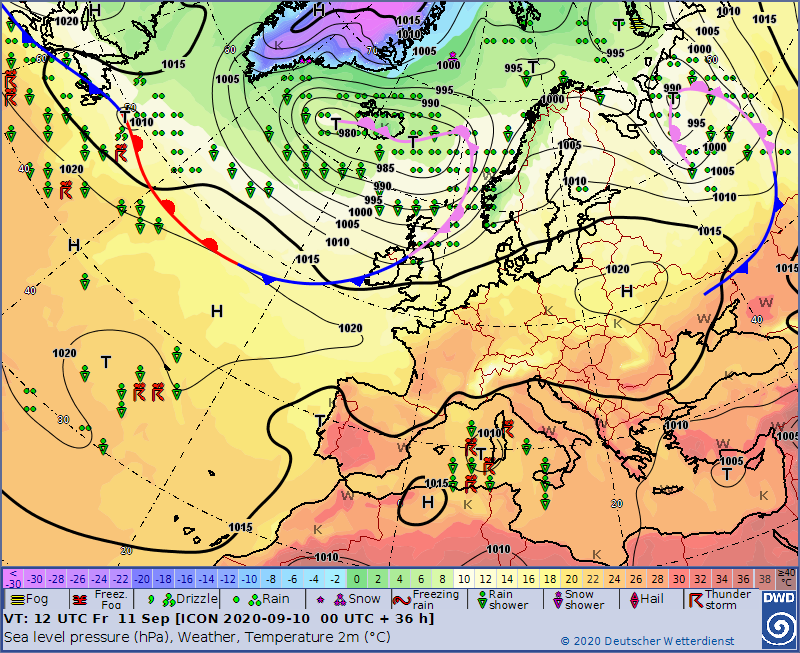 Photo: Stirimeteo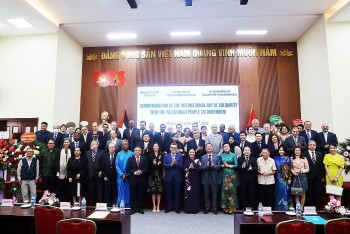 Focus
The Vietnamese people support the righteous struggle of the people of Palestine for independence and freedom.