UK and Europe weather forecast latest, September 15: Britain to go through a two-day heatwave with 30C temperature
Britain is forecasted to cope with a two-day heatwave with 30C temperature. Meanwhile, high pressure brings largely dry conditions, although expect some rain in western Europe and west Scandinavia.
UK's weather forecast
According to Express, Britain is set to bake in a two-day heatwave with the mercury reaching 30C, as Britons prepare to enjoy the soaring temperatures.
BBC Weather also forecast summer-like temperatures will take over across large areas of the UK for a mini-heatwave before rainy conditions resume.
BBC Weather forecaster Matt Taylor said the UK will see thermometers rocket to temperatures unseen since the autumn of 2016. Southeastern areas are expected to hit as high as 30C on Monday and Tuesday, with the rest of the UK set for double figures. Mr Taylor however noted the "summer boost" will be short-lived as temperatures are expected to once again return to their seasonal average from mid-week.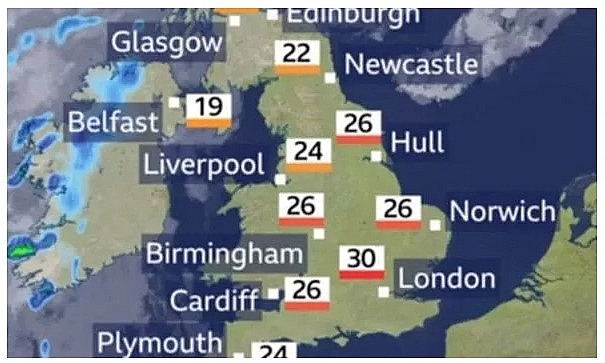 BBC Weather forecast a mini-heatwave for the start of the week (Image: BBC WEATHER)
The meteorologist said: "A late boost of summer is going to be with us for the next few days. The forecast is one in which we will gradually see that heat return and build, particularly to the south and the east of the country."
"We had relentless rain at the weekend across the West of Scotland, that's now eased away today at least, we'll see some heavy rain back later."
"But a much better day here, especially after the recent flooding but some of the hottest conditions we found particularly across England and Wales."
"Lots of cloud to begin with across Scotland and Northern Ireland, it is a bit damp and drizzly across some wester areas, rain is possible to the east of Scotland and to the east Northern Ireland today, so that will help lift temperatures here compared to the weekend."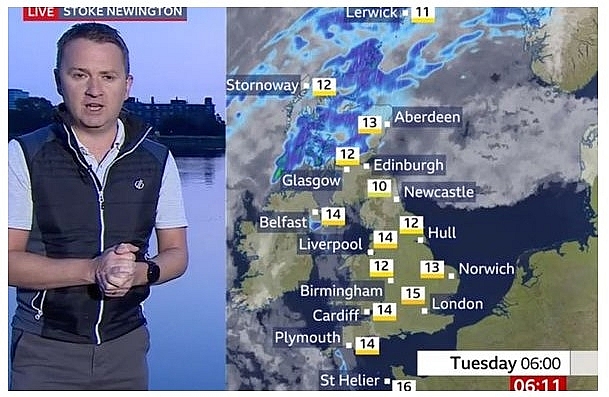 BBC Weather: Temperatures will remain mild overnight (Image: BBC WEATHER) He said: "The heavy rain overnight into parts of Scotland eases its way nort
Mr Taylor continued: "Across England and Wales, mist and fog patches to begin with, those will clear for long, blue skies that will take us into the afternoon."
"Temperatures could hit 30C across the southeast corner later. The first time we've seen 30C in September since 2016. That heat though will lead us into quite a nice night for many of us tonight across England and Wales, it should be dry and clear with some patchy mist and fog again."
"But in Scotland and Northern Ireland some heavy bursts of rain return for a time - not great news as we've seen flooding in western Scotland. Across the board temperatures holding up in double figures, in the mid-teens, to take us into tomorrow morning."
Mr Taylor forecast rain will continue to plague Scotland and Northern Ireland through Tuesday morning, with some isolated showers also set to hit across England and Wales.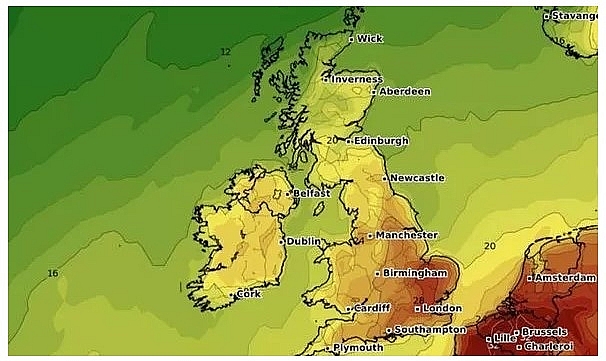 UK weather forecast: Britain braces for two-day 'Saharan' heatwave as maps turn red (Image: WXCHARTS)
He said: "The heavy rain overnight into parts of Scotland eases its way northwards through tomorrow and there'll still be a few showers across the west, a bit more cloud in Wales and western parts of England, in particular, producing the odd, isolated showers."
"But eastern parts of England tomorrow are staying dry and sunny and, again, close to 30C. But it is just a brief burst of heat, things turn cooler later."
Mr Taylor said conditions will brighten for most of the UK through Tuesday despite a cloudy start across western areas.
Temperatures will slowly start to return to their seasonal average as a northeasterly moves in across the UK, bringing thermometers down to 12C in some areas.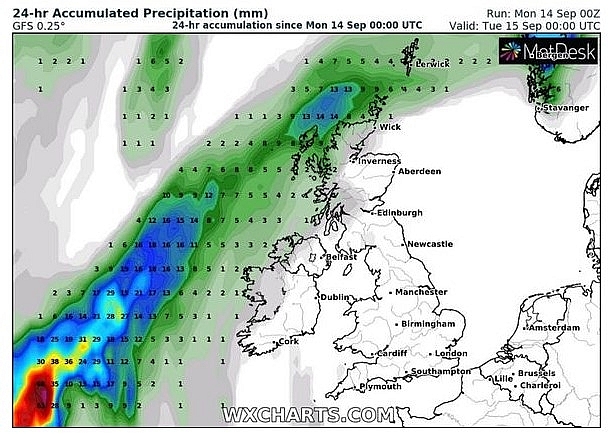 The soaring temperatures could span until Wednesday (Image: WXCHARTS)
The BBC Weather forecaster said: "Into tomorrow, there will be more cloud generally, particularly in western areas but there's not going to be as much rain."
"Here it could be actually a little more brighter tomorrow afternoon and it will be a bit warmer."
"But this all changes as we go into Wednesday, we switch our wind round for a northeasterly, that will bring low cloud across eastern parts of Scotland, northeast England, there will be some drizzle to go with that."
"Largely dry and bright, still around 24C in the east and south of England but it's going to be around 12C to 13C across some parts of Scotland. So after a brief upsurge in temperatures, they will be down again."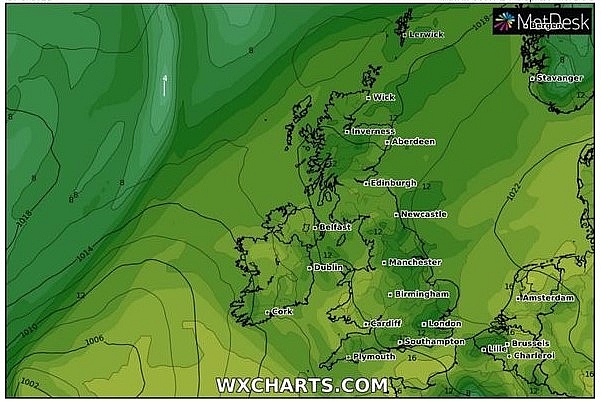 Britain is set to bake in a two-day heatwave with the mercury reaching 30C (Image: WXCHARTS)
Europe's weather forecast
According to Weather Online, thundery showers for Portugal and western parts of Spain on Monday, these heaviest to the north. Staying dry and fine for eastern Spain and the Balearic Islands.
Dry and sunny for Corsica, Sardinia and much of Italy though thunderstorms could flare up again over the far south of Italy and for Sicily. Mostly dry, sunny and warm for the Balkans, Greece and Turkey though one or two showers could develop over northern areas.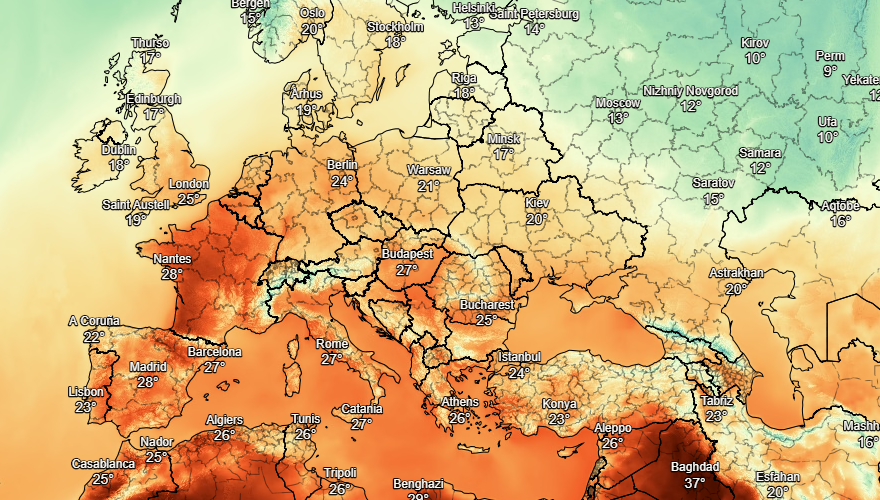 Photo:Stirimeteo
High pressure is centred over southern Germany on Monday keeping conditions dry, fine, warm and sunny for much of central Europe. France, Germany, the Low Countries, Switzerland, Austria, the Czech Republic, Poland, Slovakia and Hungary all seeing a largely dry and fine day.
Dry, fine and sunny conditions spread into southern Scandinavia too on Monday with a dry, sunny and warm day for Denmark. Early rain clears east from the Baltic States to give a dry, sunny day here too and for Finland. Dry, warm and bright for much of Sweden as well as for eastern Norway though fronts moving in from the North and Norwegian Seas bring rain to western coastal regions of Norway.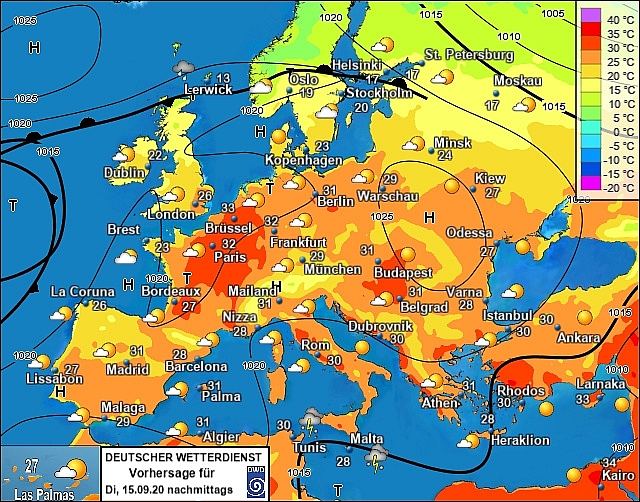 Photo: Stirimeteo
On September 15
Thundery showers push east across Spain through the morning before largely fizzling out. Largely dry elsewhere but more rain looks to push into northwest Spain and Portugal later.
Cloudier skies will develop across the Balearics with the risk of a shower developing but mainly dry here. Dry for Sardinia and Corsica but thundery showers developing over Sicily as well as central and south Italy. Dry, fine and sunny for Greece and Turkey.
With high pressure still the main weather feature across central and northern Europe expect plenty of dry conditions for many.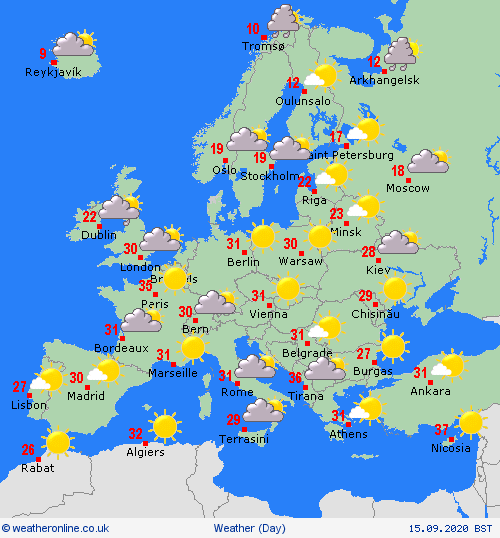 Photo: Weather Online
However, showers look to develop over Austria and Switzerland pushing into the far north of Italy later on. West France also looks to gain cloudier skies with some patchy rain moving in here through the day.
Largely dry across much of Sweden and Finland as well as through the Baltic States and over Denmark. Although, cloudier skies are expected across central parts of Sweden and southwest Finland later, where patchy light rain will affect these areas. Western and northern parts of Norway will see rain, some heavy at times. Drier further south and east.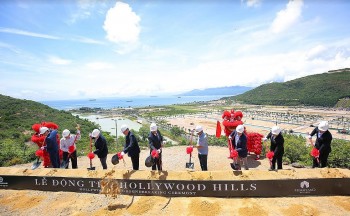 Economy
On October 2, at Hai Giang peninsula (Quy Nhon city, Binh Dinh), Hung Thinh Corporation held the groundbreaking ceremony of Hollywood Hills by YOO Inspired by Starck – a subdivision at MerryLand Quy Nhon. The event marks the first time that the world's No.1 ranked design and branded residence company YOO Inspired by Starck is officially present in Vietnam, with a collection of villas designed by creative director, Philippe Starck.