UK and Europe weather forecast latest, September 14: Britain to bear a midweek plume of heat
Britain is forecasted to bear a midweek plume of heat with temperatures become very warm in the south on Monday. Meanwhile, high pressure over central Europe brings dry, warm and settled conditions.
UK's weather forecast
According to Express, most parts of England and Wales will see dry sunny spells throughout today, with temperatures atypical for September.
Some parts of the UK will see a cloudy Sunday however, with north-western Scotland continuing to see heavy rains and winds. A yellow warning for rains has been issued by the Met Office for parts of Scotland, with flood warnings issued by the Scottish Environment Protection Agency across the west coast.
Met Office Deputy Chief Meteorologist, Nick Silkstone, said the sunny weather for the south starts today.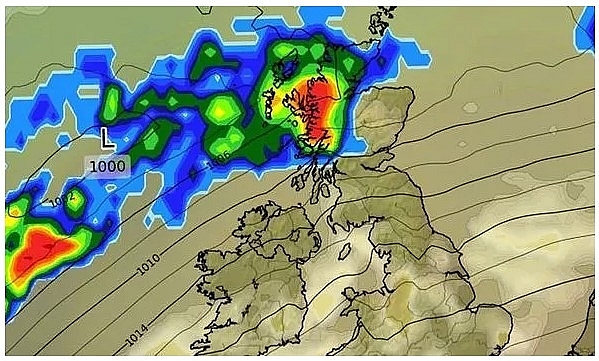 UK weather map: Overall rainfall for Scotland on Sunday 13 (Image: WXCHARTS)
He said: "Along with the dry and sunny weather, southern areas of the UK will see temperatures rise due to a combination of high pressure and warm air from the continent.
"On Sunday temperatures across central and southern England will reach into the low to mid 20's Celsius and it'll turn warmer still as we start the new week, with temperatures possibly reaching around 29 or 30 Celsius in the south east early next week."
By midday today a majority of the south of England and Wales will see bright sunshine and balmy temperatures. Today is expected to bring highs of 24C (75.2F) in London and Norwich by 4pm.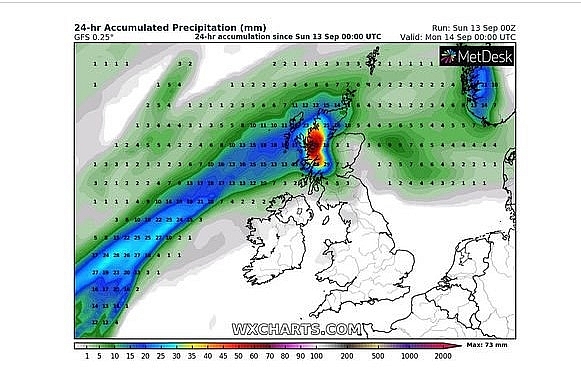 UK weather map: 24 hour rainfall in the UK for Sunday 13 (Image: WXCHARTS)
In the south west and Wales temperatures will be a slightly brisker 20C (68F) to 22C (71.6F), with the midlands seeing between 17C (62.6F) to 20C (68F).
All told conditions are expected to remain bright and clear, with wind-speeds at around 10mph coming from the south east and no predicted rainfall. The north south divide continues into today however for Scotland and parts of northern England.
By 4pm, highs of 15C (59F) will be felt along the Scottish west coast, but it will feel closer to a chilly 10C (50F).
The colder temperatures come with rapid winds up to 50mph expected by 6pm along the coast. Western and northern parts of Scotland can also expect a soaking with up to 60mm of rain over the course of the day. Some rain is also expected throughout the country including parts of northern England.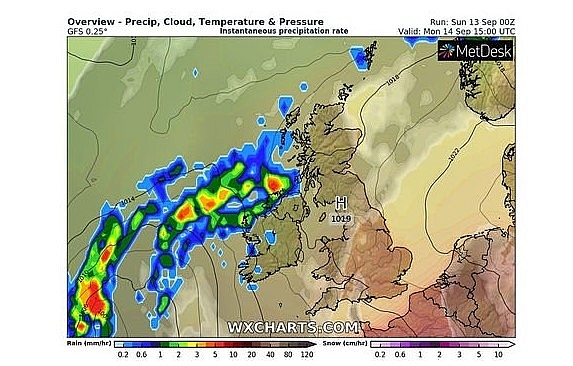 UK weather map: Overall weather for the UK Monday 14 (Image: WXCHARTS)
Monday will see an end to the rainfall and winds for Scotland however, with only the northern-most tip of the country expected to see 20mm of rain throughout the day.
For the rest of the UK, midday Monday will see little to no cloud and rising temperatures not normally seen in September.
Highs of 30C (86F) are expected in the south east, with the midlands seeing a sweltering 24C (75.2F).
Scotland and north England can also enjoy temperatures between 18C (64.4F) and 21C (69.8F) by 4pm on Monday.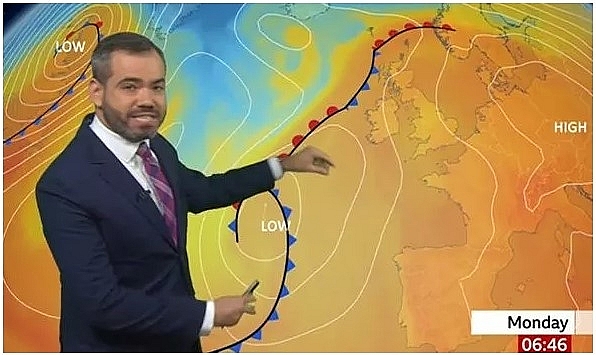 'That rain will really set in across the western side of Scotland.' (Image: BBC)
Wind-speeds will remain low as well at the start of the week, with London seeing only 6mph.
Tuesday will continue to bring the sweltering conditions for the UK, as the European heat plume moves its way further north. London will see a mildly cooler day, with 27C (80.6F) expected by 4pm on Tuesday.
Further north in the midlands and north east, highs of 20C (68F) to 22C (71.6F) are expected, with most of Scotland seeing the same balmy days.
Northern Ireland however will begin to see some rains by the end of the day, before the clouds move back over the UK.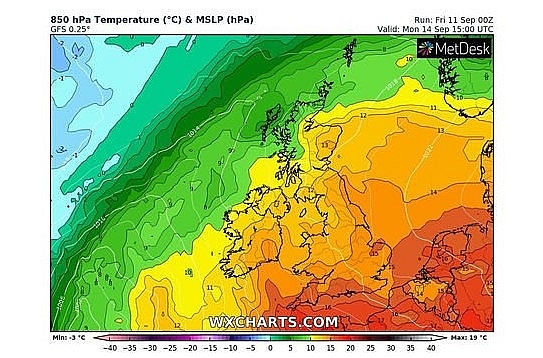 UK weather map: UK Temperatures for Monday 3pm (Image: WXCHARTS)
On September 14
Staying dry with a good deal of sunshine for many on Monday as high pressure over the continent extends towards the British Isles. Temperatures becoming very warm in the south too, Weather Online reported.
Northern and western parts of Scotland and Ireland will see more in the way of cloud and some outbreaks of drizzle and rain as low pressure lies to the west. The best of the sun over southeast England. High temperatures range from 17C in Scotland, Ireland and Northern Ireland to 27 or 28C in the southeast of England.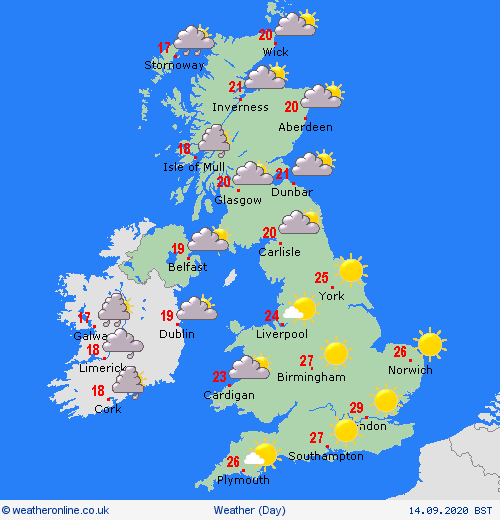 Photo: Weather Online
Europe's weather forecast
Cloud builds from the southwest over Portugal and Spain on Sunday bringing isolated showers here. Staying dry and fine for northeastern Spain and the Balearic Islands. Isolated thundery showers may affect Sardinia, Sicily and southern portions of Italy but staying sunny and dry for Corsica and northern Italy. Sunny, warm and dry for much of Greece and Turkey though isolated thunderstorms may develop over western parts of Turkey later, Weather Online reported.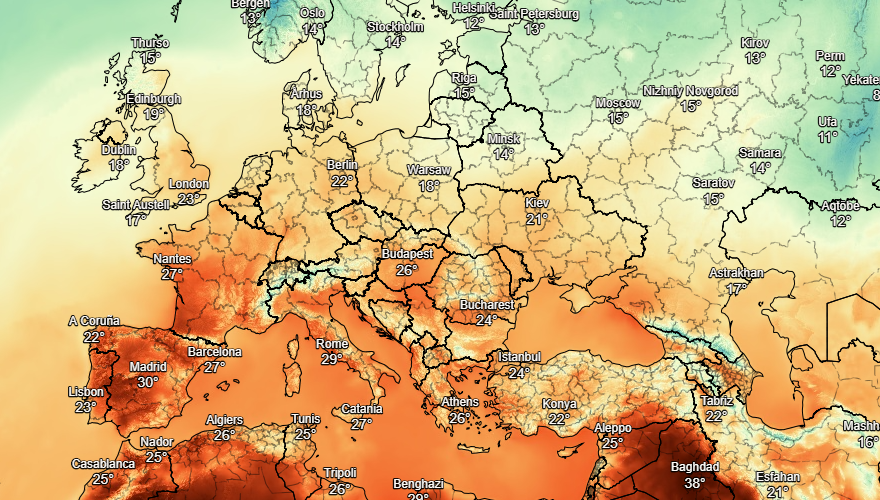 Photo: Stirimeteo
A largely sunny and dry day for much of central Europe as high pressure spreads across the continent. A few showers develop over Alpine regions of Switzerland, Austria and Germany while the Low Countries and northern parts of Germany and Poland may see more in the way of cloud around.
Breezy and cloudy with outbreaks of rain for southern parts of Norway and Sweden as well as for Denmark on Sunday. Wet and windy for southern parts of Finland too as well as for Estonia. Cloudy but drier for Latvia and Lithuania. Bright and breezy for northern parts of Sweden and Finland.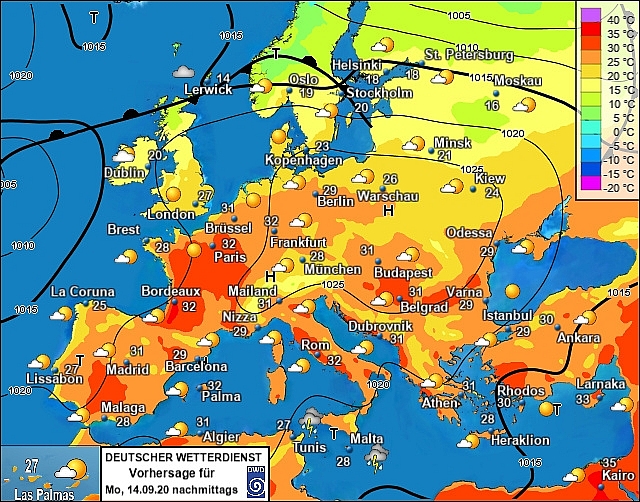 Photo: Stirimeteo
On September 14
According to Weather Online, thundery showers for Portugal and western parts of Spain on Monday, these heaviest to the north. Staying dry and fine for eastern Spain and the Balearic Islands. Dry and sunny for Corsica, Sardinia and much of Italy though thunderstorms could flare up again over the far south of Italy and for Sicily. Mostly dry, sunny and warm for the Balkans, Greece and Turkey though one or two showers could develop over northern areas.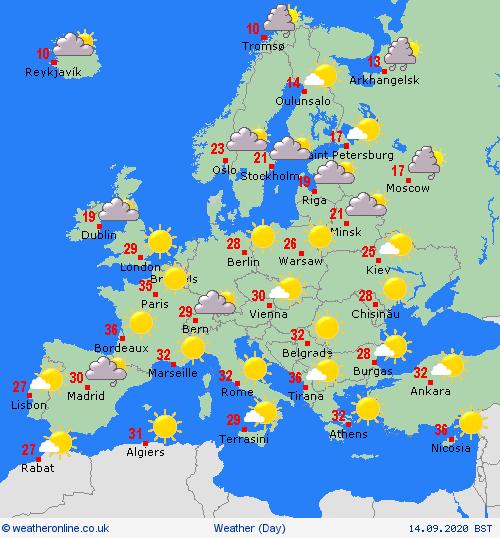 Photo: Weather Online
High pressure is centred over southern Germany on Monday keeping conditions dry, fine, warm and sunny for much of central Europe. France, Germany, the Low Countries, Switzerland, Austria, the Czech Republic, Poland, Slovakia and Hungary all seeing a largely dry and fine day.
Dry, fine and sunny conditions spread into southern Scandinavia too on Monday with a dry, sunny and warm day for Denmark. Early rain clears east from the Baltic States to give a dry, sunny day here too and for Finland. Dry, warm and bright for much of Sweden as well as for eastern Norway though fronts moving in from the North and Norwegian Seas bring rain to western coastal regions of Norway.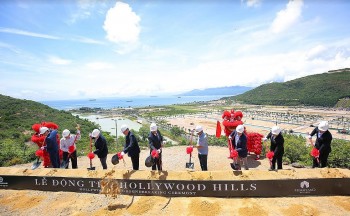 Economy
On October 2, at Hai Giang peninsula (Quy Nhon city, Binh Dinh), Hung Thinh Corporation held the groundbreaking ceremony of Hollywood Hills by YOO Inspired by Starck – a subdivision at MerryLand Quy Nhon. The event marks the first time that the world's No.1 ranked design and branded residence company YOO Inspired by Starck is officially present in Vietnam, with a collection of villas designed by creative director, Philippe Starck.