UK experts explore cave tourism in Thai Nguyen
An expedition team from British Royal Cave Association (BRCA) has made a survey in order to explore the future posibilities of a cave tourism in the northern province of Thai Nguyen, attracting more tourists to the locality.
The team is made up of experts from the UK who have previously designed tourism products for Son Doong cave in the central province of Quang Binh.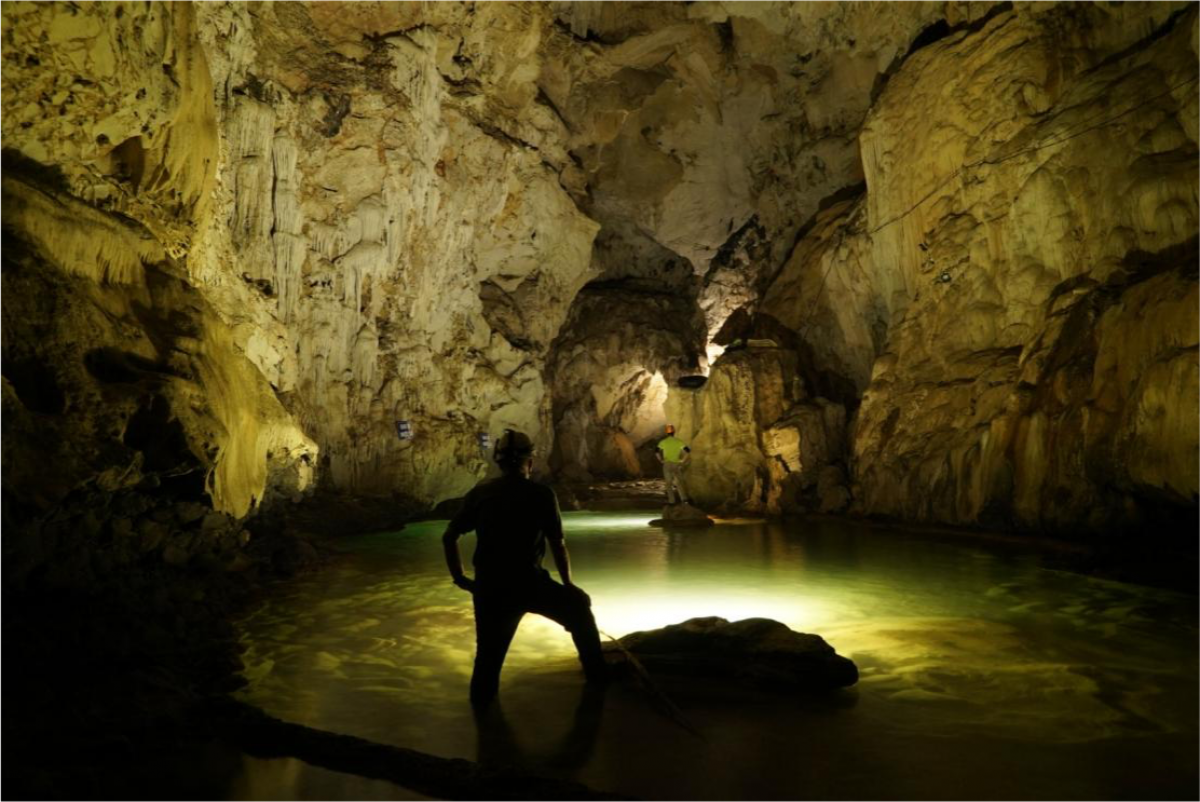 Suoi Mo Ga cave (Photo: Vietnamnet)
The survey of Son Doong cave had been conducted through collaboration between the Quang Binh Department of Tourism and the Thai Nguyen Department of Culture, Sports and Tourism.
This comes after representatives from both the Thai Nguyen People and Quang Binh People's Committees held a meeting with experts from the British Royal Cave Association and Oxalis Adventure Company, the sole tour operator to Son Doong cave in Quang Binh province.
Following the survey, international experts noted that several caves in Thai Nguyen province have great potential for tourism development moving forward. Suoi Mo Ga in particular represents a majestic and scenic cave where adventure tourism could further be developed.
Furthermore, with a total length of approximately 750 metres, Chua Cave has plenty of bright prospects ahead for developing various types of tourism, such as mountain climbing, kayaking, and tours to savour scenic views of local tea hills.
Elsewhere, with a total length of 476 metres, Phuong Hoang Cave is a large site with several beautiful stalactites that must be carefully protected, thereby opening bright prospects for tourism development.
The provincial Department of Culture, Sports and Tourism has stated its intention to co-ordinate with localities in order to tighten management over caves and deploy a range of conservation activities.
The department will also develop a project aimed at identifying cave tourism products and adventure tourism, with the exploitation of Suoi Mo Ga cave being deployed in association with community tourism activities in the future.
Son Doong Cave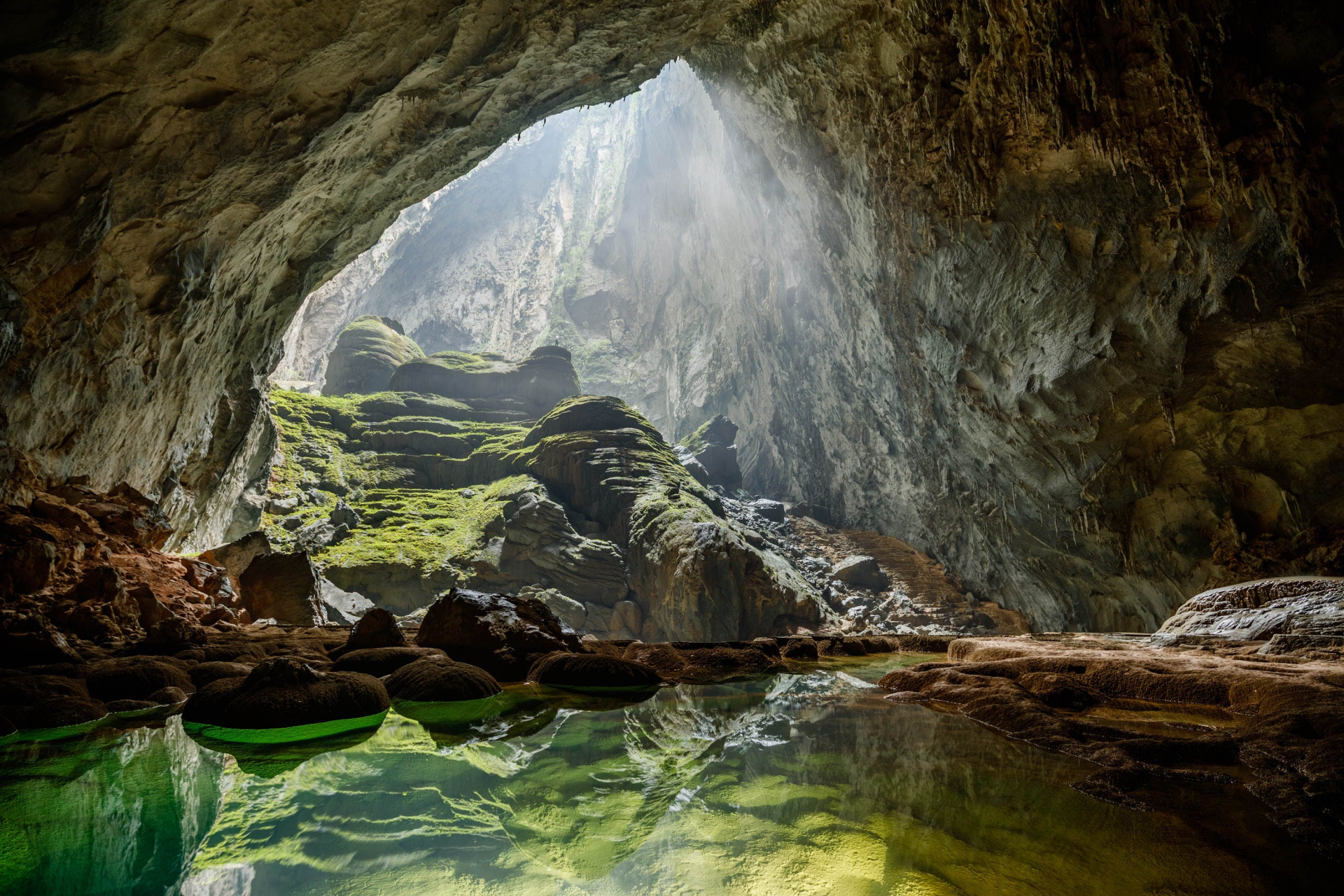 The Son Doong cave has replaced to take pole position as the world's largest cave. bristish explorers have recently discovered that Son Doong is much larger than the world's biggest known cave. (Photo: The Lonely Planet)
Son Doong cave in Vietnam is one of the most beautiful natural caves and the largest ever found in the world. Hang Son Doong cave complex of Phong Nha – Ke Bang National Park, located in Son Trach, Bo Trach district, Quang Binh province of Vietnam Son Doong cave is one of the largest natural cave ever found in the world. Who first discovered as a peasant named Ho Khanh. In 1991, he happened to shelter in this cave while looking deep into the fores.
Son Doong 9km long, 200m wide and 150m deep. Besides the beauty that anyone should see that breathlessly overwhelmed by nature's masterpiece in Vietnam.. Cave was formed about 2 to 5 million years ago, ever since the cave has developed a cave ecosystems along the underground river and trees .. Although discovered in 1991, however, until 2006, when an expedition of the British Royal Society to search for new caves in Phong Nha – Ke Bang, his new Khanh brought his story to tell they listen and expedition decided to come here.
Son Doong is much larger than Deer Cave in Malaysia, currently considered the world's largest, an explorer said (Deer is 90 meters wide, 100 meters high and 2 kilometers long). The Son Doong cave has replaced to take pole position as the world's largest cave. bristish explorers have recently discovered that Son Doong is much larger than the world's biggest known cave.
Phuong Hoang Cave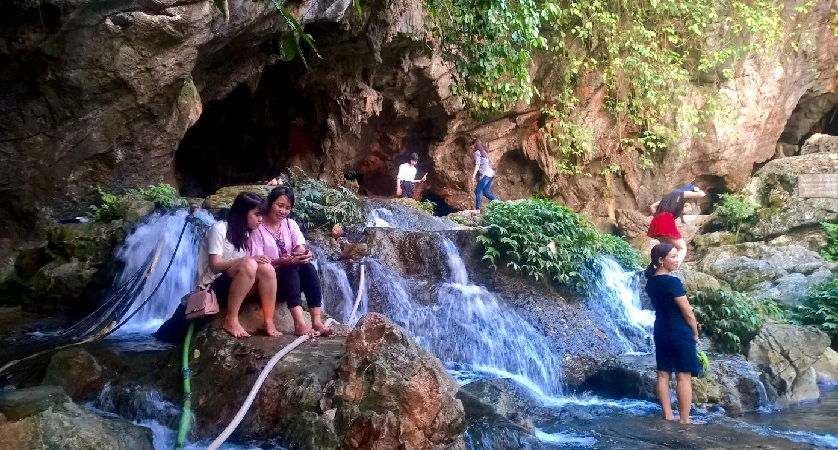 Phuong Hoang Cave, Suoi Mo Ga stream, gift from the Mother Nature (Photo: Galatourist)
Located in the Phoenix Mountain, Vo Nhai district, 45km from Thai Nguyen city and 120 km to the north of Hanoi, Phuong Hoang Cave is the complex of the most beautiful landscapes of Thai Nguyen by the spectacular natural scenery and amazing caves. At a height of 500m above the foot of the mountain, Phuong Hoang is a large cave with the exotic scenery. The air in the cave is fresh, cool. The heart of the cave is a huge stone statue of the Phoenix in the posture of the majestic wings.
There is a story about this natural landscape, a couple phoenixes finding a place for their net. The couple flew days and nights but were unable to find a place for their net. Hungry and thirty, the birds found a stone trough full of water at the threshold of a cave. They decided to stay in the cave. Time goes by, the male bird got old. It cannot fly for food, it dragged into the cave and died. Its wife came back and did not see the husband, flew to the top of the mountain and waited until it died and turned into a stone. The cave, where the phoenixes lived was named Phuong Hoang from then on.
Coming to Phuong Hoang Cave, visitors will be appealed by stalactites in various size, which makes travelers imagine their watching an elephant kneeling down, or lions dancing and a woman embracing her child. Looking up, you can see a phoenix spreading its wings to welcome visitors, so-called Phuong Hoang Cave (Phoenix Cave).
Chua Cave
Hang pagoda, also known as "Tien Lu Buddha Cave", was built at a special cave called Tien Lu cave in Cho Chu town, Dinh Hoa district. It is 3 km far from Thai Nguyen City to the North.
This pagoda was built during the Ly Dynasty in XI century when Buddhism experienced the most prosperous time. One morning in the spring in 1022, King Ly Thanh Tong told his wife, Nguyen Phi Y Lan about his dream, in which he was taken by Buddha to the spiritual land in Dong Hy, Thai Nguyen. Then, his wife traveled to there immediately. After realizing the charming landscapes, gigantic mountains and vast caves, she demanded to build a Buddhist pagoda in the large cave. Originally, the name of the pagoda was "Kim Son Tu" but people often called it "Chua Hang" (Chua: pagoda, Hang: cave, Chua Hang: the pagoda in a cave) because the pagoda was built in the cave.
Every year, the Hang pagoda festival is held on February 10th with participation of the people coming from everywhere, especially residents living in Dong Hy district, Thai Nguyen province.
When we visit Hang pagoda, especially in spring, we can not only visit many landscapes but also pray blessing for ourselves and or family in the New Year. Moreover, it is completely pleasant for us to see stalactites and take photos, etc.
Generally, this is our interesting destination that tourists should not miss when visiting Thai Nguyen province in Vietnam.