Ukrainian President tests positive for COVID-19
Ukrainian President Volodymyr Zelenskiy announced Monday that he has tested positive for the coronavirus and will be working in self-isolation while being treated.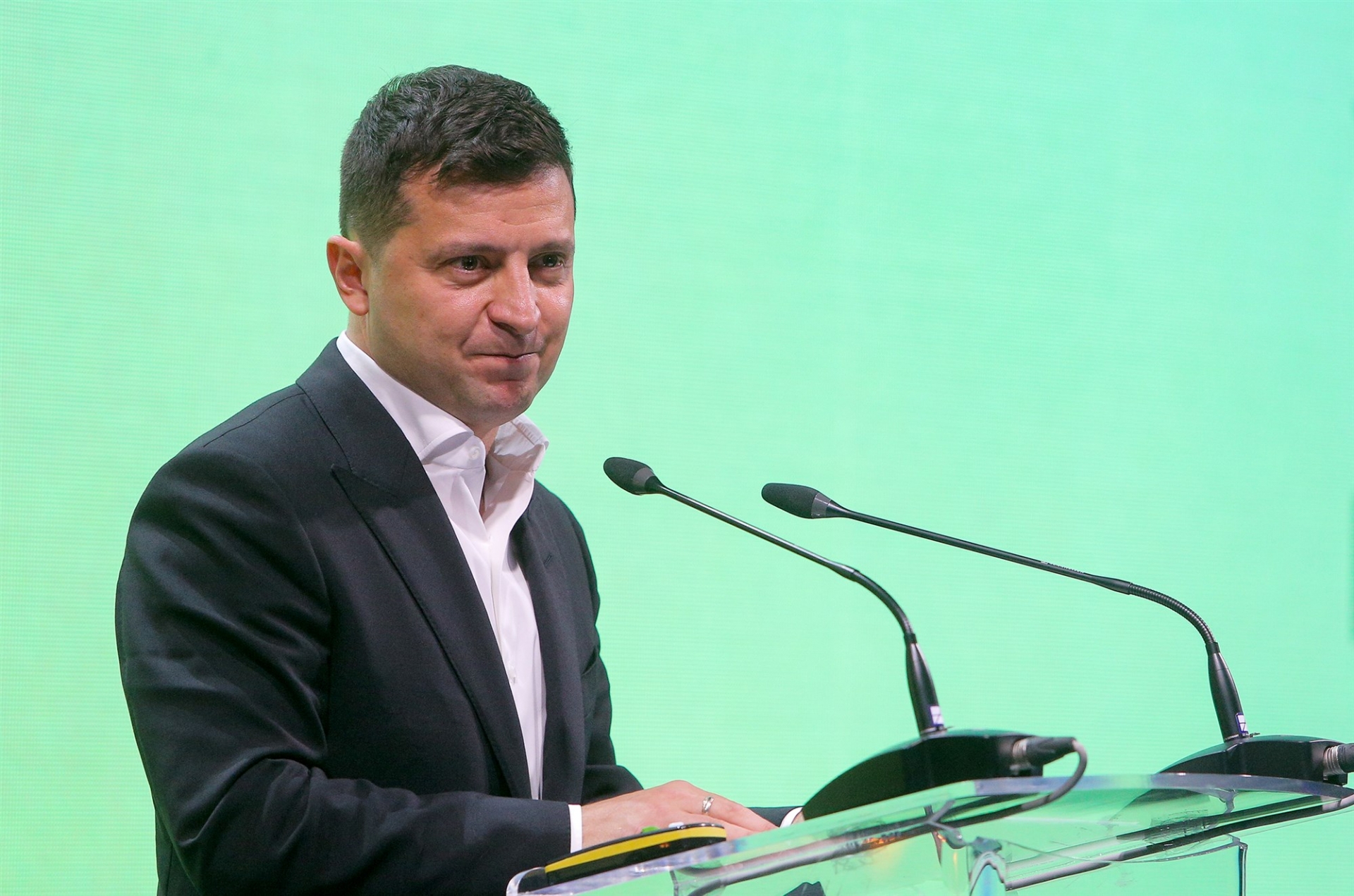 Ukrainian President Volodymyr Zelenskiy (Photo: NBC News)
"There are no lucky people in the world for whom COVID-19 does not pose a threat," Zelenskiy tweeted. "However, I feel good. I promise to isolate myself and I continue to work."
Zelenkiy said he was running a temperature of 99.5 Fahrenheit.
The 42-year-old Zelenskiy became president in 2019 as a political neophyte, previously known as an actor and comedian. He became popular in the country for a TV sitcom, "Servant of the People," in which he played the role of a teacher who unexpectedly becomes president after making a rant about corruption that goes viral. He handily defeated incumbent Petro Poroshenko, AP reported.
Ukraine's coronavirus infections began surging in late summer and have put the country's underpaid doctors and underequipped hospitals under severe pressure.
On Monday, Ukraine reported 8,867 new cases of infection and 115 deaths over the past day. Throughout the pandemic, 8,565 people have died of COVID-19 in the country.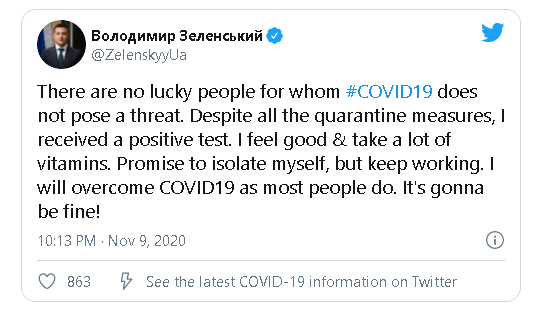 Volodymyr Zelenskiy announced his condition on Twitter (Photo: Captured)
With the positive result, Ukrainian President joined the long list of world leaders who contracted the novel coronavirus.
Donald Trump tested positive for the coronavirus on Oct. 2, joining a small group of world leaders who have been infected. Trump is 74, putting him at higher risk of serious complications.
The British prime minister Boris Johnson was the first major world leader confirmed to have COVID-19. He was moved to intensive care in April after his symptoms dramatically worsened a day after he was hospitalized for what were called routine tests. He was given oxygen but did not need a ventilator, officials said. He later expressed his gratitude to National Health Service staff for saving his life when his treatment could have "gone either way."
Brazilian president Jair Bolsonaro announced his illness in July and used it to publicly extol hydroxychloroquine, the unproven malaria drug that he'd been promoting as a treatment for COVID-19 and was taking himself. For months he had flirted with the virus as he flouted physical distancing at lively demonstrations and encouraged crowds during outings from the presidential residence, often without a mask.
Besides, Polish president, Honduras president, Guatemalan president, Indian's Vice-President also contracted the virus.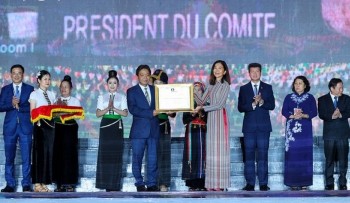 Viet's Home
UNESCO presented Vietnam a certificate recognizing Xoe Thai dance as an Intangible Cultural Heritage of Humanity at a ceremony held in Yen Bai province on September 24.