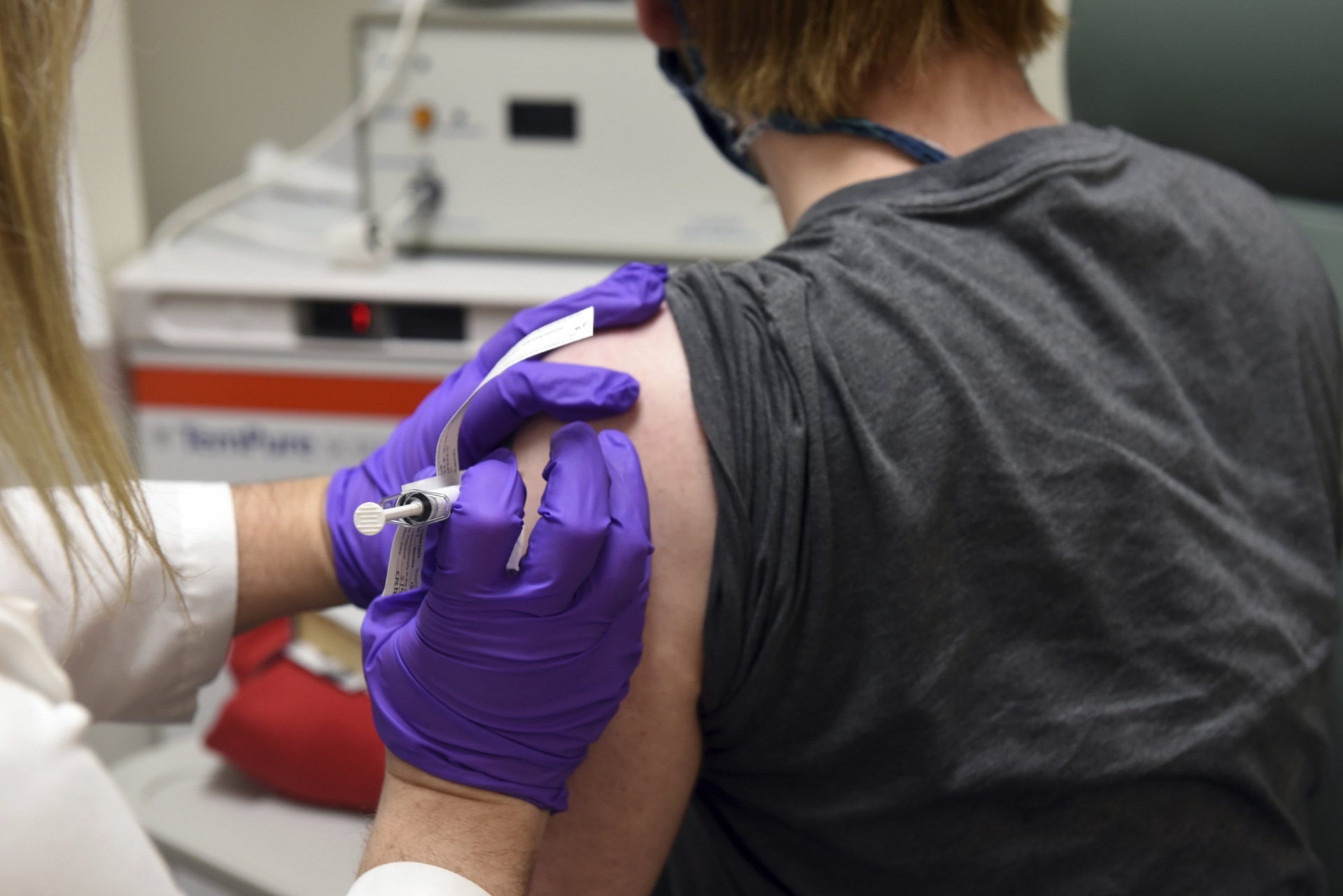 Pfizer and BioNTech announced Monday their coronavirus vaccine was more than 90% effective in preventing Covid-19 (Photo: AP)
Pfizer, BioNTech's COVID-19 vaccine proves 90 percent effective
Pfizer and BioNTech announced Monday their coronavirus vaccine was more than 90% effective in preventing Covid-19 among those without evidence of prior infection, hailing the development as "a great day for science and humanity."
"I think we can see light at the end of the tunnel," Pfizer Chairman and CEO Dr. Albert Bourla told CNBC's Meg Tirrell on "Squawk Box." "I believe this is likely the most significant medical advance in the last 100 years, if you count the impact this will have in public health, global economy."
U.S. stock futures skyrocketed as investors cheered the news. Futures on the Dow Jones Industrial Average surged 1,646 points, implying an opening gain of more than 1,630 points. By late morning, the Dow was up more than 1,000 points, a rise of 3.7%, CNBC reported.
The analysis evaluated 94 confirmed Covid-19 infections among the trial's 43,538 participants. Pfizer and the U.S. pharmaceutical giant's German biotech partner said the case split between vaccinated individuals and those who received a placebo indicated a vaccine efficacy rate of above 90% at seven days after the second dose.
It means that protection from Covid-19 is achieved 28 days after the initial vaccination, which consists of a two-dose schedule. The final vaccine efficacy percentage may vary, however, as safety and additional data continue to be collected.
"We are reaching this critical milestone in our vaccine development program at a time when the world needs it most with infection rates setting new records, hospitals nearing over-capacity and economies struggling to reopen," Bourla continued.
The companies said they planned to submit for emergency use authorization to the U.S. Food and Drug Administration soon after they have two months of data, which is currently on track for the third week of November.
Based on current projections, Pfizer and BioNTech expect to produce up to 50 million vaccine doses in 2020, and up to 1.3 billion doses in 2021. The vaccine requires two doses per person. Though the companies didn't take any money from the federal government for research and development for the drug, they reached a nearly $2 billion agreement in July to supply 100 million doses to the U.S. government as part of the Trump administration's Operation Warp Speed. That money is helping with manufacturing and distribution.
Trump says he's fired Defense Secretary Mark Esper
As many had expected, President Donald Trump on Monday said, in a tweet, that he had fired Defense Secretary Mark Esper.
"I am pleased to announce that Christopher C. Miller, the highly respected Director of the National Counterterrorism Center (unanimously confirmed by the Senate), will be Acting Secretary of Defense, effective immediately.. ...Chris will do a GREAT job! Mark Esper has been terminated. I would like to thank him for his service," Trump tweeted.
The move comes two days after Trump lost reelection and when he was expected to purge top members of his administration with whom he had long been unhappy.
Jasmine Le