UN General Assembly: President Trump blasts China on Covid-19 response
At the United Nations General Assembly, President Donald Trump slapped China via a virtual speech related to coronavirus pandemic that has battered international community as well as the global economy.
U.N. 'must hold China accountable' for pandemic
According to Politico, President Donald Trump on Tuesday admonished China over its handling of the coronavirus pandemic in his address to the United Nations General Assembly, demanding that the intergovernmental organization hold Beijing's ruling Communist government "accountable for their actions."
In a pre-recorded speech before the annual meeting of world leaders - rendered largely virtual as a result of the pandemic - Trump accused China of allowing flights of infected people to leave the country in the early days of the Covid-19 outbreak, as well as of spreading false information with the help of the World Health Organization.
"Seventy-five years after the end of World War II and the founding of the United Nations, we are once again engaged in a great global struggle," Trump said, invoking the "fierce battle" the United States waged against the "invisible enemy, the China Virus."
"The United Nations must hold China accountable for their actions," he added.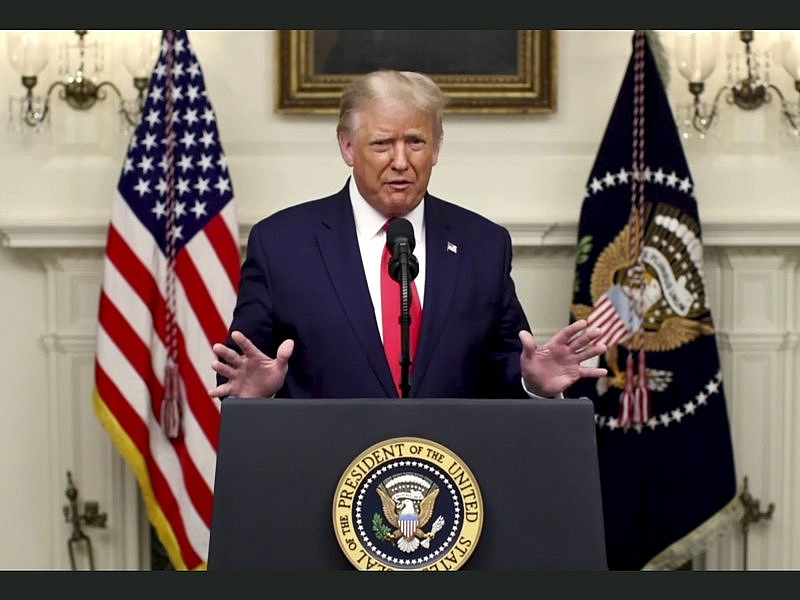 President Trump speaks in a prerecorded message played Tuesday during the 75th session of the U.N. General Assembly. UNTV via AP
Trump also criticized China's environmental policies, accusing its government of allowing overfishing of foreign waters, dumping trash into the oceans and producing unacceptable levels of carbon emissions.
"Those who attack America's exceptional environmental record while ignoring China's rampant pollution are not interested in the environment," Trump said. "They only want to punish America, and I will not stand for it."
The president's remarks come less than 50 days before the November election, as Trump has cast himself as tough on China while describing Democratic presidential nominee Joe Biden as beholden to Beijing.
Apart from his fiery rhetoric, Trump also has taken an increasingly hard line against China through a variety of punitive measures related to its management of the pandemic, exertion of greater authority in Hong Kong and internment of ethnic minorities.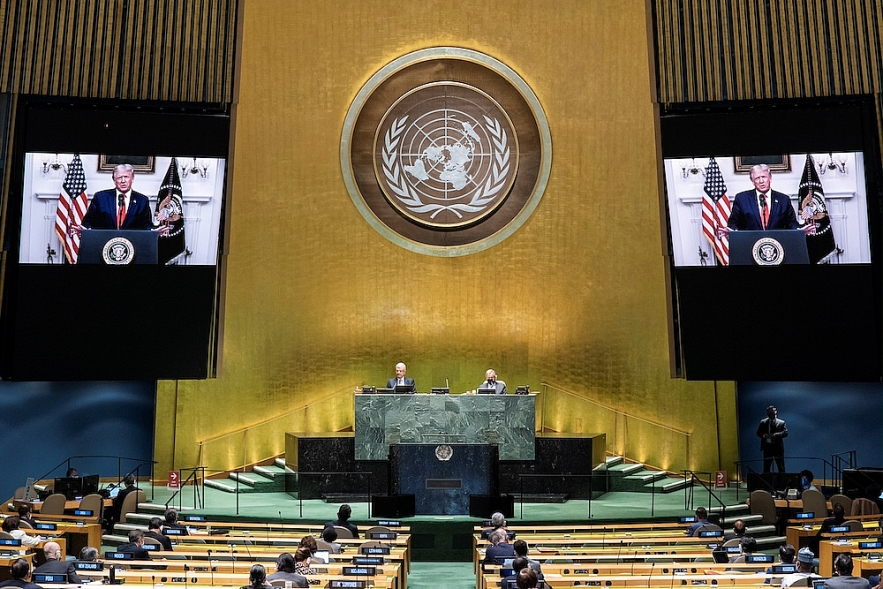 US President Donald Trump speaks during the 75th annual UN General Assembly, which is being held mostly virtually due to the coronavirus disease (Covid-19) pandemic in New York, September 22, 2020. — United Nations handout via Reuters
Defending his own handling Covid-19 in America while death toll reached 200,000
According to Associated Press, while President Donald Trump blasted China, he defends his own handling of COVID-19 in America where the death toll has reached 200,000.
He has been harshly criticized for his administration's track record in battling the coronavirus, now a top issue in his bid for reelection, US News revealed.
Democratic opponent Joe Biden claims Trump bungled the response to COVID-19 and is responsible for the U.S. having more deaths than any other nation. Trump encouraged the reopening of U.S. society even as the virus was spreading rapidly and holds campaign rallies where few wear face masks or practice social distancing.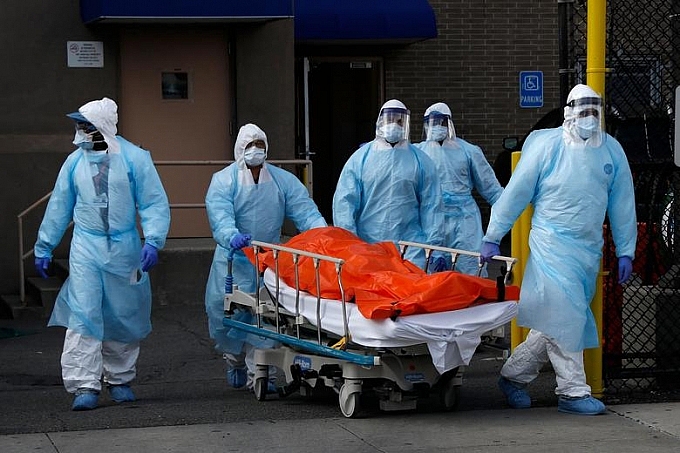 Health officers carrying the body of Covid-19 patient in New York. Photo: Reuters
According to recent polling, a substantial majority of the American public disapproves of Trump's handling of the virus, and the pandemic has taken center stage in the 2020 campaign.
The United States has reported roughly 200,000 deaths from COVID-19 and nearly 7 million infections, both the most of any country in the world, The Hill reported.
Chinese leader Xi Jinping called for a global effort following Trump's speech
According to npr, following Trump's speech, Chinese leader Xi Jinping also addressed the General Assembly, calling for a global effort to defeat the disease and calling on WHO to take a leading role in the fight.
In remarks that seemed aimed at Trump, Xi urged leaders to reject any attempt to politicize the pandemic.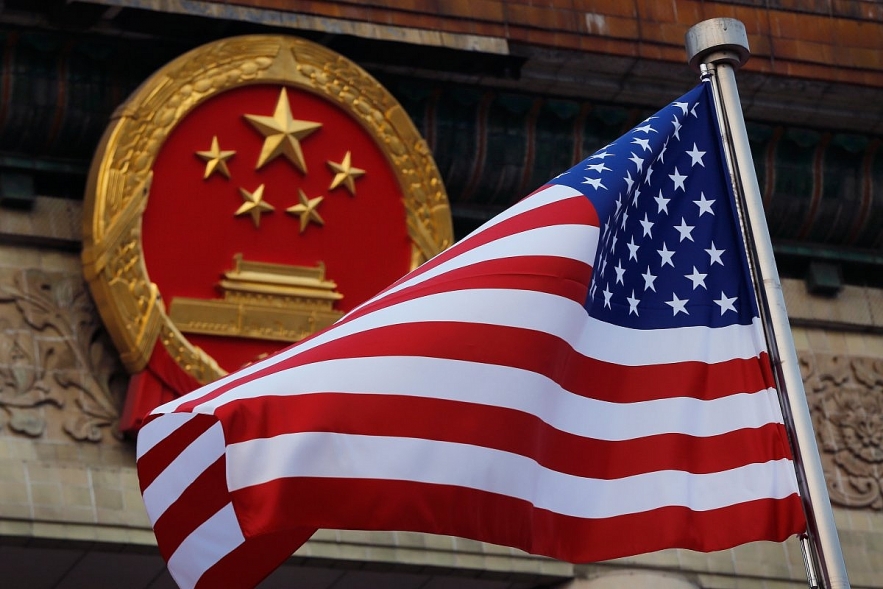 In this Nov. 9, 2017, file photo, an American flag is flown next to the Chinese national emblem during a welcome ceremony at the Great Hall of the People in Beijing. AP Photo/Andy Wong
"The virus will be defeated. Humanity will win this battle. Facing the virus we should put people and life first. We should mobilize all resources to make a science-based and targeted-response," Xi said, speaking in Mandarin.
"Facing the virus, we should enhance solidarity and get through this together," China's leader added. "We should follow the guidance of science, give full play to the leading role of the World Health Organization and launch a joint international response to beat this pandemic. Any attempt of politicizing the issue or stigmatization must be rejected."
U.S-China Brawl Sharpens on the Global Stage
The presidents of the United States and China squared off in their speeches to the annual General Assembly on Tuesday, punctuating a superpower rivalry that the leader of the 193-member organization, Secretary-General António Guterres, has called a great global risk, New York Times reported.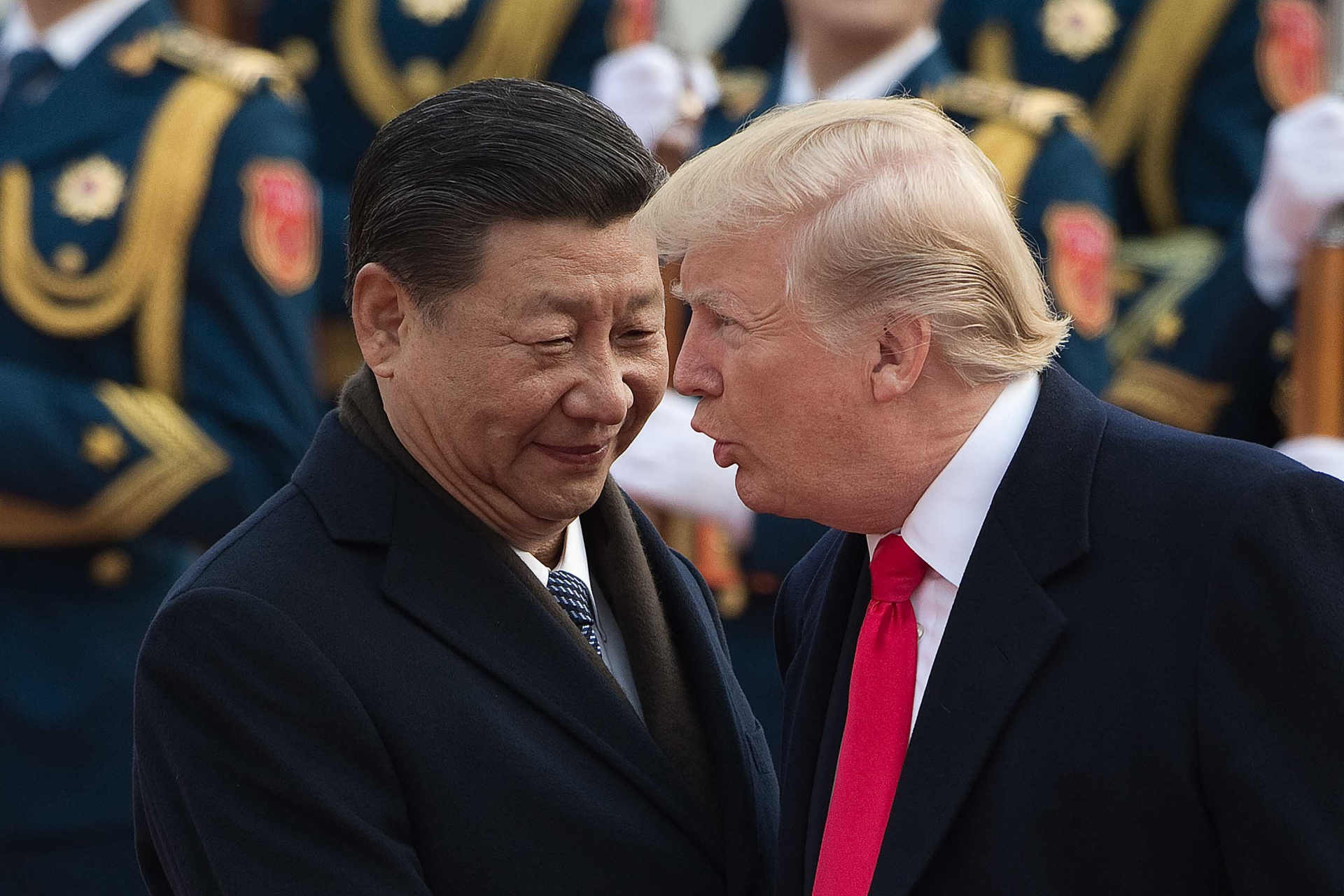 Chinese President Xi Jinping and US President Donald Trump in Beijing in November 2017. They are set to discuss the US-China trade war on Sunday. Nicolas Asfouri/AFP/Getty Images
On the coronavirus, global warming, human rights, international cooperation and a range of other issues, President Trump and his Chinese counterpart, Xi Jinping, laid out starkly differing views in their prerecorded remarks, underscoring the growing split between the United States and China during the first three years of Mr. Trump's administration.
Mr. Trump blamed China for the coronavirus scourge that has traumatized the world and demanded that the United Nations hold the country accountable. Mr. Xi, clearly anticipating Mr. Trump's attacks, portrayed the virus as everyone's challenge and described China's response as scientific, generous and responsible.
U.S. President Donald Trump and Chinese President Xi Jinping are expected to strike starkly different tones in remarks to the United Nations General Assembly. (Source photos by AP and Getty Images)
"Any attempt at politicizing or stigmatizing this issue must be rejected," Mr. Xi said.
President Trump described China as a leading degrader of the environment and asserted the United States has done more to reduce pollution since withdrawing from the Paris climate accord. Mr. Xi reiterated China's commitment to cut its emissions and reduce the threat of global warming.
The U.S-China rivalry has emerged as a chief worry for Mr. Guterres, and he made that clear in his opening remarks to the annual gathering.
"We are moving in a very dangerous direction," Mr. Guterres said. "Our world cannot afford a future where the two largest economies split the globe in a Great Fracture - each with its own trade and financial rules and internet and artificial intelligence capacities. A technological and economic divide risks inevitably turning into a geostrategic and military divide. We must avoid this at all costs."