US unveils extensive plans to provide free COVID-19 vaccine for all Americans
The Trump administration on September 16 has announced a strategy to provide safe, effective, and free COVID-19 vaccines for all Americans as soon as possible.
In a report to Congress and a separate "playbook" for states, the Department of Health and Human Services, in conjunction with the Department of Defense and the Centers for Disease Control and Prevention (CDC) laid out detailed vaccination distribution plans for states, tribal, territorial and local public health programs, the Hill reported.
The playbook warned that states have never needed a pandemic response plan that is this complex.
"Significant additional planning is needed to operationalize a vaccination response to COVID-19, which is much larger in scope and complexity than seasonal influenza or other previous outbreak-related vaccination responses," the agencies said.
Health officials noted that the plan is flexible because some variables won't be known until a vaccine is authorized or approved by the Food and Drug Administration (FDA), such as populations for whom a given vaccine is most appropriate, distribution, and storage requirements, dosage requirements and other variables.
"We're dealing in a world of great uncertainty," Paul Mango, deputy chief of staff for policy at HHS, said during a call with reporters. "We don't know the timing of when we'll have a vaccine, we don't know the quantities, we don't know the efficacy of those vaccines ... so this is a really, quite extraordinary, logistically complex undertaking."
But, Mango said, "We are prepared for all of those uncertainties."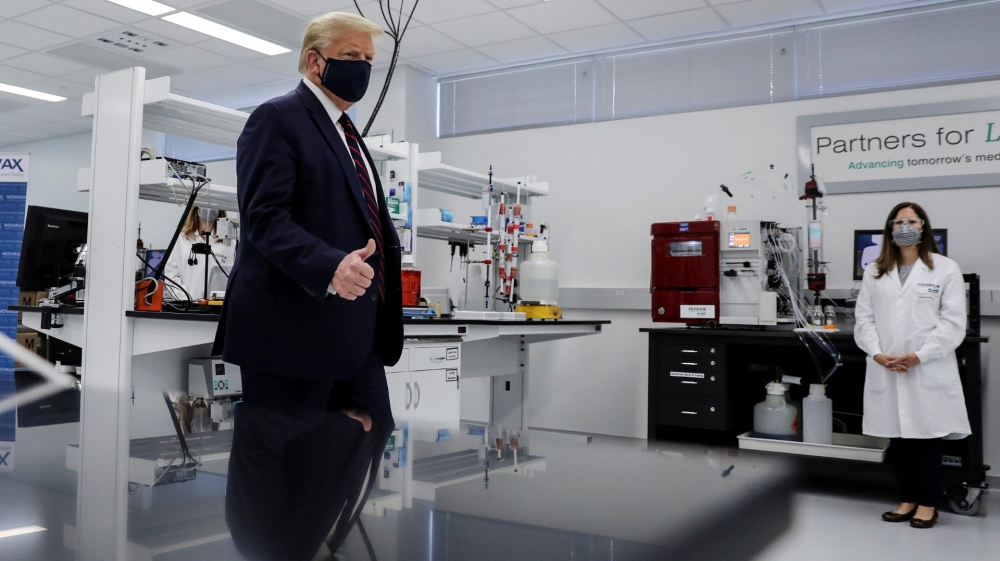 US President Donald Trump tours a manufacturing plant where components for a potential coronavirus vaccine candidate are being developed, in Morrisville, North Carolina, US Photo: Carlos Barria/Reuters
In addition, the initial doses of the vaccine will be free of charge for patients. The administration's Provider Relief Fund contains over a billion dollars of taxpayer money that will be used to reimburse providers for uninsured patients.
Officials said they are working to iron out some "complications" with Medicare, but the worst-case scenario is Medicare beneficiaries will have to pay $3.50 out of pocket.
The detailed assessment comes amid growing skepticism from the public about the politicization of the administration's entire vaccination plan.
President Trump has routinely said a vaccine will be available before the November election, and the public and some experts have expressed concern that health agencies will rush the authorization to aid his reelection chances.
Health officials have been working hard to reassure the public that a vaccine will only come to the market when it's ready.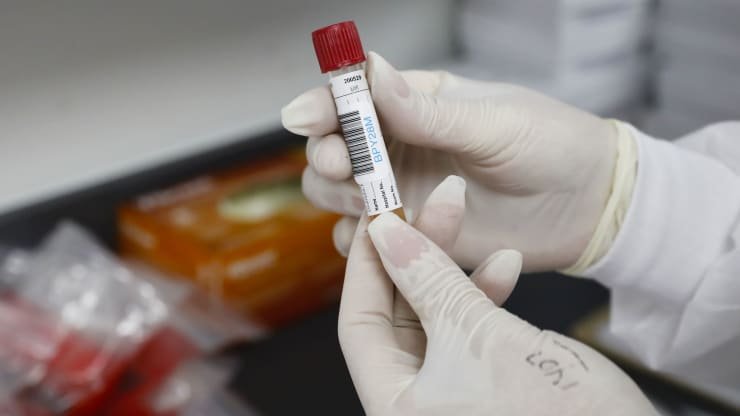 A health worker holds blood samples during clinical trials for a Covid-19 vaccine at Research Centers of America in Hollywood, Florida Photo: CNBC
"We are working closely with our state and local public health partners ... to ensure that Americans can receive the vaccine as soon as possible and vaccinate with confidence," HHS Secretary Alex Azar said in a statement Wednesday. "Americans should know that the vaccine development process is being driven completely by science and the data."
The Trump administration's Operation Warp Speed is aimed at developing and delivering a COVID-19 vaccine to the public in record time through contracts with seven different drugmakers. While some of the leading vaccine candidates have moved into large phase three trials, it's still not clear if any of the vaccines sponsored by the administration will be successful.
The federal government has contracted with McKesson, the country's largest drug distribution company, to ensure states will receive vaccines as quickly as possible.
Initially, there may be a limited supply of vaccines available, and the focus will be on protecting health workers, other essential employees, and people in vulnerable groups.
Donald Trump disputes health officials on the timeline for mass vaccinations
Openly contradicting the government's top health experts, President Donald Trump has predicted that a safe and effective vaccine against the coronavirus could be ready as early as next month and in mass distribution soon after, Bucks Free Press reported.
The comments undermined the director of the Centres for Disease Control and Prevention's (CDC) projections for a longer time frame.
Trump also disagreed with Dr. Robert Redfield about the effectiveness of protective masks — which the president recommends but almost never wears — and said he would telephone Dr. Redfield to tell him so.
After Trump's comments, CDC officials said that the director had thought he was answering a question about when the vaccination of all Americans might be completed.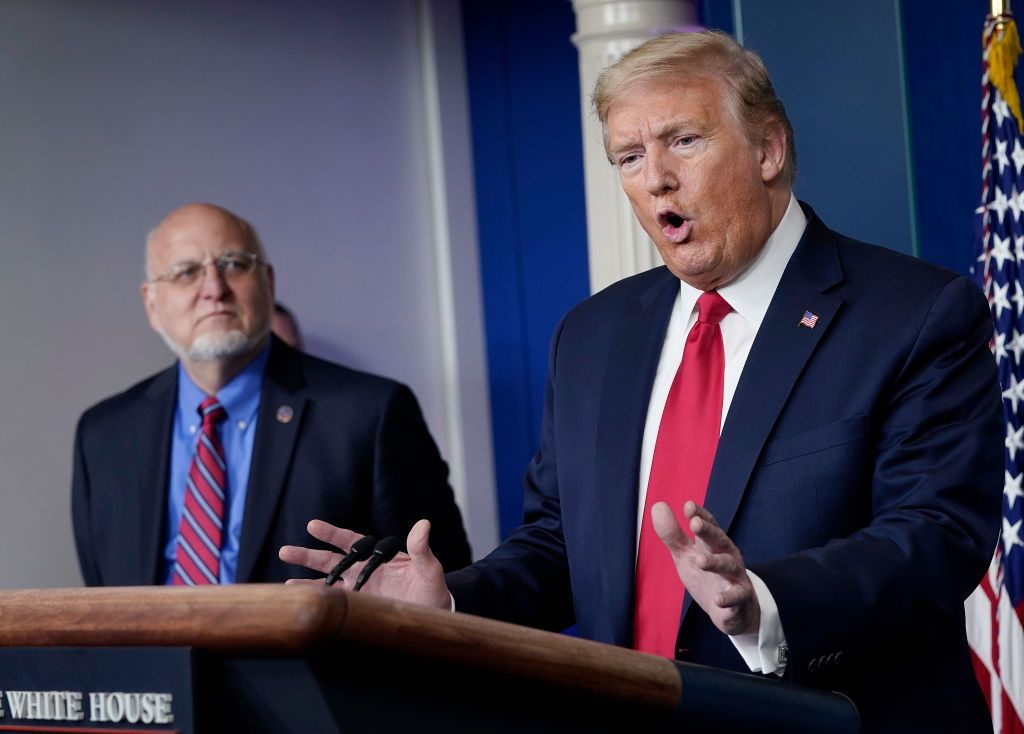 Donald Trump disputes health officials on the timeline for mass vaccinations Photo: US News
Redfield, masked at times in a Senate hearing room, also spoke emphatically of the importance of everyone wearing protective masks to stop the pandemic, which has killed nearly 200,000 Americans.
He floated the possibility that a vaccine might be 70% effective in inducing immunity, and said, "I might even go so far as to say that this face mask is more guaranteed to protect me against COVID than when I take a COVID vaccine."
Trump would have none of that from the CDC director.
"Vaccine is much more effective than the mask," he declared.
As for vaccinating Americans, Trump said on Wednesday: "We think we can start sometime in October."
One of his recently added advisers, Dr. Scott Atlas, said as many as 700 million doses could be available by the end of March.
The president made the prediction even though the vaccine is still being tested in human subjects, and some health experts have said they believe a safe and highly effective vaccine is several months way, if not much longer.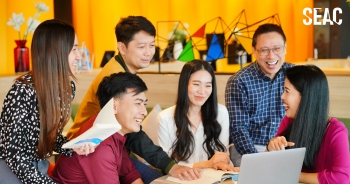 Economy
SEAC, a leading corporate and lifelong education innovator, is shaking up the Thai and ASEAN education market with significant investment to expand its SMART learning solutions across the ASEAN region.