UNFPA, MoLISA Set Up Action Partnership Network to Prevent Gender-Based Violence
Action partnership network for gender-based violence prevention debuted.
An action partnership network for gender-based violence prevention and response was launched at a seminar co-hosted by the Vietnamese Ministry of Labour, Invalids and Social Affairs (MoLISA), and the United Nations Population Fund (UNFPA) on Dec. 14, reported VNA.
UNFPA Representative in Vietnam Naomi Kitahara hailed MoLISA and relevant agencies for their achievements in dealing with gender-based violence over the past five years.
She suggested that more initiatives should be outlined to encourage the involvement of young people in the effort while similar models should be multiplied.
UNFPA called on the Government to issue better cooperation mechanisms in various fields to strengthen intervention activities in a bid to end violence against women, she said.
According to a study conducted in 2019, nearly two-thirds (62.9%) of Vietnamese women experienced at least one or more types of violence in their lifetime by their husbands.
This is an event to respond to 2021 action month for gender equality, and prevention and response to gender-based violence.
Approved by the Prime Minister, the programme on gender-based violence prevention and response set a target that by 2025, at least 50% of gender-based violence victims will receive support from service suppliers and all having demand will be assisted in various forms.
Participants shared experience in building inter-sectoral coordination mechanisms in support of victims via the launch of Anh Duong (Sunshine) House, a shelter providing essential services to survivors of violence against women and girls based in the northern province of Quang Ninh.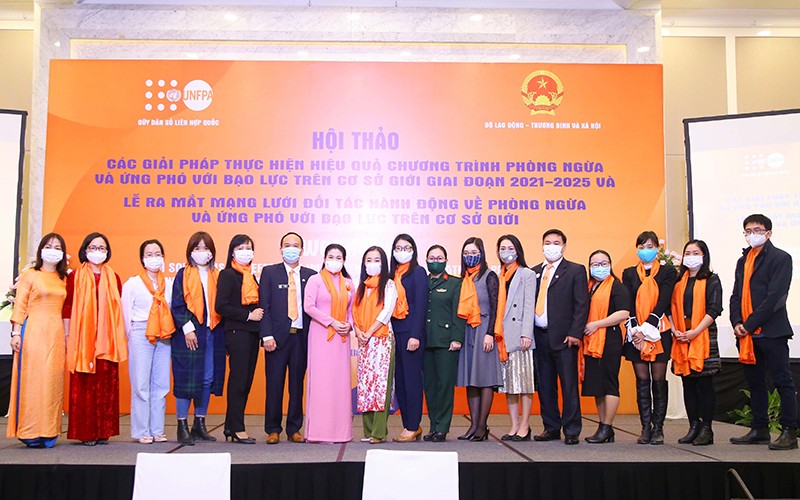 The seminar held both online and offline. Photo: MoLISA
The effective models that Quang Ninh has applied have contributed to improving the efficiency of gender-based violence prevention and control in the province, helping build a society of civilisation, mutual respect and equality.
The model is the first of its kind in Vietnam within the framework of the cooperation programme between MoLISA and UNFPA which is funded by the Korea International Cooperation Agency (KOICA).