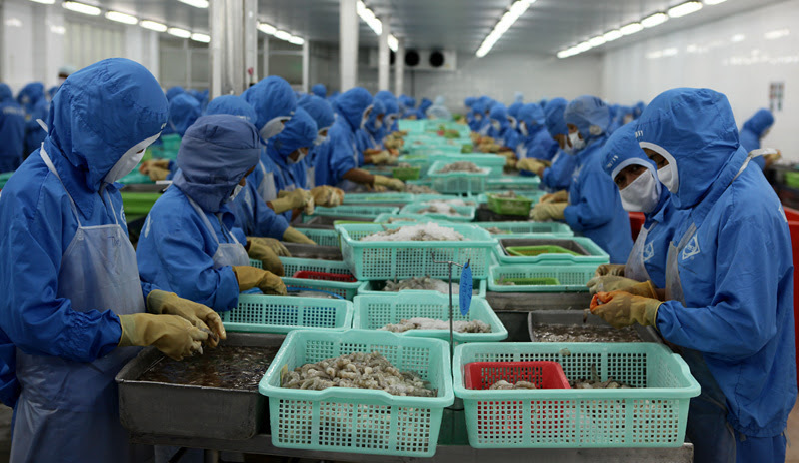 With an export turnover of $2.04 billion, the US surpassed China to become the largest consumer of Vietnamese agricultural products in the first two months of 2021. Photo: Vietnamnet.
The latest report of the Ministry of Agriculture and Rural Development shows that the total import and export turnover of agricultural, forestry, and fishery products in the first two months of this year is estimated at nearly $11 billion, of which exports are estimated at $6.17 billion, an increase of 16.6% year on year. Imports are estimated at $4.8 billion, up 13.6%, according to Vietnamnet.
The trade surplus is about $1.37 billion, up 28.4% over the same period of 2020.
Export turnover of many key export agricultural products grew strongly during this time. For example, rubber export value reached about $516 million (up 9.9%); tea $29 million (up 11.1%); cashew nuts $442 million (up 21.5%), vegetables $610 million (up 14.6%); wood and wood products about $2.44 billion (up 51.0%); and rattan and bamboo products $128 million (up 43.0%).
Notably, with an export turnover of about $2.04 billion, an increase of 57.3% over the same period, and accounting for more than 33% of market share, the US became the largest customer of Vietnamese agricultural products during this time.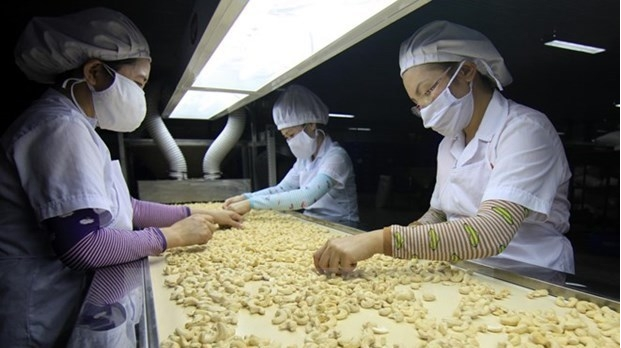 Processing cashew nuts for exports. Photo: VNA
Following the US was China, with export revenue of $1.88 billion, up 57.9% over the same period last year and accounting for 30.53% market share.
ASEAN ranked third with an export turnover of $606 million, up 25.2%, accounting for 9.82%.
In the coming time, the Ministry of Agriculture and Rural Development will focus on trade promotion activities. Regarding export markets, it will focus on issues related to market regulations and technical barriers in free trade areas (FTAs) consistent with the development of the Covid-19 epidemic. The Ministry will also strive to increase exports of dragon fruit and passion fruit.
In the domestic market, the Ministry will continue to monitor, collect and summarize information and data on prices, production, and supply of agricultural products in the country, especially in Covid-hit provinces, and will implement the campaign calling for Vietnamese people to use Vietnamese goods in the 2021-2025 period.
Vietnam's seafood exports expected to hit US$ 9.4 billion in 2021
According to the Vietnam Association of Seafood Producers and Exporters (VASEP), Vietnam's aquatic product exports are expected to rake in 9.4 billion USD this year, a year-on-year increase of 10%.
This is driven by a strong rebound in demand for export markets and the support of free trade agreements.
Analysts of FPT Securities JSC (FPTS) predicted Vietnam would continue increasing shrimp output in 2021, reaching 730,000 tonnes, up 4% year-on-year.
Stable supply will be an advantage for Vietnamese shrimp exporters to expand their market shares in export markets.
The prices of exported shrimps are also forecast to rise slightly by 5 percent to an average of 9.6 USD per kg, according to an FPTS report.
The output of Vietnam's Tra fish is also forecast to maintain uptrend this year.
Vietnamese businesses' efforts to focus on value-added processed products that meet all requirements on food safety and origin traceability of products will be paid off, with the export value of processed Tra fish to surge in 2021.
Malie Nguyen