US Center for Disease Control pledges a US$3.9 million aid to Vietnam's Covid-19 fight
The US' Center for Disease Control has announced to pump US$3.9 million to its branch in Vietnam to support Covid-19 combat activities in the Southeast Asia country, Vnexpress reported.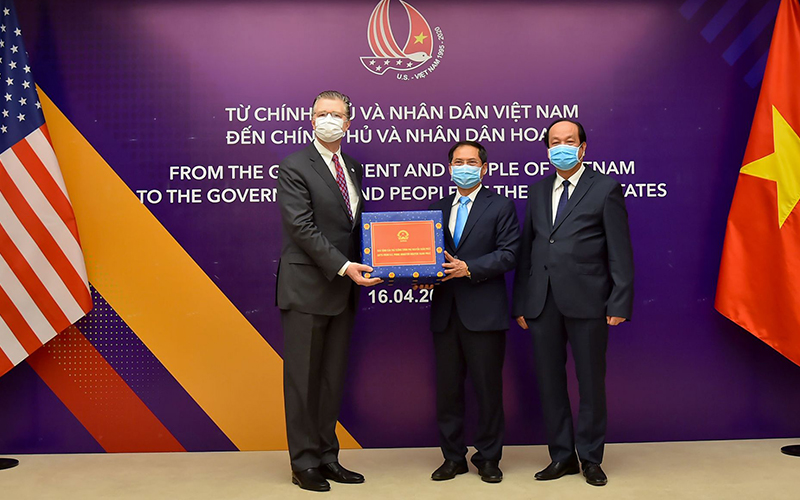 Prepresentatives of the Vietnamese government symbolically hand over a donation of 200,000 cloth masks to US Ambassador to Vietnam Daniel Kritenbrink on April 16. Photo: MOFA
The pledge aims to help CDC in Vietnam for Covid-19 prevention and combatincluding laboratory testing, field investigations, surveillance, data analysis, and infection prevention and control.
Health cooperation between the US and Vietnam has been the foundation for bilateral cooperation since 1998 when the US CDC cooperated with Vietnam to build effective and sustainable public health systems, strengthen long-term public health capacity, and protect the health of Vietnamese and US people.
With long-standing cooperation with CDC, Vietnam is the leading global efforts on preventing, detecting and responding to Covid-19, CDC announcement wrote, adding its objective of the US CDC's global health response to COVID-19 is limiting the transmission among people, minimizing the Covid-19 impacts via cooperation with key countries and non-governmental partners.
Since January, the US has been cooperating with Vietnam and other ASEAN countries to fight Covid-19. Vietnam has donated hundreds of thousands of face masks to American people and facilitated the export of medical supplies produced in the Southeast Asian country.
The US CDC provided direct technical assistance on emergency operations, specimen transport, laboratory testing, disease surveillance, infection prevention and control (IPC), and risk communication.
They also worked alongside Vietnam's Ministry of Health, training field epidemiologists (disease detectives) to conduct outbreak investigations to collect, analyze, and interpret data and contribute to evidence-based decisions.
US CDC conducted training on IPC, contact tracing, and laboratory testing and quality assurance.
$300 million was authorized for US CDC's global response to COVID-19 as appropriated by Congress in the Coronavirus Preparedness and Response Supplemental Appropriations Act.
This funding builds on US CDC's long-standing global investments to control HIV, TB, and malaria, eradicate polio, and prepare for influenza and other pandemic diseases.