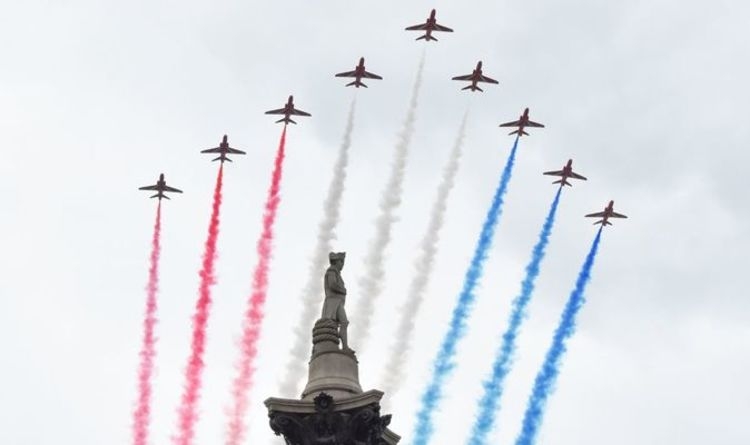 (Photo: Daily Express)
VE Day: RAF jets to roar over UK to mark 75th anniversary
RAF jets will roar over Britain to mark the 75th anniversary of VE Day, as Boris Johnson urged the nation to unite in tribute to the achievement and sacrifice of the wartime generation.
The Prince of Wales and Duchess of Cornwall will lead a two-minute silence from Scotland on a day of celebration and commemoration which also includes a "national toast", an address by the Queen, and a nationwide sing-a-long of Vera Lynn's We'll Meet Again.
Original plans for VE Day 75 were cancelled due to Covid-19, so national events have been adapted. The public in lockdown is encouraged to celebrate Victory in Europe from their gardens, doorsteps and living rooms.
Johnson visited Westminster Abbey on Thursday to pay his respects, and will observe Friday's two-minute silence from Downing Street, from where he will also speak with second world war veterans via video call.
The Red Arrows will perform a flypast over London, while modern RAF Typhoon jets will appear over Edinburgh, Cardiff and Belfast. Air Chief Marshal Mike Wigston said: "We want these flypasts to lift eyes and spirits in celebration of peace in Europe 75 years ago today. We owe an enormous debt of gratitude to that generation of heroes, from all backgrounds and many countries, who gave so much to defend the United Kingdom and free Europe from Nazi tyranny."
During the day, special television and radio programmes will include the broadcast of Churchill's historic victory speech and Prince Charles reading extracts from the diary of his grandfather, George VI, written on 8 May 1945. The entries describe events including the royal family's appearance on the balcony of Buckingham Palace, and the king's lunch with Churchill. Johnson will read the recently discovered Edmund Blunden poem V Day.
The culture secretary, Oliver Dowden, said: "As we stay home to protect the NHS and save lives, I know the British people will mark this historic occasion in new ways to show our deepest gratitude and respect for those that gave so much to bring peace, freedom and prosperity to Europe."
VE Day 2020 RAF Red Arrows flypast route and where you can see them
The Red Arrows have performed more than 4,800 displays in 57 countries since their first season in 1965
The RAF Red Arrows will be flying across the country later this morning to mark VE Day.
Victory in Europe Day was first celebrated on May 8, 1945 to mark the end of World War II in Europe.
As part of the celebrations, the flypast will be travelling around Herts and nearby Essex later today, (Friday, May 8), before flying over Buckingham Palace.
When and where will the Red Arrows fly over?
The RAF flypast starts east of Lincoln at around 9.39am BST before continuing east and on to Ingoldmells.
It then carries on over sea before heading down past Norwich and into Chelmsford where it can be seen in Basildon at around 10.06am.
The Red Arrows, who have performed over 4,800 displays in 57 countries since their first season in 1965, then travel close to the Thames before heading north once hitting Bracknell, Herts Live reported.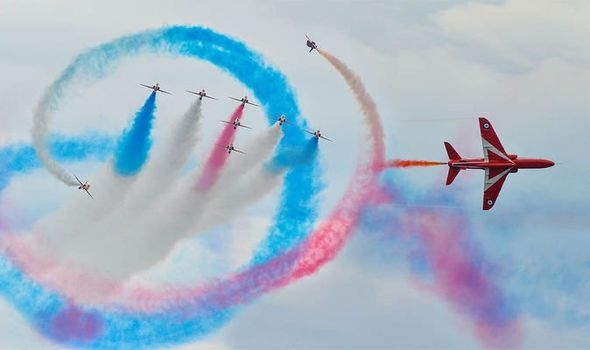 (Photo: Express.Co.UK)
Guidelines drafted by CDC were rejected by Trump administration citing religious freedom, economic concerns: report
The guidelines drafted were meant to instruct how schools, restaurants, churches and other establishments can safely reopen.
They include using disposable dishes and utensils at restaurants, closing every other row of seats in buses and trains while restricting transit routes to areas experiencing high levels of coronavirus infection.
They also recommend separating children at school and camps into groups that shouldn't mix throughout the day, among other suggestions.
White House officials reportedly rejected the guidance due to concerns that it could hamper the administration's efforts to swiftly reopen the economy.
One Department of Health and Human Services official rejected any guidance in churches, claiming the measures would infringe on religious liberties, according to the newspaper.
According to the drafted guidance obtained by the Times, the CDC recommends that religious congregations maintain social distancing by observing services via live streaming, especially if certain members of the community are elderly, or otherwise at risk.
The public health agency also recommends against the "sharing of frequently touched objects" such as worship aids, hymnals, prayer books, bulletins and other books, among other suggestions.
The news comes as Vice President Pence this week signaled the White House would wind down the work of the task force as many states being reopening processes. However, Trump reversed course Wednesday, saying that the task force would not be dissolved entirely but would evolve.
The president said it would remain in place "indefinitely" but that he may "add or subtract" task force members, according to The Hill.
Notting Hill Carnival has been cancelled for the first time ever
Organisers of the bank holiday parade, which is usually Europe's largest street festival, had previously held off officially confirming its cancellation. However, today the board of Notting Hill Carnival Ltd announced the event, due to take place on Sunday August 30 and Monday August 31, will no longer be going ahead.
It's the first time the event has been cancelled in its 54-year history. The organisers also confirmed Panorama, the annual steel band competition, will also be cancelled.
However, they have suggested an alternative Carnival will be held this year, allowing people to get into the 'Carnival spirit from the safety of their homes', Time Out reported.
"This has not been an easy decision to make, but the reality of the COVID-19 pandemic and the way in which it has unfolded means that this is the only safe option. Everyone's health has to come first", statement from organisers said.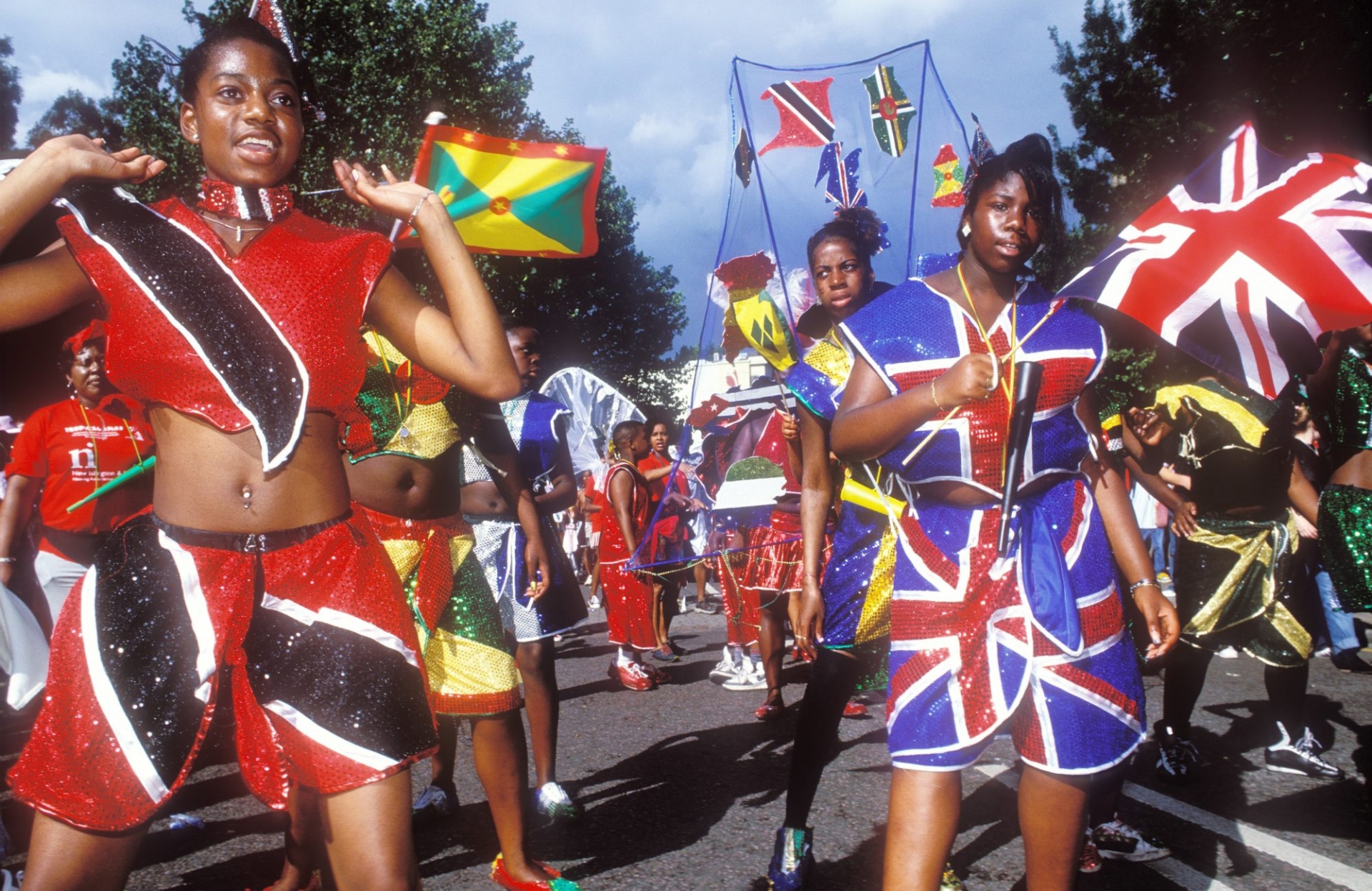 (Photo: Crack Magazine)
Restaurants and cafes in Australian can reopen in first stage of restrictions being lifted
Prime Minister Scott Morrison has announced Australians will be allowed to have five visitors at home and 10 people will be allowed to gather in businesses and public places under stage one of the COVID-19 pandemic restrictions being lifted.
Restaurants and cafes meeting these requirements will also be able to reopen, as will libraries, community centres, playgrounds and exercise boot camps. Travel within states for non-essential reasons will also be allowed.
The Prime Minister revealed the details of a new roadmap to reopening Australia post-coronavirus, presenting a three-step route, which he said states and territories will progress through at their own pace.
In the first stage of loosening social distancing measures Mr Morrison also said funerals will be allowed 30 mourners if held outdoors and 20 mourners indoors, so long as each gathering records the contact details of those involved.
Weddings with ten guests will be allowed, as well as religious gatherings with the same number of people, so long as the contact details of those involved are recorded.
The second step will allow 20-person gatherings before later loosening restrictions to allow 100-person gatherings and interstate travel in the third stage.
The first stage of relaxing social distancing restrictions is expected to boost Australia's economy by more than $3 billion per month and restore 250,000 jobs, according to analysis presented by Mr Morrison, as reported by The Sydney Morning Herald.
Ty: UK rapper dies aged 47 after contracting coronavirus
Ty, the acclaimed, Mercury-nominated UK rapper, has died aged 47.
The Nigerian-British musician died on Thursday after contracting pneumonia while recovering from coronavirus.
Ty was known for a witty, mature style that owed more to the old-school US rappers than the grittier street sounds of London.
Ty contracted coronavirus earlier this year, and a fundraising page set up in April said he had been "put in a medically induced coma to temporarily sedate to help his body receive the appropriate treatment".
He later left intensive care after his condition seemingly improved - but on Thursday, his press team confirmed he had died.
Writing on the fundraising page, Ty's friend Diane Laidlaw confirmed he had contracted pneumonia while recovering from coronavirus.
"Ty's condition had been improving but last week while on a normal ward he had contracted pneumonia which worsened his recovery and ultimately Ty's body couldn't fight back anymore," she wrote.
BBC reported that his death was mourned by stars including Ghetts and Roots Manuva.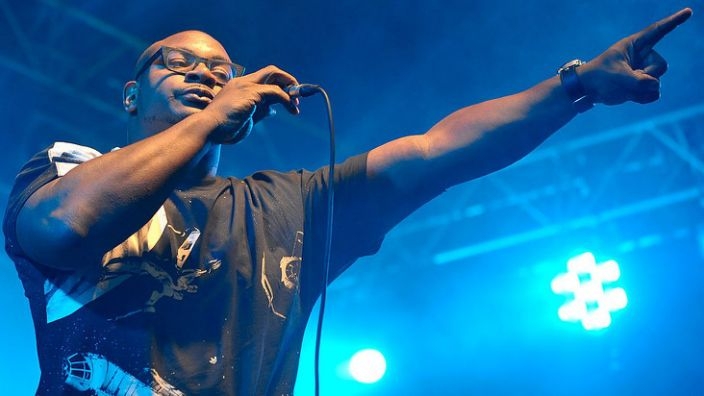 Rapper Ty (Photo: Yahoo News)
Indianapolis police say Sean Reed was fatally shot in exchange of gunfire after officer's taser was 'ineffective'
There was an exchange of gunfire between shooting victim Dreasjon "Sean" Reed and police after an officer's use of a taser failed to stop Reed during a confrontation that was partially captured on Facebook Live, the Indianapolis Metropolitan Police Department said Thursday night.
The shooting death of Reed, 21, on Wednesday night set off a series of protests in Indianapolis that continued on Thursday, USA today reported.
"Initial information indicates the officer deployed his taser," according to a summary of the incident released by IMPD. "It appears the taser was ineffective, and an exchange of gunfire between the driver and the officer followed."
IMPD said ballistic evidence recovered at the scene "initially indicate that shots were fired from both the officer's weapon and Mr. Reed's weapon." It said that evidence will be tested by the Marion County Forensic Services Agency.
A firearm located near Reed was collected for evidence, according to the IMPD summary.
"The distinctive appearance of the firearm matched one Mr. Reed had been seen posing with on social media," IMPD said in its summary.
In its summary, IMPD said the officer gave commands to Reed to stop after he parked and jumped out of his vehicle — a grey Toyota Corolla — in the rear of a business. The gunfire occured following a short pursuit on foot.
Jasmine Le