US-China tension: US ordered to close Chinese consulate in Houston
On July 22, the US-China tension escalated as the United States ordered China to close its consulate in Houston, Texas. The Chinese consulate had been given 72 hours to cease all activities and events before shutting down.
The Chinese consulate in Houston, Texas. Photo: Telegraph.
Late Tuesday evening, smoke was reported to be seen in the courtyard outside the consulate. Houston local media shared a video of officials inside the consulate who appeared to be burning documents.
As reported by the CNN, US State Department spokeswoman Morgan Ortagus said the consulate was directed to close "in order to protect American intellectual property and Americans' private information".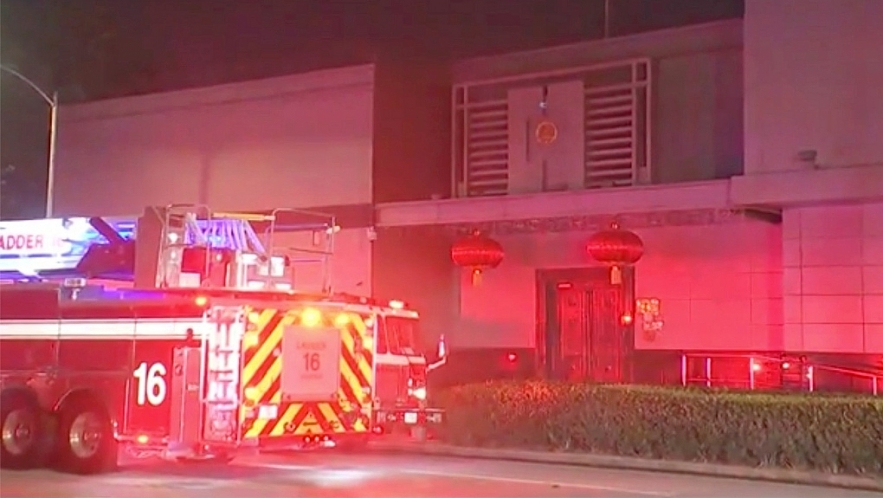 Smoke from the Chinese consulate prompted authorities to respond immediately. Photo: CTV News.
Deputy Secretary of State Steve Biegun later affirmed that "a growing number of disputes" between the US and China over Beijing's "increasingly hardline and aggressive actions" was what led President Trump's administration to take action, including closing the Chinese consulate in Houston.
Chinese Foreign Ministry stated on its official social media that the order to close the consulate was a "political provocation unilaterally launched by the US side, which seriously violates international law, basic norms governing international relations and the bilateral consular agreement between China and the US." The country also condemned the decision and urged the United States to withdraw it.
THE CONSULATE CLOSURE ORDER CAME ONE DAY AFTER US CHARGED 2 CHINESE HACKERS
One day before the US ordered Chinese consulate in Houston to close, the Trump administration had charged two Chinese hackers accused of stealing US COVID-19 research as well as other sensitive government information. The hackers disclosed that they were supported by the country's government and aimed at COVID-19 treatment and vaccine research.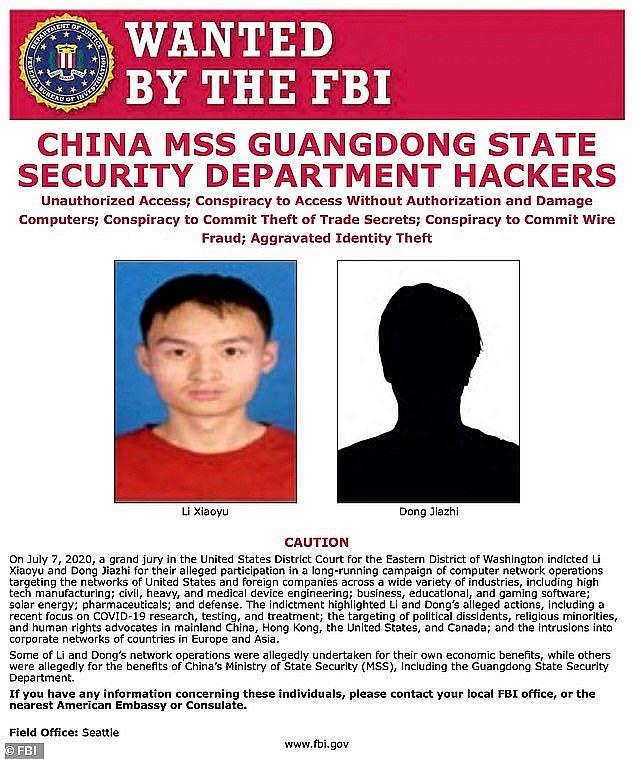 Two Chinese hackers accused of stealing US COVID-19 research and other sensitive government information.
On the report of Daily Mail, Chinese Nationals Li Xiaoyu, 34, and Dong Jiazhi, 31, allegedly stole hundreds of millions of dollars worth of trade secrets, intellectual property, and other valuable business information in a sophisticated, decade-long scheme.
They're accused of hacking hundreds of companies, government organizations, dissidents, human rights activists and private companies, including those engaged in COVID-19 vaccine research. Moreover, the hacking plot, which was said to have begun in 2009, didn't only serve the hackers' personal purposes, but also the Chinese government's benefits.
The CNN quoted US State Department spokeswoman Morgan Ortagus's statement saying that "The United States will not tolerate the PRC's (People Republic of China) violations of our sovereignty and intimidation of our people, just as we have not tolerated the PRC's unfair trade practices, theft of American jobs, and other egregious behaviour. President Trump insists on fairness and reciprocity in US-China relations."
CHINESE CONSULATE IN HOUSTON - THE "CENTRAL NODE OF THE COMMUNIST PARTY'S VAST NETWORK OF SPIES"?
Another claim regarding the Chinese consulate closure was from Republican Sen. Marco Rubio of Florida, the acting chair of the Senate Intelligence Committee, who wrote on Twitter Wednesday that closing China's consulate in Houston "needed to happen" and claimed it is a "central node of the Communist Party's vast network of spies."

Rubio calling the Chinese consulate a "central node of the Communist Party's vast network of spies" on Twitter.
When the CNN questioned about the above allegation, a current US intelligence official agreed, telling CNN that "of course it was" used for spying. "We've been watching them for a while," they said.
President Donald Trump said in answer to a question at a news briefing that "it's always possible" that he will order more Chinese consulates closed, adding that US officials thought there was a fire at the Houston consulate but apparently "they were burning documents."