US, EU and Canada sanctions China and this is how Beijing hits back
Earlier this week, US, the European Union, Britain and Canada decided to sanction China, which sent "a clear message about the human rights violations and abuses in Xinjiang", in the first such coordinated Western action against Beijing under new US President Joe Biden.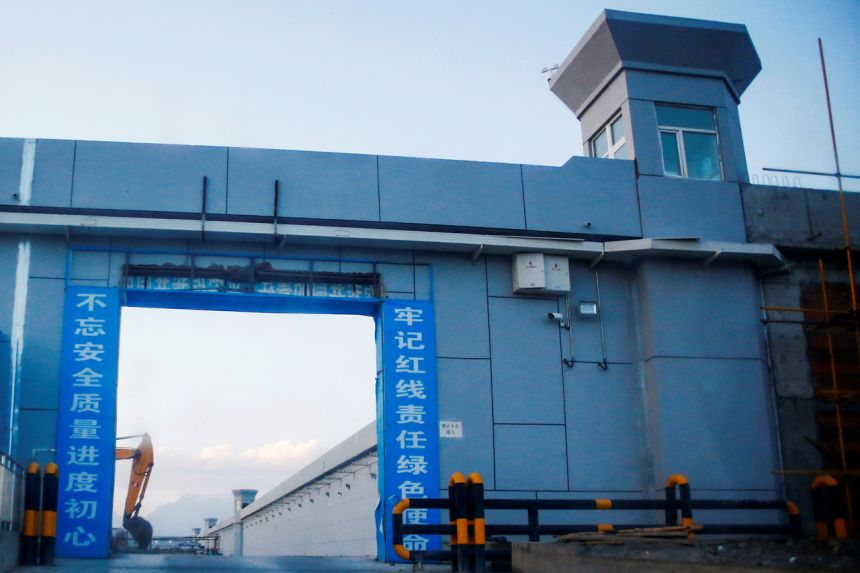 China denies any human rights abuses in Xinjiang.PHOTO: REUTERS
The sanctions blacklisted former and current officials in the Xinjiang region – Zhu Hailun, Wang Junzheng, Wang Mingshan and Chen Mingguo – for alleged abuses, which have sparked international outrage.
The move by the U.S. and its allies follows two days of talks between U.S. and Chinese officials last week, which laid bare the tensions between the world's two largest economies.
Unlike the United States, the EU has sought to avoid confrontation with Beijing, but a decision to impose the first significant sanctions since an EU arms embargo in 1989 following the Tiananmen Square pro-democracy crackdown indicates a change in posture, according to Reuters.
The Netherlands summoned China's ambassador to The Hague after Beijing announced its measures on 10 Europeans, while the European Parliament, along with German and Belgian and other foreign ministers, rejected the Chinese retaliation.
Accused of mass detentions of Muslim Uighurs in northwestern China, those targeted by the EU included Chen Mingguo, the director of the Xinjiang Public Security Bureau. The EU said Chen was responsible for "serious human rights violations."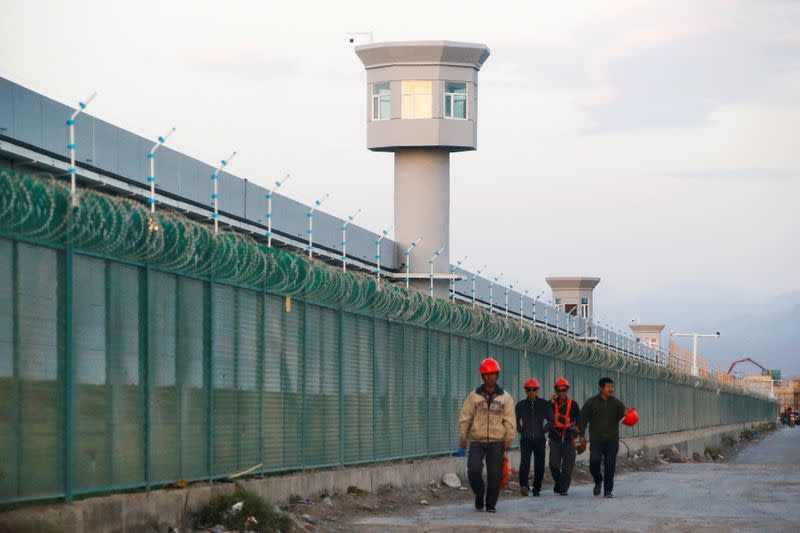 FILE PHOTO: Workers walk by the perimeter fence of what is officially known as a vocational skills education centre in Dabancheng in Xinjiang Uighur Autonomous Region, China September 4, 2018. Picture taken September 4, 2018. REUTERS/Thomas Peter
In its Official Journal, the EU accused Chen of "arbitrary detentions and degrading treatment inflicted upon Uighurs and people from other Muslim ethnic minorities, as well as systematic violations of their freedom of religion or belief".
Others hit with travel bans and asset freezes were: senior Chinese officials Wang Mingshan and Wang Junzheng, the former deputy party secretary in Xinjiang, Zhu Hailun, and the Xinjiang Production and Construction Corps Public Security Bureau.
However, the EU did not designate the top official in Xinjiang, Chen Quanguo, who is targeted by U.S. sanctions.
The United Nations has said more than one million Uighurs and other mostly Muslim Turkic-speaking residents of the northwestern region have been held in a network of camps that China has called vocational skills training centers in recent years.
Rights groups said they have also been subjected to other abuses including restrictions on freedom of religion including being forced to eat pork.
On Tuesday, the foreign ministers of Australia and New Zealand said they welcomed the sanctions, according to Al Jazeera.
"There is clear evidence of severe human rights abuses that include restrictions on freedom of religion, mass surveillance, large-scale extra-judicial detentions, as well as forced labour and forced birth control, including sterilisation," Australian Foreign Minister Marise Payne and New Zealand Foreign Minister Nanaia Mahuta said in a joint statement.
The sanctions agreed on Monday mark the EU's first punitive measures on Beijing since it imposed an arms embargo after the 1989 Tiananmen Square massacre.
The four individuals will have their assets in the bloc frozen and be banned from travelling within the EU's borders. European citizens and companies are not permitted to provide them with financial assistance.
The four are senior officials in the northwest region of Xinjiang, where at least one million Uighurs have been detained in internment camps, according to the United Nations.
China hits back, sanctions EU politicians, scholars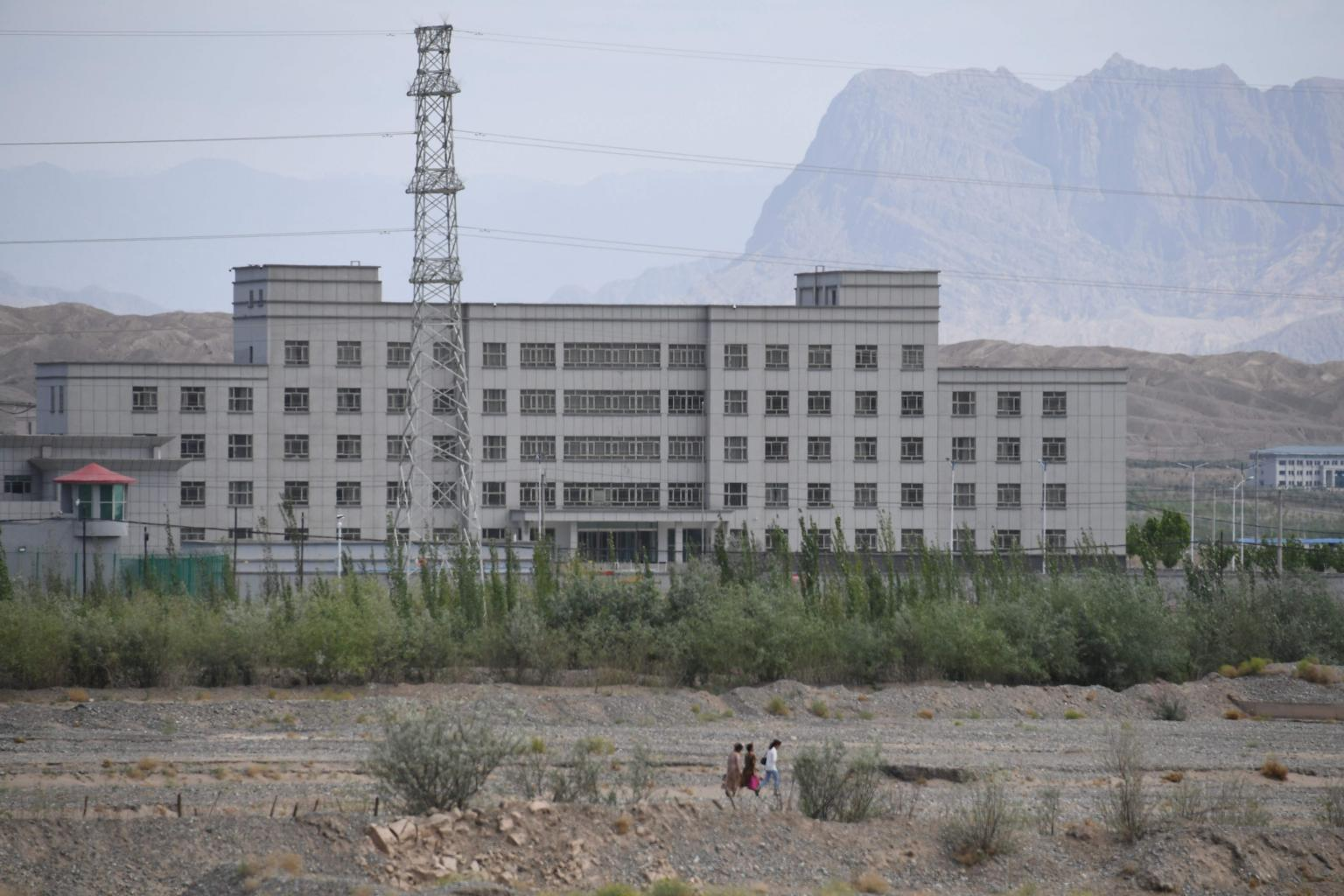 A facility believed to be a re-education camp where mostly Muslim ethnic minorities are detained, in Artux, north of Kashgar, in Xinjiang. PHOTO: AFP
In a dramatic escalation, minutes after an EU decision to sanction China over abuses of Uyghurs, Beijing on Monday hit back with counter-sanctions on European parliamentarians, research scholars, and institutions for "maliciously spreading lies and disinformation."
The Chinese Foreign Ministry released a statement saying it was sanctioning 10 individuals and four entities on the EU side.
They include five members of the European Parliament, one Dutch, Belgian, and Lithuanian MP apiece, as well as Adrian Zenz, a German scholar in the Xinjiang region (where the Uyghurs are concentrated), and Swedish National China Centre Director Bjorn Jerden. These individuals and their families are prohibited from entering or doing any business in China, Hong Kong, and Macao.
The EU Council's Political and Security Committee, the EP's Subcommittee on Human Rights, the Mercator Institute for China Studies, and the Alliance of Democracies Foundation in Denmark led by ex-NATO chief Anders Fogh Rasmussen were threatened with sanctions.
The Chinese reaction came shortly after the EU foreign ministers for the first time agreed to impose restrictive measures against four high-ranking Chinese party officials and a company for abuses and the large-scale arbitrary detentions of Uyghurs in the Xinjiang region.
Blasting the sanctions as lies and disinformation that severely undermine China-EU relations, the Chinese statement urged the EU to reflect on and redress the "severity of its mistake." It threatened to further actions if the EU did not stop interfering in its internal affairs, according to AFP.
Beijing called the sanctions on the "so-called human rights issues in Xinjiang" to be based on distorted facts and in breach of international law and norms governing international relations.
The Inter-Parliamentary Alliance on China (IPAC), whose members are party to the sanctions, deplored attempts to intimidate and silence foreign politicians and research scholars, saying it only serves to undermine and discredit the Chinese government's message.
French MEP Glucksmann, a vocal critic of China and leading campaigner of the Free Uyghurs movement, said the threats of sanctions will not affect his work. "We will continue to fight against your crimes and to break the silences which surround them."
Up to 1 million people, or about 7% of the Muslim population in Xinjiang, have been incarcerated in an expanding network of "political re-education" camps, according to US officials and UN experts.