US force enters Bien Dong Sea right after China grants weapon fire rights to Coast Guard
The US carrier strike group Theodore Roosevelt entered the Bien Dong Sea on January 23 to carry out maritime security operations, a day after China enacted laws allowing the Coast Guard to use weapons.

The aircraft carrier USS Theodore Roosevelt (CVN 71) transits the Pacific Ocean Jan. 15, 2021. (Photo: PACOM)
The Theodore Roosevelt Carrier Strike Group (TRCSG) entered the South China Sea on January 23 to conduct routine operations. The TRCSG is on a scheduled deployment to the U.S. 7th Fleet to ensure freedom of the seas, build partnerships that foster maritime security, and conduct a wide range of operations, according to the announcement posted on the website of the US Indo-Pacific Command. While in the South China Sea, the strike group is conducting maritime security operations, which include flight operations with fixed and rotary-wing aircraft, maritime strike exercises, and coordinated tactical training between the surface and air units.
"We all benefit from free and open access to the seas and our operations represent our commitment to maintaining regional security and stability," said Capt. Eric Anduze, USS Theodore Roosevelt's commanding officer. "I'm incredibly proud of the work and professionalism this crew shows every day operating on the high seas."
The TRCSG consists of USS Theodore Roosevelt (CVN 71), Carrier Air Wing (CVW) 11, the Ticonderoga-class guided-missile cruiser USS Bunker Hill (CG 52), Destroyer Squadron 23, and the Arleigh Burke-class guided-missile destroyers USS Russell (DDG 59) and USS John Finn (DDG 113).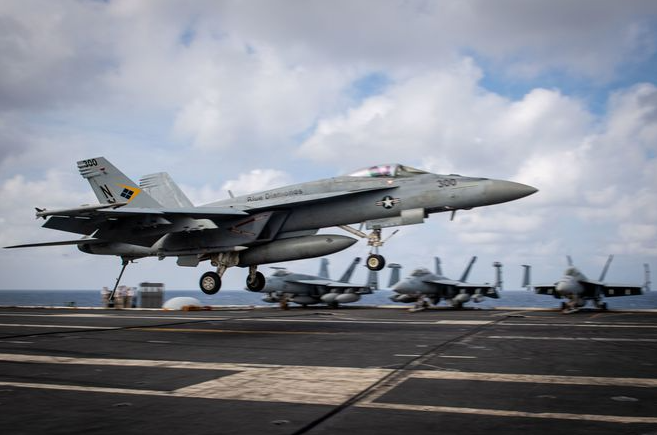 A F/A-18E Super Hornet, assigned to the "Blue Diamonds" of Strike Fighter Squadron (VFA) 146, lands on the flight deck of the aircraft carrier USS Theodore Roosevelt (CVN 71) Jan. 20, 2021. (Photo: PACOM)
"After sailing through these waters throughout my 30-year career, it's great to be in the South China Sea again, conducting routine operations, promoting freedom of the seas, and reassuring allies and partners," said Rear Adm. Doug Verissimo, commander, Carrier Strike Group Nine. "With two-thirds of the world's trade traveling through this very important region, it is vital that we maintain our presence and continue to promote the rules-based order which has allowed us all to prosper. While we miss visiting our allies and partners in the region in person, we're grateful for all the opportunities we have to operate with them at sea."
The US aircraft carrier strike group arrived in the Bien Dong Sea after Chinese President Xi Jinping on January 22 signed a bill allowing the Coast Guard to use weapons against foreign ships in the so-called water territory of this country. The new law takes effect from February 1, 2021.
The law is aimed at "safeguarding national sovereignty, security and maritime rights," the official Xinhua News Agency said in a report early Saturday. The China Coast Guard would be allowed to take "all necessary means," including the use of weapons, to stop or prevent threats from foreign vessels, according to the text released by Xinhua. Coast guard personnel will be permitted to board and inspect foreign ships operating in China's "jurisdictional waters," a term covering areas claimed by other countries. The move could raise the risk of miscalculation in the vast areas of disputed waters that stretch out from China's coast. Chinese coast guard ships often come into close contact -- sometimes engaging in tense standoffs -- with foreign vessels, as they assert Beijing's claims to much of the South and East China seas, said Bloomberg.
National
Vietnam News Today (Jan. 20): Vietnam confirms 15,936 new local Covid cases; First Omicron infections in community reported in HCM City; Vietnam to facilitate procedures for foreign entrants; Hanoi capital cancels fireworks display on lunar New Year's Eve.