China flaunts warships to impose threats in the Bien Dong Sea
Over the past few days, Beijing's propaganda apparatus has released flaunting images of warships to impose threats on countries in the Bien Dong Sea, said Thanh Nien.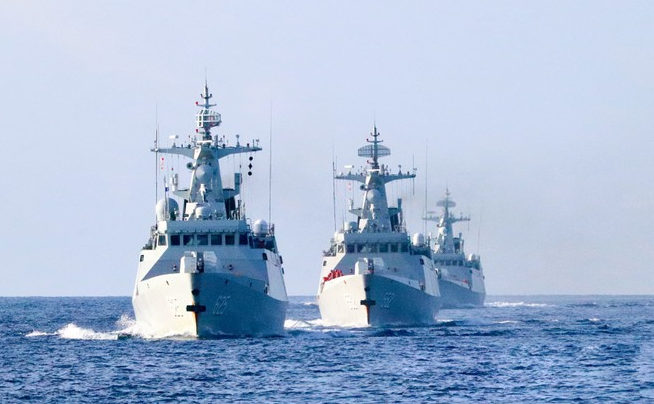 Photo: Thanh Nien
On the night of January 17, the Twitter account of China in English published the video of the Chinese naval exercise with the caption saying: "You are surrounded. Surrender!" PLA Southern Theater Command sends clear message to the "enemy" in the South China Sea during practices"
Over the past time, Beijing repeatedly voiced threats to countries that have appearances on the Bien Dong Sea (internationally called the South China Sea). Most recently, the UK was warned by China of its intention to send the aircraft carrier HMS Queen Elizabeth to the sea, said Thanh Nien.
The Southern Theater Command was assigned by Beijing to be in charge of the Bien Dong Sea area. This force has recently repeatedly conducted exercises in the sea. The Shandong aircraft carrier has also been handed over to the Southern Theater Command and will most likely be stationed at the Yulin naval base in Sanya A City, Hainan.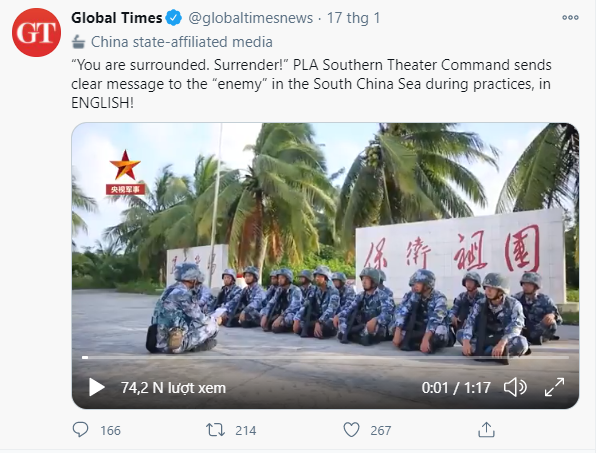 Photo: Twitter
According to an article published by South China Morning Post in December 2020, satellites found a dry dock being built at China's naval complex on the island province of Hainan in the Bien Dong Sea, which, said analysts, would be big enough to accommodate the country's new generation of aircraft carriers.
The mentioned clip published by the Global Times includes the appearance of the guided-missile destroyer Hohhot (Hull 161), belonging to Type 052D destroyer. This is one of the major warships in China's navy currently.
Warships of the Chinese People's Liberation Army (PLA) Navy recently conducted real scenario-oriented exercises in the South China Sea and comprehensively honed their combat capabilities, media reported early December. During the exercises, the PLA Type 056A corvettes practiced defending against incoming missiles by detecting the missiles, deploying smoke, and launching flares, and conducted main gun shooting training on a mock warship target that was approaching at a rapid speed of 44 knots, according to the CNR report.
Recently, China released the image of real-time ammunition shooting exercises from a ship in the Bien Dong Sea at the beginning of December 2020 but did not mention a specific date.