US Magazine Readers Vote 10 Best Bars In Vietnam
With the nation reopening to international tourism, US magazine Travel + Leisure has made a list of 10 best bars in Vietnam based on votes by its readers.
Te Bar
Located on the third flooring of a building on Nguyen Thai Hoc street in the central city of Da Nang, Te Bar tops the list of the 10 greatest bars in Vietnam and was recognised during the first ever Asia's Finest Awards 2022.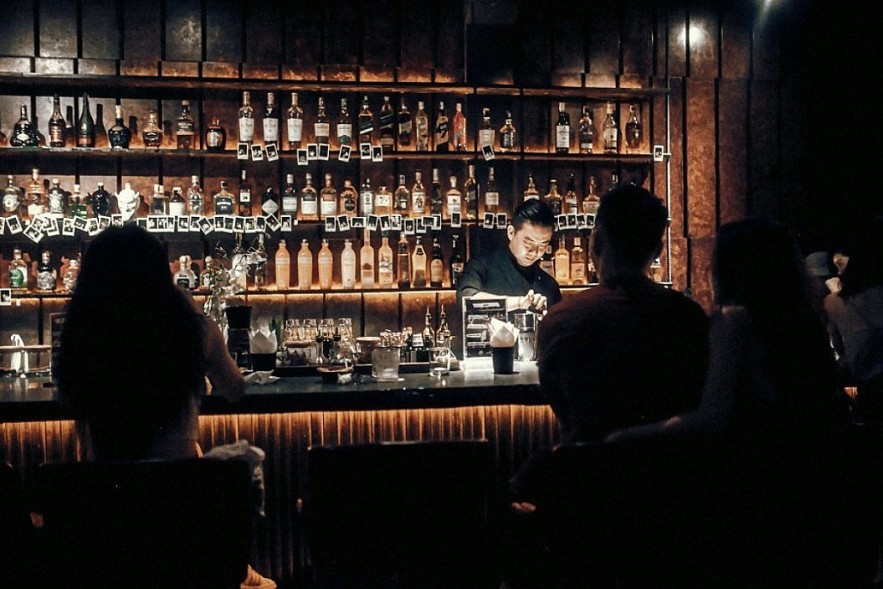 Photo: VOV News.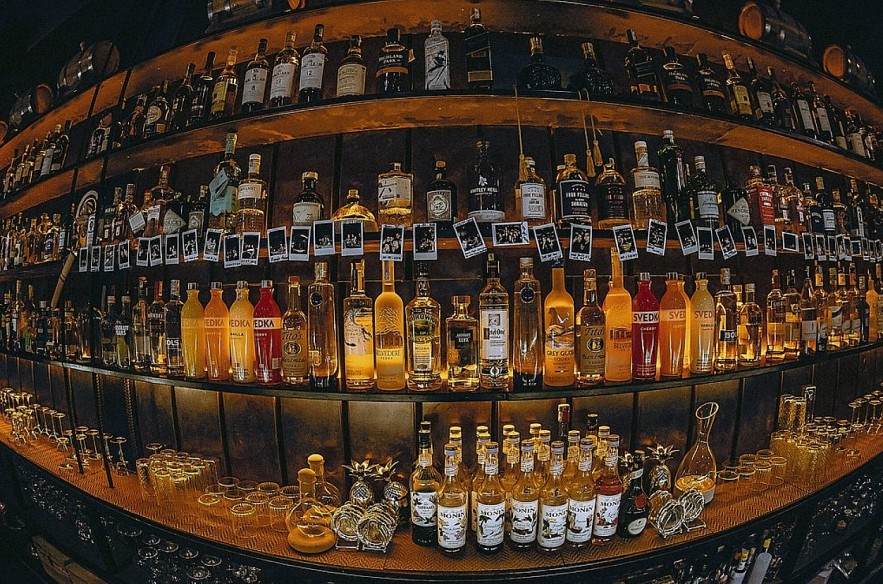 Photo: tripadvisor.com.
According to Travel + Leisure, the bar was named after the distilled beverage tequila created from the blue agave plant, primarily in Tequila Metropolis to the northwest of Guadalajara within the central western Mexican state of Jalisco.
The bar is notable for being the only one in the central city to serve a pho cocktail that draws inspiration from the nation's signature beef noodle soup that consists of many the herbs and spices such as cinnamon, star anise, cilantro, and cardamom.
The venue is open from 7:30 p.m. to 1:30 a.m., with prices ranging from VND80,000 to VND200,000, equal to US$3.42 to US$8.56.
What you can expect during your visit:
-Face masks are required for staff in public areas
-Hand sanitizer available to guests & staff
-Daily temperature and symptom checks for staff
-Staff are required to regularly wash hands
-Tables disinfected between guests
-Stay-at-home policy for staff with symptoms
Birdy Bar
Nestled between a street noodle stall and a local coffee shop on Pham Viet Chanh Street in Binh Thanh District, Birdy bar came in second, as reported by VnExpress.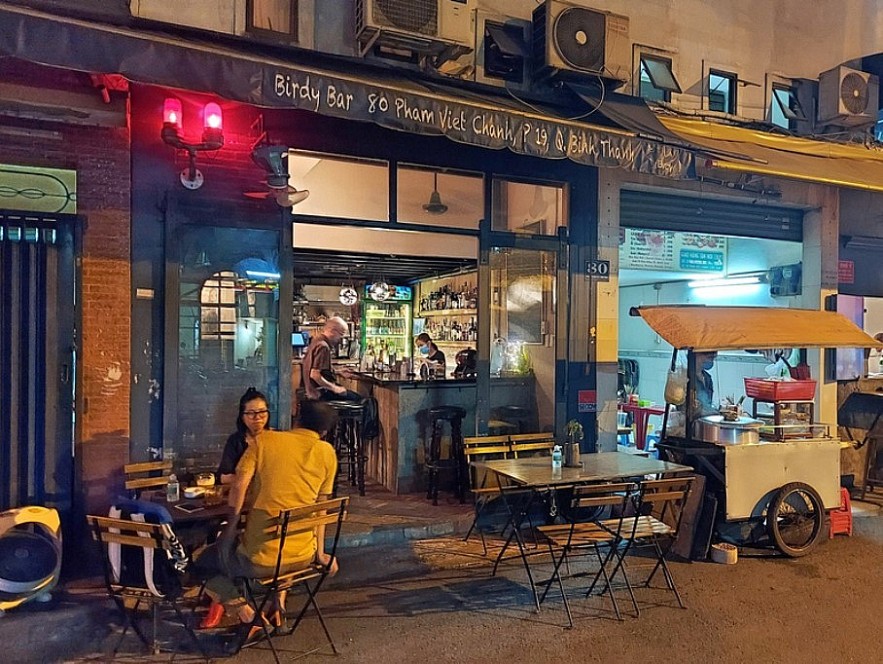 Birdy Bar, Pham Viet Chanh. Photo: nomadicnotes.com.
At only 16 square meters, Birdy is probably the smallest bar in town and can be easily overlooked without a tip off. With only eight seats at the counter, most guests choose to sit outside to enjoy Saigon's nightlife vibe. It is open from 3 p.m. until late at night with prices from VND80,000 (USD$3.41) to VND200,000 (USD$8.53).
According to streatery.net, this unique little cocktail bar is loaded with character, fine drinks, and the entertaining hospitality of the host. With smiling bartenders, and fresh ingredients tucked away from the main thoroughfare, Birdy bar is above and beyond our favorite "friendly neighborhood bar".
Ken, the owner, came to Vietnam years ago, forming part of the ballooning Japanese ex-pat population in those times. Ken fell in love with the laid back lifestyle and old-school way of doing things in Vietnam. Furthermore, he especially liked the small family-run brick-and-mortar shops selling common items to fulfill your daily household needs. This had become an expired commodity in his native Japan, in lieu of big chain supermarkets. He and his wife work full time as interior designers, their office just a rocks-throw away from Birdy itself. If you catch Ken at Birdy itself, he's like a bar fixture, always socializing with the crowd, drink in hand, loud, rambunctious, and full of sensational stories that will make you laugh until you cry.
Ne Cocktail Bar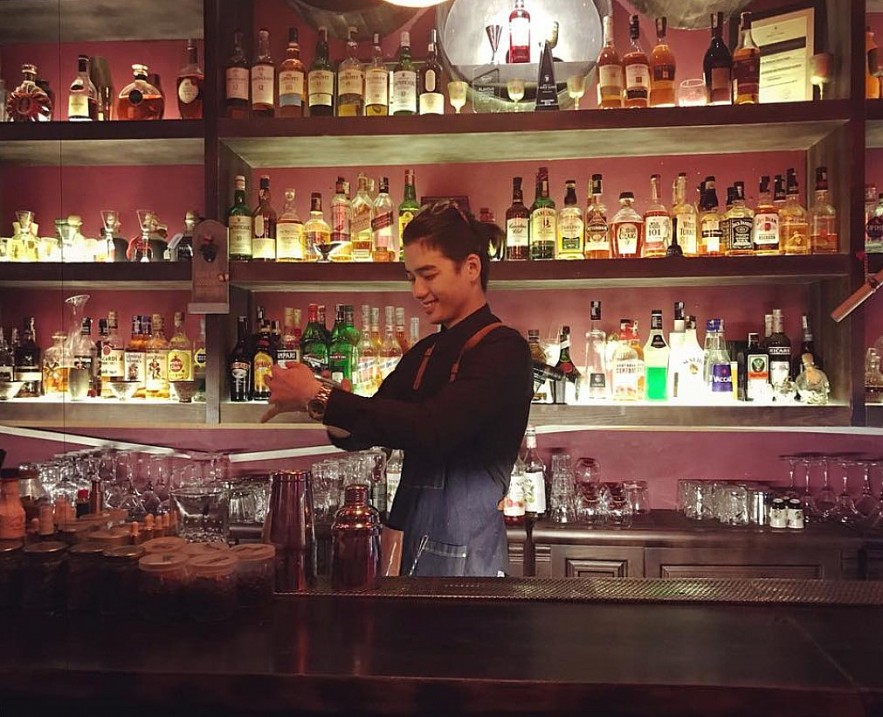 Photo: kenh14.vn.
Cocktail enthusiasts will have a good time at Ne Cocktail Bar, especially when it boasts several award-winning bartenders. This hip bar located at the Old Quarter has a signature creation: the Pho cocktail, which you must try should you visit. The gin-based cocktail features similar ingredients found in the beef noodle soup, including star anise and cinnamon. The menu also boasts cocktails highlighting the unique local flavors of Vietnam, as Lifestyle Asia reported.
When you order the Pho Cocktail the first thing that will happen is that the bartender will reach for what appears to be a tall, ornate candle holder. It's a metal stand about 2 ½ feet tall, divided into three levels. Each level has a small, metal cup with holes in the bottom affixed to it and into these cups, the bartender will pack anise, cinnamon and cardamom. Once the stand is prepped, the bartender stirs gin and Cointreau in a metal pitcher and applies a torch to the bottom of the pitcher to begin heating up the liquid, according to eatdrinktravelyall.com.
According to the website, the bar opened back in 2017 and reached global fame for its signature pho cocktail developed by owner Pham Tien Tiep, who was dubbed Hanoi's leading hipster bartender. The cocktail has since been featured on CNN and AFP, promoting Vietnamese cuisine around the world. It is open from 7:30 p.m. until 2 a.m., with prices ranging from VND100,000 (USD$4.26) to VND200,000 (USD$8.53).
Pasteur Avenue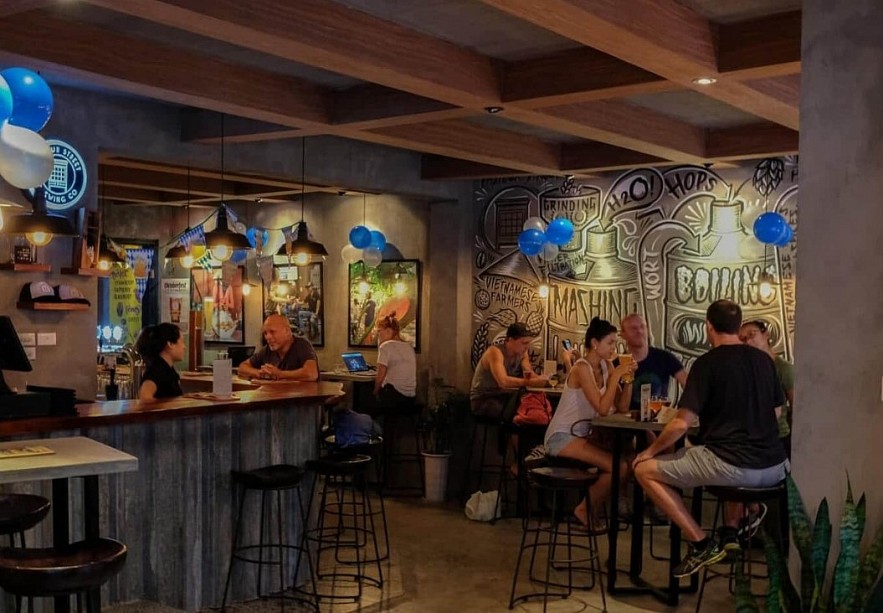 Photo: VOV News.
With its headquarters on Ngo Thoi Nhiem street in District 3 of Ho Chi Minh City, Pasteur Avenue Brewing Co, which has a minimum of four branches in the city and one in Hanoi, secured fourth place on the list. Pasteur Avenue is famous for its craft beer, which mixes American craft brewing strategies and recent Vietnamese substances, with prices between VND100,000 (USD$4.26) and VND500,000 (USD$21.34).
Nhau Nhau, HCMC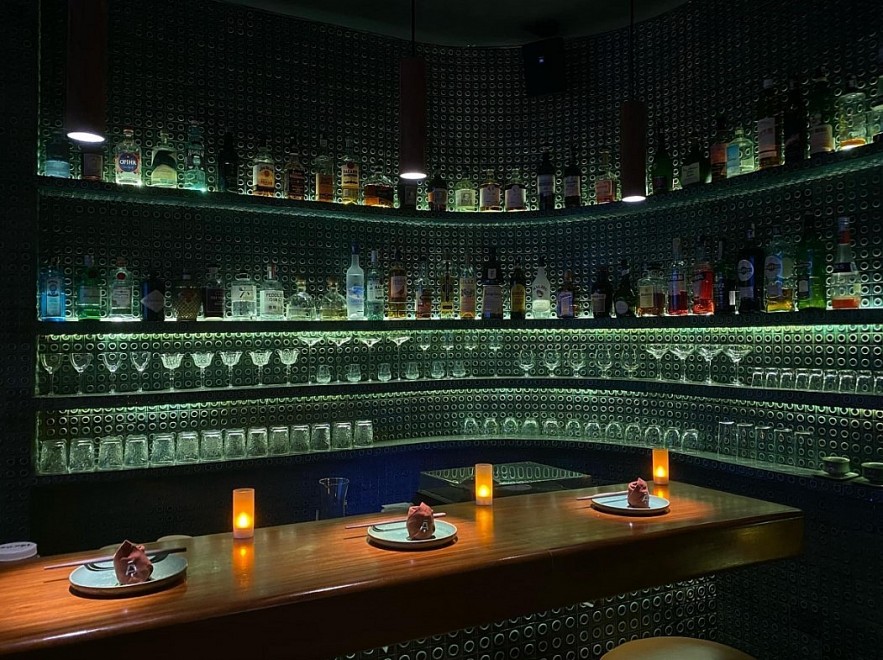 Photo: VOV News.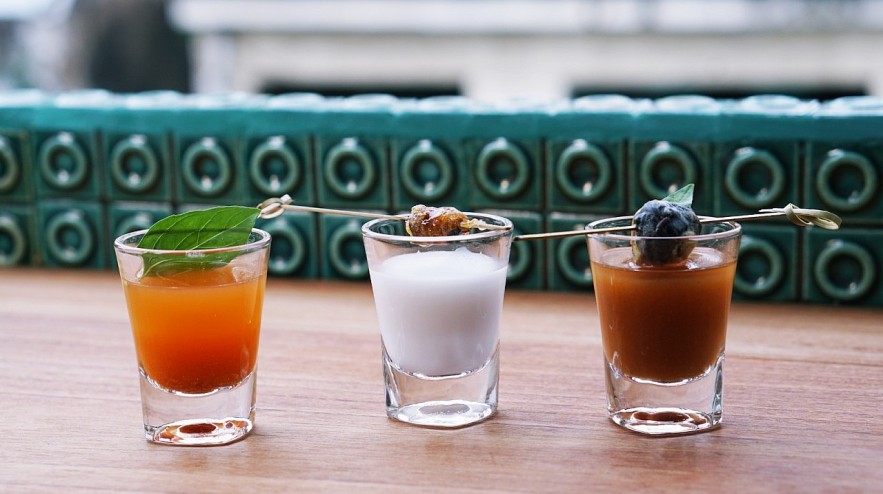 Photo: asia-bars.com.
Nhau Nhau cocktail bar, symbolic of Vietnam's after-work consumer tradition and located on the second floor of Anan Saigon Restaurant on Ton That Dam street in HCMC, stood fifth.
"The bar features a big mural and an indication to not "go dwelling 'til you are drunk" whereas Sixties vinyls frame the curvaceous background. Visitors might be served Hue sake, local beer or creative cocktails together with snacks like banh mi," according to Travel + Leisure. It's open from Tuesday till Sunday with prices per cocktail from $5.
According to asia-bars.com, highlights of the menu include the contemporary execution of traditional pho dishes – the pho dac biet features a rich umami broth swirled with hand-cut noodles draped with wagyu, cured quail egg, black truffle, bone marrow, and 24-hour-cooked beef rib. Dishes selected from the ANAN menu such as the beef-tartare and rice-cracker carpaccio and pork banh mi BBQ are also served. For dessert, try the house-made Marshmallow and Chocolate, slathered with peanut butter, coconut, rice cracker, and tropical fruits. Or try the Broken Lime, a decadent ball of lime-vanilla mousse that promises perfect tanginess.
True to its name NHAU NHAU – a tribute to the Vietnamese drinking culture – explores the flavors of central and northern Vietnam through liquor. Homegrown rice wines and other spirits are the highlights of the bar, along with a curation of wines, whiskeys, and tropical cocktails. Sip a local bia hoi or get adventurous with a coconut worm shot, set on a skewer over a glass of rum and coconut cream.
Sailing Club Phu Quoc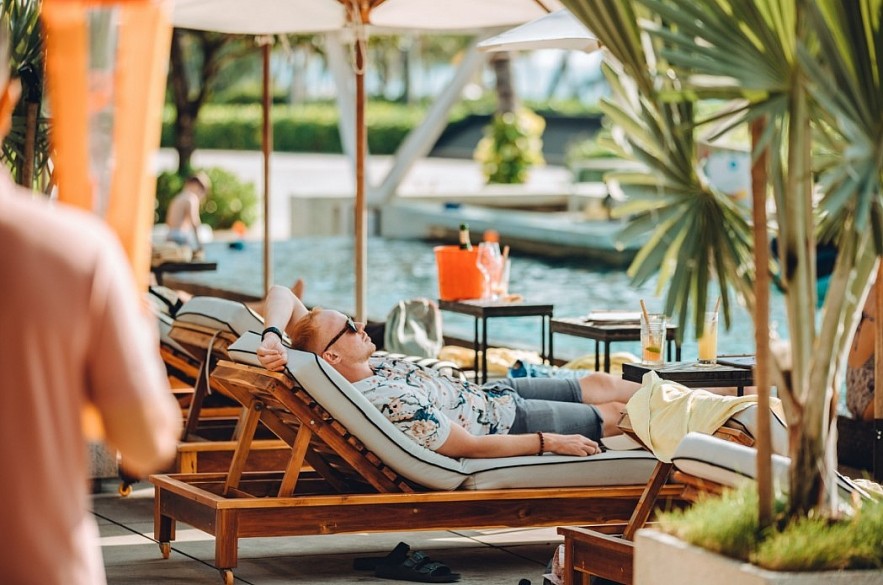 Photo: VOV News.
Phu Quoc, Vietnam's largest island, is one of the country's top tourist attractions. Sailing Club Phu Quoc is sixth on the list. The bar is situated along Long Beach in Phu Quoc Island and boasts has an outdoor swimming pool and a lounge bar along the beach, with prices from VND120,000 (USD$5.12) to VND995,000 (USD$42.45). It also serves Asian dishes from 12 p.m. to 10 p.m.
Blush Beach Club
Blush Beach Club is located in scenic central coast in Vietnam on a site of 1.4 hectares in Ha Quang Bac Village, Dien Duong Ward, Dien Ban Town, Quang Nam Province, including: Bar and Restaurant Areas; Nightclub, underwater sport, outdoor theatre; beach amenities and providing international standard services to clients visiting the venue, as blushbeach.com reported.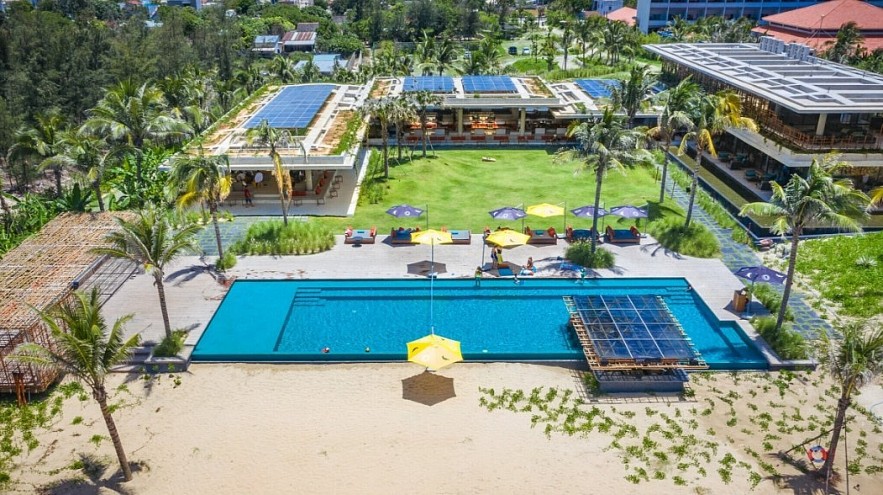 Photo: VOV News.
Blush Beach is a seasonal beach and pool club, bar, grill and nightclub catering to the Da Nang - Hoi An market. Blush seeks to create a single destination outlet for guests both local and foreign to enjoy high end international level entertainment and dining up market dining options specializing in an Asian fusion menu as well as Western comfort items. Bar and full service dinner menu available, Pool and beach area with service, DJ area, high end service, eco theme, innovative bar and cocktail list, bottle and cabana service, monthly destination theme events, convention and wedding space rentals.
Surrounded by bushes, the bar overlooks Non Nuoc beach and is only a few steps from Hoi An. It features an outdoor swimming pool and personal space to serve visitors Asian and Western cuisine, in addition to a nightclub. Costs begin from VND150,000 (USD$6.40).
Angelina Bar
Angelina Bar can be found at Hanoi's famed Metropole Hotel and is ranked in eighth place.
According to the website, set in a peaceful space inside one of the most luxurious hotels in the capital, the bar serves a menu including cocktails, mocktails, beer and fine wines, as well as European-style dishes like Australian Wagyu beef tenderloin, French oysters, Scottish cod, and pan-fried fatty liver. Prices range from VND340,000 (USD$14.52) to VND2.3 million (USD$98.19).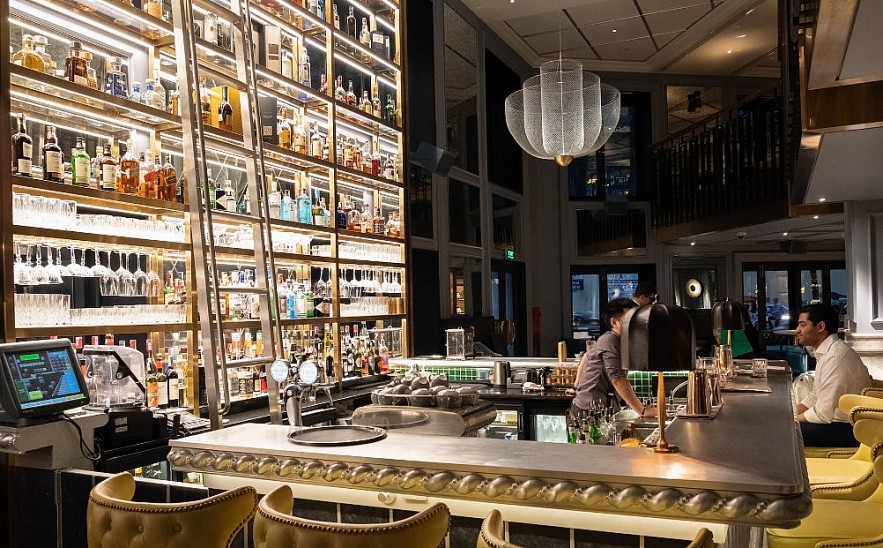 Photo: asia-bars.com.
Within the voluminous space, a dramatic double height back bar is the centrepiece of the contemporary multi-level interior. Serving modern International cuisine, both classic and progressive craft cocktails – plus an impressive assemblage of vintage and rare whiskies – angelina has become a popular destination in Hanoi for relaxed dining and drinks – attracting a discerning clientele of both local residents and hotel guests.
Opening from morning until late, angelina serves a lunch and dinner menu, together with a late-night bar menu. Experienced bartenders behind the bar serve up drinks from the menu of classic and signature creation cocktails or assemble bespoke creations from the ceiling high array of premium spirits. A daily L'aperitif Happy Hour between 5 pm and 7 pm offers a concise selection of aromatic and flavourful cocktails – plus selected wines by the glass, premium spirits and beers – all at attractive prices.
Highlights from the house signature cocktails include Angel-in-a-Box – a polished combination of Talisker 10-year whisky, shiitake tincture, Oloroso sherry and applewood smoke; while Snow Capped blends vanilla-infused Absolut Elyx, elderflower syrup, fresh lemon juice and Deutz Brut Champagne into a well-balanced cocktail. Standouts from the "classics" include Angelina's take on the Bramble – with Bombay Sapphire gin, lemon juice, sugar syrup and Crème de Mûre blackberry liqueur; and the spirit-forward Manhattan – a barrel-aged blend of Rye whiskey, sweet vermouth and bitters.
Bamboo Bar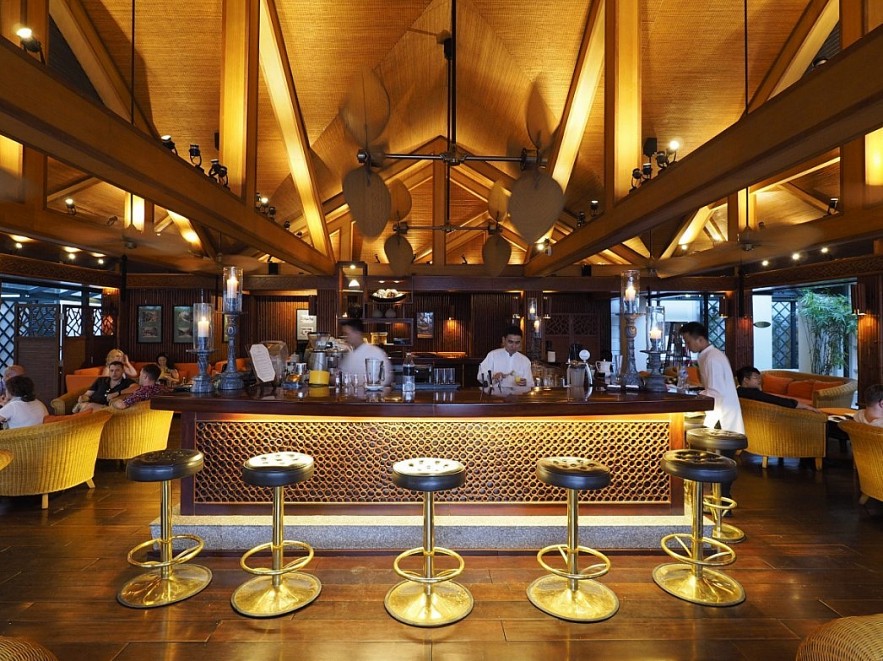 Photo: VOV News.
Bamboo Bar is located in the Hanoi Metropole Hotel and is characterized by its thatched roof and wood flooring. It serves mild meals, gourmand ice cream, desserts, fruit juices, coffees, teas, and refreshing cocktails with costs ranging from VND460,000 (USD$19.63) to VND580,000 (USD$24.76).
It is always the busiest spot within the hotel after its upgrade in 2011 helped to find a two-metre high wartime bomb shelter located beneath the site. The bomb shelter was where many famous figures of the Vietnam War, including actress Jane Fonda and author Tom Hayden, both anti-war activists, took refugee as bombs rained down on Hanoi.
Divas Lounge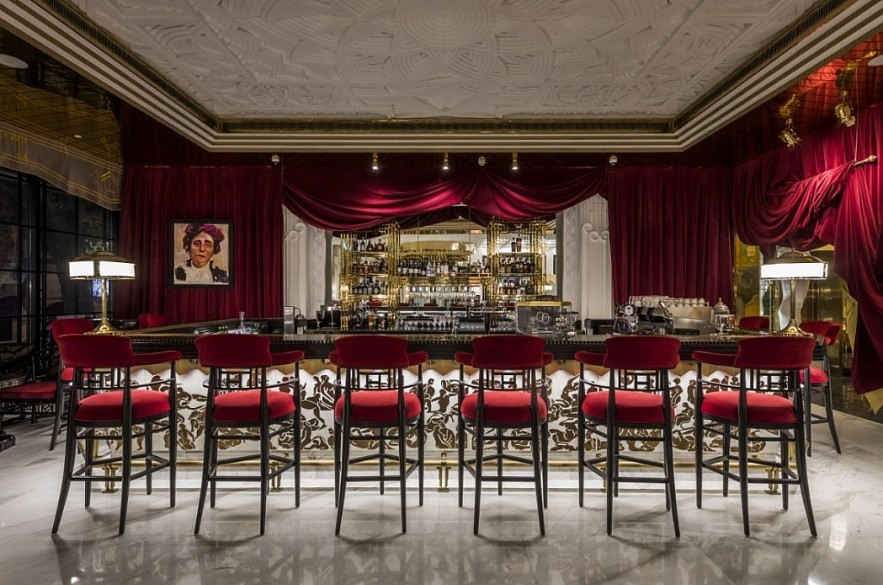 Photo: VOV News.
Designed by American landscape architect and interior designer Bill Bensley, Divas Lounge in Capella Hanoi Hotel on Le Phung Hieu street in Hanoi's Old Quarter rounds off the list.
Travel + Leisure said that the bar is decorated with trunks, opera costumes, and antiques reminiscent of those lavish spaces where artists would gather to apply makeup or to relax in preparation for their performances during the 19th century's golden age of opera. Prices start from VND180,000 (USD$7.68).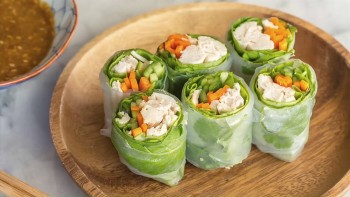 Travel
Rolls are a easy-to-make dish that is loved by many Vietnamese diners as well as Korean stars.