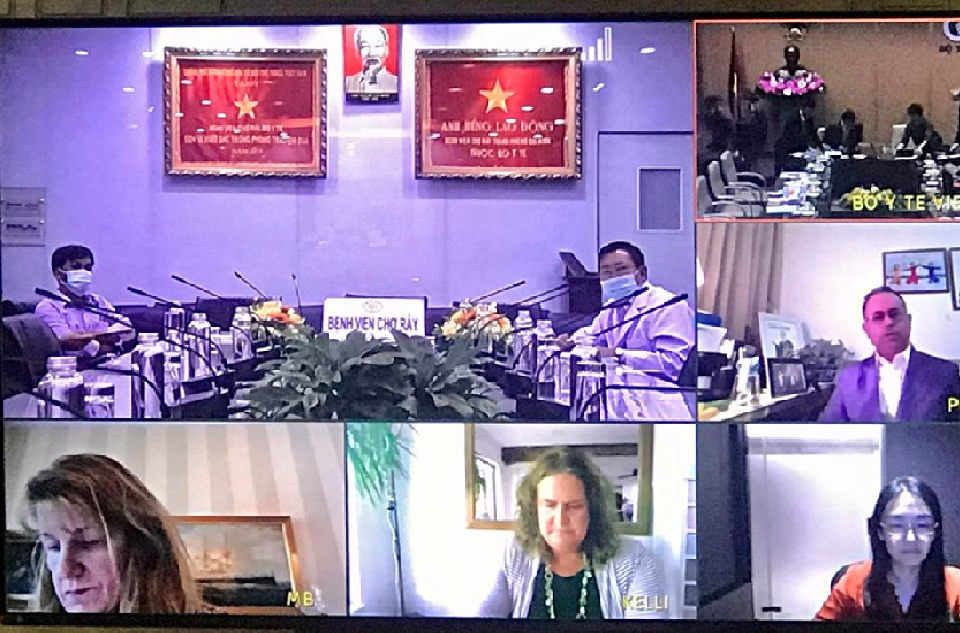 US experts share experience in treating COVID-19 patients suffering from chronic renal failure via a video conference. Photo: Ministry of Health
Vietnam should consider using automatic peritoneal dialysis with remote prescription function to treat COVID-19 patients with artificial kidneys, US experts said.
The US experts and doctors share the experience via a video conference jointly held by the Vietnamese Ministry of Health and the Vietnamese Embassy in the US on August 12.
The event saw the attendance of Deputy Health Minister Tran Van Thuan, Director of the Health Ministry's Department of Medical Examination and Treatment Luong Ngoc Khue, leaders and heads of several central-level hospitals' renal departments, and US Secretary of Health and Human Services Alex Azar.
Foreign experts also advised Vietnam to conduct peritoneal dialysis at home to minimise the risk of infection at hospitals, VNA reported.
A study unveiled that in 2017, the global prevalence of chronic kidney disease (CKD) was 9.1 percent (697.5 million cases).
In the year, CKD resulted in 1.2 million deaths and was the 12th leading cause of death worldwide. In addition, 7.6 percent of all cardiovascular disease (CVD) deaths (1.4 million) could be attributed to impaired kidney function. Together, deaths due to CKD or to CKD-attributable CVD accounted for 4.6 percent of all-cause mortality. Global all-age CKD mortality increased by 41.5 percent between 1990 and 2017, whereas age-standardized CKD mortality remained stable.
The authors of the study also estimate that in 2017, CKD resulted in 35.8 million disability-adjusted life years (DALYs), whereas 25.3 million CVD DALYs could be attributed to impaired kidney function.
At the meeting, Thuan cited statistics and scientific evidence saying that in the world and in Vietnam in particular, the elderly and those with chronic diseases, especially end-stage chronic kidney failure, have been affected the most by the COVID-19 pandemic.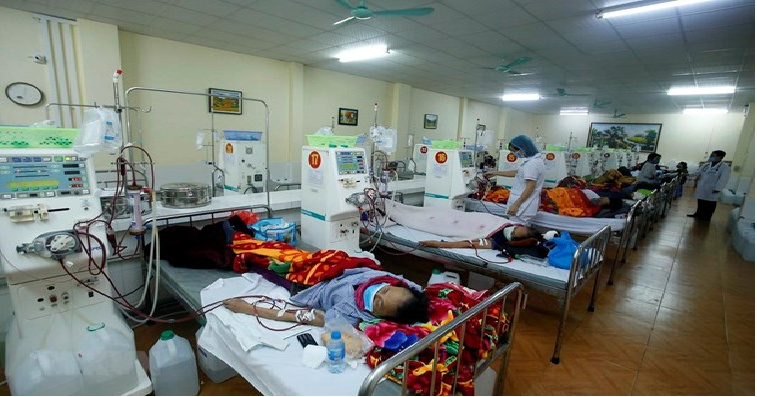 Patients treated with hemodialysis in northern Hung Yen province. Photo: VNA
The implementation of the social distancing and COVID-19 prevention and control measures has been a challenge to kidney care services such as dialysis and peritoneal dialysis at medical clinics, he said.
As from July 25, Vietnam has recorded 38 COVID-19 patients who have been treated with hemodialysis for years and also suffered from other underlying and chronic diseases, according to the official. /.
Vietnam's COVID-19 death toll rose to 18 after a 52-year-old patient, who had also suffered from end-stage chronical kidney failure, hypertension and diabetes Type 2, died, Deputy Health Minister Nguyen Truong Son announced on August 13.
On August 13 morning, three new coronavirus infections were confirmed in the country, lifting the national tally to 883, of which 421 are linked to the outbreak in the central city of Da Nang.
Among the total cases, 322 were imported cases and quarantined upon arrival.
The Steering Committee's Treatment Sub-committee said that 409 patients or 46.3 percent of the total have fully recovered so far.
As many as 35 of the active patients have tested negative for the coronavirus SARS-CoV-2 at least once, and 51 others at least twice.
Some 133,340 people who had close contact with patients or came from pandemic-hit areas are being quarantined nationwide, including 5,361 at hospitals, 25,043 at concentrated quarantine establishments and 102,936 at home./.
Rosy Huong