Utah - The Land With The Most Beautiful Natural Wonders In The United States
Utah, the land of desert, sunny days, rocky mountains and hills, is the perfect destination for people who are looking for adventures and wilderness.
Utah is a state in the Mountain West subregion of the Western United States. Utah is a landlocked U.S. state bordered to its east by Colorado, to its northeast by Wyoming, to its north by Idaho, to its south by Arizona, and to its west by Nevada. Utah also touches a corner of New Mexico in the southeast. Of the fifty U.S. states, Utah is the 13th-largest by area; with a population of over three million, it is the 30th-most-populous and 11th-least-densely populated. Urban development is mostly concentrated in two areas: the Wasatch Front in the north-central part of the state, which is home to roughly two-thirds of the population and includes the capital city, Salt Lake City; and Washington County in the southwest, with more than 170,000 residents.
Bryce Canyon, Zion, Arches, Capitol Reef, and Canyonlands: these are Utah's five national parks, known for their natural beauty and landscapes that see thousands of visitors each year. They are part of the Grand Circle, the route that includes some of Southwest's natural wonders, which is called a circle precisely because it forms an imaginary circle over the territory.
1. Bryce Canyon National Park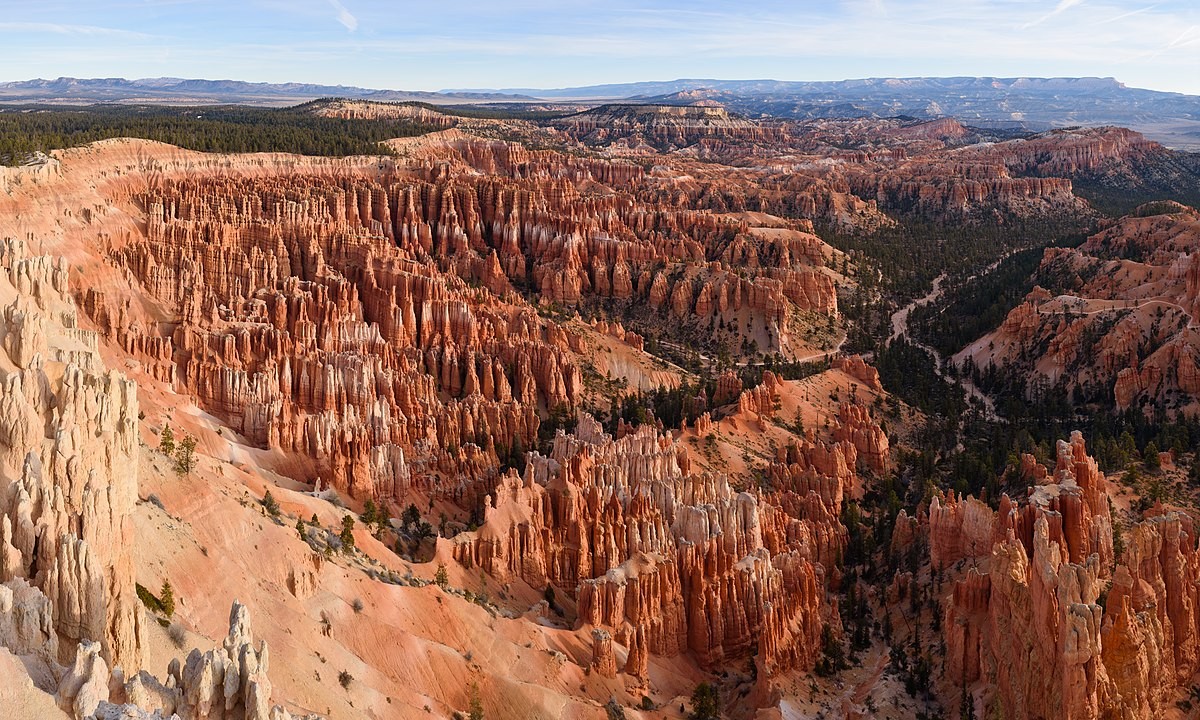 Photo: Wikipedia
Bryce Canyon National Park is an American national park located in southwestern Utah. The major feature of the park is Bryce Canyon, which despite its name, is not a canyon, but a collection of giant natural amphitheaters along the eastern side of the Paunsaugunt Plateau. Bryce is distinctive due to geological structures called hoodoos, formed by frost weathering and stream erosion of the river and lake bed sedimentary rocks. The red, orange and white colors of the rocks provide spectacular views for park visitors. Bryce Canyon National Park is much smaller and sits at a much higher elevation than nearby Zion National Park. The rim at Bryce varies from 8,000 to 9,000 feet (2,400 to 2,700 m).
The Bryce Canyon area was settled by Mormon pioneers in the 1850s and was named after Ebenezer Bryce, who homesteaded in the area in 1874. The area around Bryce Canyon was originally designated as a national monument by President Warren G. Harding in 1923 and was redesignated as a national park by Congress in 1928. The park covers 35,835 acres (55.992 sq mi; 14,502 ha; 145.02 km2) and receives substantially fewer visitors than Zion National Park (nearly 4.3 million in 2016) or Grand Canyon National Park (nearly 6 million in 2016), largely due to Bryce's more remote location. In 2018, Bryce Canyon received 2,679,478 recreational visitors, which was an increase of 107,794 visitors from the prior year.
2. Arches National Park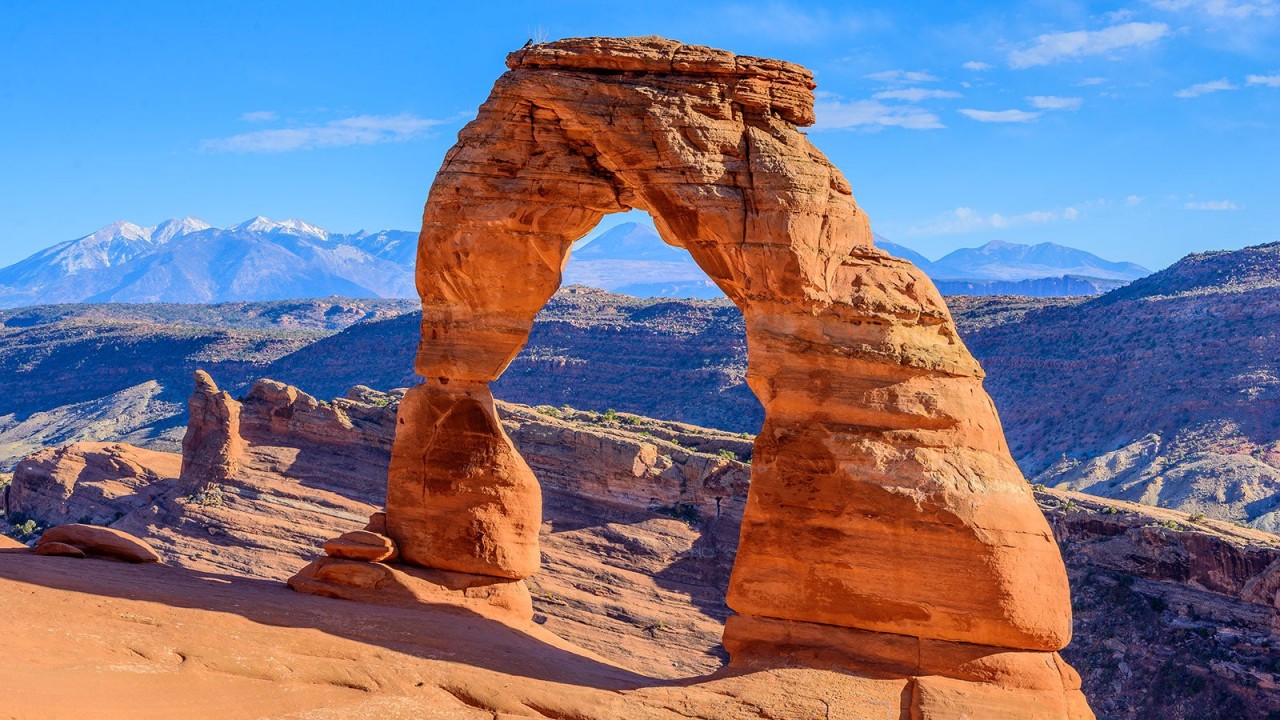 Photo: My Utah Parks
Arches National Park in Moab offers the largest density of natural sandstone arches in the world. Visitors can enjoy biking, camping, rock climbing, and hiking.
Positioned in a "high desert" with elevations ranging from 4,085 to 5,653 feet above sea level in southeast Utah, Arches National Park contains over 2,000 natural sandstone arches! Throughout the park, rock layers reveal millions of years of deposition, erosion, and other geologic events. A great destination for families, the astounding views will delight adventurers of all ages.
Hikers at Arches National Park can take advantage of a wide variety of trails. Some hikes in Arches take only a couple of hours to complete, while others are longer half-day hikes for the intermediate and advanced hiker. For those who prefer to tour by car, there are many scenic driving routes for viewing some of the park's largest arches, including a drive to one of the most iconic rock formations in the world, the Delicate Arch Viewpoint, according to the National Parks site.
3. Canyonlands National Park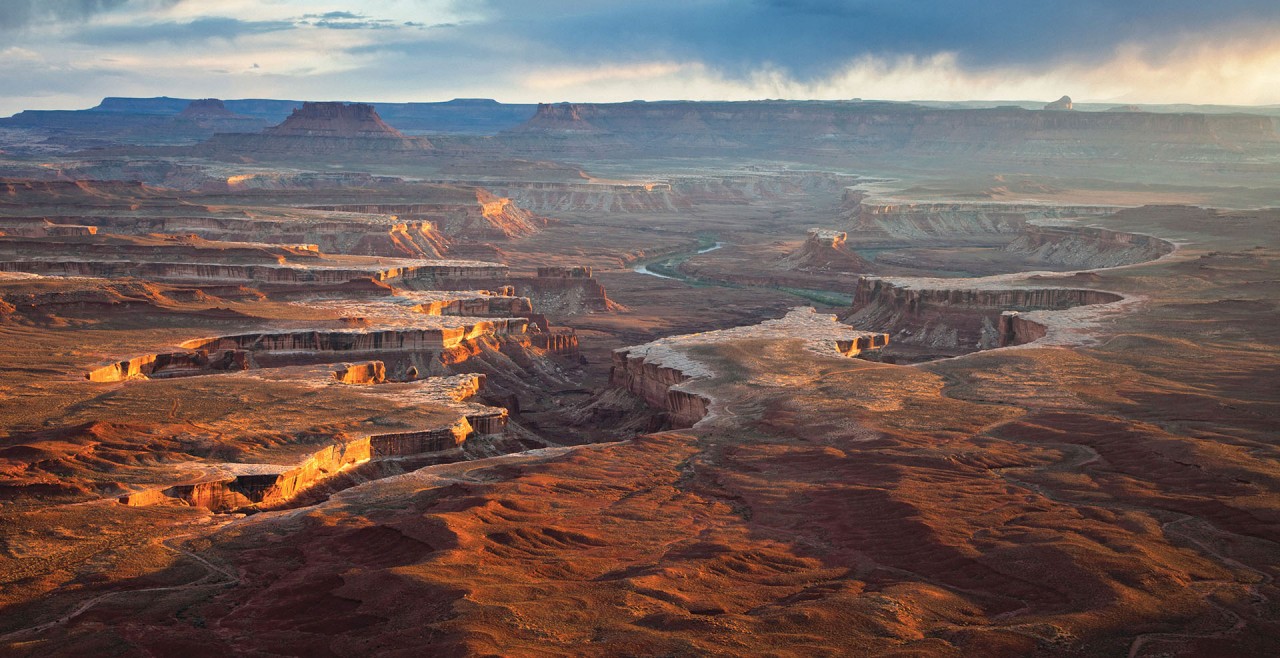 Photo: Discover Moab
When visiting Canyonlands National Park, you'll have a clear view of the night sky in its full splendor thanks to low light pollution and excellent air quality.
Carved by the Colorado River, Canyonlands National Park offers visitors hiking, stargazing, camping, and technical rock climbing.
Established in 1964, the park preserves 527 square miles of colorful landscape that have eroded into countless canyons, mesas, arches, and buttes by the Colorado River and its tributaries. The Colorado and Green rivers divide the park into four districts: Island in the Sky, the Needles, the Maze, and the rivers themselves. While these areas share a primitive desert atmosphere, each retains its own character and offers different opportunities for exploration.
4. Capitol Reef National Park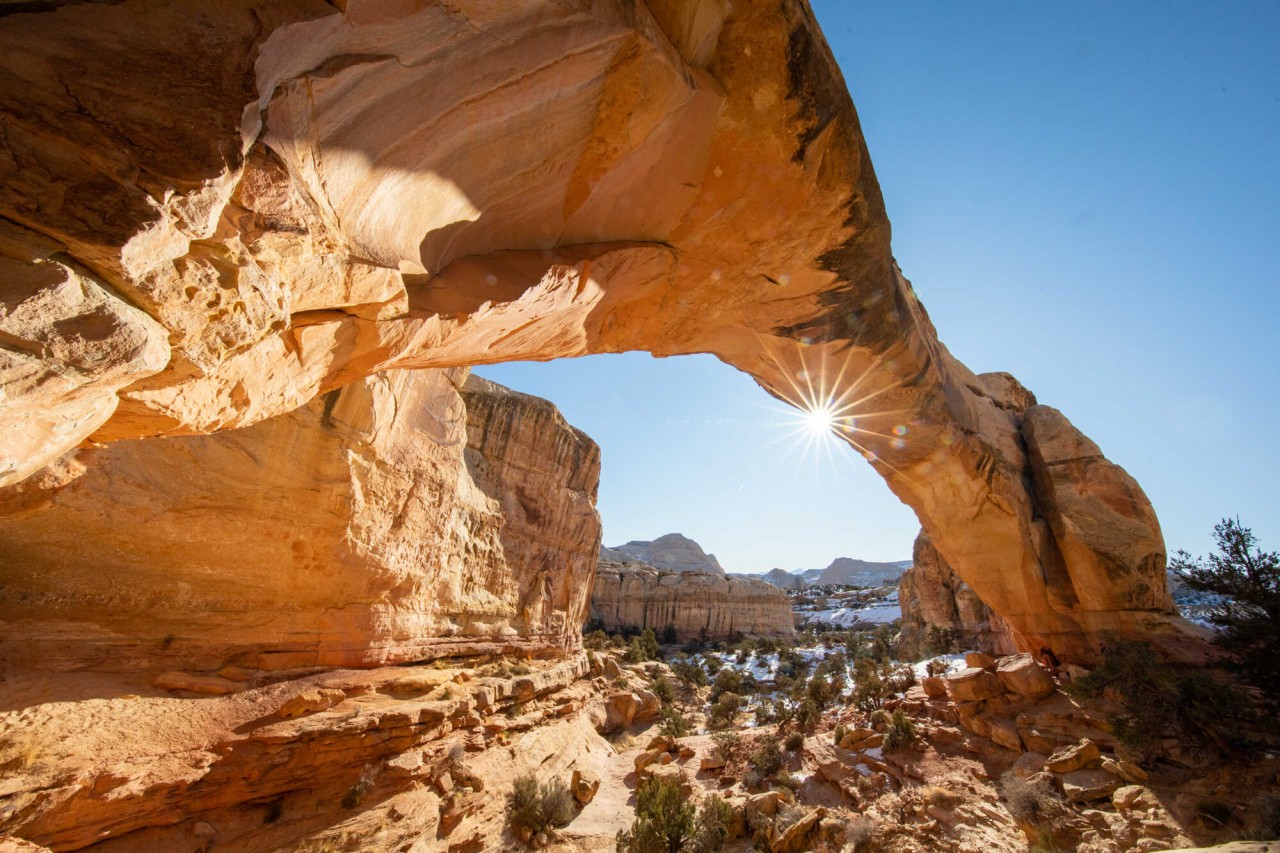 Photo: Visit Utah
Capitol Reef National Park is an American national park in south-central Utah. The park is approximately 60 miles (97 km) long on its north-south axis and just 6 miles (9.7 km) wide on average. The park was established in 1971 to preserve 241,904 acres (377.98 sq mi; 97,895.08 ha; 978.95 km2) of the desert landscape and is open all year, with May through September being the highest visitation months.
Partially in Wayne County, Utah, the area was originally named "Wayne Wonderland" in the 1920s by local boosters Ephraim P. Pectol and Joseph S. Hickman. Capitol Reef National Park was designated a national monument on August 2, 1937, by President Franklin D. Roosevelt to protect the area's colorful canyons, ridges, buttes, and monoliths; however, it was not until 1950 that the area officially opened to the public. Road access was improved in 1962 with the construction of State Route 24 through the Fremont River Canyon.
The majority of the nearly 100 mi (160 km) long up-thrust formation called the Waterpocket Fold—a rocky spine extending from Thousand Lake Mountain to Lake Powell—is preserved within the park. Capitol Reef is an especially rugged and spectacular segment of the Waterpocket Fold by the Fremont River. The park was named for its whitish Navajo Sandstone cliffs with dome formations—similar to the white domes often placed on capitol buildings—that run from the Fremont River to Pleasant Creek on the Waterpocket Fold. Locally, reef refers to any rocky barrier to land travel, just as ocean reefs are barriers to sea travel.
5. Zion National Park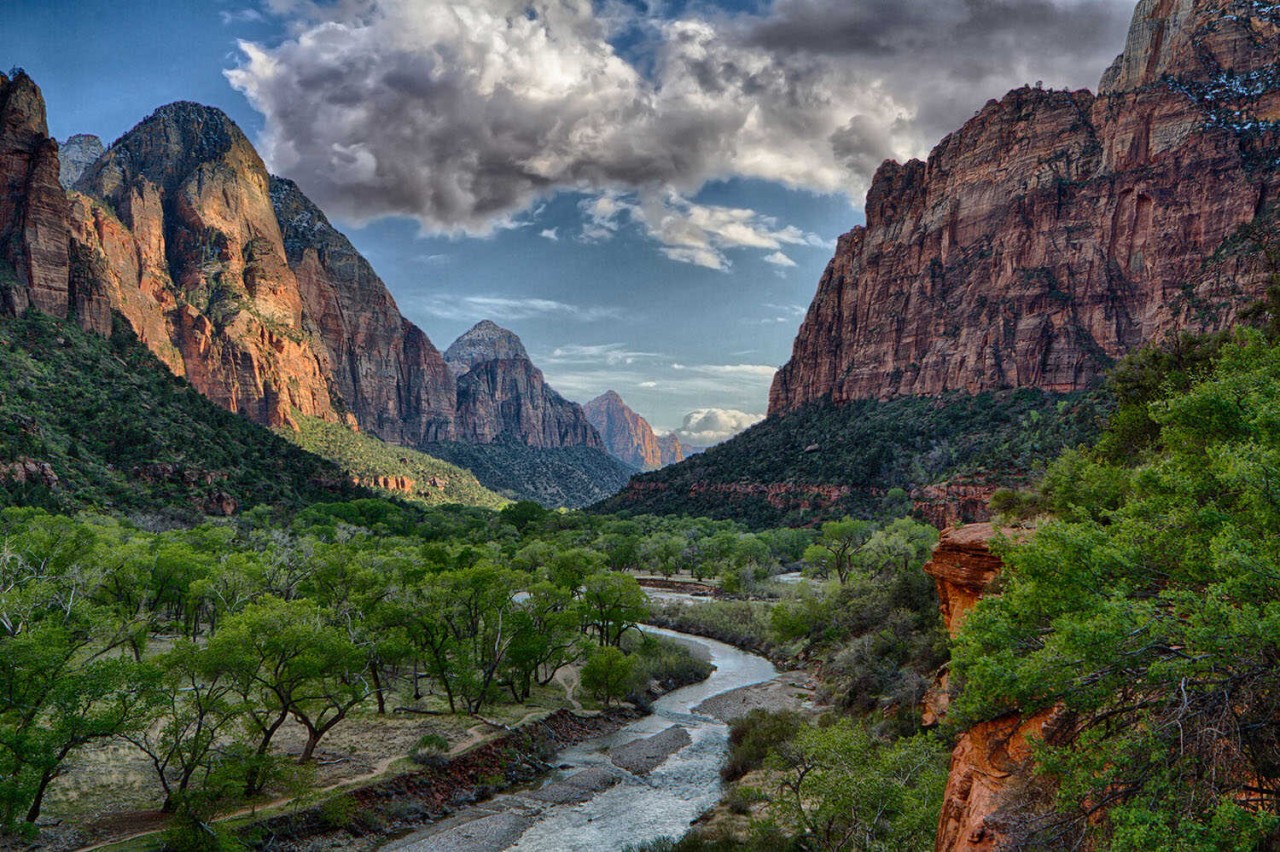 Photo: US Department of the Interior
Zion National Park is an American national park located in southwestern Utah near the town of Springdale. A prominent feature of the 229-square-mile (590 km2) park is Zion Canyon, which is 15 miles (24 km) long and up to 2,640 ft (800 m) deep. The canyon walls are reddish and tan-colored Navajo Sandstone eroded by the North Fork of the Virgin River. The lowest point in the park is 3,666 ft (1,117 m) at Coalpits Wash and the highest peak is 8,726 ft (2,660 m) at Horse Ranch Mountain. Located at the junction of the Colorado Plateau, Great Basin, and Mojave Desert regions, the park has unique geography and a variety of life zones that allow for unusual plant and animal diversity. Numerous plant species as well as 289 species of birds, 75 mammals (including 19 species of bats), and 32 reptiles inhabit the park's four life zones: desert, riparian, woodland, and coniferous forest. Zion National Park includes mountains, canyons, buttes, mesas, monoliths, rivers, slot canyons, and natural arches.
The geology of the Zion and Kolob canyons area includes nine formations that together represent 150 million years of mostly Mesozoic-aged sedimentation. At various periods in that time warm, shallow seas, streams, ponds and lakes, vast deserts, and dry near-shore environments covered the area. Uplift associated with the creation of the Colorado Plateau lifted the region 10,000 feet (3,000 m) starting 13 million years ago.
6. Monument Valley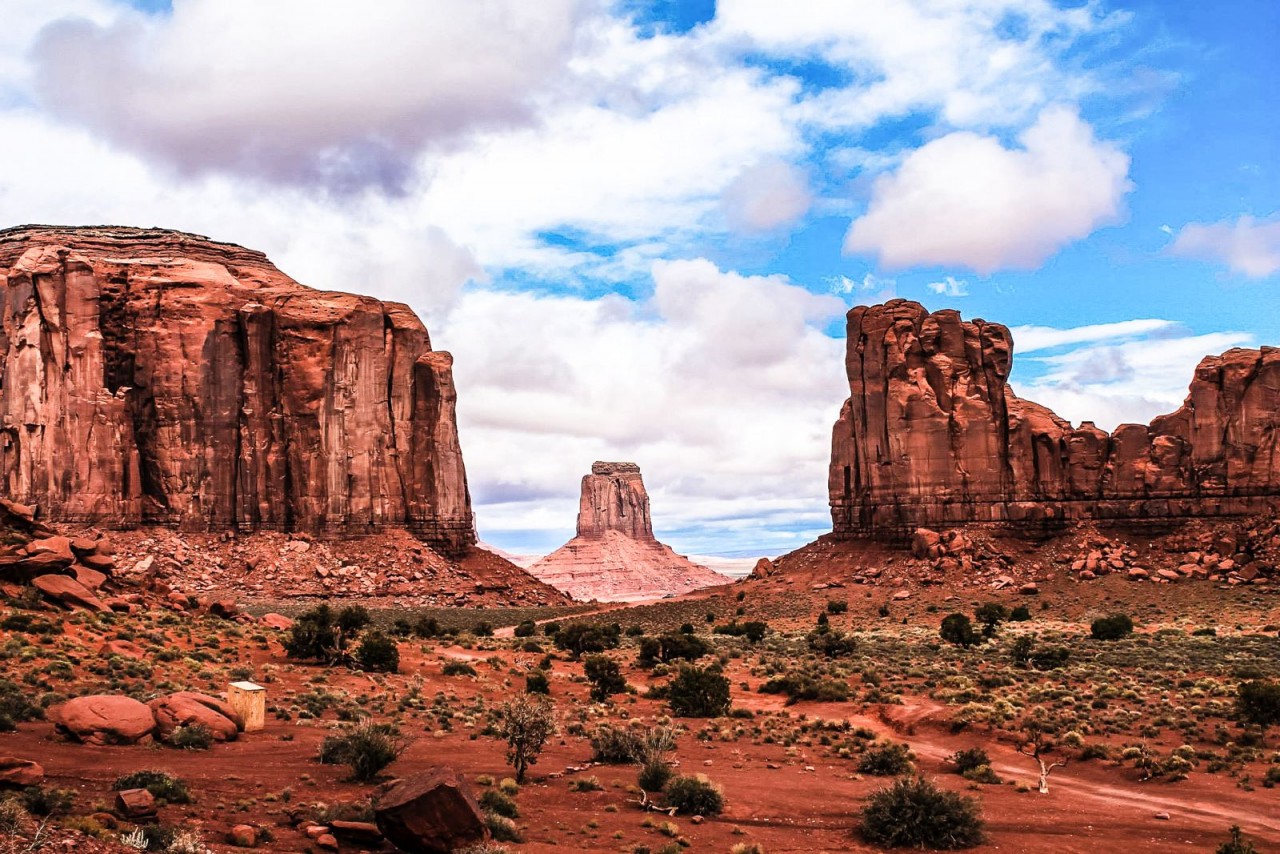 Photo: Hand Luggage Only
Monument Valley is a region of the Colorado Plateau characterized by a cluster of vast sandstone buttes, the largest reaching 1,000 ft (300 m) above the valley floor. It is located on the Utah-Arizona state line, near the Four Corners area. The valley is a sacred area that lies within the territory of the Navajo Nation Reservation, the Native American people of the area and is accessible from U.S. Highway 163.
Monument Valley has been featured in many forms of media since the 1930s. Director John Ford used the location for a number of his best-known films and thus, in the words of critic Keith Phipps, "it's five square miles [13 square kilometers] have defined what decades of moviegoers think of when they imagine the American West."
7. Dead Horse Point State Park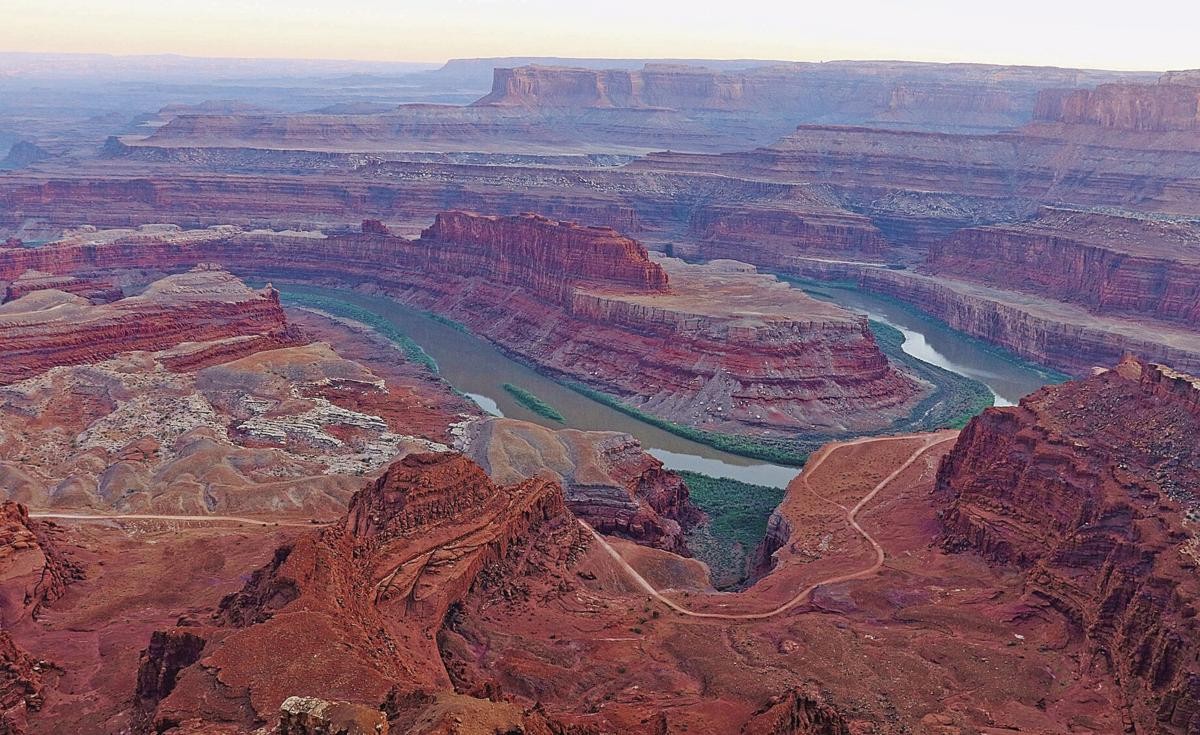 Photo: Murray Ledger
32 miles (51.5 km) from Moab, Dead Horse Point State Park is one of Utah's most spectacular state parks. The view from Dead Horse Point is one of the most photographed scenic vistas in the world. Towering 2,000 feet above the Colorado River, the overlook provides a breathtaking panorama of Canyonlands' sculpted pinnacles and buttes. Millions of years of geologic activity created the spectacular views from Dead Horse Point State Park. Deposition of sediments by ancient oceans, freshwater lakes, streams, and wind-blown sand dunes created the rock layers of canyon country. Igneous activity formed the high mountains that rise like cool blue islands from the desert below.
The legend of Dead Horse Point states that in the late 1800s the point was used as a corral for wild mustangs roaming the mesa top. Cowboys herded them across the narrow neck of land and onto the point. The neck was then fenced off with branches and brush. One time, for some unknown reason, horses were left corralled on the waterless point where they died of thirst within view of the Colorado River 2,000 feet below.
There are miles of pet-friendly developed hiking trails in the park, including a paved trail that provides easy access to some of the most scenic views. Mountain Bikers will love the new Intrepid Trail System at Dead Horse Point. With slickrock sections, looping singletrack, sandy washes, and incredible scenery, the Intrepid Trail System provides a great taste of what Moab mountain biking is all about. This is the perfect ride for families and offers spectacular views of the Colorado River and Canyonlands National Park, according to Discover Moab.
8. Great Salt Lake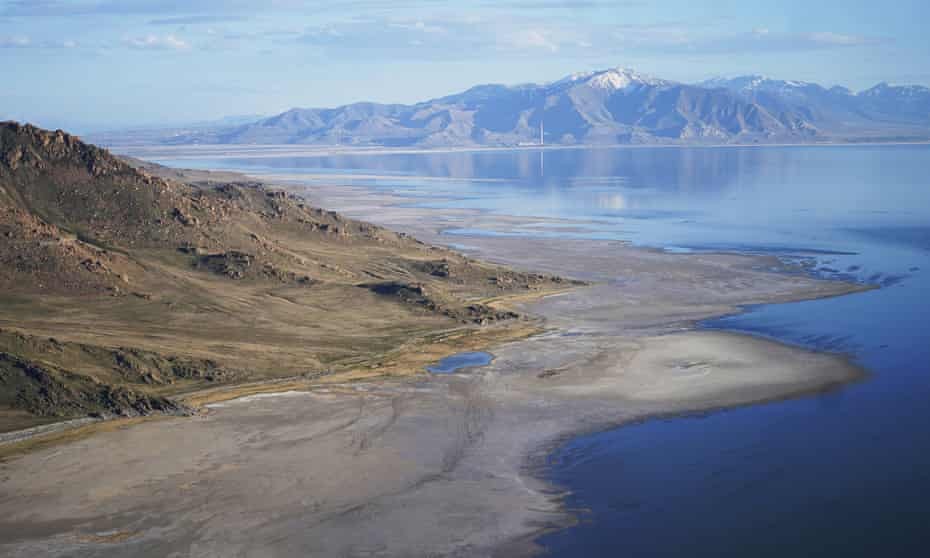 Photo: The Guardian
The Great Salt Lake, a lake in northern Utah, U.S., is the largest inland body of saltwater in the Western Hemisphere and one of the most saline inland bodies of water in the world. The lake is fed by the Bear, Weber, and Jordan rivers and has no outlet. The lake has fluctuated greatly in size, depending on the rates of evaporation and the flow of the rivers that feed it. Its surface area has varied from about 2,400 square miles (6,200 square km) at its highest levels in 1873 and the mid-1980s to about 950 square miles (2,460 square km) at its lowest level in 1963. At a high level, the lake's surface is 4,212 feet (1,284 metres) above sea level, and at a low level, it is 4,191 feet (1,277 metres). At times of median water level, the lake is generally less than 15 feet (4.5 metres) deep, with a maximum depth of 35 feet (11 metres).
Surrounded by great stretches of sand, a salt land, and marsh, the Great Salt Lake remains eerily isolated from the nearby cities, towns, and other human habitations, though in recent years means have been found to turn its apparent sterility to a profit in both economic and recreational terms. It has become important not only as a source of minerals but also as a beach and water-sports attraction and a wildlife preserve.