Vallet Scholarships Grants Over 2,000 Scholarships to Vietnam's Students
2,100 Vallet scholarships with a total value of VND 40 billion are planned for Vietnamese pupils and students in Vietnam
In order to help talented or excellent students in their studies, the Vallet Scholarship Fund sponsored by the scientific and educational organization "Rencontres du Vietnam" (Meeting Vietnam) in collaboration with Professor Odon Vallet will grant over 2,000 scholarships nationwide.
Established in 2001, the organization's Vallet Scholarship Fund has been sponsored by Professor Odon Vallet, VNA reported.
2023 is the 23rd year the Vallet scholarship fund has been deployed for young people who are high school students, university students, graduate students and even outstanding young researchers. According to the plan, scholarships will be distributed across Vietnam from South to North from August 27 to September 10.
Vallet scholarship awarding ceremony for outstanding students throughout the South. Photo: Tran Thanh Son
The scientific and educational organization on August 29 presented 175 Vallet scholarships worth VND 2.59 billion (USD 107,135) in total to outstanding students in five Central Highlands and two south-central provinces. Accordingly, each student scholarship is worth VND 28 million and each pupil scholarship is worth VND 14 million.
Students with disadvantaged backgrounds in the Central Highlands provinces of Kon Tum, Gia Lai, Dak Lak, Dak Nong, and Lam Dong and the south-central provinces of Khanh Hoa and Ninh Thuan received 125 scholarships.
The remaining 30 scholarships, each worth VND 28 million (USD 1.160), were granted to needy students with outstanding academic performances and those from the Universities of Da Lat, Nha Trang, and Tay Nguyen.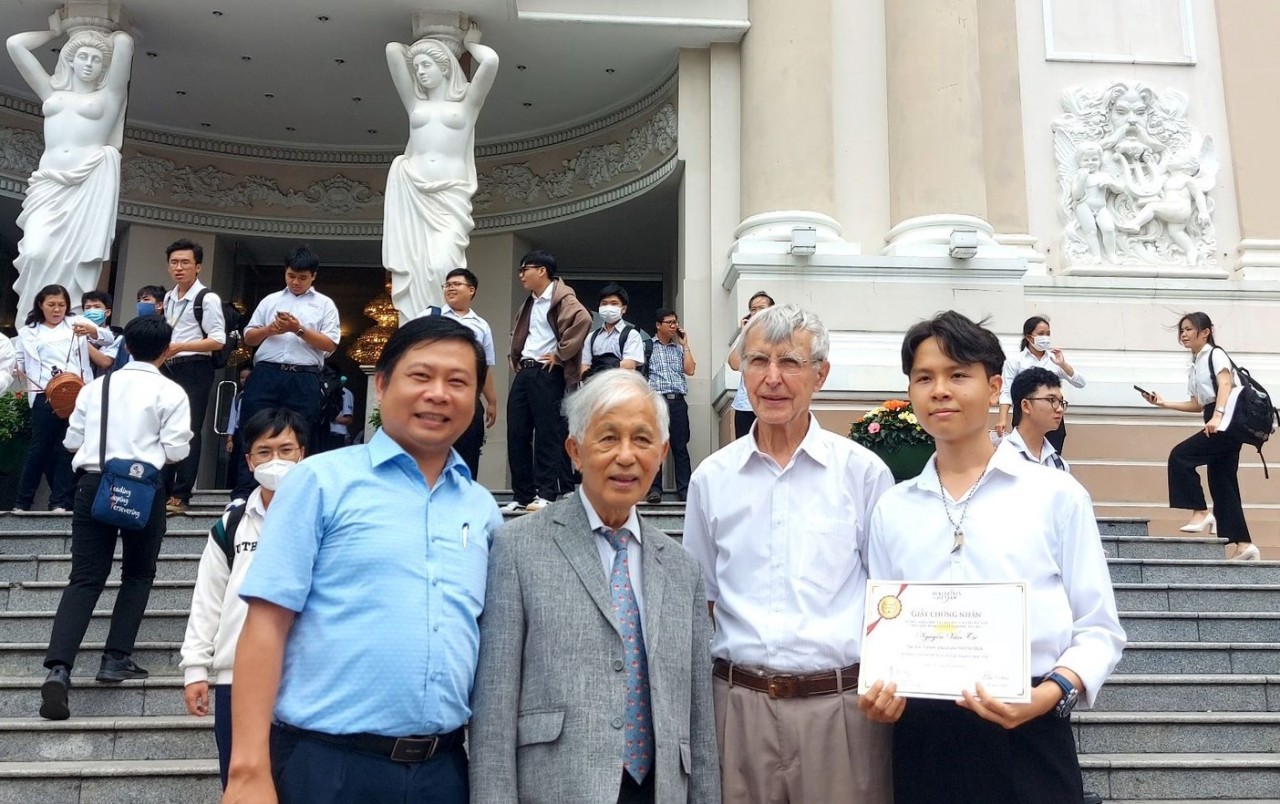 Prof. Tran Thanh Van (2nd from left) and Professor Odon Vallet (3rd from left) take a photo with scholarship recipients. Photo: Tran Thanh Son
Established in 2001, the organization's Vallet Scholarship Fund has been sponsored by Professor Odon Vallet from France's Sorbonne University. It has been the largest non-governmental scholarship fund in Vietnam over the past two decades.
This year, 2,100 Vallet scholarships with a total value of VND 40 billion (USD 1.660) are planned for Vietnamese pupils and students in Vietnam ahead of the new school year which usually starts in early September.
Prof Odon Vallet is a doctor of science in jurisprudence, a French religious expert, and a professor of religious history at Sorbonne University. When his father Jean Vallet passed away, he left him a huge fortune worth up to EUR 100 million. All the money has been deposited in the bank, with interest used every year to give scholarships to young people who study well in France, Benin, and Vietnam.
Feeling grateful for his kindness, Prof Tran Thanh Van named the scholarship the Vallet Scholarship Fund.
By the end of 2022, Prof Odon Vallet has sponsored Vietnam with more than 40,000 scholarships with a total value of more than VND 400 billion (USD 16.6 million).