Viet Trekker Conquers Himalayas
Join Vietnamese solo traveler Tran Nhat Anh on her impressive journey to climb Annapurna Circuit (Himalayas, Nepal).
Tran Nhat Anh (27, from Nghe An) spent 6 months exploring Asia. From September 2022 to February 2023, she has travelled to Nepal, Malaysia, Philippines and Singapore.
While in Nepal, the last destination of this trip, the Vietnamese young woman made a spontaneous decision to hike through the Himalayas. This is not one of Nhat Anh's bucket-list wish, but because of her adventurous nature, she took on the challenge with no hesitation.
"After meeting two foreign solo travellers at a small temple in Kathmandu (the capital of Nepal), I asked to join their hiking trip. Before that, I had no warm clothes, hiking shoes or any preparation."
In her 7kg luggage, there was only summer attires and simple necessities so Nhat Anh had to buy new things for the hike from scatch. Two weeks before beginning her ascennt, Nhat Anh had to purchase an entirely new wardrobe, consisting of snow boots, snow gloves, heavy jackets, and a plush sleeping bag.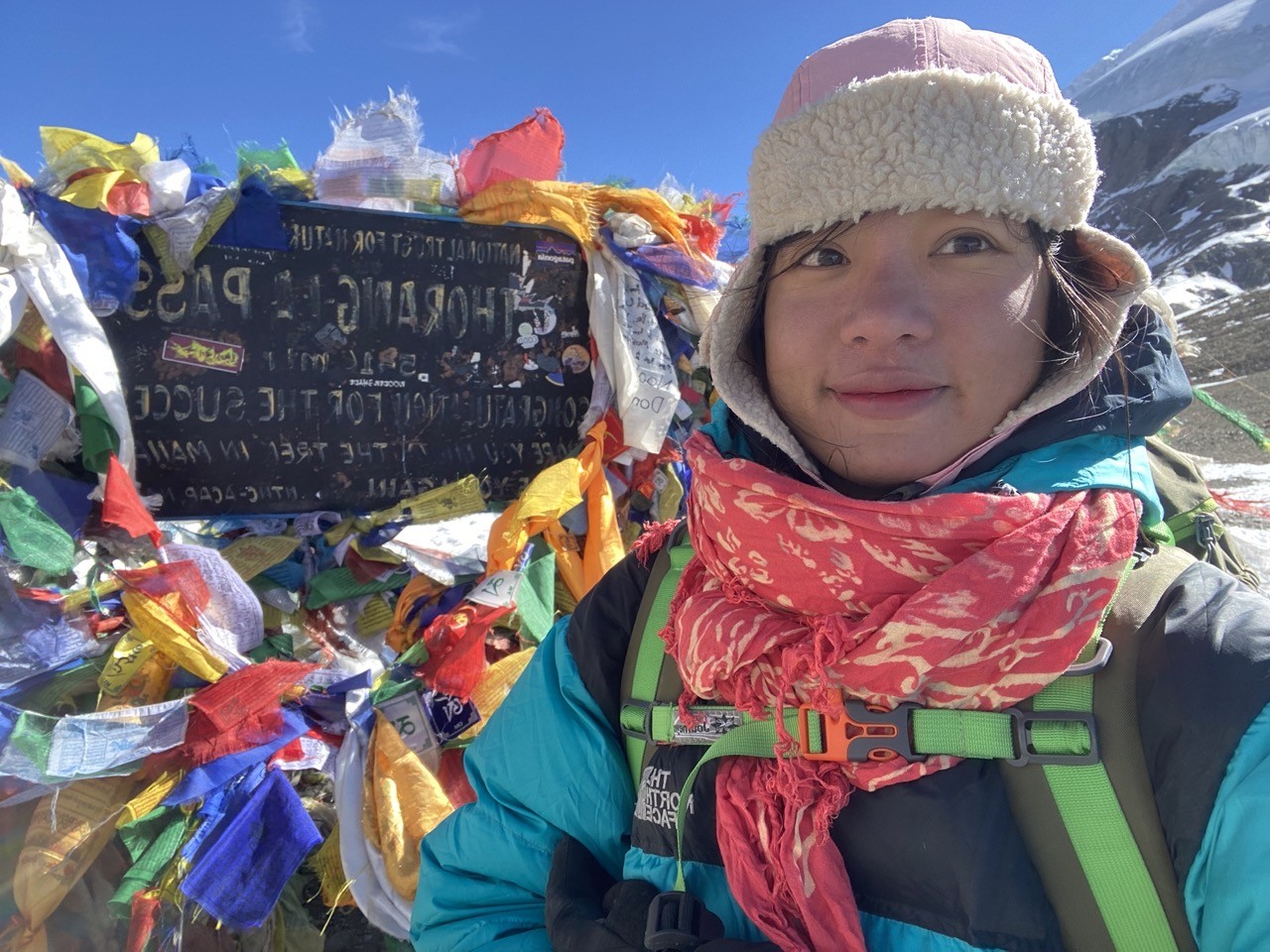 Passion to explore the roads less travelled with unique cultures, Nhat Anh took a trip to Nepal, partly because she assumed that Nepal had many similarities with India, her favorite travel destination. Photo courtesy by Tran Nhat Anh
On her Facebook account, she shared day-by-day details and photos of the trip, which drew a lot of attention of travel lovers. Her journey started from Tal (more than 1430m above sea level), which was on the first day of 2023.
"2022 was a year of tears and lessons for me, and also the year I decided to let go: "What are you waiting for?" In August, I thought of going to Singapore, Indonesia, Philippines, Malaysia and that's it. If in luck, I will travel to India for 3 months, but never have I though of Nepal. It's too far. And if I see anyone going to Nepal, I think that must cost a lot, too expensive, too far...but when I'm blessed, I find myself with an trusty old pair of Timberlands, so I ended up taking it to the Himalayas to try its eliability," shared Nhat Anh on her Facebook account.
Experience of a lifetime
Recalling the 9 days spent conquering the Annapurna Circuit, Nhat Anh said she had mixed feelings. In each part of the journey, she tended to "go with the flow".
According to Nhat Anh, the scenery is breathtaking, like a surreal world. Photo courtesy by Tran Nhat Anh
"At any given place an time, I can feel [the trek] testing my endurance, but only that moment. Each day, my partner and me just said to each other: Just go, then we will see if we can continue,"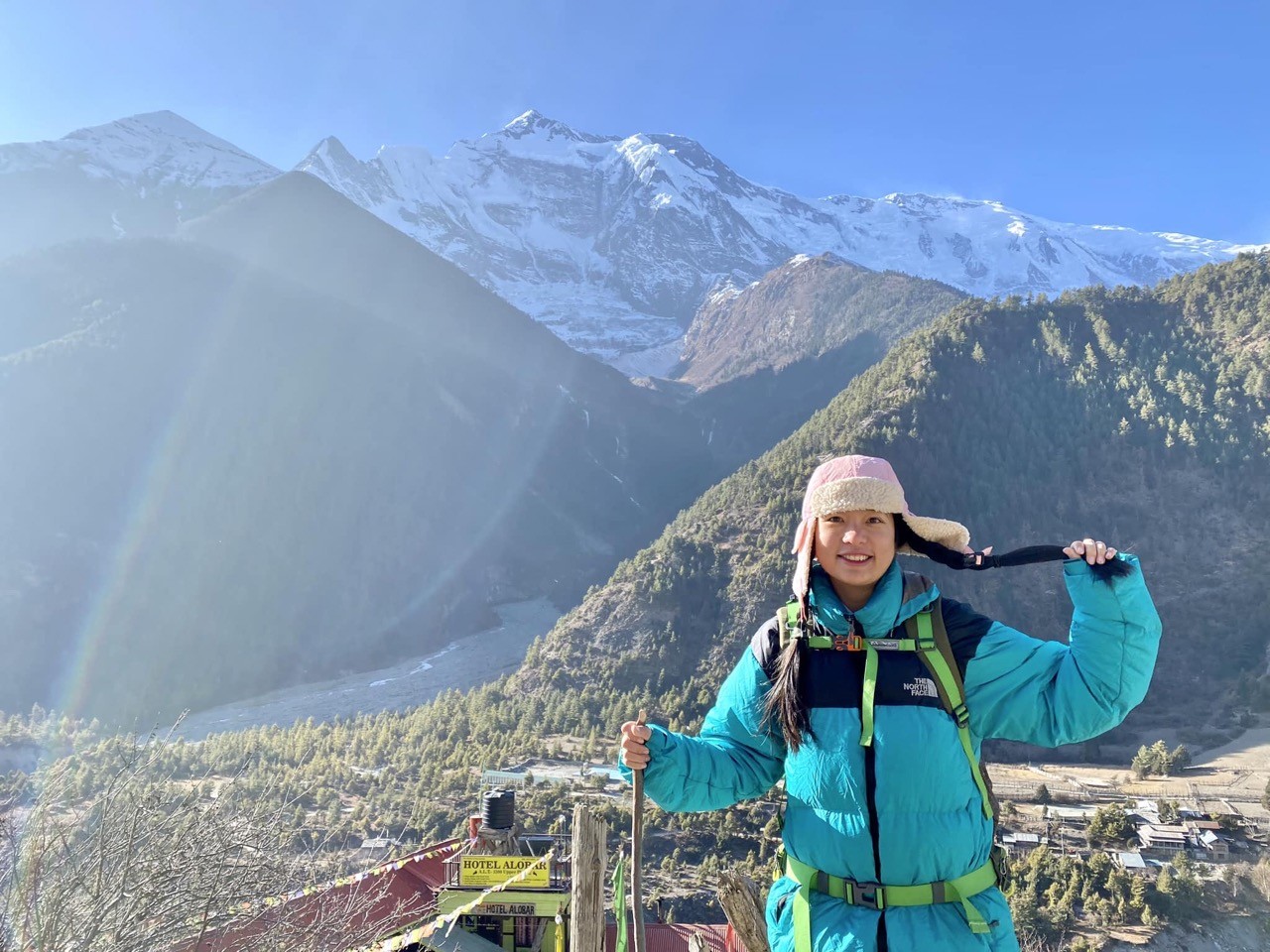 Photo courtesy by Tran Nhat Anh
There are also times where they wanted to give up to the harsh weather, exhaustion, or altitude sickness. Not everyone has the strength to climb to the highest peak, because altitude sickness can be life-threatening, said Nhat Anh.
"The first few days when we didn't see anyone on our trait, we were worried. We reached the height of 5.416 m after 9 days. On the 8th day, we were still not sure we have enough strength to go up. So we decided, if sick, we would decide to go down rather than climb to the top."
Precious lessons on the road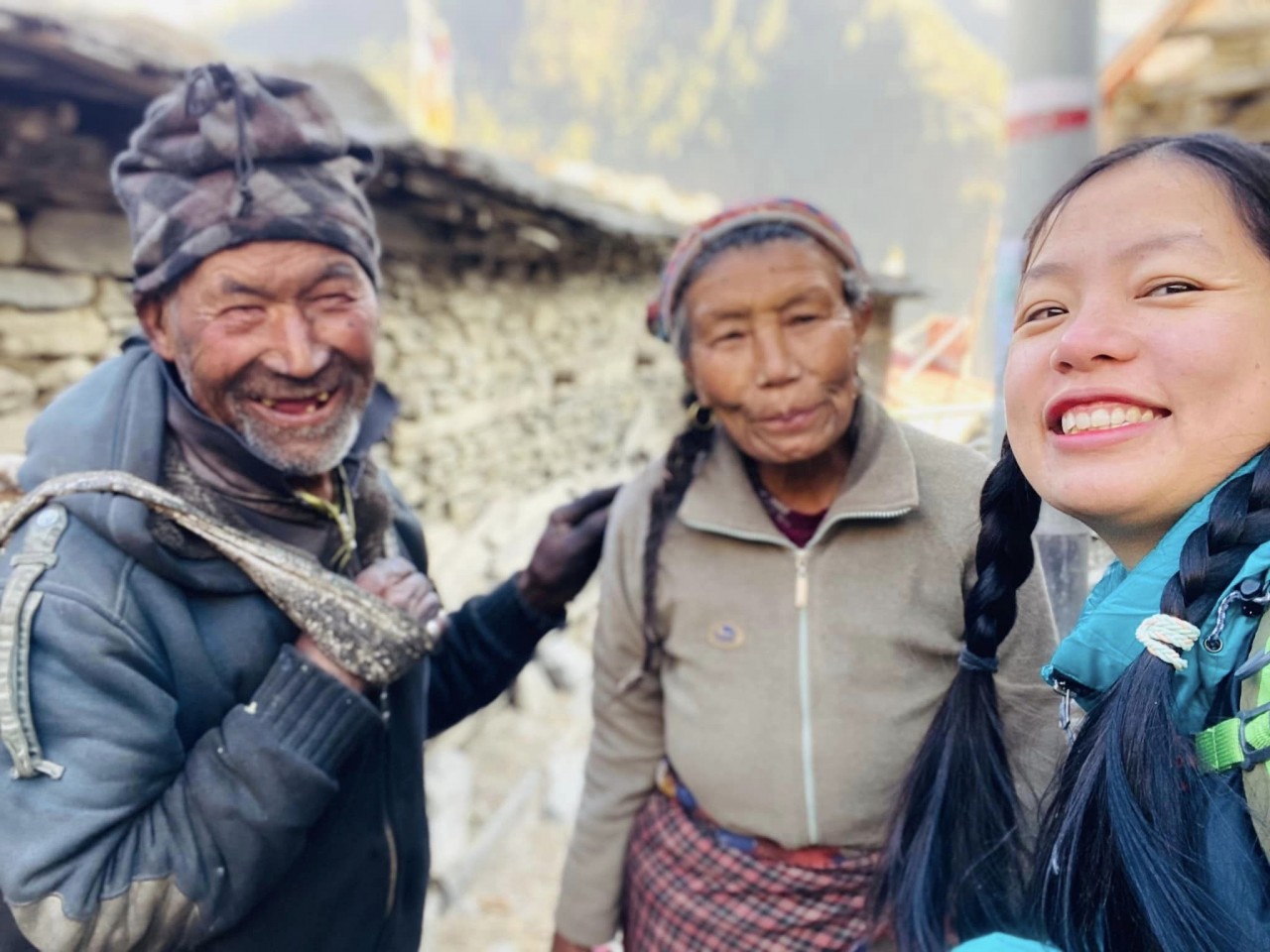 Nhat Anh taking photos with the local people. Photo courtesy by Tran Nhat Anh
Nhat Anh still suffered from skin injuries because of the cold, wind and altitude of the high mountains even two, three weeks after returning. This is one of the big travel lessons for this amatuer trekker, something to remember from her first time in Nepal.
She did take another souvenir from the mountain. It is the gratitude towards people in this country mixed with the gratitude towards Mother nature, which the Viet adventurer often calls her "luck."
Documenting her hike in Nepal in her Facebook accounts in great details, Nhat Anh walked readers through the experience like a story with many chapters, photographs and videos.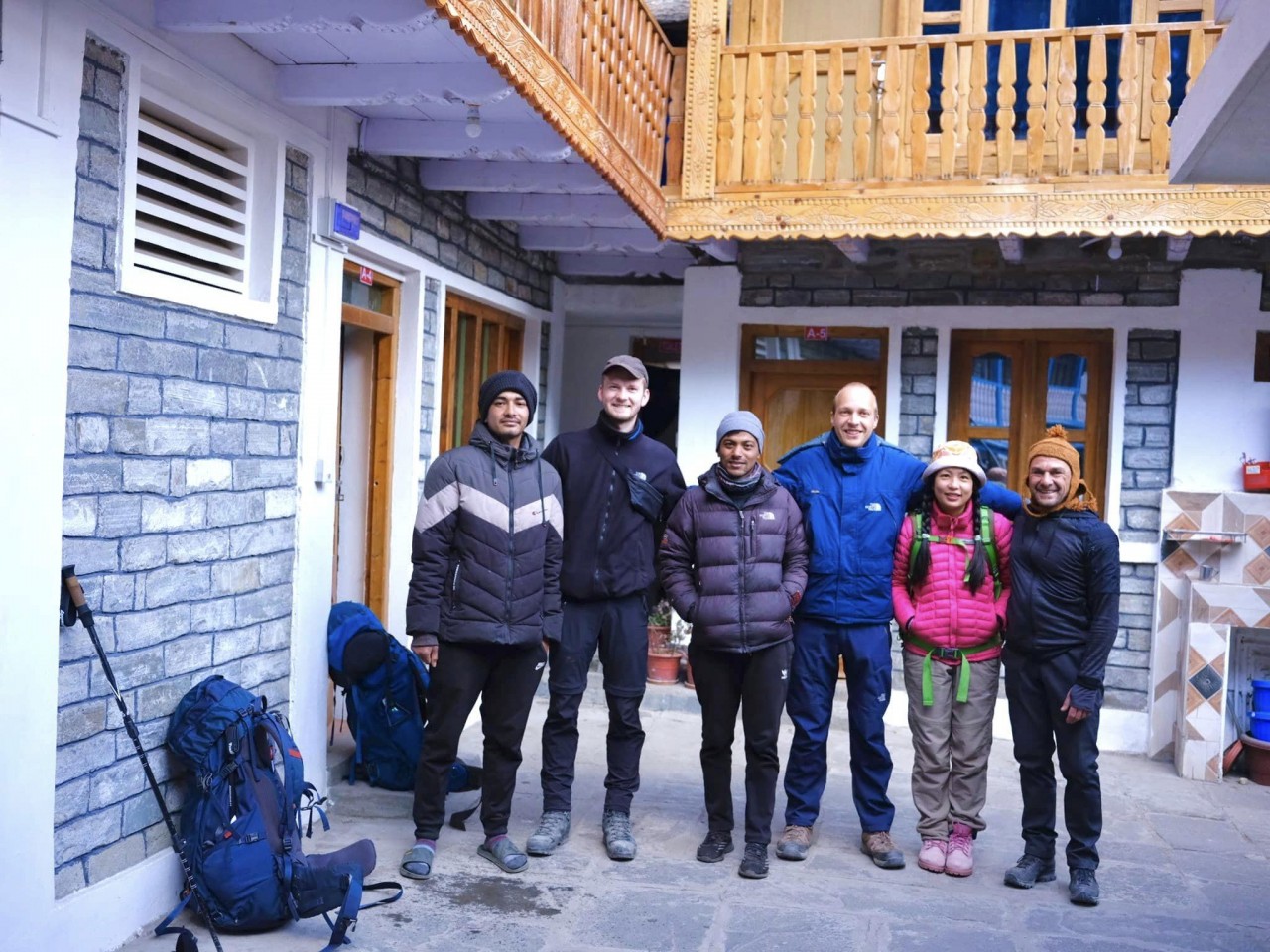 Nhat Anh (second, from right) and other trekkers. Photo courtesy by Tran Nhat Anh
Looking down from the high peaks of the Himalayas, the chatty travel blogger was at a loss for words.
"It like stepping into a different world! Suddenly, a vast area of ​​low bush forest appeared, surrounded by endless rocky mountains. I keep walking, seeing, and feeling strange..... no pictures or words can describe my "eureka" moment!"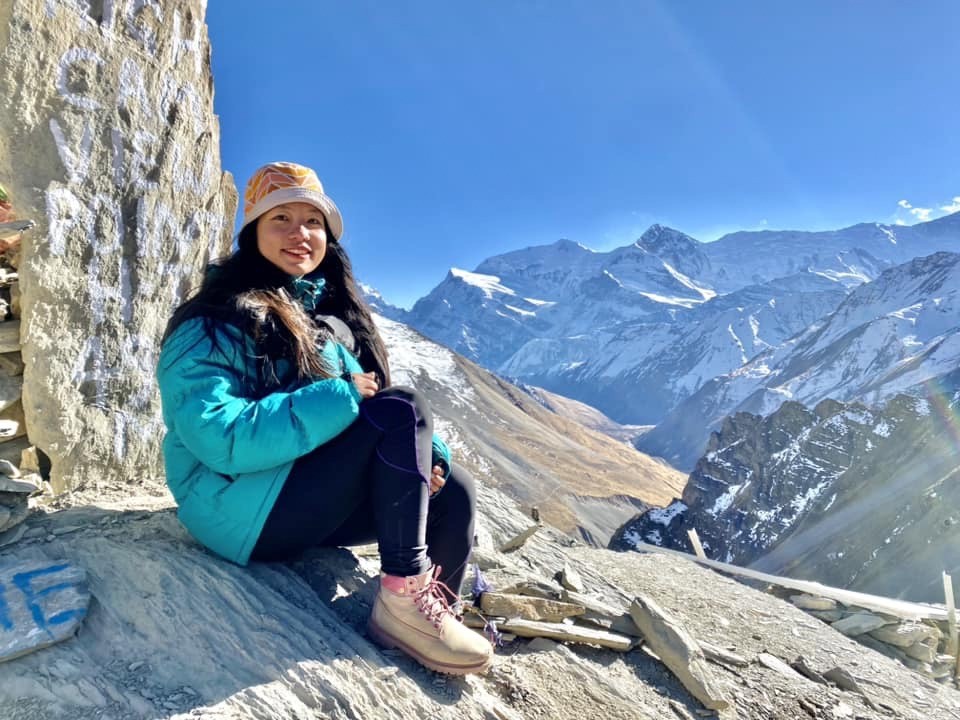 Nhat Anh at the Viewpoint của High Camp Annapurna Circuit (Himalaya). Photo courtesy by Tran Nhat Anh
In the past, she used to doubt her dream of traveling around the world thinking it is impossible without a lot of money or being fluent in foreign languages. By constanting learning, working and taking risk, she has been realizing her dream. Since 2015 to now, Nhat Anh has traveled across 43 cities and provines across Vietnam, also to 9 foreign countries.
By sharing travel contents online, she hopes to provide tips, helpful guides that encourage to people to follow their dreams. As a travel content creator, she has introduced many beautiful destinations, both Vietnam and aboard to many viewers worldwide. Most of them praised her videos, thanking Nhat Anh for showing them such diverse cultural and scenery in the region. In the future, Nhat Anh plans to spend times discovering unique tourist destinations in Vietnam and taking the online community along with her.