Vietnam - Africa Economic Cooperation Alliance makes debut
The organization aims to foster frameworks of cooperation between Vietnam and Africa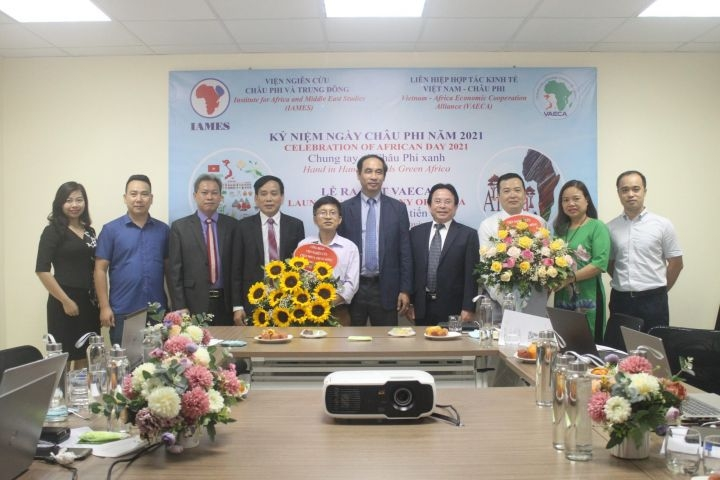 Delegates at the launching ceremony of the Vietnam - Africa Economic Cooperation Alliance (VAECA).
An events has been held to launch an organization for economic alliance between Vietnam and Africa.
The Institute for Africa and Middle Eastern Studies (IAMES) held a workshop "Joining hands for a green Africa" and the launching ceremony of the Vietnam - Africa Economic Cooperation Alliance (VAECA) on the 58th anniversary of Africa Day (May 25, 2021).
The event was held online and attended by President of the Vietnam Union of Friendship Organizations (VUFO) Nguyen Phuong Nga, former President of the Federal Republic of Nigeria Olusegun Obasanjo, Chief Representative of the International Organization of La Francophonie in Vietnam Chekou Oussouman and ambassadors of many African countries to Vietnam.
Speaking at the event's opening, Prof. Le Phuoc Minh, director of IAMES and president of VAECA said that having experienced many resistance wars, Vietnam understood the values of independence and freedom.Le Phuoc Minh quoted late President Ho Chi Minh speaking on Africa: "We are glad at your victories and saddened at your sufferings."
This is an affirmation that Vietnam always stands side by side with African peoples to overcome difficulties and promote peace and sustainable development, Le Phuoc Minh added.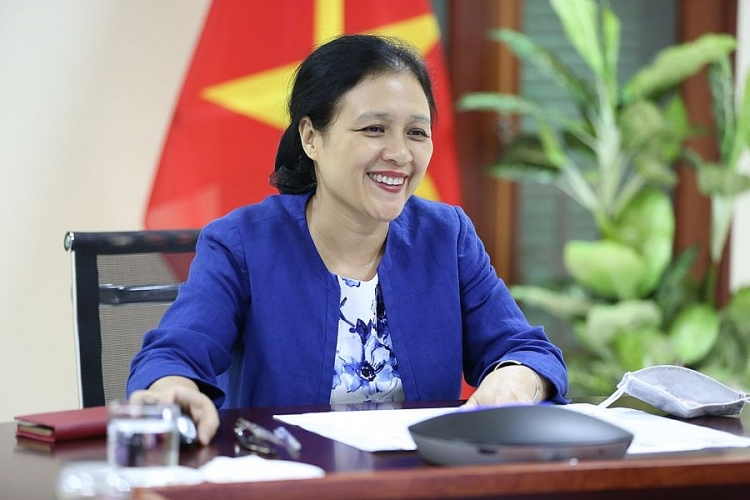 President of the Vietnam Union of Friendship Organizations Nguyen Phuong Nga speaks at the event. Photo: Tuan Viet
VUFO President Nga said that Vietnam had a good friendship and cooperation with African Union member states, adding that the country was grateful to the people and governments of African countries who had supported Vietnam in the previous struggle for national liberation.
"Vietnam always stands side by side, assist and share experience on development with African countries through bilateral frameworks and tripartite cooperation. We have sent soldiers to Africa to undertake the United Nations peacekeeping mission," Nga said.
Amid the complex Covid-19 situation, it is essential to promote solidarity and share experience to surmount the difficulties and restore the economy, she added.
Nga said she appreciated and congratulated researchers, experts and entrepreneurs for their initiative, advocacy and establishment of the VAECA, believing that with enthusiastic and experienced people and the "Closer and Faster Moving" determination, VAECA would serve as a bridge linking friendship and cooperation between Vietnam and African countries.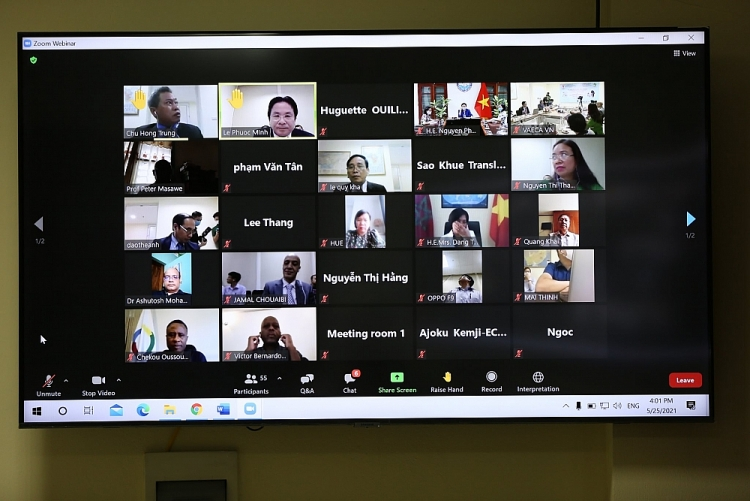 The event was held online.
At the workshop, delegates made assessments and exchanged views on cooperation to exploit the potential and strength of the two sides. Many delegates agreed that Vietnam and African countries needed to strengthen channels of dialogue and information exchange to solve problems such as lack of information on the environment, business practices, legislation and trading policies.
VAECA was established with the slogan "Closer and Faster moving" aiming to become a symbol of trust, a bridge of friendship and economic cooperation between Vietnam and African countries on the basis of cooperation, sharing and synergy of each country's strengths on the path to peace and prosperity.
VAECA is a forum and a destination for individuals, businesses and organizations with goals in cooperation and development, strategic partnerships, competitive advantages, and bilateral and multilateral actions, to deal with challenges in far-reaching economic reform and proactive integration into the world economy.
Africa currently has about 1.2 billion people. The Vietnam-Africa trade turnover has nearly tripled in the past decade. In 2010, the two-way import and export turnover stood at only 2.52 billion U.S. dollars. In 2019, it increased to 7.4 billion U.S. dollars, of which Vietnam exported 3.4 billion U.S. dollars of goods to Africa. Vietnamese goods have penetrated most African countries, but mainly in South Africa, Egypt, Ghana, Algeria and the Ivory Coast.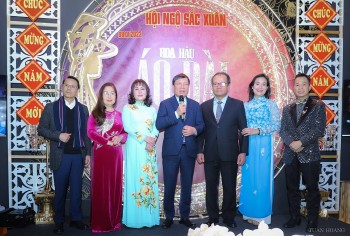 Overseas Vietnamese
The 2022 Spring Reunion Program was organized to celebrate the beauty of Ao Dai and spread the love for this traditional gown to Vietnamese overseas, as well as create a lively artistic space for the Vietnamese community in the foreign land.