Vietnam, South Africa beef up bilateral trade ties
To implement the economic diplomacy program in 2021, from April 20-24, the delegation of the Vietnamese Embassy in South Africa led by Ambassador Hoang Van Loi visited and worked in KwaZulu-Natal province.
The visit aims to step by step lift the economic - trade relations between the two countries to match their flourishing bilateral friendship, according to the World & Vietnam Report.
This is the first business trip of the Vietnamese Embassy to KwaZulu-Natal province, thereby creating a premise for Vietnamese businesses to penetrate one of the localities with leading economic scale and trade-investment development in South Africa.
During the business trip, the delegation had working sessions with agencies consulting policies and enterprises operating in the field of logistics.
Speaking at the meeting with the Trade and Investment Agency of KwaZulu-Natal (TIKZN), Ambassador Hoang Van Loi introduced an overview of Vietnam's economic situation in 2020 as well as some major orientations on its socio-economic development in the time ahead.
Ambassador emphasized that in order to inherit the good traditional relationship between Vietnam and South Africa, the two sides need to continue strengthening bilateral relations, especially in trade - investment and tourism, sectors with ample room for development.
According to Ambassador Hoang Van Loi, on the basis of information on preferential policies on trade and investment of KwaZulu-Natal province, the Embassy will serve as a focal point to collaborate with Vietnam's authorities and enterprises to realize cooperation opportunities with South African partners, primarily through enhancing visits between two side's businesses.
At the meeting, Director of Trade and Investment Agency of KwaZulu-Natal Neville Matjie informed about the province's trade- investment activities, policies to attract foreign investors, especially in One Stop Shop model to quickly and effectively handle administrative procedures as well as provide legal support to investors. Mr. Neville concurred with Ambassador Hoang Van Loi in the need to increase visits between businesses of the two sides in order to realize business opportunities.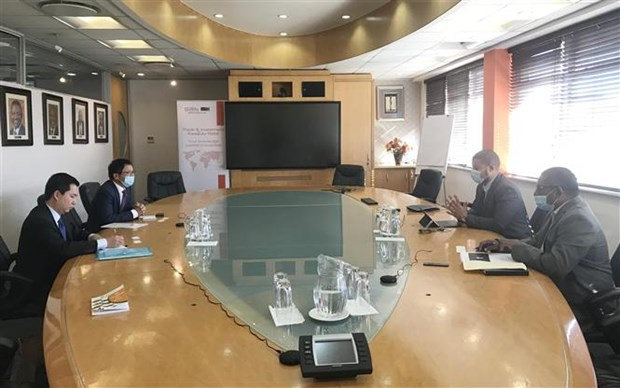 The delegation of the Vietnamese Embassy in South Africa works with representatives of the Trade and Investment Agency of KwaZulu-Natal (TIKZN). Photo: VNA
Working with Durban City's Chamber of Commerce and Industry (Durban Chamber), an economic hub of KwaZulu-Natal province, Ambassador Hoang Van Loi and CEO of Durban Chamber Palesa Phili agreed to coordinate in organizing and supporting visits by businesses of both sides to beef up trade cooperation. Ms. Palesa Phili will ask the Embassy to introduce Vietnamese suitable partners for Durban Chamber to proceed with the signing of a memorandum of understanding (MOU) on cooperation in trade promotion.
As part of the business trip, the delegation of the Vietnamese Embassy also visited and worked at the Durban port and Dube Tradeport Special Economic Zone.
The Durban port is the busiest of its kind in South Africa and one of the four most important gateways to Africa. Ambassador Hoang Van Loi proposed to the port's leaders a plan on coordination and delegation exchange between the two sides to share experience and enhance capacity in the field of port management and logistics operations.
According to the Vietnamese Trade Office in South Africa, bilateral trade between Vietnam and South Africa in 2020 reached $1.4 billion, a significant increase from $1.1 billion in 2019. Vietnam mainly exported to South Africa phones and components, footwear, computers, electronic products, and spare parts.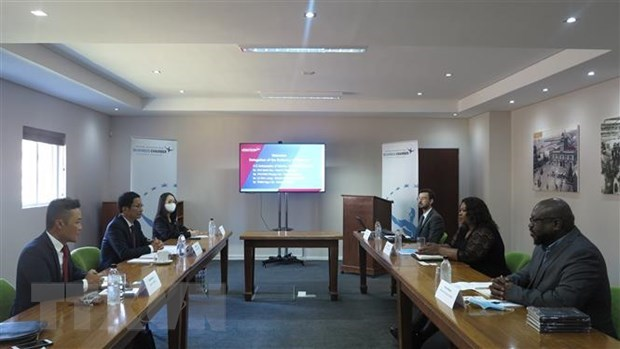 Representatives of the Vietnamese delegation and the Nelson Mandela Bay Business Chamber at the working session. Photo: VNA
In November 2020, a delegation of the Vietnamese Embassy in South Africa, led by Ambassador Hoang Van Loi, also paid a working visit to Eastern Cape and Western Cape provinces to seek opportunities for further strengthening investment, trade, and tourism cooperation between the two countries.
The trip formed part of activities to promote economic diplomacy towards expanding the bilateral economic and trade relations after a long time affected by the Covid-19 pandemic.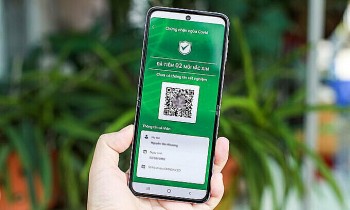 National
Vietnam News Today (September 20): Vietnam records additional 10,040 Covid-19 cases; HCM City considers 'green pass' for partially vaccinated residents; Vietnamese consumers' demand for shopping groceries online soars amid Covid-19 ; Vung Tau proposes November reopening of beaches.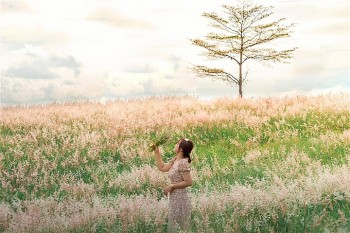 Travel
Every year when it gets cold, the grass field atop Chu Se hill grows pink, bringing along a dreamy, heaven-like feel that hardly anyone can resist.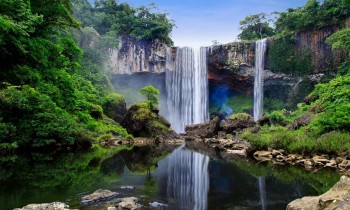 Multimedia
The pristine and majestic Kon Ha Nung Plateau has just been recognized as a member of the World Network of Biosphere Reserves by UNESCO.