Vietnam and Mozambique to strengthen educational cooperation
A top educational institution in Mozambique is expressing its wish to promote academic cooperation and student exchange activities with Vietnam universities.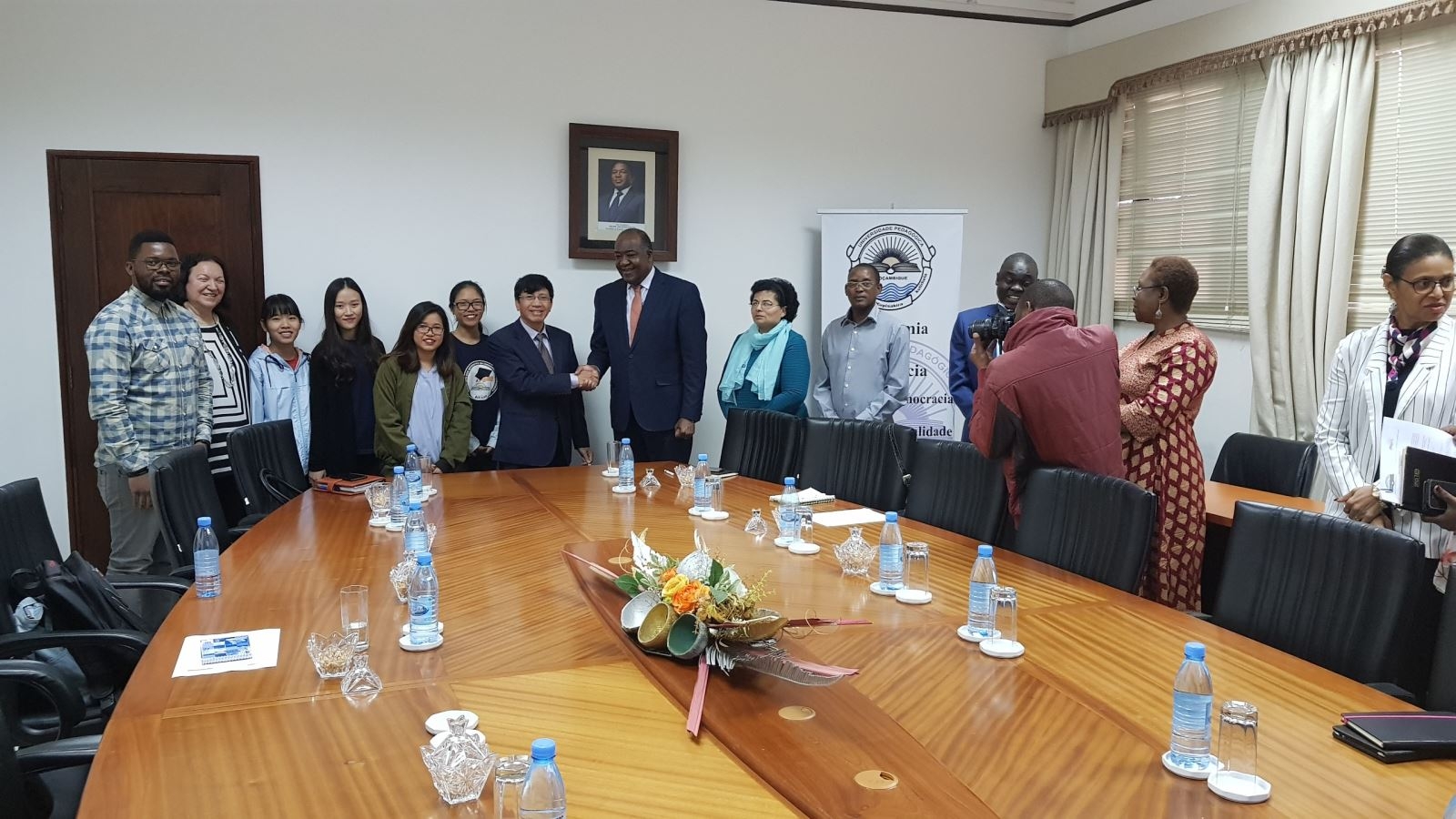 Ambassador Le Huy Hoang visited and worked with Maputo Pedagogical University in October 2018 (Photo: nembassy-maputo.mofa.gov.vn)
Particularly, Maputo Pedagogical University, one of the leading universities in Mozambique, says the educational promotion would help diversify forms of educational cooperation between Vietnam and Mozambique as bilateral friendship has been growing stronger over the years.
Speaking at the meeting with the Vietnamese Ambassador in Mozambique Le Huy Hoang on April 7, Jorge Ferrão - the Rector of Maputo Pedagogical University – highly appreciated the outcome of the academic cooperation between the university and Vietnamese universities, especially the effectiveness of the lecturers and students majoring in Portuguese and Vietnamese exchange programs.
Professor Jorge Ferrão expressed his wish for Vietnam and Mozambique to continue to diversify cooperation methods, strengthen direct relations among universities in both countries, enhance experience sharing activities, including the application of digital technology in teaching.
On his part, Ambassador Le Huy Hoang welcomed Maputo Pedagogical University's proactive promotion initiatives. He also spoke highly of the university's annual programs to grant scholarships to Vietnamese students.
Numbers of Vietnamese students graduating from Maputo Pedagogical University have had great contributions in bridging the two countries' friendship, participating in practical bilateral economic cooperation. The Ambassador hoped Maputo Pedagogical University and other universities in Mozambique would grant more scholarships for Vietnamese students in the future.
Founded in 1985, Maputo Pedagogical University is the first and only public university in Mozambique specializing in teaching methods for all educational levels of the National System of Education (SNE).
Vietnam and Mozambique last December 18 celebrated the 45 years of diplomatic ties between the two countries
In his opening remarks, Ambassador Hoang emphasized the significance of the day bilateral diplomatic ties were set up, June 25, 1975, which was also when Mozambique declared its independence, as reported by Nhan Dan.
This important milestone opened up a new chapter in their relations, which have enjoyed proud, substantive, and effective achievements, he said.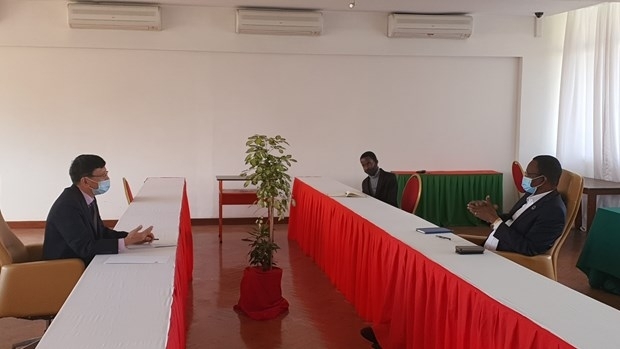 At the meeting on July 16 at the Frelimo Party's headquarters (Photo: VNA)
The ambassador noted relations between the two ruling parties, the Communist Party of Vietnam and the Mozambique Liberation Front (FRELIMO), have continually been tightened and served as a firm foundation for the increasingly substantive cooperation in various fields, from investment, telecommunications, and trade to agriculture, healthcare, and education.
Highlighting Vietnam's successes during 35 years of reforms and its 2020 ASEAN Chairmanship, Hoang affirmed that Vietnam is always willing to assist and share the experience with Mozambique, which is acting as Chair of the Southern African Development Community, in socio-economic development, disease outbreak prevention and control, along with regional and international integration.
Mozambique Deputy Minister for Foreign Affairs and Cooperation Manuel Gonçalves said his country always treasures the two countries' traditional relations, including Vietnam's solidarity with and precious assistance for Mozambique during the fight for national independence in the past as well as development and pandemic and disaster settlement efforts at present.
Mozambique views Vietnam as an important partner in Asia, he affirmed, speaking highly of the Southeast Asian nation's achievements in industrialization, modernization, and human resources development, which have helped improve its people's living standards.
The official said he hopes the two countries will keep reinforcing their friendship, increase all-level mutual visits and people-to-people exchange, and boost cooperation, especially in agriculture, aquaculture, science-technology, education-training, healthcare, defense, security, and natural disaster response.
He also asked Vietnam to encourage more businesses to invest in Mozambique in such priority areas as mining and agriculture, according to VNA.
Handbook
Yoga has recently become one of the best exercise methods that bring many health benefits to people, but it also requires a lot of technique and training to avoid injuries. There are several ways to practice it home, and will still help you achieve your goals.