Vietnam association for AO victims backs Tran To Nga's lawsuit
The Vietnam Association for Victims of Agent Orange (VAVA) backs Tran To Nga's viewpoint and will provide both spiritual and material support for the Vietnamese-French woman to continue pursuing her lawsuit, Senior Lieutenant General Nguyen Van Rinh, VAVA President said.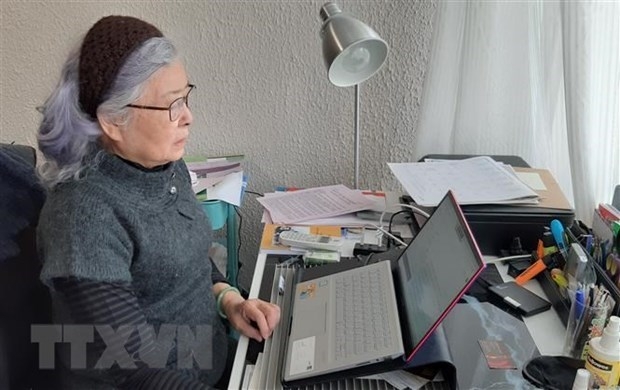 Vietnamese-French citizen Tran To Nga. Photo: VNA
Nga is appealing a French court's decision to dismiss her lawsuit against firms that manufactured the toxic Agent Orange defoliant used in the Vietnam War.
The court ruled that it did not have the jurisdiction to judge a case involving wartime actions of the US government, the AFP reported.
Senior Lieutenant General Rinh said he is not satisfied with the court's ruling, saying it is not persuasive considering the fact that the US firms had manufactured about 80 million litres of the Agent Orange (AO) defoliant for US forces to spray in Southern Vietnam, causing serious environmental and human health consequences.
Used to be a plaintiff in the VAVA's 2004 lawsuit in the US, VAVA Vice President Nguyen Thi Ngoc Phuong said she is not surprised at the Evry court's decision but felt sad as the court did not take into account AO victims of Vietnam and France.
The lawsuit does not target the US government but the US firms for their irresponsibility, she further explained.
In a statement issued on Wednesday, VAVA emphasised that the court made a decision that was not based on the principles of existing international law and did not sufficiently consider relevant factors, Vietnam News Agency (VNA) reported.
Its decision rejecting Nga's lawsuit shows that it denied the right of French citizens who suffered damage from foreign legal entities to be recognised by the French law.
The statement also mentioned an announcement from Nga's lawyers in which they said the court applied an obsolete definition of the immunity of jurisdiction principle that contradicted modern principles of international and national law.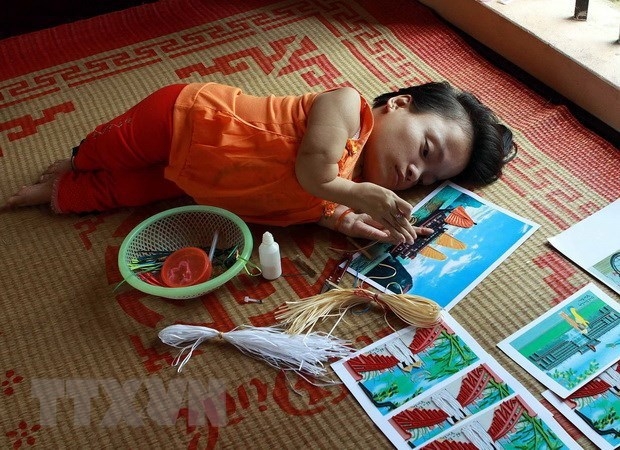 A Vietnamese AO victim. Photo: VNA
The court did not take into account relevant factors such as US companies being free to participate in tenders to produce toxic chemicals for profit and not being forced to do so.
It also did not consider the fact that the chemical companies had known that dioxin was a highly toxic substance but still intentionally changed the technical process to shorten the production time of AO, thus reducing costs and increasing profits.
VAVA emphasised that the Evry court "should reconsider its decision and expected that an appeal court would consider all relevant factors to make a ruling requiring US chemical companies to pay compensation".
The association also affirmed its backing for Nga's appeal and hoped that all lovers of peace, justice and progress around the world would support her and other AO victims in Vietnam./.
On January 25, Tran To Nga, an AO victim herself, sued 14 firms that made or sold the highly toxic chemical, including Monsanto, now owned by German giant Bayer, and Dow Chemical.
Backed by several NGOs, she accused the companies of being responsible for injuries sustained by her, her children, and countless others, as well as for damage done to the environment.
If the French court had ruled in her favor, it would have been the first time ever that a Vietnamese victim of Agent Orange had won compensation for the horrific after-effects caused by the dioxin contained in the defoliant. So far, only military veterans from the U.S., Australia, and South Korea have been compensated.
The multinationals have argued that they could not be held responsible for the use the American military made of their product.
It is expected that on May 15, Nga and volunteers from different NGOs will organize a rally in Paris to protest the decision of the court, according to VnExpress.
On January 31, a rally held by NGO Collectif Vietnam Dioxine had gathered nearly 300 people in Trocadero Square, expressing support for Nga and other victims of Agent Orange in their fight for justice.
Tran To Nga graduated from university in Hanoi in 1966 and became a war correspondent for the Liberation News Agency. She worked in some of the most heavily AO/dioxin affected areas in southern Vietnam, such as Cu Chi, Ben Cat, and along the Ho Chi Minh Trail, ultimately being contaminated herself. She suffers from a number of acute diseases.
Of her three children, the first died of heart defects and the second suffers from a blood disease. A grandchild of Nga also suffers from AO-related illnesses.