Vietnam, Australia to Beef Up Legislative Ties
Speaker of the Australian House of Representatives met with Vietnamese Ambassador Nguyen Tat Thanh on Feb 9 reception.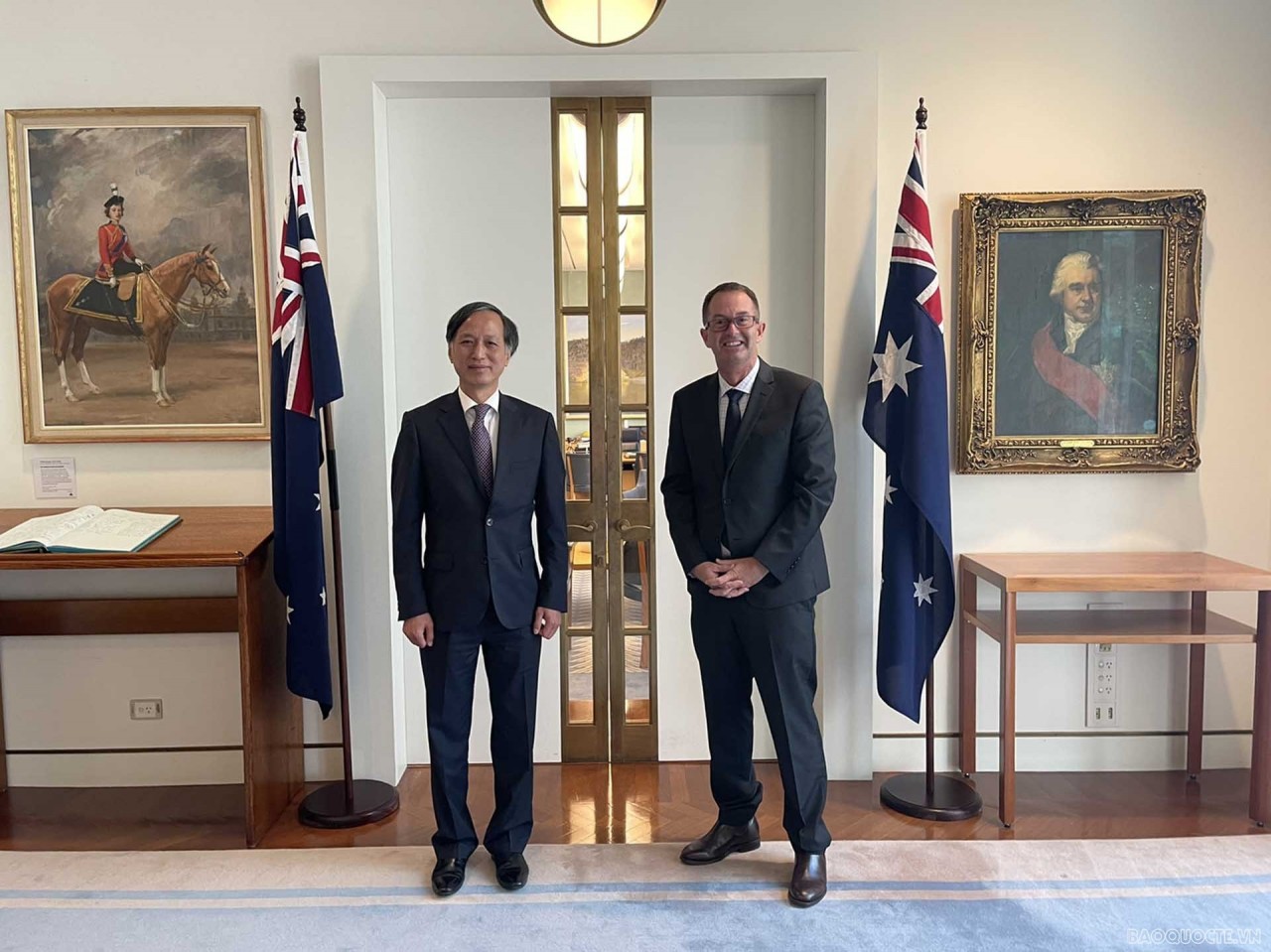 Speaker of the Australian House of Representatives Andrew Wallace (right) and Vietnamese Ambassador Nguyen Tat Thanh. Photo: baoquocte.vn
Speaker of the Australian House of Representatives Andrew Wallace and Vietnamese Ambassador have discussed the establishment of parliamentarians' groups to strengthen the bilateral relations, towards the 50th founding anniversary of diplomatic relations (1973-2023), reported VNA Wednesday.
The speaker noted with pleasure the positive development of the Vietnam-Australia strategic partnership, and spoke highly of efforts made by both sides to strengthen their relationship pragmatically and intensively, with the Australia-Vietnam Enhanced Economic Engagement Strategy (EEES) put in place.
He congratulated Vietnam on its socio-economic achievements last year, saying Vietnam maintained its positive economic growth and Australia has become the 10th biggest trade partner of the Southeast Asian nation despite the Covid-19 pandemic.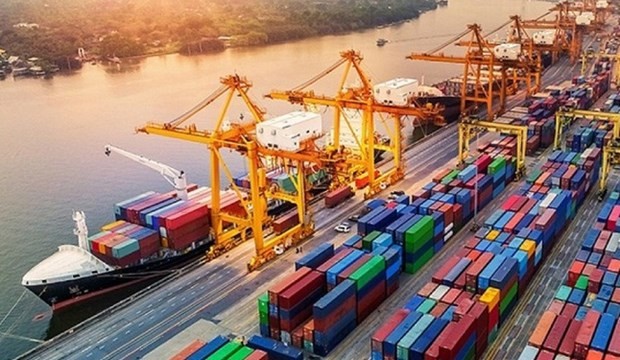 Illustrative image. Photo: baodautu.vn
Vietnam-Australia trade turnover reached USD 12.4 billion in 2021 for the first time, an increase of nearly 50% compared to 2020.
Export turnover to Australia topped USD 4.45 billion, up 23% while its import was about USD 7.95 billion, a year-on-year rise of 70%.
With this trade volume, Vietnam becomes Australia's 12th biggest trading partner and Australia is Vietnam's 10th biggest.
According to the Vietnam Trade Office in Australia, despite the negative impact of the pandemic, most of the exports to the Australian market have achieved impressive growth.
Export turnover of raw materials and fuels experienced from double- to triple-digit growth compared to the previous year. Such exports as textiles, garments, leather and footwear, machinery, equipment spare parts continued to increase remarkably, especially the textile and garment sector saw a growth rate of 42.23%.
The turnover of Vietnam's key exports such as agricultural and fishery products also outperformed the previous year. Specifically, pepper surged by 41.98%, followed by rice, vegetable and fruits and seafood with 34.36%, 28.15% and 16%, respectively.
Wallace also lauded Vietnam's performance in the pandemic fight and Covid-19 vaccination, which, he said, would be a foundation for the two countries to soon resume commercial flights and step up economic, trade and investment ties as well as people-to-people exchanges.
Vietnam always keeps in mind Australia's valuable support during its cause of national construction and development over the past 50 years, including Australia's donation of vaccines to the country, Thanh responded.
Both officials consented to beef up the bilateral relationship, especially their legislative ties, towards the 50th founding anniversary of diplomatic relations.
They discussed the establishment of parliamentarians' groups to strengthen the relationship, and shared the hope for the further exchange of visits by leaders of the two countries in efforts to advance their strategic partnership to a new height.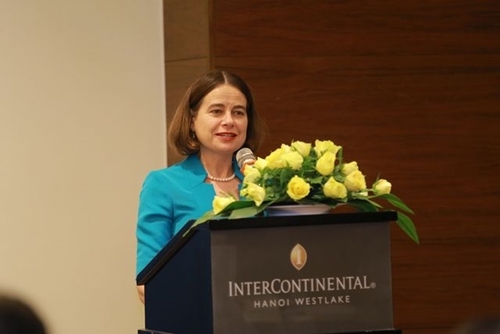 Australian Ambassador to Vietnam Robyn Mudie.
The prospect of trade between Vietnam and Australia in 2022 is great as the two countries are now members of the Comprehensive and Progressive Agreement for Trans-Pacific Partnership (CPTPP) and the Regional Comprehensive Economic Partnership (RCEP) – an inclusive and open new-generation trade agreement.
In addition, the two countries have completed the Enhanced Economic Engagement Strategy which sets out a roadmap to increase trade and investment opportunities, forging closer ties between the two countries.
Australian Ambassador to Vietnam Robyn Mudie has said the two economies are highly complementary. Australia is a reliable supplier of the services and raw materials that Vietnam's exporters require, and Australian consumers enjoy Vietnam's high-quality products in their homes and workplaces. There is enormous potential to take this relationship even further as the two countries emerge from Covid-19.
The strategy will help guide the two countries towards an inclusive and sustainable growth path, she added.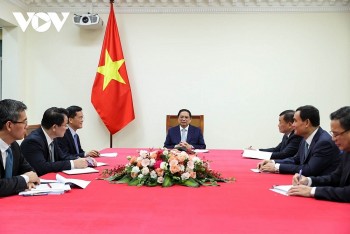 National
Vietnam News Today (Nov. 29): Vietnam records 333 new Covid-19 cases on November 28; Economic cooperation a solid pillar of Vietnam – France strategic partnership; Science, technology development key to sustainable agriculture; Glorious Ashes wins top prize at Three Continents Film Festival.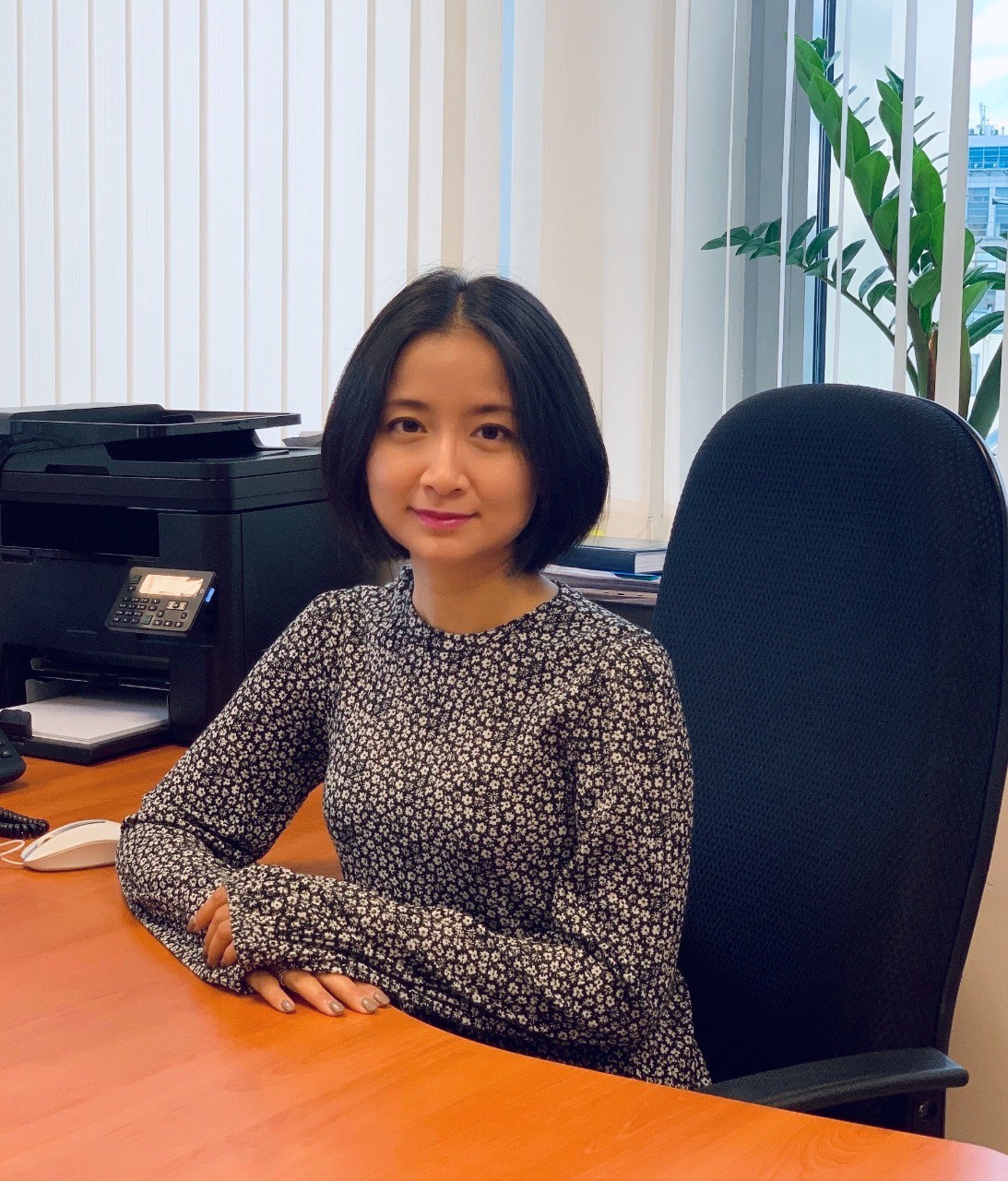 Overseas Vietnamese
Doan My Linh (born in 1990) is currently a lecturer at the Faculty of Marketing, Russian Economic University, Plekhanov. In addition to teaching, she spends most of her free time on activities to support Vietnamese students.
November 13, 2022 | 06:58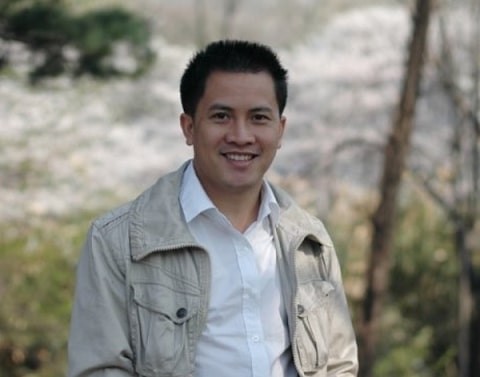 Viet's Home
The research results on the application of AI technology by doctor Truong Van Tien have been published in two prestigious journals and many magazines in the US.
November 12, 2022 | 08:12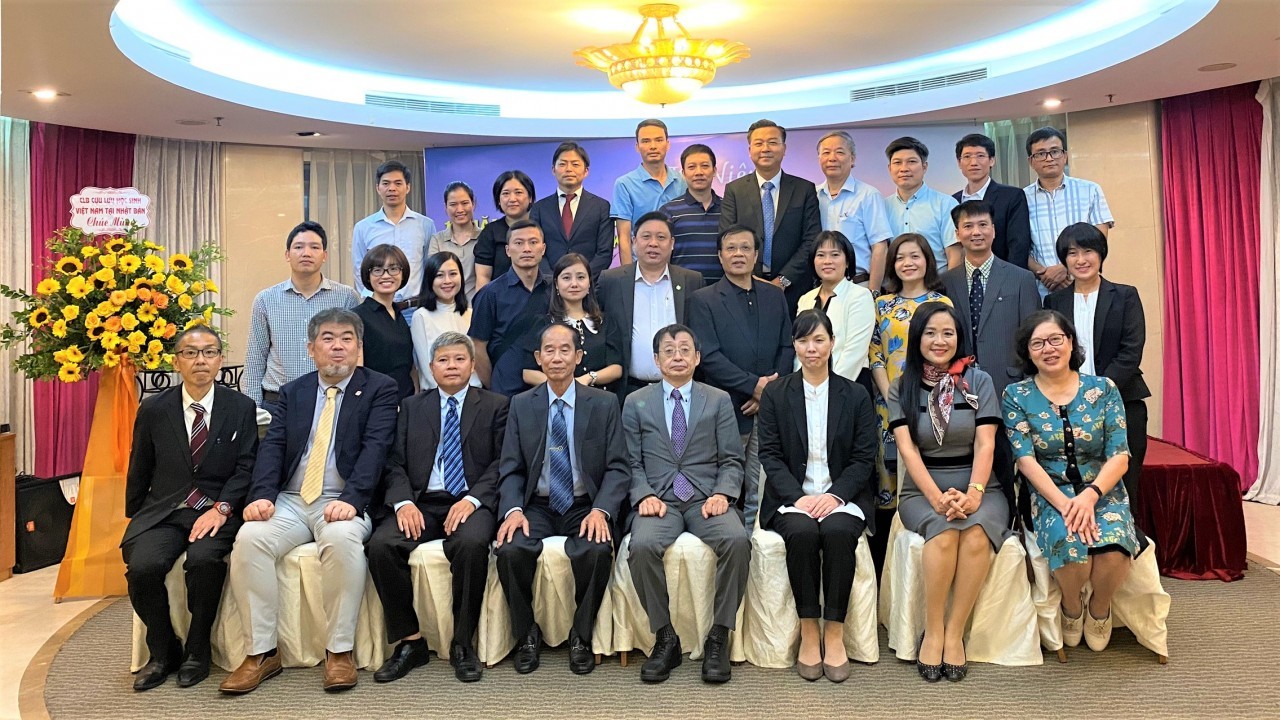 Overseas Vietnamese
The Vietnam Alumni Club in Fukuoka, Japan (FVAJA) just celebrated its 10th anniversary.
November 10, 2022 | 07:13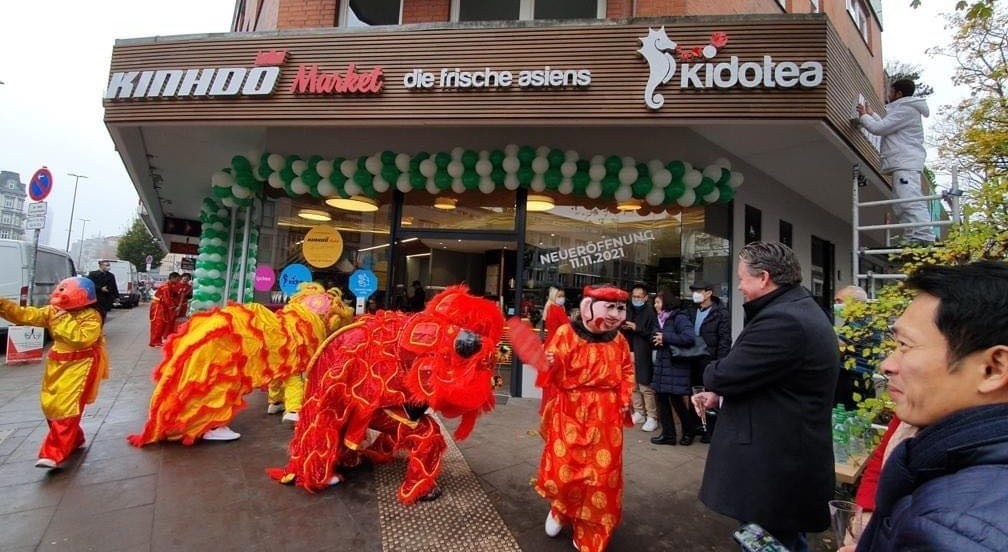 Overseas Vietnamese
After over a year of selling traditional Vietnamese dishes in Hamburg (Germany), Lam is happy that not only overseas Vietnamese in Germany but many Germans are also enjoy banh mi. This dish has quickly become a "best seller" and the pride of this restaurant.
November 07, 2022 | 08:13