Pandemic-hit Hai Duong province asks for assistance as Covid-19 cases surge
Given the complicated development of the Covid-19 outbreaks, the northern province of Hai Duong has requested the Ministry of Health to assist it in establishing testing rooms as well as providing medical equipment.
On February 17 morning, the Hai Duong Steering Committee for Covid-19 Prevention and Control asked the Ministry of Health to help it in setting up more testing rooms as the Covid-19 cases surges, according to Tien Phong.
Accordingly, Hai Duong province asked Bach Mai Hospital to support setting up the testing rooms at the Field Hospital No.2 at Hai Duong Medical Technical University; the National Hospital of Tropical Diseases set up testing rooms at the Field Hospital No.1 in Chi Linh City's Medical Center; National Institute of Hygiene And Epidemiology establish testing rooms in Cam Giang district.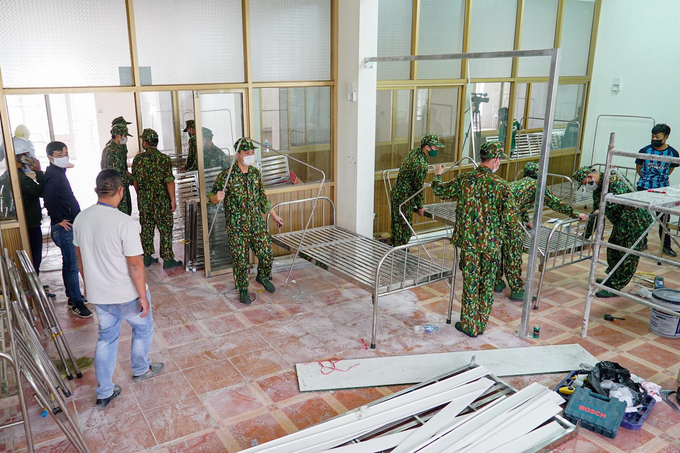 The military forces help to establish the field hospital No.3 in Chi Linh City. Photo: Vnexpress
Hai Duong also requested the National Hospital of Tropical Diseases to dispatch experts in treating Covid-19 patients to the field hospital No.3 in Chi Linh City.
Besides, the province also asked the Health Ministry to supply it with medical equipment.
To date, Hai Duong has performed Covid-19 testing of more than 93,000 samples. However, Health Minister Nguyen Thanh Long said at a meeting on February 15 "the speed of contact tracing, testing and zoning are still slower than that of the transmission". This is one of two reasons (along with cross-transmission) that incites the quick spread of disease, he added.
Earlier, the Secretary of the Hai Duong Provincial Party Committee Pham Xuan Thang also requested the military forces to directly manage the centralized quarantine facilities with more than 100 people. With the smaller ones, the military forces still play a pivotal role with a view to tightening management to avoid cross-contamination.
Apart from calling for medical assistance, Hai Duong City People's Committee also sent an official dispatch to the Ministry of Industry and Trade, the People's Committee of Hai Phong and Quang Ninh to create conditions for the goods trade. The province now has a total of 4,087 hectares of newly-harvested vegetables with an output of about 90,676 tons. If the neighboring localities do not allow vehicles from Hai Duong passing, the produce trade will face many difficulties.
On February 17, the Provincial People's Committee sent a document to the Department of Agriculture and Rural Development, districts, towns and cities to implement measures to both preventing epidemic and helping farmers to sell agricultural products after the Lunar New Year.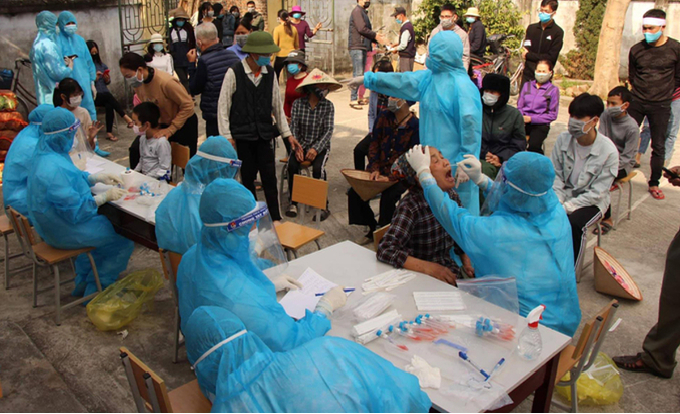 Medical workers collect swab samples for Covid-19 testing in Hai Duong Province. Photo courtesy of the Ministry of Health.
Starting February 16, all of Hai Duong undergoes social distancing, around half a month since a new wave of Covid-19 outbreaks swept through the province, Vnexpress reported.
Nguyen Viet Hai, chief of office of Hai Duong Party Committee, said the province would undergo social distancing for 15 days starting February 16 as per a government directive on Covid-19 prevention.
The social distancing directive, the same applied nationwide in April last year to stem the spread of Covid-19, calls for people not to go outside except for getting food, medicine or other emergencies; requires a minimum social distance of two meters and bans gatherings of more than two outside of hospitals, offices, schools and public spaces.
Traffic through the province, home to more than two million people, would also be limited during the period, with only vehicles with essential purposes allowed to enter Hai Duong, which is more than an hour drive from Hanoi.
Since January 28, Vietnam has recorded 737 new Covid-19 community transmissions in 13 localities. Hai Duong leads the tally with 557, followed by Quang Ninh (60), Ho Chi Minh City (36) and Hanoi (35).
The national Covid-19 total stands at 2,329, with 1580 recoveries and 35 deaths. Seven of the recoveries were confirmed on February 17.
Among the active patients, 104 have tested negative at least once for the novel coronavirus.
Over 145,000 people are in quarantine, 15,000 in centralized quarantine facilities, over 500 in hospitals, and the rest at home or other designated accommodations.