Vietnam, Canada Eye To Strengthen Defence Cooperation
On October 11, Minister of National Defence Gen. Phan Van Giang hosted a reception for Canadian Ambassador to Vietnam Shawn Steil.
Congratulating the new Canadian ambassador on his appointment, Giang said he believes that the Ambassador will have a successful term in Vietnam, contributing to the further development of the Vietnam - Canada comprehensive partnership and the defence cooperation relationship between the two countries, VOV News reported.
Affirming that Vietnam attaches importance to developing ties with Canada, the Defence Minister emphasised that both defence ministries pay attention to promoting defence cooperation in accordance with the Memorandum of Understanding (MoU) on military training and cooperation programme signed in 2018, the MoU on defence cooperation signed in 2019 and the defence cooperation plan for 2021-2023 signed in 2021.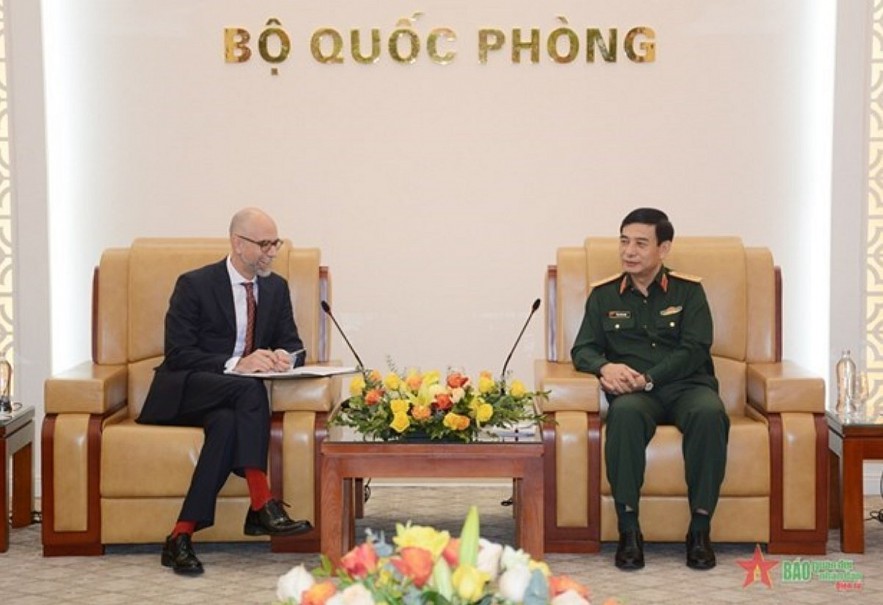 Minister of National Defence Gen. Phan Van Giang (right) receives Canadian Ambassador to Vietnam Shawn Steil. (Source: qdnd.vn)
As Nhan Dan reported, he said bilateral cooperation in defense has produced positive results in a number of areas including the exchange of delegations, training, United Nations peacekeeping and maritime security.
Minister Giang wished that the Ambassador will pay attention to promoting defense cooperation in existing fields, and at the same time consider expanding into other potential areas which suit the interests and needs of each country.
He suggested strengthening the exchange of delegations at all levels, maintaining dialogue and consultations, with priority given to training and peacekeeping missions.
Giang hopes that the two sides will have many meaningful cooperation activities to celebrate the 50th anniversary of the establishment of diplomatic relations next year.
Previously, with the COVID-19 pandemic restrictions eased, the granting of visas should be made more convenient and quick to boost cultural and people-to-people exchanges and enhance friendship between Vietnam and Canada, Ambassador to the country Pham Cao Phong told an event on October 3.
Delivering a speech at a ceremony hosted by the Vietnamese Embassy in Ottawa to mark the fifth anniversary of the Vietnam – Canada Comprehensive Partnership, the diplomat further said official visits, online and offline meetings, and phone talks between the two governments' leaders and ministers have provided a strong foundation for the two countries to further expand bilateral ties and reinforce common priorities.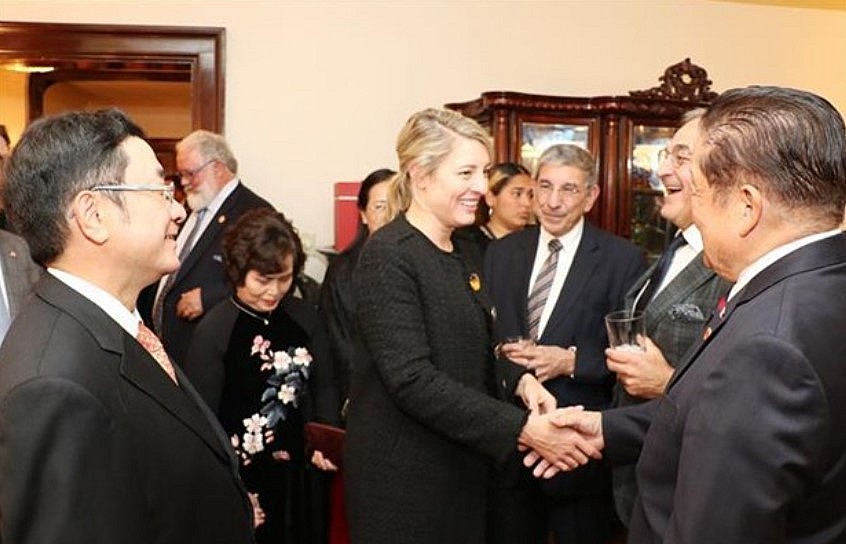 The event gathers Vietnamese and Canadian officials and diplomats. (Photo: VNA)
He said the Vietnam – Canada economic linkage, as a driver of the Comprehensive Partnership, should be further stepped up by making the most of the Comprehensive and Progressive Agreement for the Trans-Pacific Progress (CPTPP).
The diplomat urged the two sides to push for a sustainable and reliable supply chain and advance cooperation in science, technology, innovation, green energy, climate change and environment, saying these areas will help the two nations sustain economic security.
Canadian Foreign Minister Melanie Joly, for her part, said Canada wishes to forge a long-term relationship with Vietnam, and that the Southeast Asian country plays a critical role in Canada's Indo-Pacific Strategy, given that they boast a close people-to-people exchange and both are members of the Francophone community.
Canada looks forward to Vietnam's support to become an ASEAN strategic partner, she noted, adding that last year, ASEAN was Canada's fourth largest trade partner with bilateral goods exchange reaching 25 billion USD.
Vietnam and Canada established a comprehensive partnership in 2017 during an official visit to Vietnam by Prime Minister Justin Trudeau. Since then, the two-way trade has surged by 72.7% and the number of Vietnamese students in Canada has been on a rise.
Canada has invested CAD1.2 billion (USD 0.8 billion) in 101 projects in Vietnam within their development cooperation. The two countries will be celebrating the 50th anniversary of their diplomatic ties next year.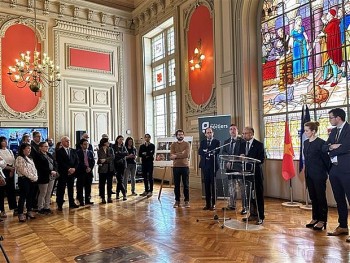 National
Vietnam News Today (Mar. 26): Vietnam and Thailand promote labour cooperation; Vietnamese, French localities look to step up cooperation; Attractive incentives on offer at Hanoi Tourism Festival 2023; E-commerce accounts for 60% of Vietnamese digital economy.