Vietnam congratulates newly-elected Prime Minister of Japan
Party General Secretary and President Nguyen Phu Trong on September 15 sent a message of congratulations to Yoshihide Suga, who was formally elected as as President of the ruling Liberal Democratic Party (LDP) of Japan. He is replacing Shinzo Abe, who resigned earlier in the day because of ill health and become the new Prime Minister of Japan.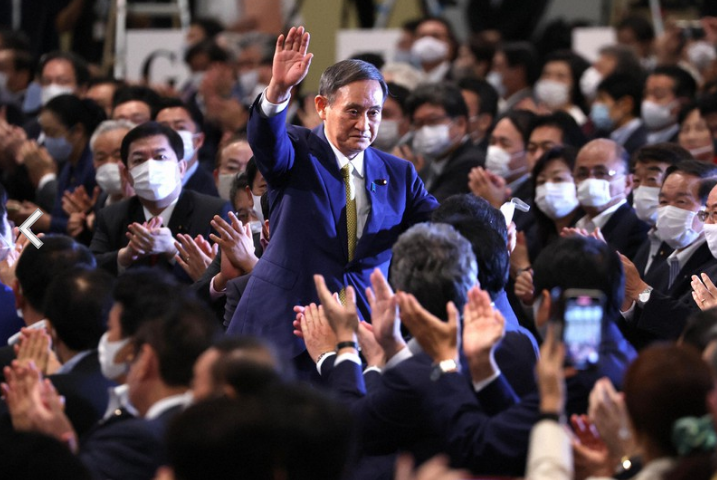 Yoshihide Suga responds to applause from national assembly members after he was elected as the new president of the Liberal Democratic Party at a hotel in Tokyo on Sept. 14, 2020. (Mainichi/Yuki Miyatake)
"Vietnam congratulates Suga Yoshihide for his election as the new Prime Minister of Japan," spokesperson of the Foreign Ministry Le Thi Thu Hang said while answering reporters' queries on the same day.
Vietnam always treasures the friendship with Japan and hopes for close cooperation with the country's new PM and Government to lift the Vietnam-Japan extensive strategic partnership to a new height, making it more comprehensive, pratical, and effective, for the benefit of the two peoples, as well as for the sake of peace, stability, cooperation and development of the region and the world, she affirmed.
Suga - has been elected Japan's new Prime Minister following a vote in the parliament's lower house this morning, becoming the country's first new leader in nearly eight years.
The 71-year-old head of the Liberal Democratic Party replaces leader Abe Shinzo, Japan's longest-serving Prime Minister.
Suga was the former Japanese leader's right-hand man during Abe's almost eight years in office throughout his second term, holding the important position of chief cabinet secretary in his government.
According to Kyodo News Agency, he is known as a successful political operator, who can get things done, and worked hand-in-hand with the former leader to implement "Abenomics" - a series of economic policies designed to boost Japan's economy.
Before becoming PM, Suga said that his top priorities were to fight the Coronavirus and bring the economy affected by the epidemic back on track. He said that he is a reformist and has worked to achieve policies by breaking the regional barriers of bureaucracy.
Suga is also close to Shinzo Abe and it is believed that he will pursue his policies. Born into a family of a strawberry farmer, Yoshihide Suga's story of reaching the top separates him from the political elite that has long dominated Japan's politics. Suga also aims to amend Japan's post-war pacifist constitution to legalize the Self-Defense Force. This has also been an important agenda of Shinzo Abe.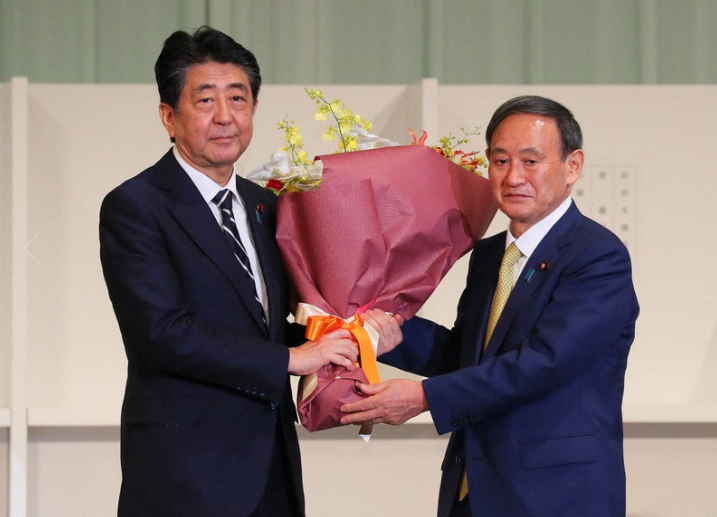 Yoshihide Suga, right, gives a bouquet to outgoing Prime Minister Shinzo Abe after Suga was elected as the new president of the Liberal Democratic Party at a hotel in Tokyo on Sept. 14, 2020. (Mainichi/Naoaki Hasegawa)
Suga has hinted at the possibility of additional steps to shore up the economy.
This would come on top of a 230 trillion yen (USD 2.2 trillion) package the government has already set out for tackling the COVID-19 outbreak, including subsidies for beleaguered businesses and promotion of domestic tourism.
He will also take over a sweeping review of Japan's national security policy that was initiated by Abe after plans to introduce a US-developed missile defense system were scrapped due to technical issues.
Health minister Katsunobu Kato was chosen to succeed Suga as chief Cabinet secretary, a key post that serves as both a policy coordinator and the government's top spokesman.
Outgoing Defense Minister Taro Kono was tapped for minister in charge of administrative reform, an area Suga has promised to focus on to reduce bureaucratic sectionalism.
The Cabinet saw eight members retained in the same post including Finance Minister and Deputy Prime Minister Taro Aso, Foreign Minister Toshimitsu Motegi and economic revitalization minister Yasutoshi Nishimura, who heads the government's coronavirus response.
Seven were either shifted to other portfolios or returned to ministerial positions they had held in the past, while five were given their first Cabinet posts, including Defense Minister Nobuo Kishi, Abe's younger brother.
There are only two women in the cabinet, Olympics and Paralympics minister Seiko Hashimoto and Justice Minister Yoko Kamikawa.
At 71 years and 9 months, Suga is the oldest prime minister to take office since Kiichi Miyazawa in 1991, a fact belied by his notorious work ethic. Suga says he keeps fit by taking 40-minute walks and doing 100 sit-ups every morning.
After announcing the members of his Cabinet, Suga was formally inaugurated in a ceremony at the Imperial Palace. His tenure will last through the remainder of Abe's term as LDP leader until September 2021./