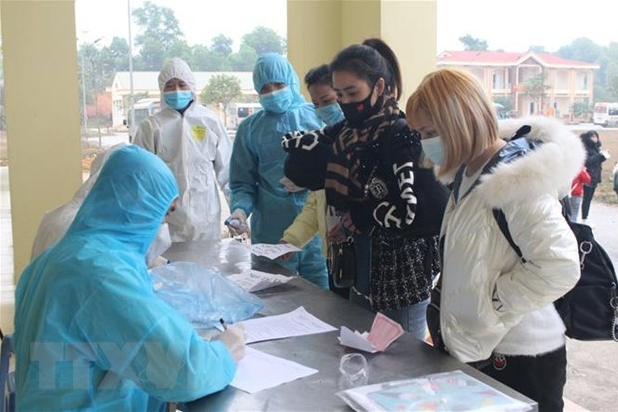 Photo: VNA
5 new cases in the last 24 hours
Vietnam recorded five cases of COVID-19 from 6 am to 6 pm on April 27. Among the new patients, four are Vietnamese citizens returning from abroad and have been quarantined immediately after arrival. The fifth patient was a staff member at a hotel that is used as a quarantine facility in the northern province of Yen Bai, where several Indian experts are quarantined after arriving in Vietnam. This staff member has also been under medical monitoring since the first day he made contact with the Indian experts. Meanwhile, no new cases found on the morning of April 28, according to the Health Ministry.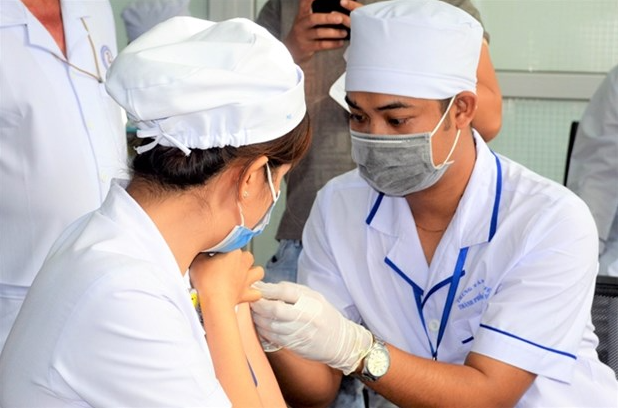 Photo: VNA
Vietnam completes the second stage of homegrown Nano Covax trials
Results from the second stage of human trials of Nano Covax show the homegrown COVID-19 vaccine is safe, according to the research team. Navo Covax is developed by the Nanogen Pharmaceutical Biotechnology JSC. The second stage trials of the vaccine were conducted on 560 volunteers divided into four groups, with 80 people injected with placebo and three other groups administered with 25mcg, 50mcg, and 75mcg doses.
The research team is expected to submit a report to the Research Ethics Committee of the Ministry of Health on April 27 and propose a plan for the third phase of human trials, possibly on May 5. The third phase of human trials is expected to involve 10,000-15,000 people in both Vietnam and Asian countries with severe coronavirus outbreaks. Volunteers will be administered with 25mcg – the only dose for this stage. Each person will receive two jabs. They are set to get second shots of Nano Covax 28 days after the first one.
Navo Covax vaccine started testing on humans on December 17 last year and has completed the second phase. It is prepared to enter the third phase, the final stage of testing before mass production. Based on the results of the first and second phases, experts are optimistic that if the tests are successful, the third phase of the trial will be completed at the end of the third quarter, shortening the research by three months compared to previously planned.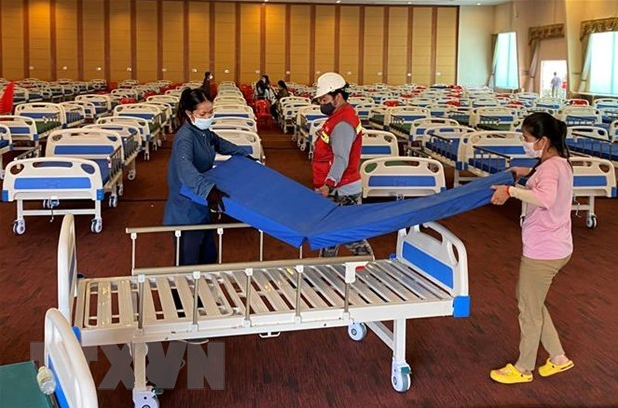 Photo: VNA
Health ministry issues guidelines on handling COVID-19 vaccine blood clots
The Vietnamese Ministry of Health has recently issued guidelines on protocols for diagnosis and treatment of rare brain/abdomen blood clots in the setting of low levels of blood platelets occurring after COVID-19 vaccinations. It stressed that these incidents are serious, but a very rare and unusual complication that seems to occur more among women younger than 60 years old.
The incidents that take place after administering COVID-19 vaccines by AstraZeneca and Johnson & Johnson were documented by drug authorities and vaccine safety monitoring agencies in many countries, the ministry noted. The Ministry of Health said that commune- and ward-level health stations and district-level medical centers must monitor people who have received the COVID-19 vaccines, and if the injected person shows any clinical symptoms, medical staff must perform "emergency measures" and transfer the patient to the higher-level health facilities. Health centers are also told to conduct a platelet count, imaging, and X-rays on suspected patients to diagnose the underlying conditions, and contact experts for those with abnormal symptoms.
Vaccinated persons who suffer from severe headaches, localized neurological symptoms, seizures, difficulty breathing, chest pain, life-threatening bleeding should also be transferred to a higher level. However, given the nature of the COVID-19 vaccine approved for emergency use, Vietnam has been quite cautious in its vaccination drive.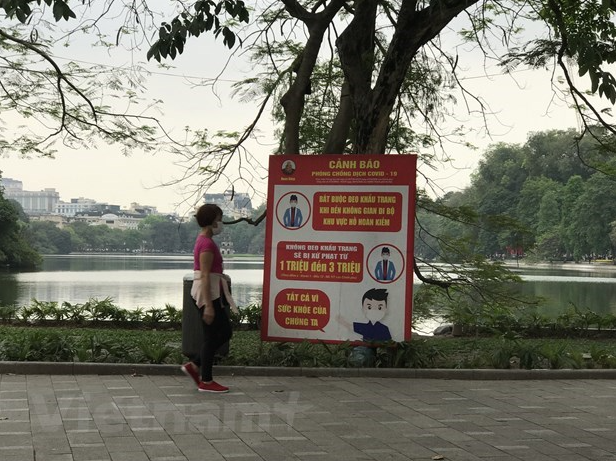 Photo: VNA
Hanoi, Hai Duong reinforce COVID-19 prevention efforts
Authorities of Hanoi capital city and the northern province of Hai Duong have asked relevant agencies and people to strengthen efforts in COVID-19 prevention and control, amid complicated developments of the pandemic in surrounding countries. In an official dispatch, the Party Committee of Hanoi ordered the suspension of festivals and pedestrian zones in the city, and the restriction of non-essential events with mass gatherings. In case the events are held, preventive measures must be in place.
Meanwhile, leaders of Hai Duong province requested relevant agencies to bolster communications to raise public awareness. Hai Duong police will work with departments, sectors, localities, and inspection groups in illegal entry prevention and supervision at concentrated quarantine facilities and homes. People are recommended to refrain from traveling to crowded places and those with high COVID-19 risks, especially as the National Reunification Day (April 30) and May Day holidays are approaching. Non-essential services in the province like massage parlors, karaoke, bars, and discotheques will continue to be suspended until further notice, while vaccinations are asked to be sped up.
New cases brought the national total to 2,857, according to the Health Ministry. Meanwhile, 2,516 COVID-19 patients have been given the all-clear, and the death toll remains at 35. Among patients still under treatment, 13 have tested negative for the novel coronavirus once, 15 twice and 20 thrice. A total of 38,266 people are being quarantined across the country.
Valerie Mai