Vietnam COVID-19 Updates (April 24): HCMC drivers asked to refuse illegal entrants
HCMC Transport Department has requested all taxi and bus drivers to refuse service to those entering Vietnam illegally for fear of Covid-19 community transmission.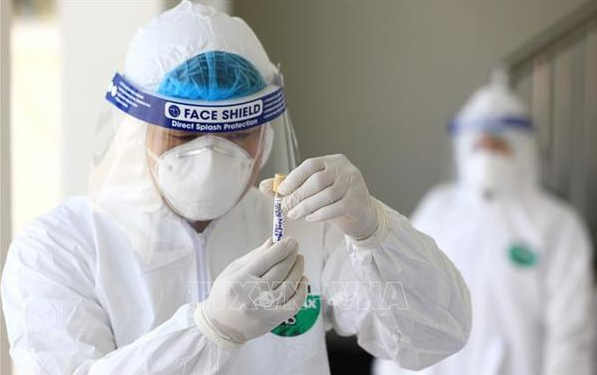 Photo: VNA
8 new imported cases
Six imported cases of COVID-19 were detected from 6 am to 6 pm April 23, according to the Health Ministry. The new patients include a 50-year-old Filipino man, a 37-year-old Indian man, and four Vietnamese.
Two more cases were found on the morning of April 24. They were immediately quarantined and treated in Yen Bai and Thai Binh.
Photo: VN Express
HCMC drivers asked to refuse illegal entrants amid Covid-19 fears
The move came in the wake of rising community infections in neighboring countries, especially Cambodia, which has been suffering its largest wave of Covid-19 community transmissions. The department suggested heightened transport inspections in the southwest border area of Vietnam alongside Cambodia, Lao Dong newspaper quoted Do Ngoc Hai, head of the department's road transport management, as saying.
HCM City needs to tighten regulations to further curb the spread of COVID-19, Deputy Prime Minister Vu Duc Dam requested during a working session with the city's steering committee on COVID-19 prevention and control on April 23. He pointed to the importance of the city as the center of the southern region and a major transportation hub of the country, hence its key role in pandemic control.
Speaking highly of the southern hub's efforts in battling COVID-19 over the recent past, Dam, who is head of the National Steering Committee on COVID-19 Prevention and Control, ordered relevant agencies to strengthen pandemic prevention measures, especially adherence to the 5K message. He also called for hefty fines for those who fail to wear masks in public places.
Dam noted that as Vietnam has kept the pandemic under control, many people have shown negligence. Meanwhile, neighboring countries are seeing complicated developments of COVID-19. He warned that as the National Reunification Day (April 30) and May Day holidays approach, there is a high risk of infection.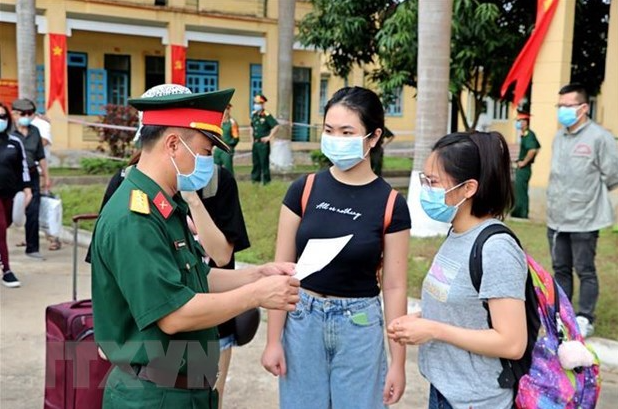 Photo: VNA
Border localities must exert efforts to tackle illegal entry: Deputy PM
Border localities need to ensure quarantine and free COVID-19 testing for Vietnamese citizens returning from abroad so as to prevent illegal entry, Deputy Prime Minister Vu Duc Dam made the request during an in-person and online meeting with HCM City and 10 localities bordering Cambodia on April 23. Noting that COVID-19 is wreaking havoc in Cambodia and other countries in the region, Dam urged the localities to tighten regulations, especially sparing no efforts in tackling illegal entry via road and maritime transport.
The Government is calling on Vietnamese citizens abroad to refrain from traveling and comply with local guidelines on COVID-19 prevention and control. If the citizens wish to return home, they need to make a declaration with relevant agencies so that the agencies can provide the best possible support while ensuring pandemic prevention measures, he underlined.
The Deputy PM asked local authorities to encourage those who illegally return on fishing vessels to contact relevant agencies and make declarations. Localities were instructed to tighten supervision along the country's borders and border gates, especially via crossings, trails, and maritime transport. They also need to impose heavy fines on illegal migrants and encourage residents to report violations, as well as ensure safety in concentrated quarantine facilities. At the meeting, representatives of the localities reported recent activities in preventing COVID-19 and illegal immigration at border regions.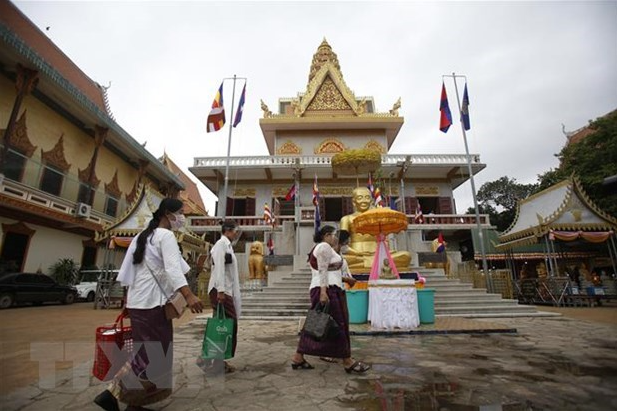 Photo: VNA
Vietnam provides more aid for Cambodia to fight COVID-19
The Vietnamese Party, State, and people have presented 300,000 USD to Cambodia to support Cambodia in its fight against COVID-19. The aid was handed over to Cambodian Ambassador to Vietnam Chhay Navuth by Nguyen Huy Tang, deputy head of the Party Central Committee's Commission for External Relations, on April 23.
The Vietnamese Party, State, and people keep a close watch on the COVID-19 situation in Cambodia and wish to share the difficulties facing the country, Tang said at the hand-over ceremony. He expressed his belief that under the leadership of Cambodian People's Party President and Prime Minister Hun Sen and with the solidarity of Cambodians and support of international friends, Cambodia will soon contain the pandemic. With this assistance, together with another aid package of 200,000 USD from the Vietnamese Government, which was granted to Cambodia earlier, Vietnam hopes to join the anti-COVID-19 efforts of the Cambodian Government and people, he said.
Cambodian Ambassador Chhay Navuth stressed that these aid packages demonstrate the special sentiment between the two countries' Parties, States, and peoples, saying Vietnam's timely support has served as a source of encouragement for Cambodia in its efforts. The ambassador also lauded the achievements Vietnam has recorded in fighting COVID-19 and maintaining socio-economic development.
The number of recovered patients reached 2,490, while the death toll remained at 35. Among active patients, 12 have tested negative for the novel coronavirus once, 11 twice and 17 thrice.
A total of 39,191 people who had close contact with or arrived from pandemic areas are being quarantined nationwide.
Also on April 23, the Vietnam Fatherland Front Committee of Ho Chi Minh City received over 200 billion VND (8.67 million USD) contributed by organizations and individuals to purchase COVID-19 vaccines.