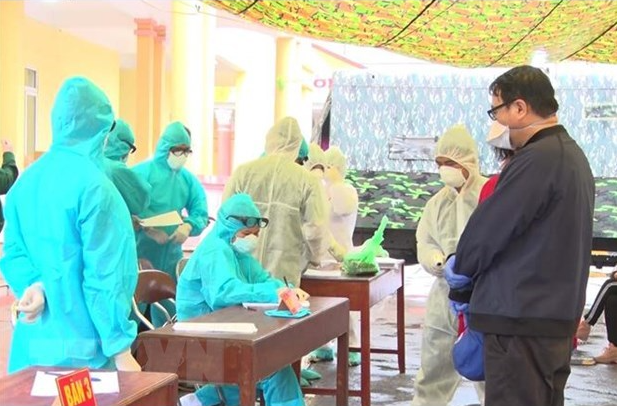 Photo: VNA
1 more case of COVID-19 in the last 24 hour
One more imported case of COVID-19 was reported from 7 am to 6 pm on April 24, according to the Health Ministry. The new patient, a 27-year-old Vietnamese, raises the national count to 2,833. He was quarantined right after his arrivals from Japan.
No new cases found on the morning of April 25. Vietnam has gone through 31 days without reporting any community cases.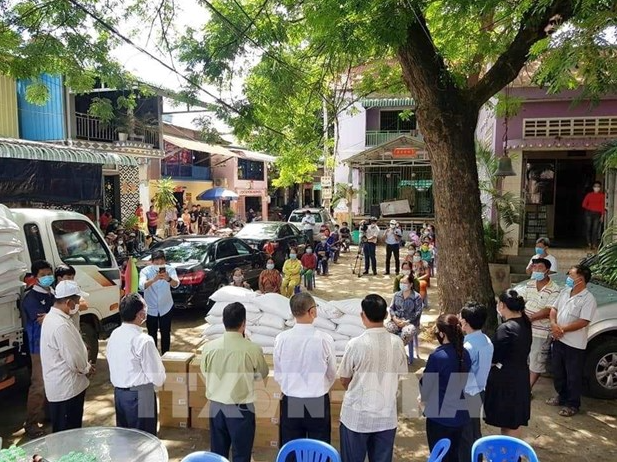 Photo: VNA
Relief aid to Vietnamese-origin Cambodians amid lockdowns
The Vietnamese Embassy in Cambodia, in collaboration with the Cho Ray- Phnom Penh hospital and the Khmer-Vietnam association in Cambodia, on April 24, presented emergency relief aid to 350 households of Vietnamese origin in Chbar Ampov district's Champa pagoda area. The provision of the aid, consisting of rice, facemasks, and antiseptic solutions, came in the context that many areas in Phnom Penh are facing food shortages due to COVID-19 related lockdown.
Earlier, the group handed over 150 aid packages to Khmer families in the Kbal Koh ward. The medical staff of the hospital spent parts of their salaries on purchasing 10 tonnes of rice for the 500 recipients.
Also on April 24, the Vietnamese Consulate General in Preah Sihanouk issued a press release saying Cambodians of Vietnamese origin in the city, who are in need of rice and instant noodle, can pick them up directly at the agency's headquarters. To those residing in areas of high infection risks, the office will send aid packages to them if allowed by local competent agencies. Authorities of the Preah Sihanouk province have been blocking the city for 14 days from April 23 to May 6 to curb COVID-19.
Next week, the Vietnamese Embassy, the Khmer-Vietnam association, and some philanthropists will bring aid packages to Vietnamese Cambodian and Khmer people in need in Phnom Penh's Mean Chey district.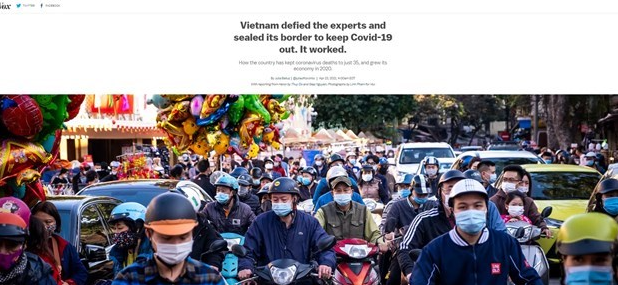 Photo: VOX
US newspaper lauds Vietnam's drastic approach to COVID-19
The US newswire vox.com on April 23 published an article highlighting Vietnam's effective measures against the COVID-19 pandemic, affirming that early and drastic actions such as border shutdown have helped Vietnam keep virus variants at bay while growing its economy.
As the pandemic took hold last year, travel restrictions quickly proliferated in many countries. According to one review, never in recorded history has global travel been curbed in "such an extreme manner": a reduction of approximately 65 percent in the first half of 2020. More than a year later, as countries experiment with vaccine passports, travel bubbles, and a new round of measures, a maze of ever-changing restrictions remains firmly in place.
But few countries have gone as far as Vietnam, with a gross domestic product per capita of 2,700 USD. Last year, its growth hit 2.91 percent, defying economists' predictions and beating China to become the top performer in Asia. The author quoted researcher Kelley Lee from Simon Fraser University as saying that under the leadership of the Communist Party of Vietnam, the Vietnamese Government took a quicker and more comprehensive approach to the pandemic than other countries.
Vietnam has a "very scientific approach", said US economist Sarah Bales who has lived and worked in Vietnam since 1992. Watching the pandemic unfold in the US and Europe, Bales was among several Vietnam-based Westerners who told Vox they believe the privacy and personal liberty costs during the pandemic were worth the benefits of living a relatively free life.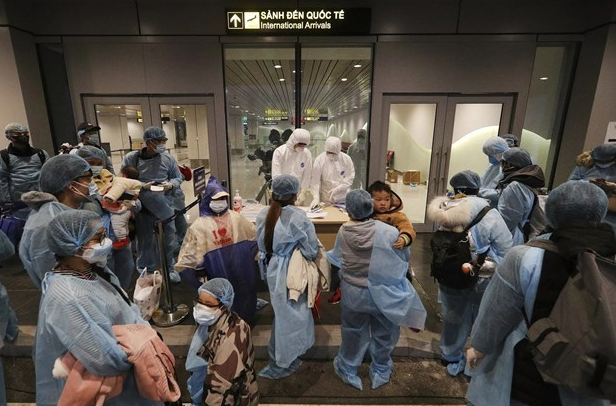 Photo: VOX
PM order strengthening COVID-19 prevention and control
The Prime Minister has issued a dispatch on strengthening COVID-19 prevention and control, amid the complicated developments of the pandemic around the world. In the document dated April 23, he said the risk of pandemic resurgence in the country remains, especially as a result of illegal entries and failure to follow prevention and control measures.
The PM asked ministries, ministry-level, and Government agencies, People's Committees of the centrally-run cities and provinces to stay vigilant, uphold the responsibility of leaders while adopting drastic, concerted, and effective measures with the principle of active prevention, early discovery, quick quarantine, effective treatment and rapid stabilization of the situation. The PM also ordered the avoidance of unnecessary gatherings. In case such events are held, prevention and control measures must be guaranteed.
The Health Ministry will continue perfecting prevention and control measures on the national scale, offer instructions to ensure safety in large events, effectively follow the Government's Resolution on the purchase and use of COVID-19 vaccines, actively access sources of vaccines worldwide, and step up research and production of vaccines at home. The ministries of national defense and public security and the People's Committees of centrally-run cities and provinces were assigned to continue closely controlling immigration in border areas, especially in the southwest.
The number of recoveries reached 2,516, while the death toll remained at 35. Among the active patients, 13 have tested negative for the novel coronavirus once, 15 twice and 20 thrice.
A total of 39,191 people who had close contact with or arrived from pandemic areas are being quarantined nationwide.
Valerie Mai