Vietnam Covid-19 Updates (August 3): Vingroup Receives mRNA Vaccine Production Technology
Conglomerate Vingroup has signed an agreement with Arcturus Therapeutics medicines biotechnology company of the US on the transfer of Covid-19 vaccine production technology.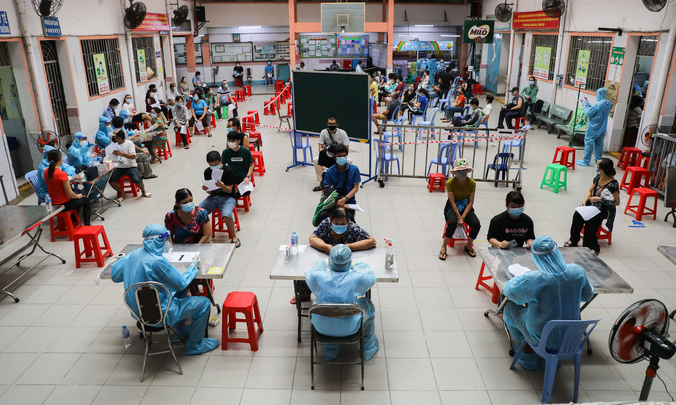 Photo: VN Express
3,563 new local Covid-19 cases in 28 localities
Health authorities confirmed 3,563 new local Covid-19 cases in 28 localities Tuesday morning, including 1,998 in Ho Chi Minh City, raising the ongoing wave's tally in the city to 100,557.
The remaining new cases confirmed Tuesday are in the city's neighboring provinces of Binh Duong (519), Long An (246), Tay Ninh (176), and Dong Nai (147), the Mekong Delta's Can Tho City (31), and provinces of Vinh Long (72), Ben Tre (62), Soc Trang (33), Dong Thap (31), An Giang (26), and Kien Giang (3), Da Nang (66) and the central provinces of Binh Thuan (72), Phu Yen (20), Binh Dinh (18), Dak Lak (11), Dak Nong (8), Nghe An (5), Ha Tinh (4), Quang Tri (1), and Thanh Hoa (1), and northern provinces of Phu Tho (3), Son La (3), Hai Duong (2), Dien Bien (1), and Hanoi (1).
Of all the new infections, 687 were detected in the community and 2,876 were in quarantine zones and areas under lockdown.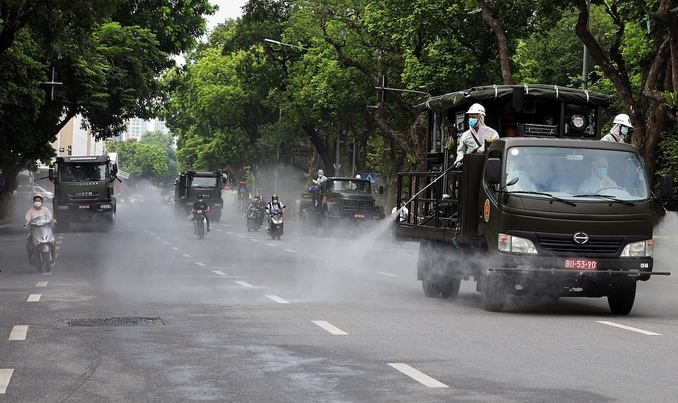 Photo: VN Express
Stop spraying disinfectant all over the place: ministry
The Health Ministry has told local authorities to stop the liberal spraying of disinfectant as an anti-Covid-19 measure, calling it wasteful and environmentally unfriendly. The spraying should only be done in narrow spaces where Covid-19 cases have been detected, and the number of chemicals used must be controlled to ensure safety for human beings as well as the environment.
Some agencies and companies have established disinfection chambers while others have used disinfectant sprayers directly on people sent to centralized quarantine camps. However, the World Health Organization (WHO) has said it does not recommend the spraying of disinfectants outdoors because it can affect both the sprayer and the people around. The U.S. Centers for Disease Control and Prevention (CDC) shares this view.
"The use of large quantities of germicidal chemicals for outdoor spraying can also harm the environment and waste chemical reserves to be used for pandemic prevention," the ministry said.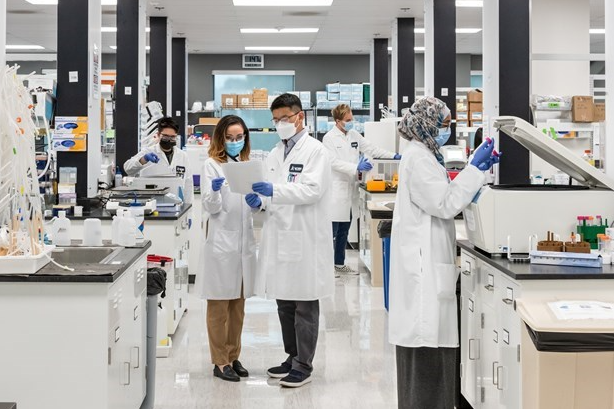 Photo: VNA
Vingroup receives mRNA Covid-19 vaccine production technology
Conglomerate Vingroup has signed an agreement with Arcturus Therapeutics medicines biotechnology company of the US on the transfer of Covid-19 vaccine production technology. With a capacity to manufacture 200 million doses per year, Vingroup is projected to produce the first batches of vaccines by early 2022.
Arcturus Therapeutics is a leading clinical-stage messenger RNA medicines company focusing on the discovery, development, and commercialization of therapeutics for rare diseases and vaccines.
Under the agreement, the US firm will grant permission for Vingroup's affiliate VinBioCare to produce a vaccine named VBC-COV19-154, which is effective against new variants of the coronavirus such as Delta and Alpha. The Vietnamese company is also approved to manufacture other vaccine types of Arcturus like ARCT-021. The transfer is slated to begin this month. VinBioCare's plant will be located at the Hanoi-based Hoa Lac Hi-tech Park, which is built at an investment of over 200 million USD.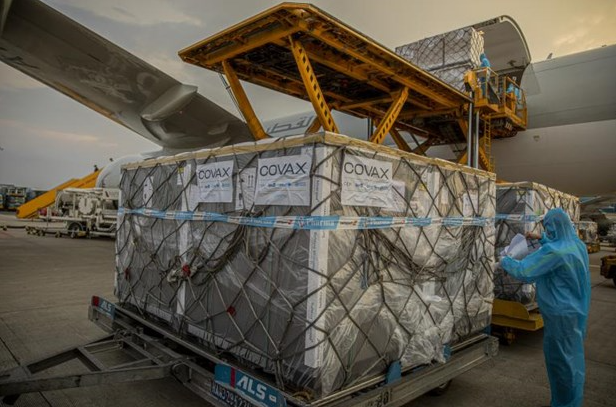 Photo: VNA
Over 1.18 million Covid-19 vaccine doses from COVAX arrive in Vietnam
More than 1.18 million doses of the Vaxzevria Covid-19 vaccine (formerly known as AstraZeneca) from the COVAX Facility have arrived in Vietnam, UNICEF Vietnam announced on August 2. The new batch raised the total donations from the global vaccine sharing initiative to the country to more than 8.68 million doses.
Of the total number, there were about 5 million doses of Moderna from the US government and 3.68 million doses of the AstraZeneca vaccine. The latest batch was shipped from Laboratorio Universal Farma, a manufacturing facility in Spain, according to UNICEF, one of COVAX's partners.
To date, Vietnam has administered more than 6.4 million doses of Covid-19 vaccines. As many as 659,064 people have received two full shots. COVAX is a global initiative between the Coalition for Epidemic Preparedness Innovations (CEPI), Gavi, the Vaccine Alliance, UNICEF, and the World Health Organisation (WHO), to ensure fair and equitable access to Covid-19 vaccines.
More than three months into the new wave, Vietnam has recorded 161,431 community infections in 62 of its 63 cities and provinces, with Ho Chi Minh City being the epicenter.
Also Tuesday morning, the authorities confirmed another 186 deaths so far in the wave in 10 cities and provinces, including 165 recorded in Ho Chi Minh City between July 28 and August 2. The additional figure has raised the national death toll of this wave to 1,846, and 1,881 since the start of the pandemic.
Vietnam has administered more than 6.95 million Covid-19 vaccine shots, fully vaccinating 712,864 people with two shots.