Vietnam Covid-19 Updates (Dec. 15): Additional 15,220 Infections Reported
The total caseload since the beginning of the pandemic has now reached 1,443,648. There are currently 7,779 Covid-19 patients in serious condition in hospital, with 19 on life support.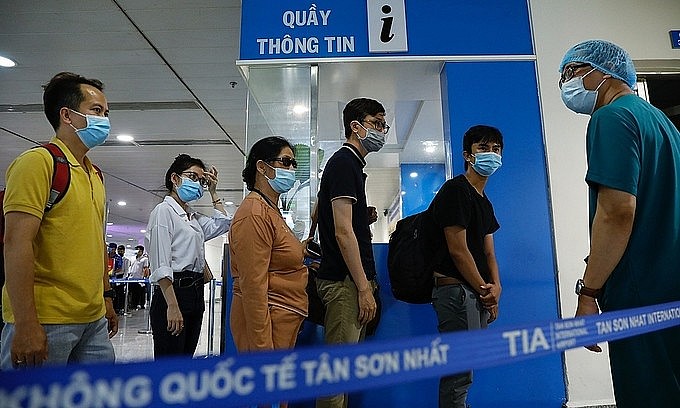 Photo: VN Express
Additional 15,220 Covid-19 infections reported in Vietnam on Dec. 14
A total of 15,220 new cases of Covid-19 were reported in Vietnam on December 14, according to the Ministry of Health. Of the new infections 9,351 were detected in the community, and 17 were imported.
New cases were reported in 62 provinces and cities across the country, with the capital city of Hanoi registering 837 transmissions. The southernmost province of Ca Mau logged the highest number of infections at 1,011, followed by Ho Chi Minh City with 991 and Tay Ninh with 931.
There were a further 252 fatalities related to Covid-19 announced on December 14, including in HCM City (64), An Giang (28), Dong Nai (27), Binh Duong (18), Tay Ninh (16), Bac Lieu (12), Dong Thap (10), Tien Giang (10), Kien Giang (9), Long An (8 ), Soc Trang (7), Binh Thuan (6), Hanoi (6), Tra Vinh (5), Vinh Long (4), Ca Mau (4), Vinh Phuc (3), Khanh Hoa (3), Ba Ria - Vung Tau (3), Ben Tre (3), Binh Phuoc (2), Binh Dinh (1), Gia Lai (1), Ninh Thuan (1) and Hau Giang (1).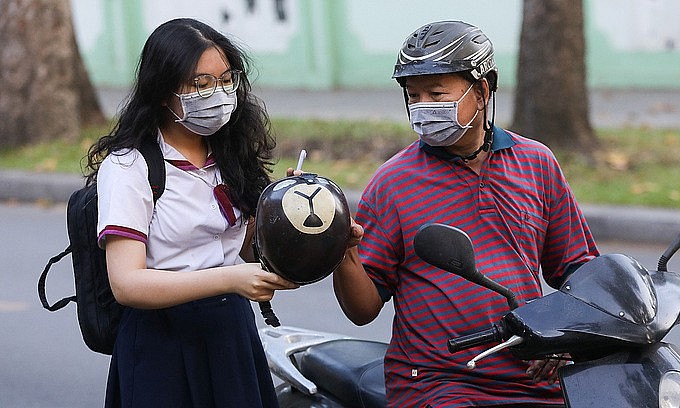 Photo: VN Express
Three Covid-19 cases on flight from Vietnam to Hong Kong infected by Delta variant, not Omicron
Three passengers from Vietnam found to be infected by coronavirus after arriving in Hong Kong were infected with the Delta variant, not Omicron, the Health Ministry said on December 14. On December 10, the national agency for IHR implementation was informed by its Hong Kong counterpart of three Covid-19 cases detected on flight CX764 from Ho Chi Minh City to Hong Kong on December 8.
In the three cases, two Vietnamese citizens and a foreign national were suspected of being infected with the new Omicron variant. One day later, the Hong Kong side affirmed that the three patients were infected with the Delta variant. They are in stable conditions without any symptoms and are receiving treatment in quarantine.
The national agency for IHR implementation will maintain close coordination with the WHO and agencies for IHR implementation of other countries to exchange information and keep updated on new variants of SARS-COV-2, in order to give timely advice to the Health Ministry in making instructions in responding to the pandemic.
Photo: VN Express
HCMC imposes stringent inspections of foreign arrivals
HCMC has started imposing more stringent inspections on foreign arrivals, especially those coming from places where the Omicron variant of the Covid-19 virus has been detected. According to an Omicron response plan released Tuesday by the city administration, all passengers arriving in the city on international flights must have negative results for the variant in tests done within 72 hours of their departure for Vietnam. The city will also step up inspections at maritime borders.
Every arrival from places where Omicron, the B.1.1.529 Covid variant, has been detected must stay in centralized quarantine facilities, even if he/she has been fully vaccinated or has recovered from Covid-19 within the past six months. The quarantine period has not been specified.
The current regulation in force is that all foreign arrivals in Vietnam are allowed to isolate themselves at their places of accommodation if they have been fully vaccinated for the Covid-19 virus. The plan says maritime security measures will be reinforced to prevent and detect early any case of illegal disembarkation; and that the city will also reinforce testing among those found to have illegally entered Vietnam recently. Surveillance and screening among people suspected to have Covid-19 in residential areas, offices, and production facilities will be strengthened.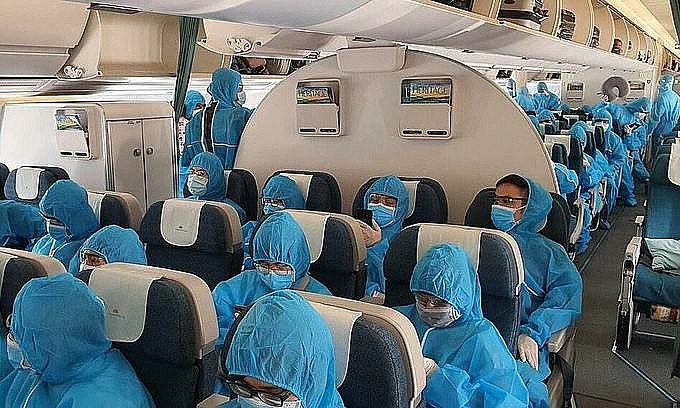 Photo: VN Express
Vietnam repatriates over 200,000 during the pandemic
Vietnam has organized 800 flights to repatriate more than 200,000 citizens since the pandemic broke out, deputy PM Pham Binh Minh revealed. In an interview about Vietnam's foreign affairs achievements in the period of international integration released by the Ministry of Foreign Affairs on Tuesday, the Deputy Prime Minister said in the context of the Covid-19 pandemic's complicated development both outside and inside Vietnam, the nation has implemented effective medical and vaccine diplomacy.
So far, Vietnam has received over 151 million doses of Covid-19 vaccines and a lot of medical equipment as supported by other countries. The Deputy Prime Minister affirmed foreign affairs have contributed to consolidating a peaceful environment for Vietnam and allowing it to take advantage of favorable international conditions to thrive.
Vietnam's international position is constantly improving through raising the level of multilateral diplomacy and successfully assuming many important international responsibilities, he said. Vietnam is currently a member of more than 70 regional and global multilateral organizations and forums.
In addition to sending flights to bring home citizens stranded abroad during the pandemic, in the past five years, Vietnam has supported more than 50,000 citizens, 1,000 ships, and nearly 10,000 fishermen. Foreign affairs also play an important role in protecting the country's sovereignty and territorial integrity. Vietnam has basically built a land border on the basis of peace, friendship, and cooperation with neighboring countries. At sea, Vietnam resolutely defends its sovereignty, sovereign rights, jurisdiction, and legitimate interests, persists in settling disputes by peaceful means, and respects international law, Minh said.
The total caseload since the beginning of the pandemic has now reached 1,443,648. New cases were reported in 62 provinces and cities across the country, with the capital city of Hanoi registering 837 transmissions. There are currently 7,779 Covid-19 patients in serious condition in hospital, with 19 on life support.
The country has now had 28,333 deaths related to Covid-19, about two percent of the total infections. A total of 4,524 patients recovered from the disease on the day, meaning 1,060,436 people have been given the all-clear so far.
Over 58.6 million people in Vietnam have now been fully inoculated, and over 75 million people have received at least one vaccine dose.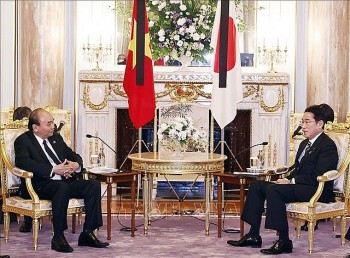 Friendship
Vietnam always treasures the extensive strategic partnership with Japan and views Japan as an important and long-term strategic partner, President Nguyen Xuan Phuc told Japanese Prime Minister Kishida Fumio in Tokyo on September 26.