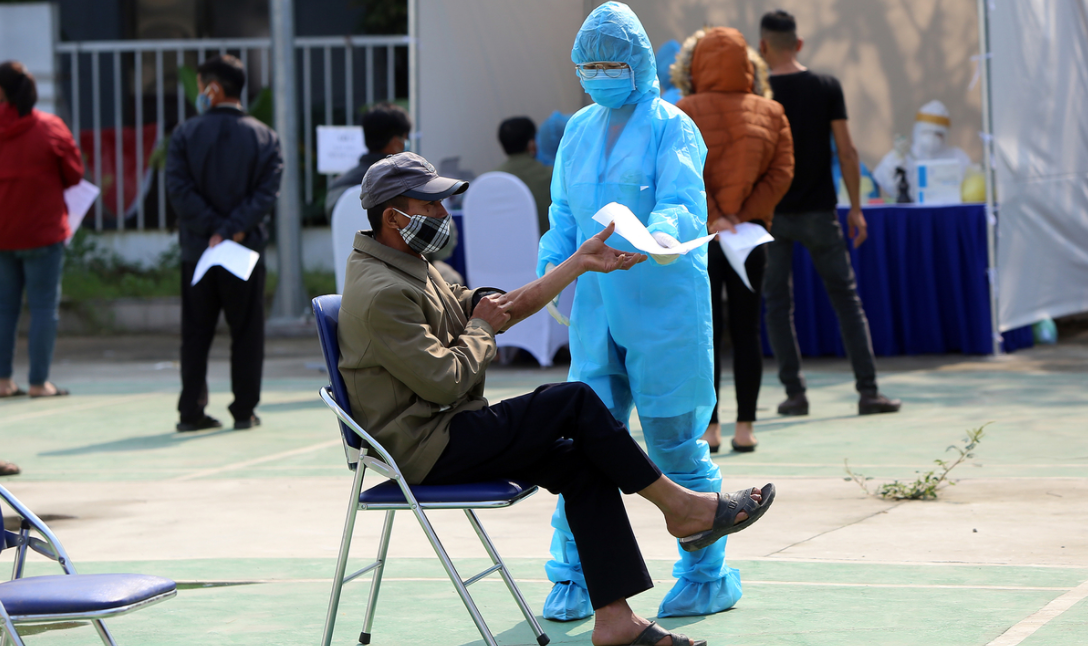 Total of 91 cases on January 28, 9 new cases on January 29. (Photo: VN Express)
Total of 91 cases on January 28, 9 new cases on January 29
Vietnam recorded 91 new COVID-19 cases in the past 24 hours to 6 pm on January 28, including 84 domestically-transmitted cases and seven imported cases, according to the National Steering Committee on COVID-19 Prevention and Control.
The locally-transmitted cases were detected in the northern provinces of Hai Duong and Quang Ninh, with the first two cases being Patient No. 1,552, a 34-year-old woman in Hung Dao commune, Hai Duong's Chi Linh city, and Patient No. 1,553, a 31-year-old man in Hong Ha ward, Quang Ninh's Ha Long city.
Meanwhile, on the morning of January 29, 9 other cases were recorded in Hai Duong, Quang Ninh, Ha Noi, Hai Phong, Bac Ninh.
Also on January 28, five patients were given the all-clear, bringing the total number of recoveries to 1,430. The death toll has maintained at 35. Among patients undergoing treatment at medical establishments across the country, 10 have been tested negative for the coronavirus once, 14 others twice and 12 thrice. At present, 21,345 people who had close contact with COVID-19 patients or entered Vietnam from pandemic-hit areas are under quarantine.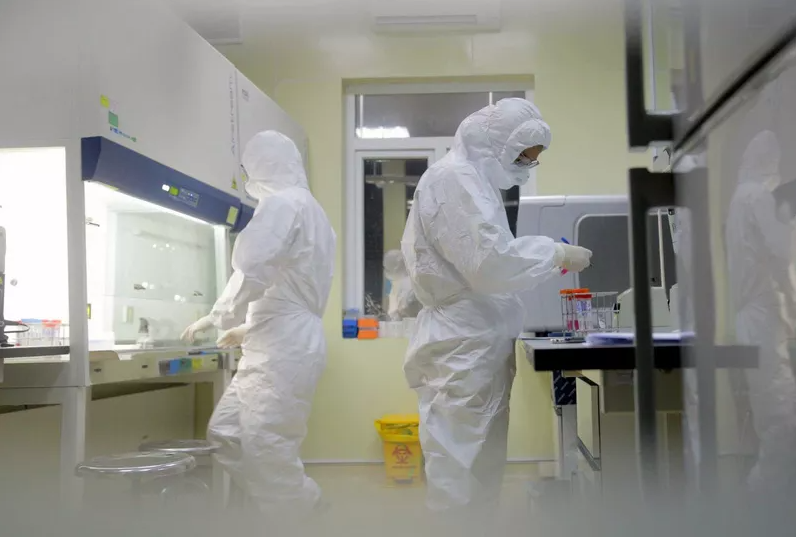 Quang Ninh all gears up to stamp out the pandemic. (Photo: VTV)
Quang Ninh all gears up to stamp out the pandemic
Minister of Health Nguyen Thanh Long on January 28 asked relevant units to establish three COVID-19 treatment hospitals in the northern province of Hai Duong, where 73 community infection cases were confirmed over the past two days.
Accordingly, the National Hospital for Tropical Diseases is tasked with setting up the first COVID-19 treatment hospital at the Chi Linh Medical Centre. Modern facilities will be transported to this hospital for the establishment of an intensive care unit. Meanwhile, the third hospital will be placed at the Hai Duong sports stadium, receiving all of the equipment used for a similar hospital built at the central city of Da Nang's Tien Son sports center when the city was hit by a COVID-19 outbreak in July and August last year.
Regarding human resources serving these hospitals, the minister directed experienced medical staff from Da Nang, who engaged in tackling the city's past outbreak, to go to Hai Duong to offer their support. The Ministry of Health is sparing no effort in curbing the current outbreak with maximum assistance from the central administration, he stressed.
The northern province of Quang Ninh, where a new COVID-19 outbreak has been discovered, has received 10,000 SARS-CoV-2 testing kits worth more than 28,000 USD presented by SunGroup.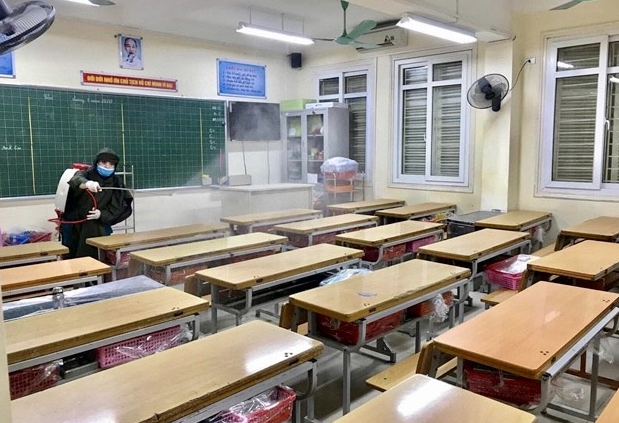 Hanoi takes action in the face of new outbreak. (Photo: Nhan Dan)
Hanoi takes action in the face of new outbreak
Hanoi's Department of Transport on January 28 ordered the suspension of passenger transport by road between the capital city and the northern province of Quang Ninh where a new outbreak of COVID-19 has been detected. The order took effect right on the issuance date. At the same time, the department asked all transport service suppliers to strictly apply measures to prevent the spreading of the COVID-19 pandemic, by requesting drivers and passengers to wear face masks throughout their trips and providing hand sanitizers.
Earlier the same day, the Quang Ninh Department of Transport announced the suspension of all passenger transport activities from/to the province until further note.
Several schools in Hanoi have announced early school leaving for the Tet holiday. Most kindergartens and primary schools ask students to leave 1 week earlier compared to the previous schedule, in order to prevent COVID-19 transmission. Meanwhile, most universities ask students to take pandemic prevention measurements, such as wearing masks, avoiding gathering.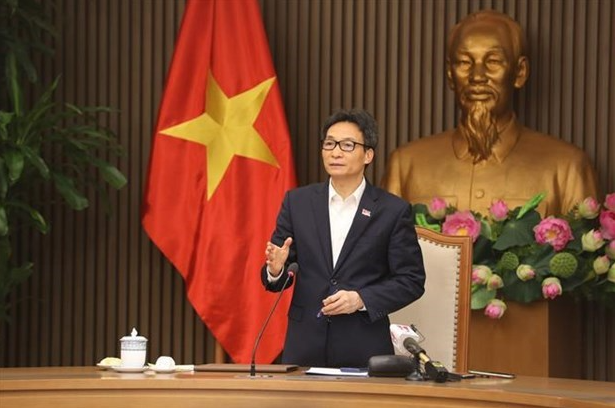 Faster, stronger response to stamp out new COVID-19 outbreaks: Deputy PM. (Photo: VNA)
Faster, stronger response to stamp out new COVID-19 outbreaks: Deputy PM
By strictly following guidelines on COVID-19 combat procedures, Vietnam will control the pandemic and ensure safety during the Lunar New Year (Tet) holiday, said Deputy Prime Minister Vu Duc Dam.
Speaking at an online meeting on January 28 with the steering committees for COVID-19 pandemic prevention and control of northern Hai Duong and Quang Ninh provinces where new outbreaks have been discovered, Dam, who is head of the National Steering Committee for COVID-19 Prevention and Control, said that as the SARS-CoV-2 virus has spread faster and become more dangerous, pandemic control activities must be conducted more quickly and drastically.
Along with the tracing of people who had close contact with the newly-discovered cases, he asked the Health Ministry and the two provinces to expand investigation on cases related to Van Don International Airport in Quang Ninh, thus defining all passengers going through the airport in the past 15 days to minimize the risk of COVID-19 spreading.
A lockdown order has been issued for Cong Hoa commune in Hai Duong's Chi Linh city and Dong Trieu township and the Van Don International Airport in Quang Ninh. He requested all ministries, sectors, and localities to strictly follow all medical guidelines on COVID-19 prevention and control.
Valerie Mai