Vietnam Covid-19 Updates (July 24): Hanoi Applies Two-week Social Distancing
Data from the MoH show Vietnam has logged 83,242 new cases following the resurgence of the virus in late April, and 86,957 cases since the onset of the first outbreak in the country.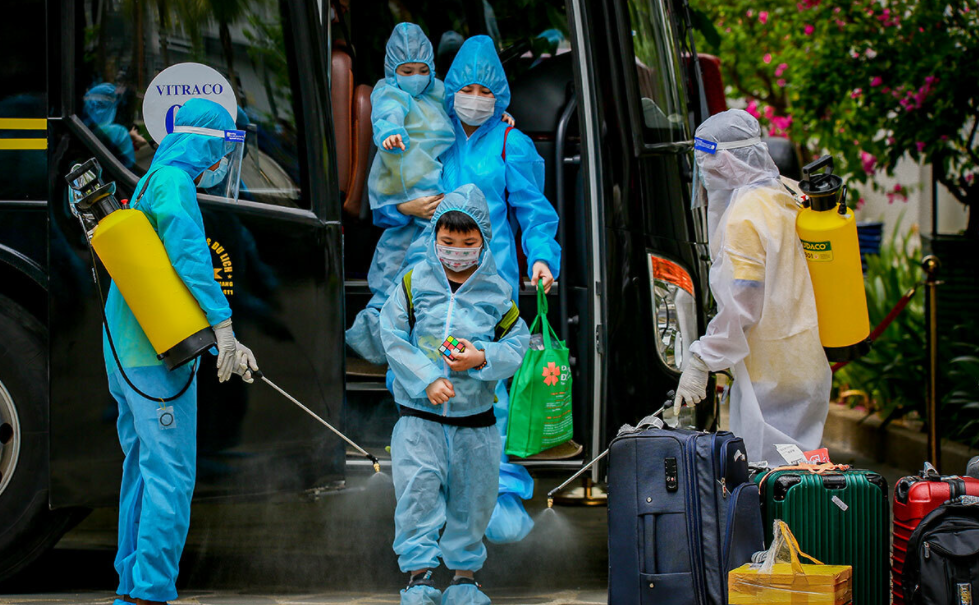 Photo: VN Express
Tally rises to 87,000 in Vietnam
Vietnam recorded 7,307 new Covid-19 infections, including 12 imported cases, on July 23, according to the Ministry of Health. Ho Chi Minh City still topped the list of most infections with 4,913, followed by Binh Duong (608), Long An (602), Dong Nai (217), Tay Ninh (212), and Dong Thap (129). Of the new cases, 1,274 were recorded in the community.
As many as 3,991 people have tested positive for the SARS-CoV-2 virus in 19 cities and provinces across Vietnam during the past 12 hours, raising the cumulative tally of infections in the country to 86,957. Of the new patients, 3,987 were detected locally, mostly in southern localities, according to the Ministry of Health in its 6 am on July 24.
The Ministry of Health also announced four imported cases returning from overseas. These patients were placed in quarantine upon their arrival, posing no risk to the community.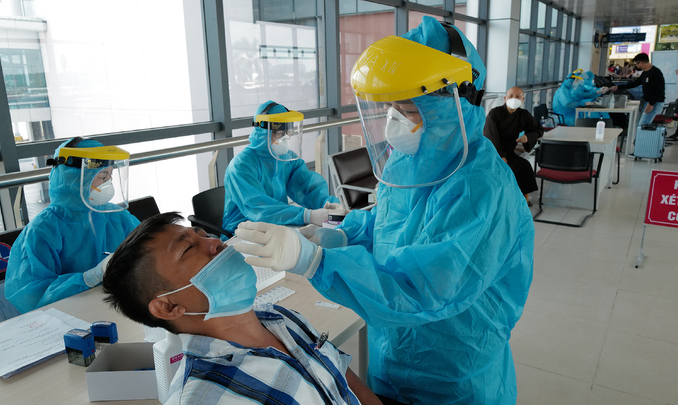 Photo: VN Express
Hanoi applies a two-week social distancing
Hanoi, the capital of Vietnam, will begin social distancing measures over 15 days, starting at 6 am on July 24, in an attempt to slow the spread of the SARS-CoV-2 virus. Hanoi mayor Chu Ngoc Anh signed a decision to enforce the order following an urgent meeting late on July 23.
Under the newly signed decision, all local residents are required to stay home and are only allowed to go out for food, other daily necessities, and medical emergencies. They are required to maintain a minimum distance of 2m and not gather more than 2 outside offices, schools, hospitals, and in public places. They are asked to make health declarations every day on the website www.tokhaiyte.vn or via Ncovi and Bluezone applications. All essential business services, workshops, and factories are allowed to operate, but they must ensure safety measures against the virus.
The Hanoi Department of Industry and Trade confirmed on July 23 evening the city will provide an abundant supply of essential goods for local residents, even when there is a sudden rise in purchasing power. In addition, the city has also maintained contact with neighboring provinces and cities to ensure additional supply sources of essential goods and seasonal agricultural products for local consumption.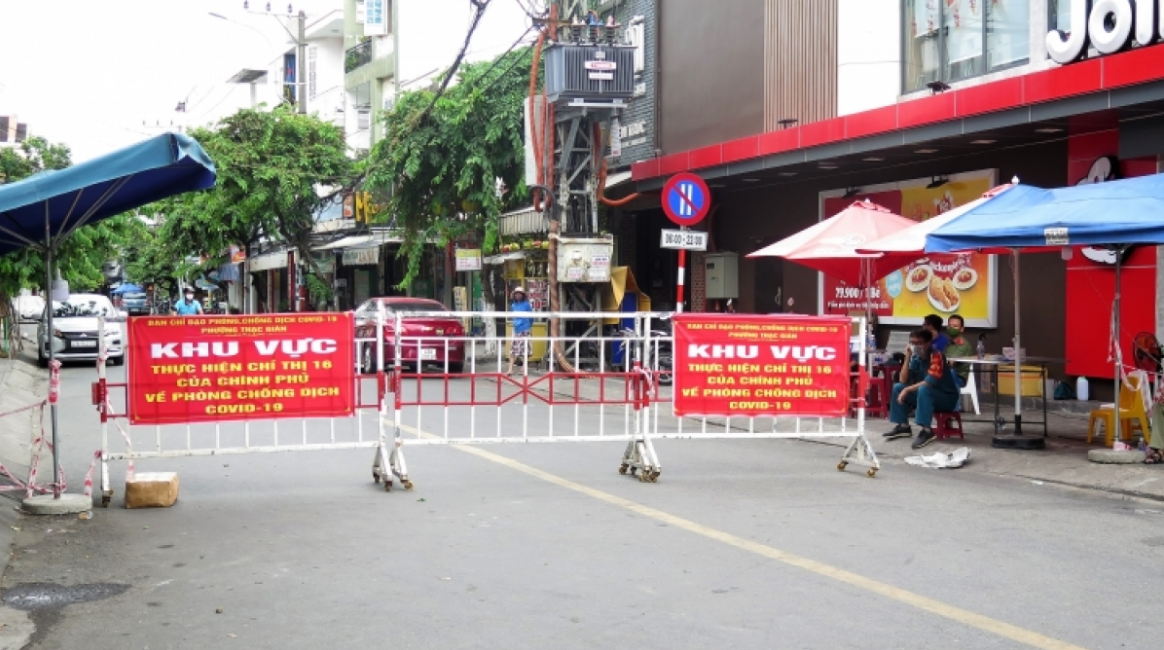 Photo: VOV
Ho Chi Minh City tightens Covid-19 prevention and control measures
Ho Chi Minh City has tightened its Covid-19 prevention and control measures as infections have remained rampant in the southern largest city. In a freshly issued document, the Standing Board of the municipal Party Committee ordered intensifying inspection and supervision over the implementation of social distancing and lockdown regulations.
The city will also suspend non-urgent business and production activities, and construction sites. Banks and securities institutions are only allowed to operate at an adequate level to meet necessary demands. Businesses that provide essential services in health care, pharmaceutical products, food, and foodstuff will operate as requested and must ensure safety.
Meanwhile, enterprises operating in other fields can maintain their operations once they follow the stay-at-work mode and other safety regulations. Any violations will be strictly handled, according to the document. Traditional markets are asked to scale down to 30 percent, with only food and essential goods are permitted to put on sale. State agencies would divide shifts among their workforce, the standing board said, adding that Covid-19 checkpoints situated around the city would only allow certain vehicles, including those on official purposes, approved for transporting goods or those of the armed forces.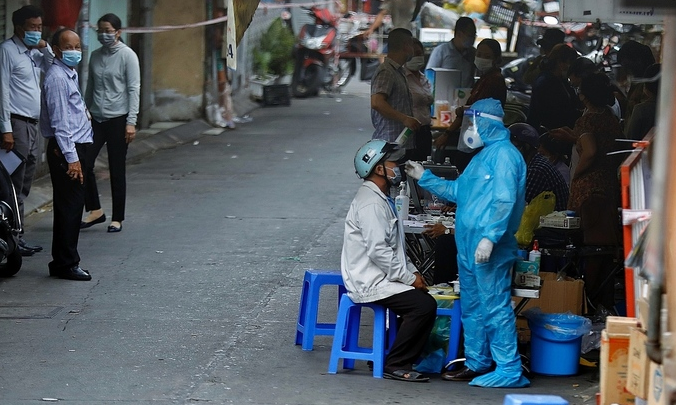 Photo: VN Express
1.2 million more doses of AstraZeneca vaccine arrive in Vietnam
A plane carrying more than 1.2 million AstraZeneca vaccine doses touched down at Ho Chi Minh City's Tan Son Nhat International Airport on July 23 morning. The latest shipment marks the fifth delivery and the largest batch of the AstraZeneca vaccine to arrive in Vietnam so far.
The delivery is part of a contract signed by the Vietnam Vaccine Joint Stock Company (VNVC) last year to purchase 30 million vaccine doses developed by Oxford/AstraZeneca. Currently, the country has received more than 3.1 million doses under the contract.
Since the start of February, Vietnam has received more than 11.5 million doses of Covid-19 vaccine doses from AstraZeneca, Sputnik V, Pfizer/BioNTech, Moderna, and Vero Cell. Of the total received, 2.5 million doses of the AstraZeneca vaccine have been sponsored by the COVAX Facility, whilst two million doses of the Moderna vaccine have been donated by the United States and channeled through the COVAX Facility.
Three million more doses of the Moderna vaccine donated by the US via the COVAX Facility will arrive in the country on July 25. Moreover, Vietnam will also receive an additional 1.6 million doses of the AstraZeneca vaccine by July 30.
Data from the MoH show Vietnam has logged 83,242 new cases following the resurgence of the virus in late April, and 86,957 cases since the onset of the first outbreak in the country.
Nearly 13,000 patients have recovered from the disease, and 370 patients have died of Covid-19 and underlying illnesses.
Close to 4.5 million doses of the Covid-19 vaccines have been administered nationwide, with 353,601 people receiving the second shot.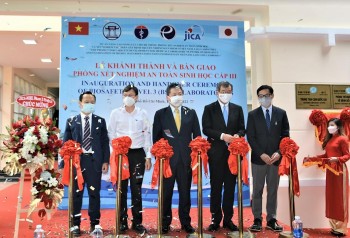 Friendship
The Pasteur Institute in Ho Chi Minh City (PI HCMC) hold an inauguration of its new Biosafety Level-3 Laboratory (BSL-3) on January 17th, 2022. For this new laboratory, the Japan International Cooperation Agency (JICA) has supported the main materials and equipment such as the air conditioning system, the wastewater treatment system, and the two-door autoclave, with a total value of 200 million yen (nearly 40 billion VND).