Vietnam Covid-19 Updates (July 19): Over 2,000 New Cases Recorded, Tally Passes 55,000
As of 6 am July 19, Vietnam has confirmed 52,215 coronavirus cases following the resurgence of the virus in late April.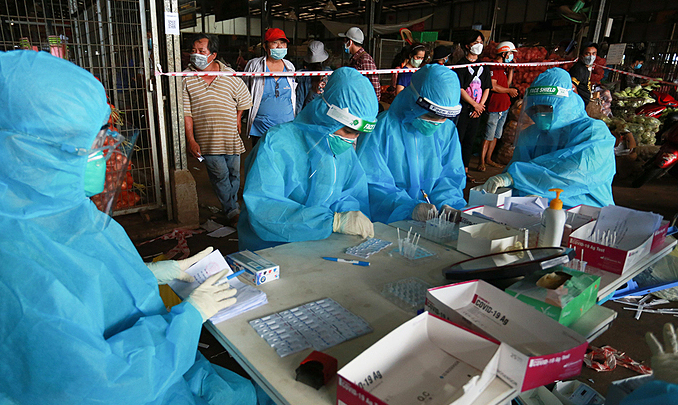 Photo: VN Express
Over 2,000 new cases recorded
As many as 2,015 people have tested positive for the SARS-CoV-2 virus in 19 cities and provinces across Vietnam during the past 12 hours, raising the cumulative tally of infections in the country to 55,845.
Nearly 1,700 new cases were documented in quarantine or lockdown areas, while the remaining were recorded in epidemic-hit areas or through medical screening at healthcare facilities, the Ministry of Health said in its 6 am Covid-19 update on July 19. Southern Vietnam remains the coronavirus hotspot at present. Ho Chi Minh City, the largest hotspot, led all localities in the number of new cases at 1,535, followed by Binh Duong 215, Dong Nai 73, Vinh Long 41, Ben Tre 30, Soc Trang 19, Ba Ria – Vung Tau, An Giang 8, Dong Thap 6, Tra Vinh 5, and Hau Giang 2.
Alongside Ho Chi Minh City which has gone into social distancing, 18 other southern localities began applying a two-week social distancing order as of 0 am July 19.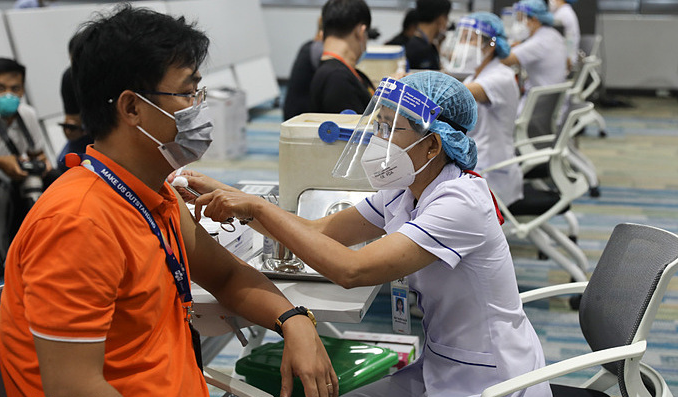 Photo: VN Express
Vietnam reports 29 new Covid-19 deaths from July 4-17
The Treatment Subcommittee of the National Steering Committee for Covid-19 Prevention and Control on July 18 announced 29 more Covid-19 deaths.
They died between July 4 and 17, with details only just released. Among the deaths, 20 were recorded in Ho Chi Minh City, the country's current largest Covid-19 hotspot. Two deaths were in Binh Duong province; three in Long An province; one in Bac Giang province; one in Da Nang city; one in Hanoi; and one in Dong Thap province.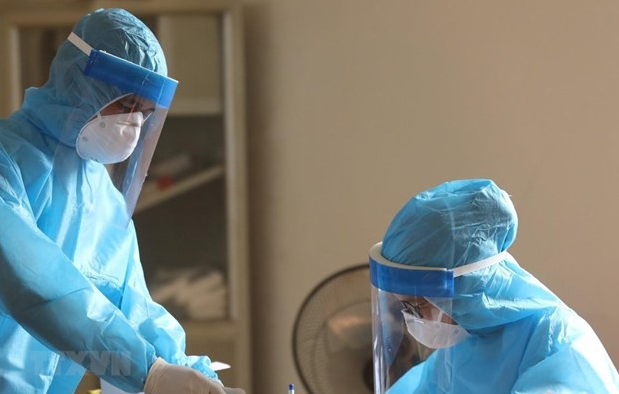 Photo: VNA
Free Covid tests for truckers to ease supply shortage
The Ministry of Health and the Ministry of Transport have reached an agreement on the testing protocol for truckers, a move that will likely solve the shortage of essential goods in Ho Chi Minh City.
Truckers must provide health officials with negative test results. Test results will be valid and usable for 72 hours. The health ministry has pledged to set up additional testing sites along major routes to speed up the process and tests for truckers will be supplied free of charge.
As for the other 19 provinces in the Mekong Delta, truckers may still travel without a negative test result. However, they have been asked to regularly disinfect their vehicles and limit contact with others. Local governments have also been told to set rest stops for truckers, away from local communities. The Ministry of Health has said it will set up 25 mobile Covid-19 test units with the capacity to perform over 2000 tests per day to meet the rising demand for tests. The units will be sent to high-risk localities.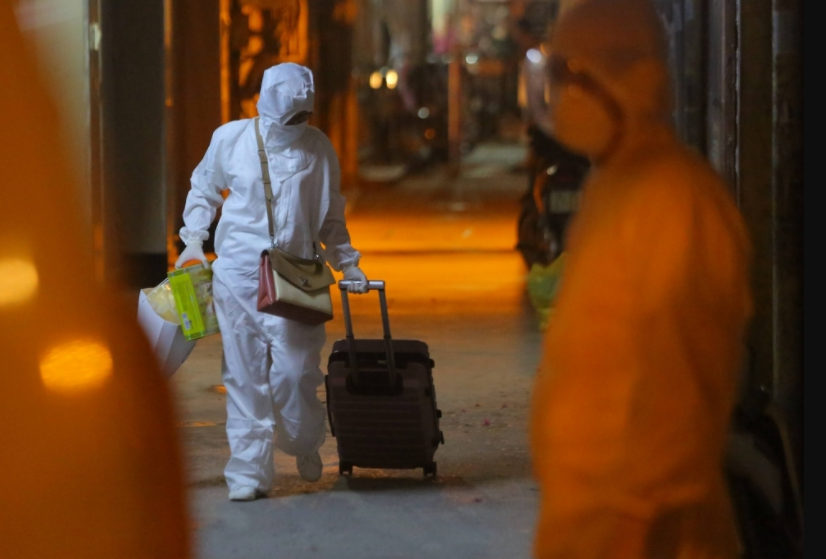 Photo: VOV
Nearly 4,500 medical staff help Ho Chi City fight Covid-19
Over 20 delegations with nearly 4,500 medical staff nationwide have arrived in Ho Chi Minh City to help with the fight against Covid-19, said the municipal Health Department. In compliance with the Prime Minister's directions, the Health Ministry urged units throughout the nation to send medical staff to Ho Chi Minh City to cope with the pandemic.
As of 6 am on July 18, Vietnam recorded 51,002 infection cases, including 48,964 domestic and 2,038 imported ones. Up to 47,394 new cases have been recorded since the fourth wave of Covid-19 outbreaks hit the country on April 27, 7,538 of them were given the all-clear from the virus.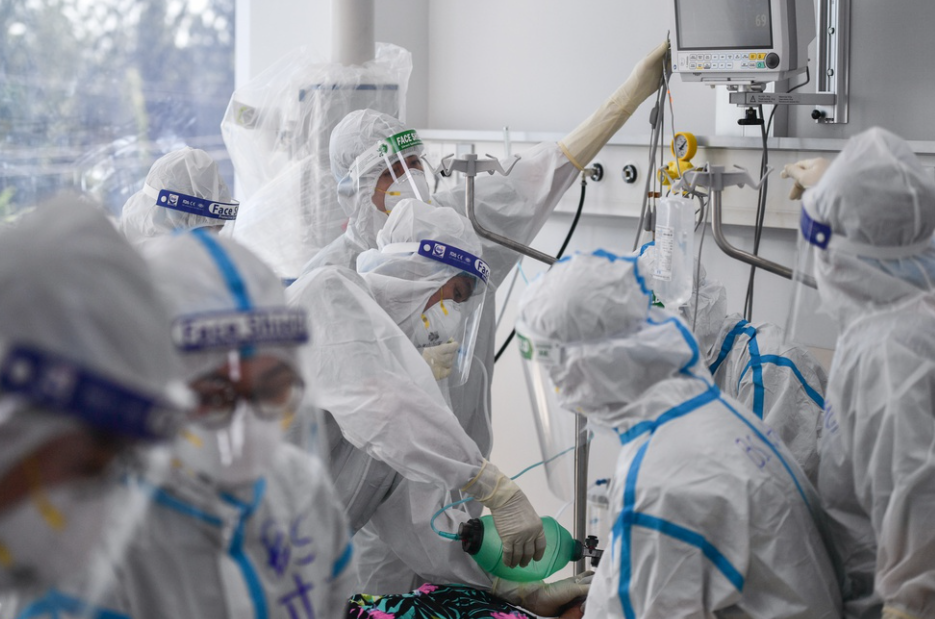 Photo: Zing News
Cambodia assists Vietnam in Covid-19 fight
The Cambodian government on July 17 announced it would present gifts to Vietnam to deal with Covid as the pandemic is ravaging Ho Chi Minh City. The gifts include 1 million masks, 100,000 N95 masks, 100 oxygen generators, and USD 200,000.
The Cambodian national news agency AKP hailed the deed as a symbol of solidarity, friendship, and cooperation between the two neighboring countries, especially amid difficulties caused by the epidemic.
On this occasion, the Cambodian Red Cross Society announced that it will hand over USD 100,000 to the Vietnam Red Cross Society. Meanwhile, the Cambodia – Vietnam Friendship Association will also grant USD 50,000 to help the Vietnamese people fight the pandemic.
As of 6 am July 19, Vietnam has confirmed 52,215 coronavirus cases following the resurgence of the virus in late April, and 55,845 cases in cumulative tally since the onset of the first outbreak last January 2020.
About 10,667 patients have recovered from the disease, and 254 patients have died of Covid-19 and other underlying illnesses. Close to 4.3 million doses of the Covid-19 vaccine have been administered, with 306,475 people fully receiving two shots.