Vietnam Covid-19 Updates (18/7): National Covid-19 Count Crosses 51,000
The national infection tally rose to more than 51,000 after the Health Ministry confirmed a further 2,472 fresh cases of COVID-19, including 18 imported on July 18 morning.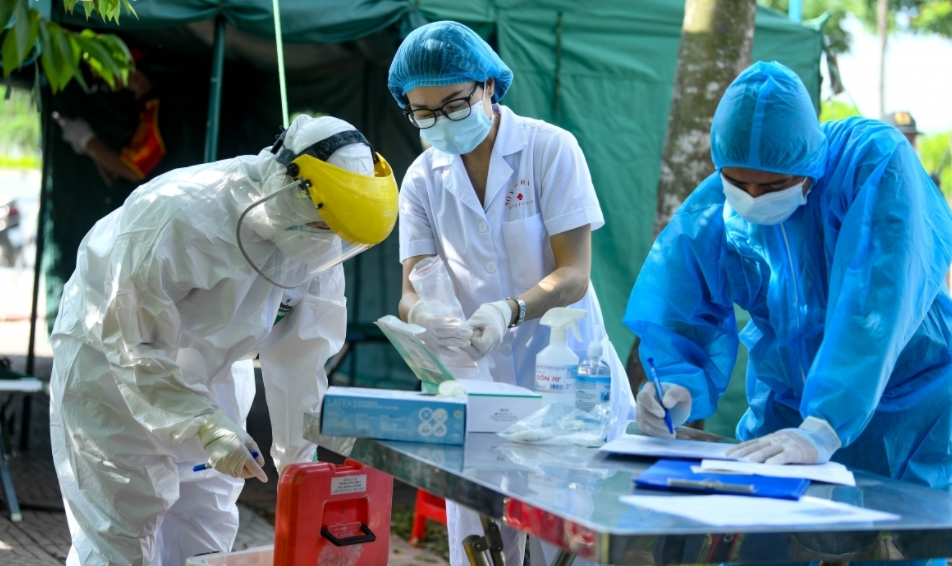 Photo: VOV
The national infection tally rose to more than 51,000
Vietnam confirmed 1,612 new Covid-19 infections, including 12 imported cases, from 6 am to 7:30 pm on July 17, according to the Ministry of Health. Of the cases, 1,279 were detected in quarantine facilities or sealed-off areas.
Vietnam logged 3,018 new Covid-19 cases on July 18 morning, including 2,472 newly detected cases and 626 cases additionally registered to the Ministry of Health data system by Ho Chi Minh City. Of these, 2,226 cases were detected in quarantine or locked-down areas.
According to the ministry, the newly detected infections include 2,454 locally infected cases. They were recorded in Ho Chi Minh City (1,756), Binh Duong (281), Dong Nai (75), Long An (48), Tay Ninh (42), Ba Ria - Vung Tau (41), Vinh Long (38), Dong Thap (36) ), Tien Giang (31), Khanh Hoa (29), Ben Tre (17), Phu Yen (16), Can Tho (12), Kien Giang (10), Hanoi (9), Binh Dinh (4), Soc Trang (3), An Giang (3), Bac Ninh (1), Dak Nong (1), and Bac Giang (1).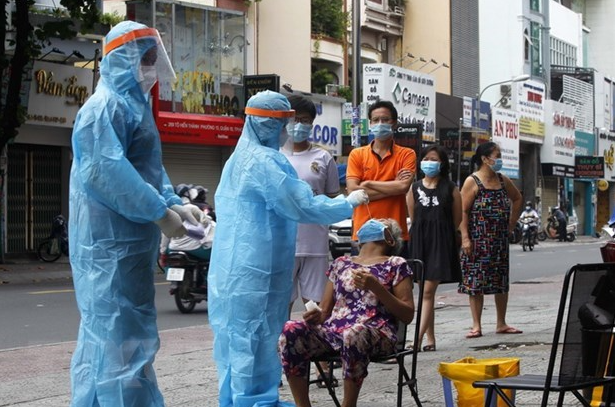 Photo: VNA
More southern localities to impose social distancing
Prime Minister Pham Minh Chinh on July 17 ordered social distancing in 19 southern localities that are stricken by the Covid -19 pandemic. Of the localities, Ho Chi Minh City and Binh Duong, and Dong Nai province have already enacted social distancing in line with the PM's Directive No. 16/CT-TTg.
The others are Can Tho city and Binh Phuoc, Tay Ninh, Ba Ria-Vung Tau, Tien Giang, Long An, Vinh Long, Dong Thap, Ben Tre, Hau Giang, An Giang, Bac Lieu, Soc Trang, Tra Vinh, Ca Mau and Kien Giang provinces. According to the document issued on the day, the 14-day social distancing period will be decided by Chairpersons of provincial People's Committees but it must begin before July 19.
For the localities where social distancing has been rolled out, the PM asked their Chairpersons to report to competent agencies before deciding to maintain the period as scheduled earlier or extend it. Attention should be paid to medical supplies and personnel in the localities during the combat, the PM requested.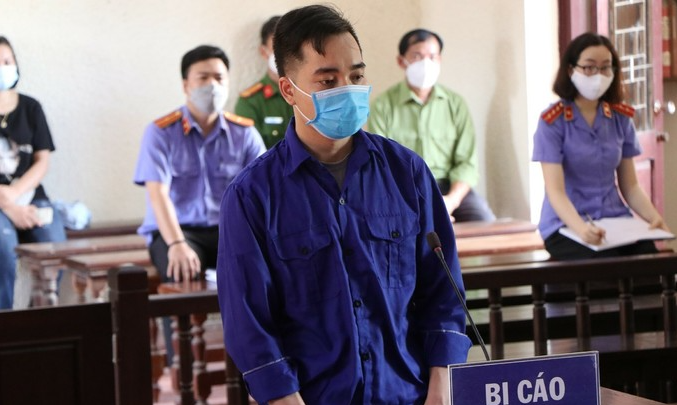 Dao Duy Tung stand trials in northern Hai Duong Province for spreading Covid-19 to other people, July 16, 2021. (Photo: VnExpress)
Man gets jail for sneaking into Vietnam and infecting people with Covid
A man who sneaked into the country from Laos and ended up infecting two people with the new coronavirus has been jailed for 18 months in Hai Duong Province. Dao Duy Tung, 32, was sentenced Friday for "spreading dangerous infectious diseases."
Prosecutors said he had illegally entered Laos on April 5, but could not find a job there amid a worsening Covid-19 situation, and decided to return home later that month. On April 30 his relatives in Laos informed him that someone he had been in contact in that country had tested positive for Covid and advised him to get tested, but he did not. He returned to his hometown in Hai Duong and tested positive on May 4, but by then he had already transmitted the virus to two others: his girlfriend and her colleague.
Authorities in Hai An Ward, Hai Phong, said it had cost almost VND 900 million (almost US$ 40,000) to contact trace people and isolate and test them while Hai Duong Province said he had caused expenses of more than VND 2.4 billion for disease prevention and control efforts.
Tung admitted to all charges and expressed remorse for infecting other people. The court ruled that his behavior had been dangerous to society and affected the life and health of others and violated human disease prevention and control laws. Since he is currently unemployed and has no regular place to live, it waived fines.
The national infection tally rose to more than 51,000 after the Health Ministry confirmed a further 2,472 fresh cases of Covid-19, including 18 imported on July 18 morning, with Ho Chi Minh City continuing to suffer the most infections at 1,756.
Over 4.26 million people have been vaccinated against Covid-19 to date, of which nearly 305,000 have received two shots. July 17 saw more than 27,350 people inoculated against Covid-19.
The country has so far seen 48,964 domestic infections and 2,038 imported ones. The number of infections since the latest wave of Covid-19 outbreaks increased to 47,394, including 7,538 having fully recovered from the virus.