Vietnam Covid-19 Updates (July 21): HCM City Works On Vaccination Plan For Foreigners
Ho Chi Minh City is working on a Covid-19 vaccination plan for consular officers and foreigners in the city. Many wet markets in Ho Chi Minh City will be reopened while ensuring all Covid-19 preventive measures are in place.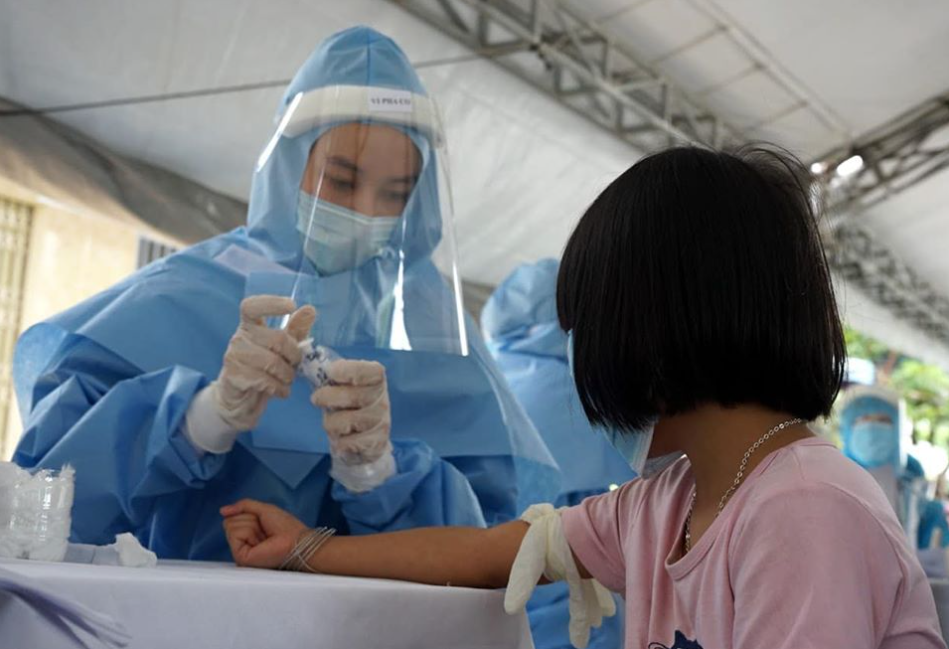 Photo: Nhan Dan
Caseload surpasses 65,000 mark
A further 4,789 domestic cases of Covid-19 were reported in Vietnam on July 20, along with six imported cases quarantined upon arrival. Among the new domestic infections, as many as 728 cases were detected in the community. Others are in quarantined facilities or sealed-off areas. Ho Chi Minh City recorded the highest number with 3,322 cases, followed by the southern provinces of Binh Duong (578), Dong Nai (162), and Tien Giang (133).
As many as 2,787 people have tested positive for the SARS-CoV-2 virus in 23 cities and provinces across Vietnam during the past 12 hours, raising the cumulative tally of infections in the country to 65,607. Of the new patients, 2,775 were detected locally, mostly in southern localities, according to the Ministry of Health in its 6 am on July 21.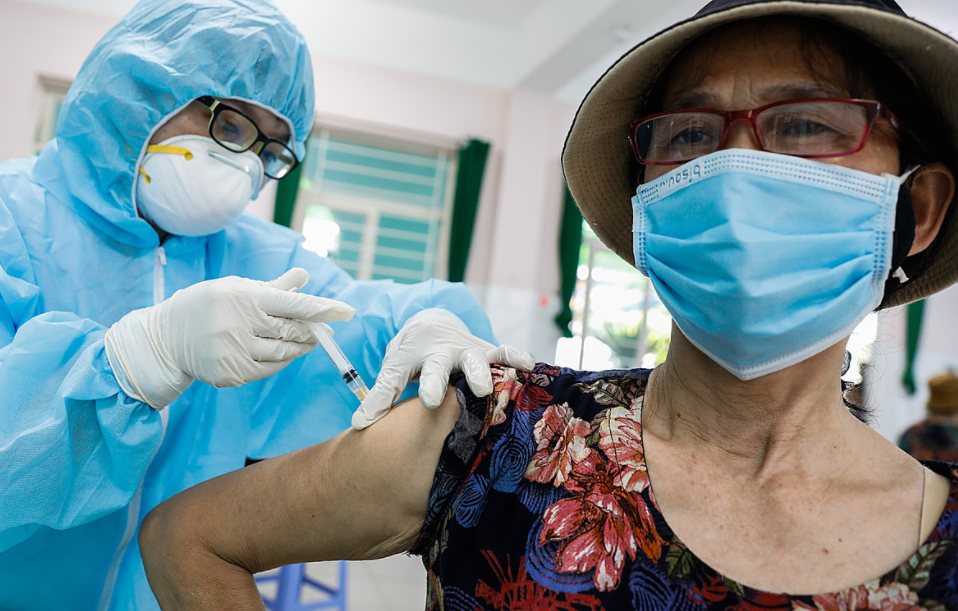 Photo: VN Express
Hanoi ready for largest-ever Covid-19 vaccination campaign
Hanoi has prepared to launch the largest-ever Covid-19 vaccination campaign in a bid to reach herd immunity against the pandemic soon. So far, the city has made necessary preparations to ensure that the campaign will take place in a successful and safe manner.
According to the municipal Department of Health, Hanoi has about 5.1 million people aged from 18 to 65 who are subjected to vaccination. After reviewing necessary equipment for vaccine storage, the city said that it has a capacity of receiving 1.3 million doses of vaccines at the same time. If the supply sources are stable, the city will strive to deliver 200,000 vaccine shots per day.
Director of the Department Tran Thi Nhi Ha said that the city will set up 1,200 vaccination facilities across the city while mobilizing 100 emergency teams to stand ready for post-vaccination emergency aid. Through the Vietnam Fatherland Front system from the central to local levels, the fundraising activities have been implemented effectively. So far, the VFF Committee of Hanoi has received over VND 1.75 trillion (USD 76.15 million) in cash and more than 2.6 doses of Covid-19 vaccines.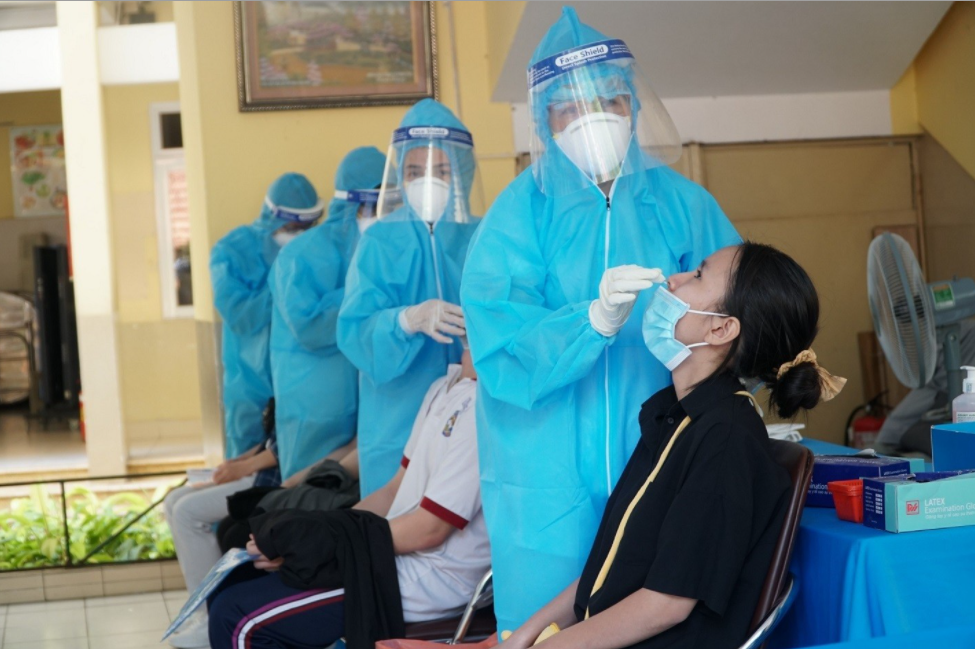 Photo: Baoquocte
Ho Chi Minh City works on Covid-19 vaccination plan for foreigners
Ho Chi Minh City is working on a Covid-19 vaccination plan for consular officers and foreigners in the city. Tran Phuoc Anh, Acting Director of the municipal Department of Foreign Affairs, said that members of the foreign community and overseas Vietnamese were concerned about the outbreak and had shown their readiness to assist the city.
The city, for example, has received support from the Consulates General of Japan, Thailand and Cambodia in HCM City and the Korean and Indian Enterprise Associations. On July 19, the city received one million medical masks, 100,000 N95 masks, 100 ventilators, and USD 200,000 in cash from the Royal Government of Cambodia.
The city has also been closely working with agencies to accelerate the provision of the two doses of the Covid-19 vaccine for consular officers and to help people who need to return to their countries.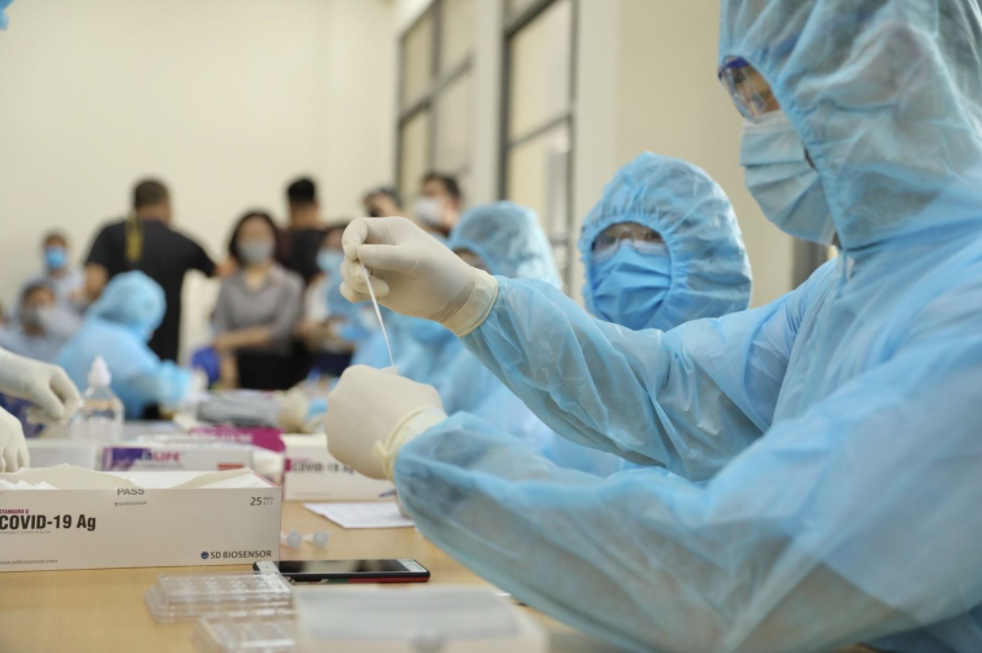 Photo: VNA
Ho Chi Minh City to reopen wet markets to ease pressure on supermarkets
Many wet markets in Ho Chi Minh City will be reopened while ensuring all Covid-19 preventive measures are in place, Deputy Director of the municipal Department of Industry and Trade Nguyen Nguyen Phuong. Priority will be given to those selling fresh foods, vegetables, and fruits, Phuong said in a press conference on July 19 updating the Covid-19 situation in HCM City, the country's current largest hotspot.
The city has closed down three wholesale markets and two-third of wet markets as part of its effort to intensify Covid-19 response after dozens of coronavirus cases linked to the local traditional markets were found, according to the official. The city has then shifted to modern retailers, such as supermarkets and convenience stores, to supply goods to its residents, causing mounting pressure on these channels and an increased risk of infection, he said.
Thirty-nine wet markets remained open in the city, mostly in Thu Duc City, and the districts of Go Vap, Binh Chanh, Can Gio, and Cu Chi, while three others have been allowed to reopen, including Phu Tho in District 11, An Dong in District 5 and Kien Thanh in Binh Tan District. Plans are being crafted for more markets to open. About 40 wet markets will be soon made available again if all requirements are met, Phuong said.
Data from the MoH show Vietnam has logged 61,940 new cases following the resurgence of the virus in late April, and 65,607 cases since the onset of the first outbreak in the country.
Nearly 11,500 patients have recovered from the disease, and 334 patients have died of Covid-19 and other underlying illnesses. As many as 123 patients are being treated in intensive care units. Eighteen other cases are in critical condition and being treated with ECMO.
More than 4.3 million doses of the Covid-19 vaccine have been administered, with 317,672 people fully receiving two shots.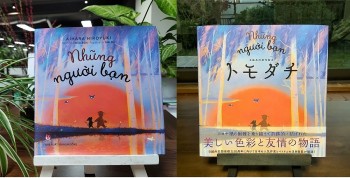 Viet's Home
The comic book Ehon "Friends" illustrated by local female artist Dom Dom has just been published by Japan's Sunny Side Publishing House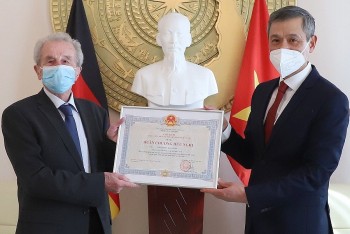 Friendship
The Vietnam-Germany relationship goes from strength to strength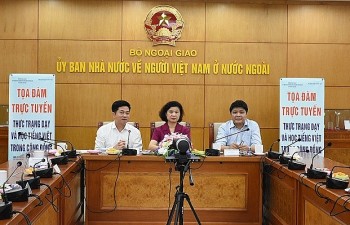 Overseas Vietnamese
The teaching of Vietnamese abroad continues to be strengthened despite the Covid-19 pandemic.