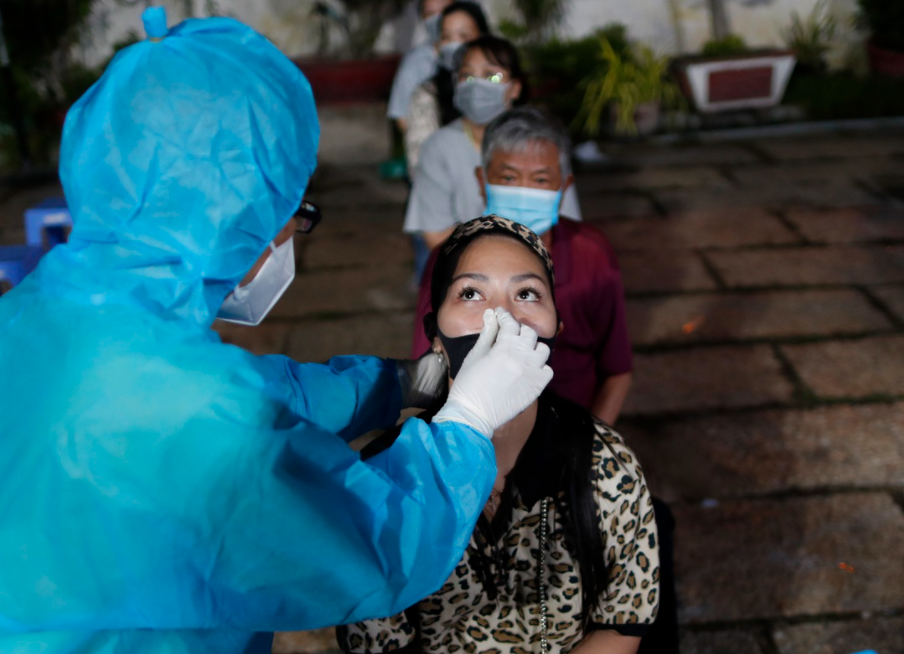 290 new Covid-19 cases in the last 24 hours (Photo: Thanh Nien)
290 new Covid-19 cases in the last 24 hours
Vietnam recorded 98 new Covid-19 cases, including 95 local infections, from 6 am to 12 pm on June 13. Among the locally transmitted cases, 64 were in Bac Giang, 26 in Ho Chi Minh City, four in Bac Ninh, and one in Hanoi. Of them, 85 were detected in quarantine or blocked areas.
The country documented 103 new locally transmitted Covid-19 cases from 12 pm to 6 pm on June 13. The new infections included 44 in Ho Chi Minh City, 33 in Bac Giang, 16 in Bac Ninh, nine in Ha Tinh, and one in Binh Duong. Of them, 96 were detected in quarantine or locked-down areas.
92 more Covid-19 infections, including 91 domestic cases, and one imported infection were recorded to 6 am on June 14. 73 out of 91 local infections were detected in isolation or lockdown areas.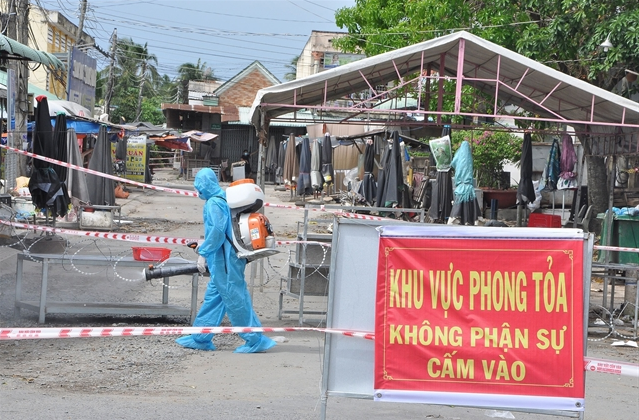 59th Covid-19 patient dies in Vietnam (Photo: Vietnam News)
59th Covid-19 patient dies in Vietnam
A 76-year-old man with Covid-19 has died, becoming the 59th death of the coronavirus in Vietnam and the 24th fatality in the new wave.
A native in Thuan Thanh District of northern Bac Ninh Province, a Covid-19 hotspot, he died of "severe pneumonia caused by Covid-19, septic shock and multi-organ failure on the background of rheumatoid arthritis, gastrointestinal bleeding, and duodenal ulcer," the Health Ministry said Sunday.
On May 8, he had a high fever and treated himself for three days before going to a medical center for a health check and was diagnosed with pneumonia. He was isolated for treatment at a field hospital. On May 21, he vomited blood and was transferred to Bac Ninh Provincial General Hospital where he was diagnosed with gastrointestinal bleeding and pneumonia. He was diagnosed with Covid-19 two days later and as his respiratory conditions worsened, he was transferred to Hanoi's National Hospital for Tropical Diseases on June 3. He died on Saturday morning.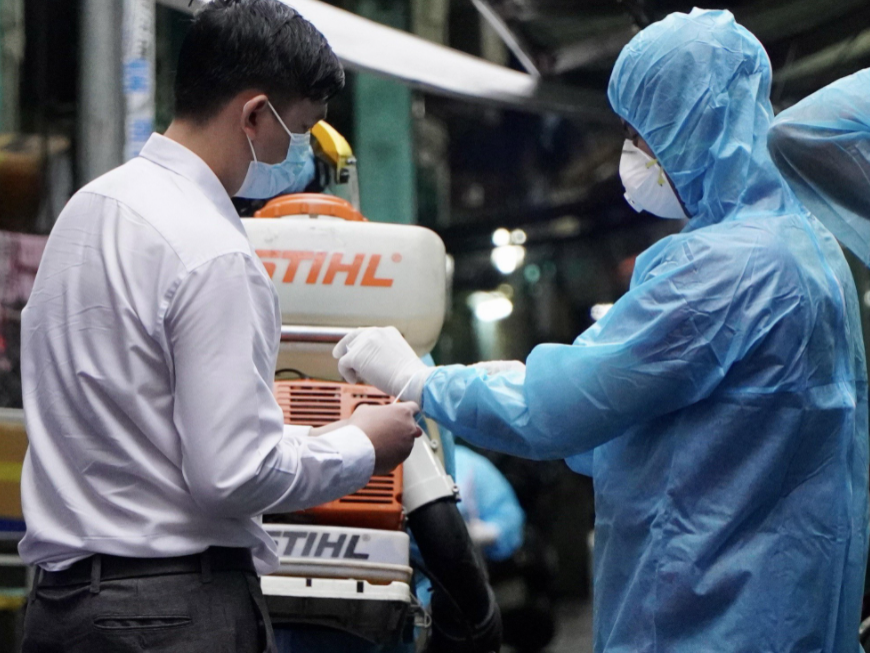 Vietnam seeks Covid-19 vaccine technology transfer (Photo: Doanh nhan)
Vietnam seeks Covid-19 vaccine technology transfer
The ministry's Administration of Science Technology and Training (ASTT) said on June 12 that two domestic manufacturers are working on Covid-19 vaccines. In particular, Nanocovax by the Nanogen Pharmaceutical Biotechnology JSC has been approved for the third stage of clinical trials, which will be carried out by the Military Medical University and the Ho Chi Minh City Pasteur Institute right there and in Hung Yen, Long An, and Tien Giang provinces and several qualified units.
Another Covid-19 vaccine candidate is COVIVAC by the Nha Trang Institute of Vaccines and Medical Biologicals (IVAC) under the first clinical testing stage. The second stage is scheduled to take place in Thai Binh province. The IVAC plans to produce about 6 million doses each year while Nanogen expects to manufacture around 20-30 million doses annually.
Vingroup negotiated with a US manufacturer to transfer the technology of producing vaccine from mRNA which requires only one shot of 5mg. Its plant will be capable of producing 100-200 million doses each year, starting from the fourth quarter of this year or the first quarter of next year. At present, the Company for Vaccine and Biological Production No.1 is stepping up negotiations with a Japanese partner to transfer technology to Vietnam. It also signed a deal with a Russian investment fund for the sale of 5 million doses of Sputnik-V vaccine each month, towards transferring technology with an annual capacity of 100 million doses.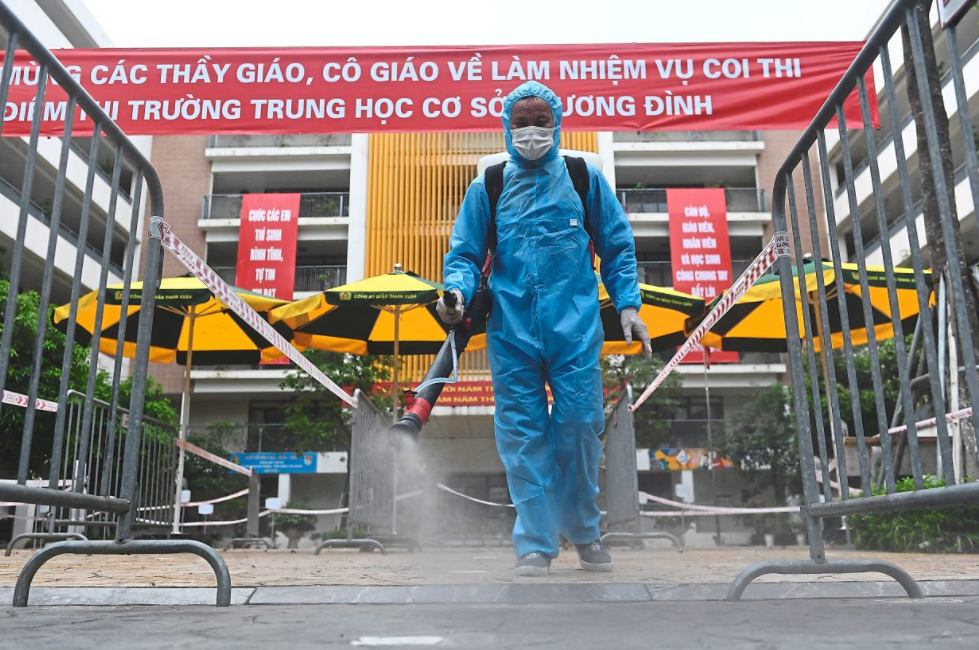 Lao provinces join hands with Vietnam to fight Covid-19. (Photo: AFP)
Lao provinces join hands with Vietnam to fight Covid-19
Many Lao provinces have joined hands with the Vietnamese Government and people in the fight against the Covid-19 pandemic in the country.
On June 12, representatives from Phongsaly province's authorities arrived at the Vietnamese Consulate General in Luang Prabang to present about US$15,900 in support of Vietnam's northern provinces of Lai Chau, Son La, Phu Tho, Vinh Phuc, Tuyen Giang, and Thai Nguyen. Earlier on June 11, representatives from Luang Namtha provincial authorities granted nearly US$31,900 to the Consulate General to assist the northern provinces of Dien Bien, Son La, Phu Tho, and Vinh Phuc.
Speaking at the event, the Lao side affirmed great friendship with Vietnam and wished that the Vietnamese localities would soon curb the virus spread and overcome difficulties to restore production and trade for socio-economic development.
Vietnamese Consul General in Luang Prabang Nguyen Dang Hung hailed the deed as a vivid manifestation of the great friendship, special solidarity, and comprehensive partnership between the two countries. He also vowed to soon send the sum to his homeland to help with pandemic prevention and control.
New Covid-19 cases have taken the national tally to 10,630. The country has recorded a total of 7,423 local cases in 39 cities and provinces in the latest Covid-19 wave beginning from April 27. It is worth noting that 22 localities have gone at least 14 days without any new Covid-19 case.
The number of recoveries rose to 3,998 after a further 171 coronavirus patients were discharged from the hospital after making a full recovery from the virus on June 13, while the number of fatalities now stands at 59.
So far, more than 1,498,320 million people have been vaccinated against COVID-19, mainly frontline workers in the Covid-19 fight, including healthcare workers at local hospitals. Of these, more than 55,260 have received the prescribed two doses.
Valerie Mai