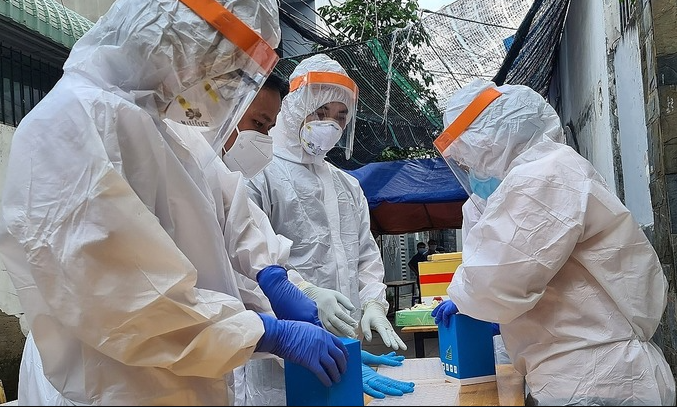 Photo: VN Express
262 new cases in the last 24 hours
198 new cases were found between 6 am and 6 pm on May 30, according to the Ministry of Health. Among those, 89 cases were detected in northern Bac Giang province, which is the country's largest pandemic hotspot, 37 in neighboring Bac Ninh province, 49 in Ho Chi Minh city, 20 in Hanoi, one in Da Nang, one in Long An, and another in Hai Duong.
Vietnam's ongoing outbreak continues to grow with 61 new domestic Covid-19 patients confirmed Monday morning, sending its fourth wave's tally to 4,096. The new cases were registered in three northern localities of Bac Giang, Hanoi, and Lang Son.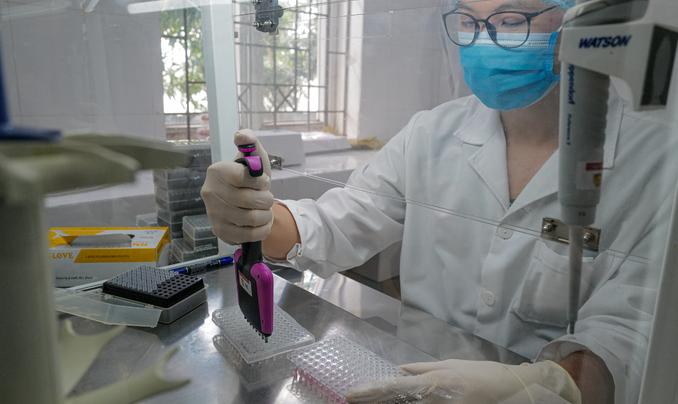 Photo: VN Express
Ho Chi Minh city steps up preventive measures after social distancing
On the evening of May 30, Ho Chi Minh City Public Transport Management Center issued a notice to suspend many bus routes. At the same time, bus routes were not allowed to stop, park, pick up or drop off guests in Go Vap district and Thanh Loc ward (District 12). Along with that, passenger transport vehicles must not carry more than 50% of their capacity.
The city temporarily suspends the organization of the 10th-grade entrance exam and the 6th-grade entrance exam at Tran Dai Nghia High School for the Gifted (including the receipt of registration documents) for the 2021-2022 school year until further notice. The city's Department of Education also temporarily suspends receiving applications for licenses for the establishment and operation of various education types under the management of the Department until the city completed social distancing.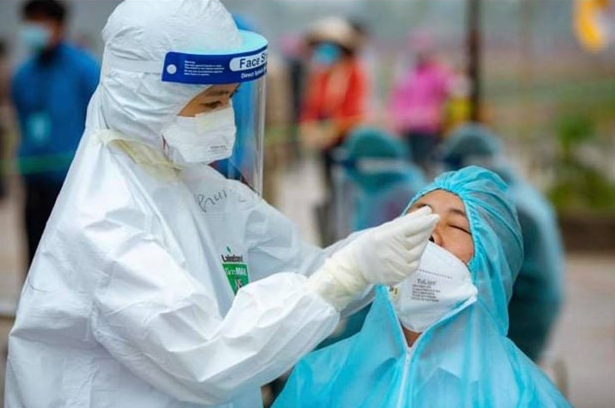 Photo: VNA
Provinces stop transporting and receiving passengers to/from Ho Chi Minh City
Facing the complicated pandemic situation in Ho Chi Minh City, Khanh Hoa, and Binh Dinh provinces decided to suspend all passenger transport activities to and from Ho Chi Minh City. The announcements were made on May 30 in Khanh Hoa and Binh Dinh provinces.
For Khanh Hoa, this announcement applies to passenger transport vans on fixed routes, contract cars, tourist cars, taxis from Khanh Hoa to Ho Chi Minh City and vice versa. Khanh Hoa Department of Transport requires vehicles to quickly suspend receiving guests, clean and disinfect vehicles, bring vehicles to parking places, require drivers, service staff, and passengers to seriously fill in medical declarations, disinfect, wear masks and regularly monitor their health.
Binh Dinh province decided to suspend all transportation of passengers on fixed routes, tourist cars, contract cars, and taxis from Binh Dinh to Ho Chi Minh City and vice versa from 0 am on May 31, 2021, until further notice. Binh Dinh province will apply 21-day concentrated medical isolation for people coming to and returning to Binh Dinh from blockade areas in Ho Chi Minh City.
Over a month into the new Covid wave, the fourth one and the most challenging one Vietnam has faced yet, the nation has recorded domestic cases in 34 of its 63 cities and provinces.
Vietnam has to date confirmed 7,168 COVID-19 cases, including 5,665 domestic infections, of which 4,095 were found since the fourth wave of outbreaks hit the country on April 27.
Among active patients undergoing treatment at medical establishments nationwide, 145 tested negative to the virus once, 66 twice, and 70 thrice. The death toll related to the disease now stands at 47, while 2,950 patients have fully recovered.
Valerie Mai