Deputy PM wants speedier at-home quarantine for F1 cases
Letting low-risk suspected Covid patients quarantine at home will help alleviate stress on frontline medical workers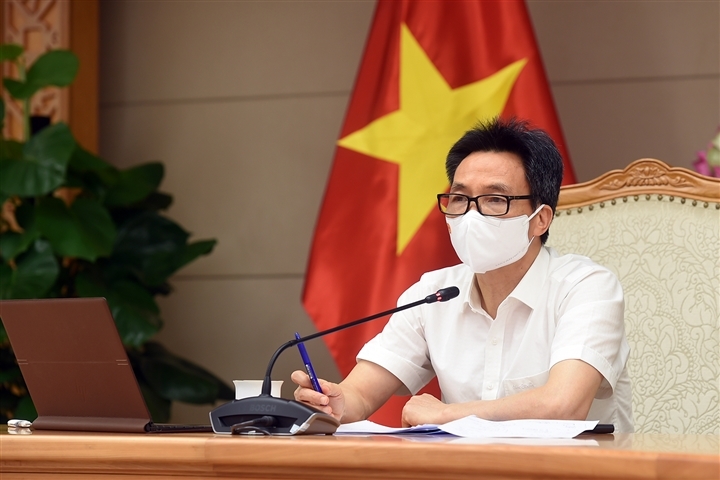 Deputy Prime Minister Vu Duc Dam at the meeting (Photo: VTC News)
Deputy Prime Minister Vu Duc Dam on Friday called for faster implementation of an at-home quarantine pilot for those having close contact with Covid patients (F1 cases). Self-sampling for specimens will also be encouraged, to shoulder the burden on already overwhelmed medical personnel.
Localities that have overcome the peak of the pandemic, especially those in Bac Giang and Bac Ninh, northern Vietnam, must expedite such a program among F1 cases at socially distanced or lock-downed residential areas. The move, according to Dam, will cut down potential cross-infection risk at centralized quarantine zones.
New guidance from the Ministry of Health also regulates that under-15-year-old F1 cases in Bac Giang should be quarantined at home. In particular, after the one week at centralized isolation zones, children who tested negative three times will be discharged and continue their remaining 14 days at home.
The rules also apply to those as young as under 5 years of age. All anti-pandemic conditions must be satisfied.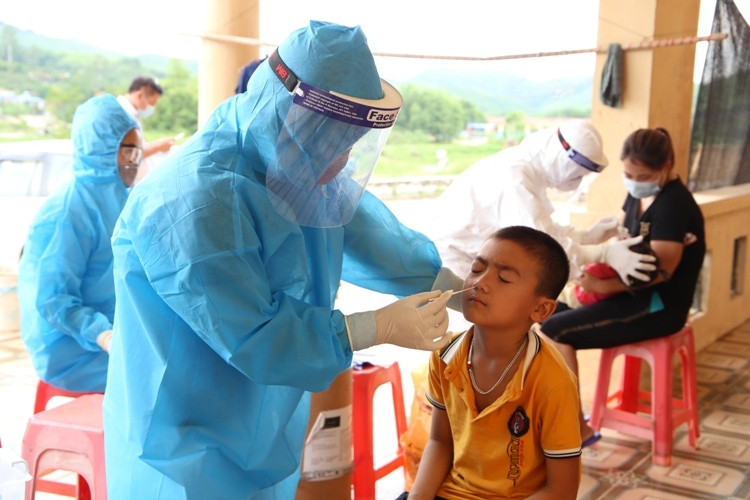 Medical staff takes specimens from a child in Bac Giang (Photo: Bac Giang Department of Health)
The deputy PM also requested medical staff to thoroughly train industrial workers and residents how to take samples themselves to avoid inaccurate test results. This is part of the country's preparations for possible large-scale resurgence of the virus or medical personnel shortages.
"Awareness-raising campaigns are needed so that no individuals will deliberately send samples that don't belong to them or make wrong health declarations," Dam added.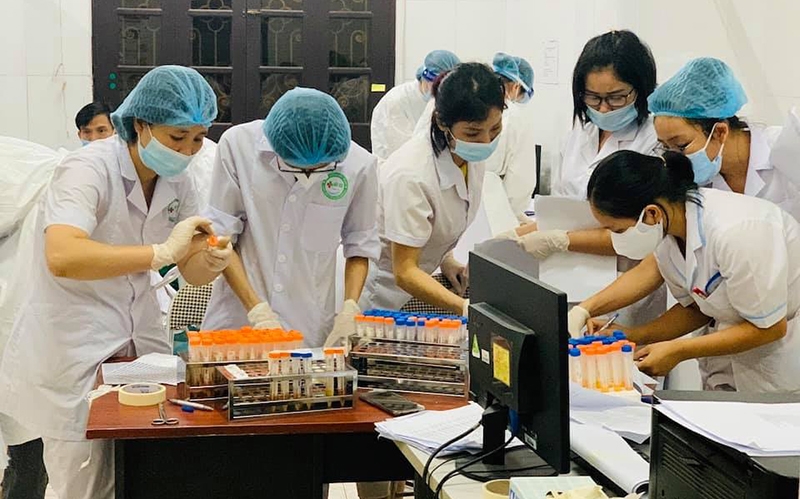 Medical staff in Bac Giang busy checking the samples for suspected Covid patients (Photo: NDO)
Vietnam is also mulling a one-week quarantine for vaccinated entrants. These entrants would have to undergo another seven days of self-isolation at their accommodation after finishing centralized quarantine and tested negative three times, as per the policy earlier proposed by the Department of Preventive Medicine in mid-May.
The country earlier stipulated all entrants and F1 must undergo a 14-day-long centralized quarantine. If test results come out negative three times, inmates will be discharged and placed under health monitoring at home for the next 14 days.
Since May 5, the health ministry has decided to extend the mandatory centralized quarantine to 21 days for all entrants and F1 cases after several patients revealed themselves after their quarantine period had already ended.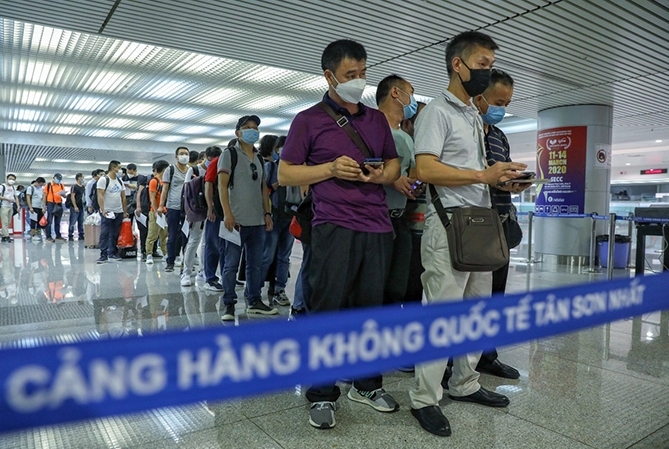 Passengers line up at HCMC's Tan Son Nhat Airport for coronavirus control measures. (Photo: VNE)
The novel coronavirus, which stemmed from Wuhan city, China's Hubei province, has spread to 220 countries and territories. In Vietnam, it has affected 8,589 patients, claiming 53 lives.
Since the resurgence started on April 27, the nation's tally topped 5,562 cases. Bac Giang and Bac Ninh provinces in the north are the two hardest-hit, with 3,058 and 1,075 infections, respectively. Dozens of new patients are reported every day. Most of the infection sources are from workers at industrial parks, which have been shut for weeks. Local officials have launched a number of programs to help pandemic-stricken people, especially industrial workers. Vaccine priority, financial and essentials aid, for example, are among the preferences.
With a total of 355 infections to date, Ho Chi Minh City is witnessing its worst coronavirus outbreak yet. Last week, the municipal health department said the city would ramp up testing efforts, trying to double daily testing capacity to 100,000 samples, prioritizing the hardest-hit and vulnerable areas.
Central Vietnamis the least affected of the three regions. Thua Thien Hue province, for example, has registered only five cases while Quang Nam, Quang Tri document three cases each. Quang Ngai, Quang Nam has one case each. Ha Tinh on Friday reported its first two cases in the fourth wave.