Vietnam's first Cuban son-in-law's romantic love story
The love story between Cuban veterinarian Osvaldo Dias Borato with a Hanoi girl named Hoang Thi Phuong Hanh has transcended language, distance, and hardship to become a beautiful symbol of love and empathy of the two countries.
Love at first sight
In 1982, Dr. Osvaldo Dias Borato, born in 1950, was one of the Cuban experts sent to Vietnam to support his experience in building chicken farms. At that time, Osvaldo worked as a veterinarian at the Vietnam Poultry Enterprise Union. In this country, he met Ms Phuong Hanh, born in 1958, by chance. At the first moment, Osvaldo had a fondness for a Vietnamese girl with a pretty small body. Osvaldo confided in Vietnamese, the language that he had just learned: "I fell in love with Phuong Hanh at first sight".
Right after that he had a chance to met the girl he felt in love with. That was Phuong Hanh's aunt, the translator for Cuban experts to work in Vietnam, including Osvaldo. During a visit to her aunt's house, Osvaldo met Phuong Hanh again. Both of them were surprised. While Phuong Hanh was shy to said hello and a few greetings, and then quickly left, Osvaldo secretly missed her.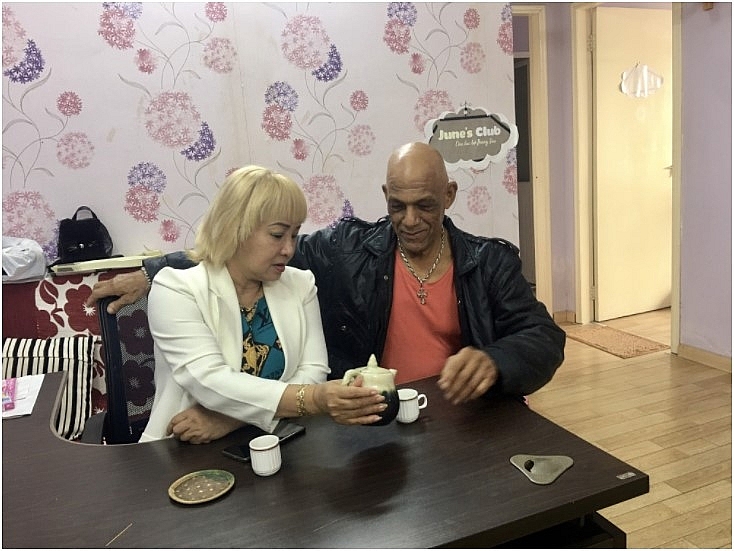 Mr. Osvaldo Dias Borato and Ms. Hoang Thi Phuong Hanh. Photo: VNT
Osvaldo boldly told Phuong Hanh's aunt that he wanted her to introduce the two sisters. Osvaldo did not hesitate to share he was impressed by the little girl" (Phuong Hanh was short and younger than her sister who always walked by). After that, Phuong Hanh's aunt gave Osvaldo the address of Phuong Hanh's house and he took the initiative often. Because he did not know much Vietnamese, some days they just asked each other a few questions and watched TV for nearly 2 hours. That day, Phuong Hanh lived in the Air Force dormitory on Truong Chinh Street, Hanoi and Osvaldo lived at Kim Lien Hotel. Every time after returning from work or coming back from work, Osvaldo visited Phuong Hanh.
Therefore, Osvaldo searched for books to learn more Vietnamese. Whenever there was a festival, Osvaldo came to take Phuong Hanh with him. Gradually, the love of two people became more and more profound. When her mother saw her dating a Cuban man, she was very worried because of the distance, but her aunt assisted to make Phuong Hanh's mother agreed. Around 1986-1987, Osvaldo returned home. The communication way was difficult but more than a year later Osvaldo came back Vietnam to work. This time he decided to marry Phuong Hanh.
In February 1989, they registered their marriage, and on March 4, 1989, the wedding was held at Kim Lien Hotel. As the first Cuban to marry Vietnamese girl, Osvaldo and Phuong Hanh's wedding was solemnly held with the participation of many people. The director of Kim Lien Hotel at that time gave them free organization hall. The Cuban Embassy in Vietnam held a honeymoon for two people in Dong Hoi, Quang Binh.
Being satisfied with simple happiness
In 1990, Phuong Hanh followed Osvaldo to Cuba. Her mother-in-law was weak and new life was still difficult. She had a strong nostalgia for her family, but felt happy and blessed with her marriage. The young couple's first big job was building a house. Starting from buying lime, sand, cement to make bricks. At weekends, Osvaldo stayed at home to help his wife. In about one year, they completed a spacious two-story house.
With the quality of a Vietnamese bride, Phuong Hanh retreated to the back to take care of family life so that her husband could work with peace of mind. She did all the work to cover her family life. After 2 years, Phuong Hanh's family could afford a car, one more house for rent.
After 30 years of living together, Phuong Hanh's family has been full of joy with a son and a daughter. In the family, stories in Vietnamese, typical dishes of Vietnam mixed with Cuba are really unique and interesting.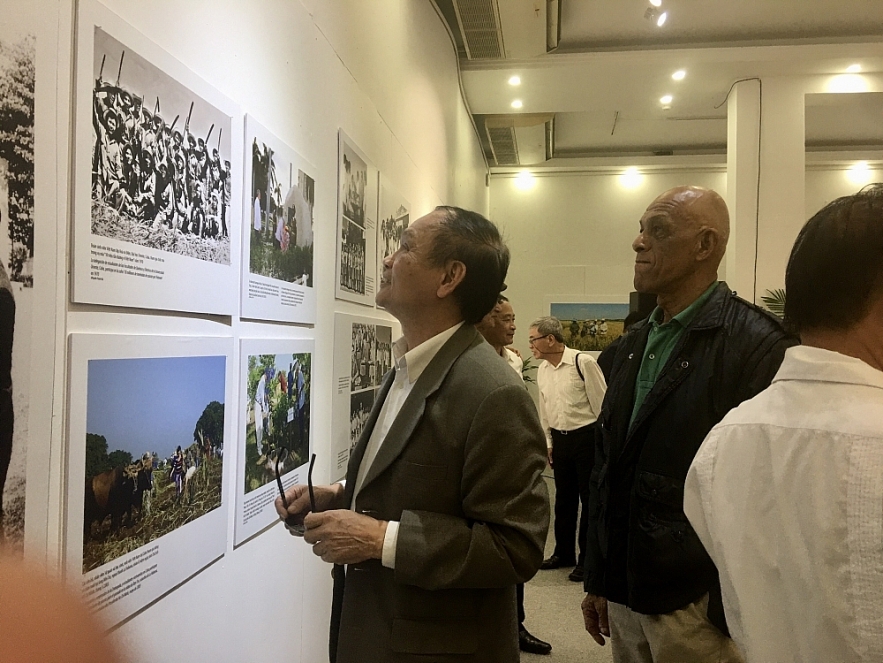 Veterinarian Osvaldo Dias Borato at the Photo Exhibition with the theme 'Cuba in the hearts of the Vietnamese people'. Photo: VNT
When asked if she ever felt flustered when she got married far away, Phuong Hanh smiled happily: "I have never regretted following my husband to Cuba. Although my life is different here, I am loved by my husband, cared for by my mother-in-law, and enthusiastically helped by my neighbors. Cubans are very enthusiastic and honest. When I gave birth to my second baby, my mother-in-law died, and three neighbors took turns to help me wash, cook. When my kids are sick, they just go to the door and call them to help. I feel a sense of intimacy here, "she said.
After 30 years living in Cuba, many children and young people in the neighborhood call Mrs Phuong Hanh their adoptive mother. On every birthday of Mrs. Phuong Hanh, everyone in the street comes to her house for a singing party.
The Osvaldo - Phuong Hanh family say that they do not feel distant, even though they are half a world away from Vietnam.