Senior Lieutenant General Nguyen Chi Vinh, Deputy Minister of National Defence, presented 3 tons of anti-epidemic medical supplies to Cuban Ambassador Lianys Torres Rivera, on July 16 morning.
Materials include 10,000 sets of corona diagnostic kits, 7,000 sets of sample transporters, 100,000 medical face masks, 100,000 antibacterial cotton face masks, 2,000 protective suits, 106 boxes of Vicoredu bronchial supplements and 106 boxes of Protecvicor breathe supplements.
Thanking the hearts of Vietnam, Cuban Ambassador Lianys Torres Rivera said this was a testament to the special friendship of the two peoples. "We have never abandoned each other, especially in the most difficult period," she said.
According to the Ambassador, Cuba has been in a difficult situation since the success of the Cuban revolution in 1959. Covid-19 appearing at the time of the US's embargo and sanctions imposed on Cuba caused many measures to be taken in order to both prevent epidemic and develop socio-economy.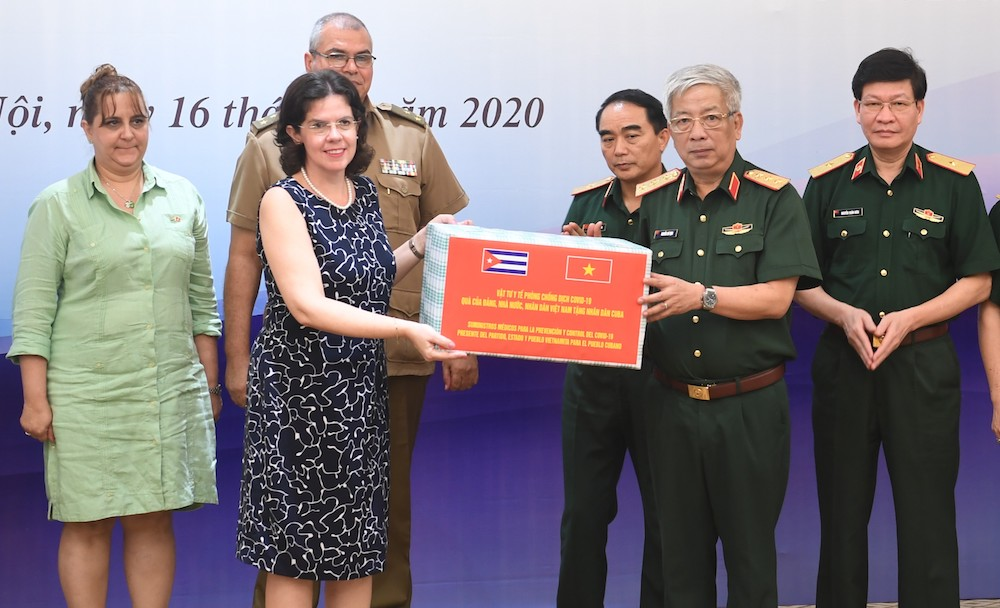 Senior Lieutenant General Nguyen Chi Vinh, Deputy Minister of Ministry of National Defence presented Covid-19 prevention medical supplies to Cuban Ambassador to Vietnam, Ms. Lianys Torres Rivera. Photo: VNExpress.
Senior Lieutenant General Nguyen Chi Vinh hoped that Vietnam's gifts would help Cuba overcome the difficult period. He also expressed his appreciation as Covid-19 began to explode, the Cuban Communist Party Politburo had quickly responded to all Vietnam's proposals on cooperation in epidemic prevention and control, considering this as a top priority. Cuba also announced to donate Vietnamese medicine, sent experts and organized an online conference to exchange experiences.
"It is a special sentiment as well as the political belief of Cuba granting for Vietnam, which truly represents the spirit of leader Fidel Castro that for Vietnam, Cuba is willing to donate their blood," said General Vinh.
In May, Ministry of National Defence of Vietnam agreed to transfer the nCoV test kit to Cuba, which was studied by the Vietnam Military Medical Academy. The Cuban expert team also came to Vietnam to implement a cooperation plan for Covid-19 prevention. The Military Medical Department cooperates with the Military Medical Academy to receive the technology of Interferon alpha 2b medicine from Cuba.
Janet Dang