Vietnam Embassy to Australia sets out 3 missions to support Vietnamese community
Vietnam Embassy to Australia held a virtual conference to announce the 13th National Pary Congress result on April 13.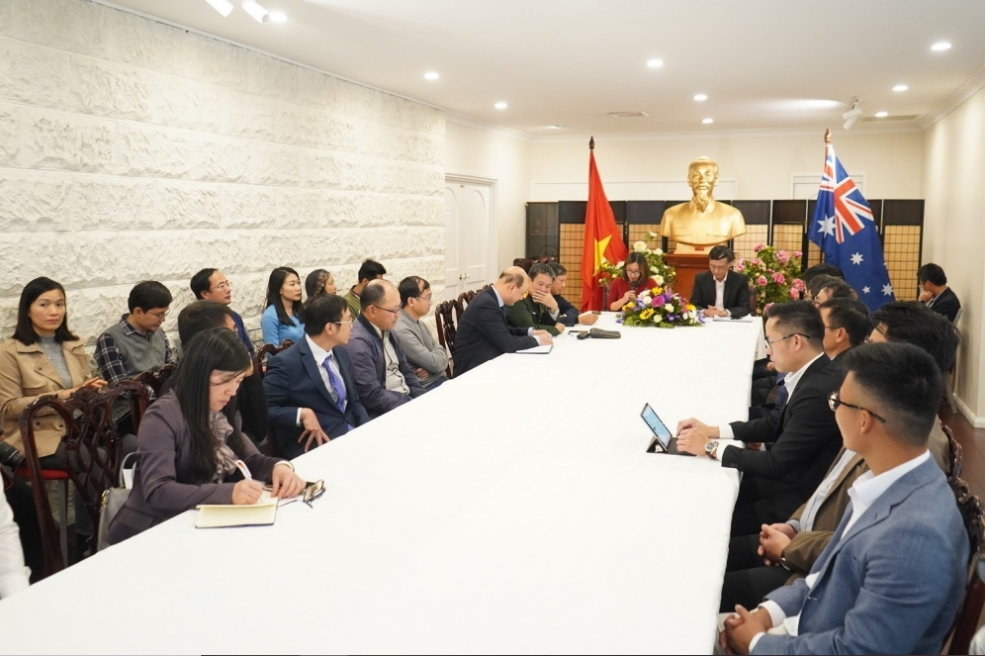 The meeting's overview.
The conference welcomed the Vietnam Ambassador to Australia Nguyen Tat Thanh and, together with staff from the Embassy, Consulate General, other diplomatic missions, representatives from business, intellectuals, and students associations, and 20 Vietnamese student association branches all over Australia.
At the conference, Ms. Pham Thi Thuy Nga, Minister Counsellor, quickly asserted the 13th Party Congress contents and results.
In the terms of Vietnamese community in foreign countries, the 13th Congress Resolution affirmed the Party and State's concerns and opinions, pointed out specific missions, such as supporting Vietnamese in foreign countries to have solid legal status, chances for economic and social development, social integration in the host countries; enhancing the efficiency in citizen protection, workforce, and student management; creating favorable conditions for the community to reserve Vietnamese language, identity, and culture, increasing their national pride; well carrying on communication and information work, help the community to stay updated to the domestic situation, to think and act in accordance with the nation-state's interest. Besides, policies to attract overseas human resources to actively contribute to the national construction and defense were also asked to be adopted.
In order to implement the mentioned missions, the Vietnam Embassy to Australia as well as other diplomatic missions took these three duties as priority:
(1) Focusing to deepen Vietnam - Australia's strategic partnership;
(2) Attempting to serve the country's development, in which political, cultural, economic diplomacy, and work for overseas Vietnamese must all serve development goals;
(3) Continuing to pay more attention to citizen protection in the context that the number of Vietnamese going to visit, work, live, study in Australia is on the rise, while their lives get affected by COVID-19.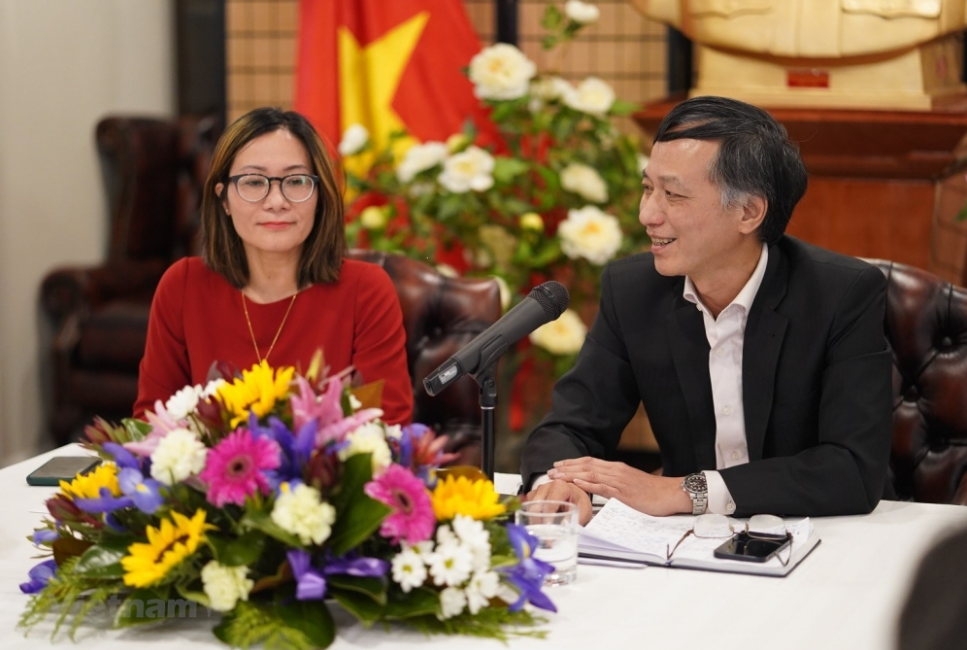 Ambassador Nguyen Tat Thanh (R)
In the complicated COVID-19, the Vietnam Embassy has disseminated, clarified, and given guidance to follow the Australian Government's policies and coordinated with the Vietnamese Association in Australia to encourage the Vietnamese community here so that people could continue their lives, work, and study in Australia with peace of mind.
Ambassador Nguyen Tat Thanh affirmed that the Vietnam Embassy and General Consulate in Australia were always home to all Vietnamese people. The Embassy and General Consulate receive and synthesize local people's contributions to national construction and development, then send them to responsible agencies in Vietnam for consideration and settlement.
Representatives of the Vietnamese business, intellectual, and student community in Australia all expressed their joyfulness when witnessing a successful 13th Congress, as well as their trust that the new leaders would bring the country to further successful development in the coming years.
Mr. Tran Ba Phuc, Member of Vietnam Fatherland Front Central Committee, Chairman of Vietnam Entrepreneurs Association in Australia said that the 300,000-member Vietnamese community in Australia deeply cared for the domestic situation and had always been closely watching the country's developments. They are now proud to see Vietnam's significant achievement over the past period.
Especially, in the context of the rampant COVID-19 pandemic, the fact that Vietnam's economy still grew positively while most other economies experienced negative growth makes overseas Vietnamese extremely excited. According to Mr. Tran Ba Phuc, the Vietnamese community in Australia hope that Vietnam's new leaders will continue to bring the country to new development to enhance Vietnamese people worldwide's pride toward their homeland.
The delegates also expected the Embassy and representative missions to continue to organize practical activities, helping the Vietnamese community in Australia to become increasingly cohesive, strong, and have chances to maintain the national cultural identity, keeping their souls close to the homeland.
Handbook
Yoga has recently become one of the best exercise methods that bring many health benefits to people, but it also requires a lot of technique and training to avoid injuries. There are several ways to practice it home, and will still help you achieve your goals.