Vietnam Enhances Children's Water Safety To Tackle Child Drowning
Drowning is a silent killer claiming more than 2,000 children's lives per year in Viet Nam. Despite challenges as well as Covid-19 pandemic, Vietnam has taken lots of measures to teach children how to swim in recent years.
Significant efforts to prevent child drowning in Vietnam amid Covid-19 pandemic
Drowning is a silent killer claiming more than 2,000 children's lives per year in Viet Nam. The rate of child drowning in Vietnam is higher than other Southeast Asian countries and 10 times higher than that of developed countries. Globally, every year about 360,000 people lost their lives by drowning. More than 90% of these deaths occur in low- and middle-income countries.
"Data have showed that the drowning rate among children in Vietnam is particularly high, but it is also preventable," said Dr. Kidong Park, WHO Representative in Vietnam. "What we need is a whole of multi sector approach and strong participation of the communities that involve the children and their parents and caretakers, which is what the program is aiming at."
"Vietnam has undertaken significant efforts to prevent child drowning, including adopting a strong legal framework," said Mrs. Nguyen Thi Ha, Vice Minister of Labor, Invalids and Social Affairs. "The Law on Children passed in 2016 provided for the state's responsibilities for implementing measures to prevent child injuries. The Prime Minister of Vietnam also approved a significant policy document, numbered 234/QĐ-TTg, outlining the national plan for prevention of child injuries for the period of 2016-2020, targeting the reduction of child drowning prevalence. Following the close coordination among relevant ministries and social organizations, and with the support of national and international organizations and strong commitment of each locality, we can all contribute and realize this vision while securing a safe environment and protecting the right of survival for children."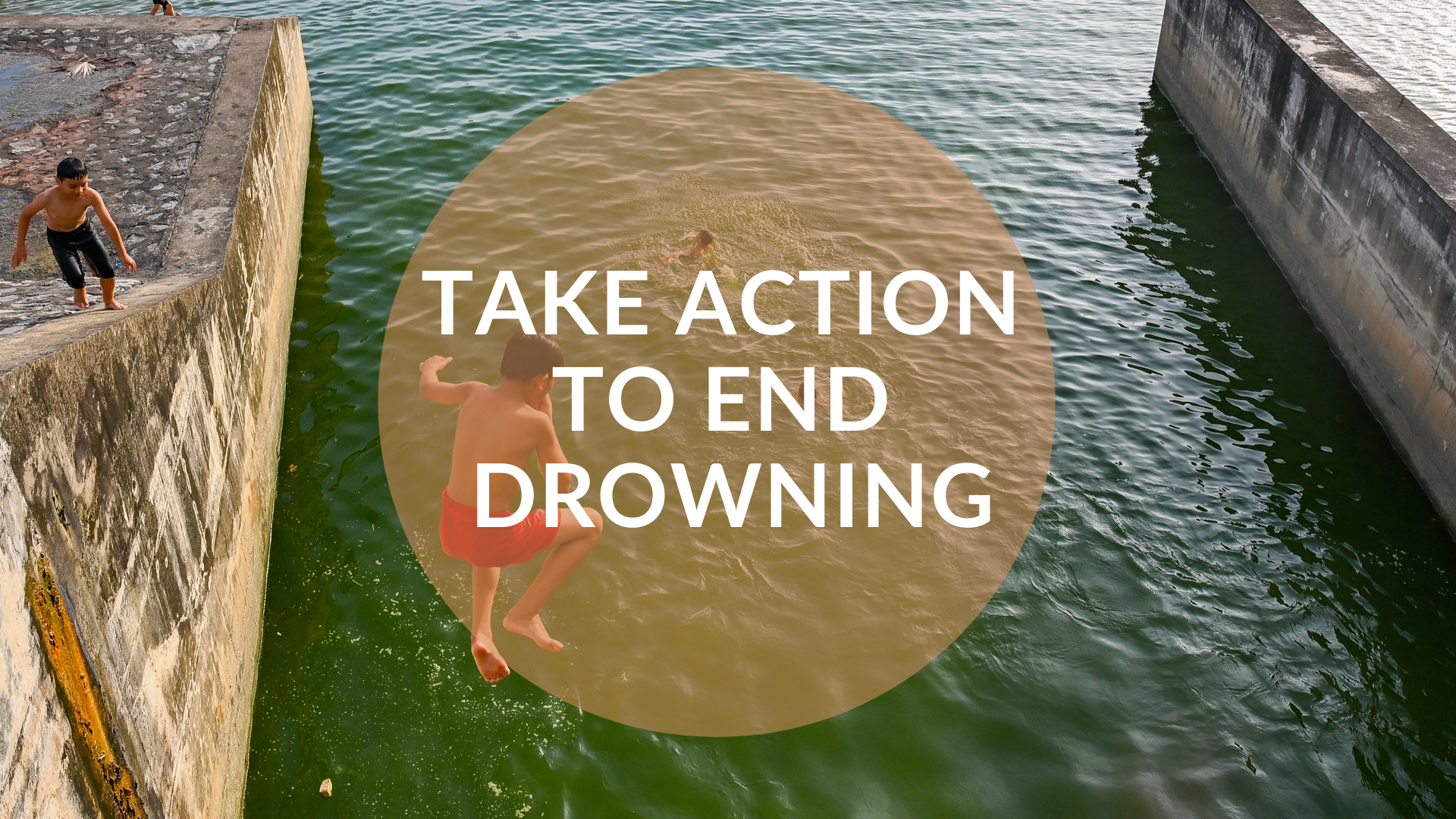 Photo: Zingnews.
Viet Nam has actively implemented activities to improve knowledge and skills on child drowning prevention. Communication campaigns deployed nationwide have positively impacted to social awareness of child drowning prevention; The risk of child drowning in families, schools, and communities is gradually eliminated. Swimming instruction and child safety skills are taught in many localities with the participation of the community and international organizations. The interdisciplinary plan on child drowning prevention for the period of 2017-2020 has been signed by 09 Ministries, sectors and sectors.
According to Global Health Advocacy Incubator, 2020 brought with it a unique set of challenges in the form of the pandemic. The central region of Vietnam was also hit by devastating floods. Children under fifteen, who bear the highest risks of drowning became more vulnerable being away from school, without supervision and in disaster prone areas. Understanding the increased risks and the logistical challenges posed by COVID-19, Global Health Advocacy Incubator, (GHAI) and in-country partners quickly shifted the focus of activities to alert communities about risks through urgent communications efforts. Hundreds of program managers were trained at the provincial and national level. Strategic planning shifted to virtual platforms.
Vietnam became one of the first few countries that overcame the worst of the pandemic and resumed most of its services in July 2020. Building on the success of the first phase of the Drowning Prevention program, the intervention expanded from eight provinces to twelve provinces facing the highest burden of child drowning deaths in the country. Despite the pandemic, over 4,000 children have successfully been trained on survival swim and there is greater interest and commitment to expand the program at the national and provincial levels.
Launched drowning prevention programs in some provinces
Lam Dong Province: Teaching children swimming from within school grounds
With 73 large water reservoirs, 92 spillways and many small and medium water reservoirs in the gardens of agricultural farming families in the community, plus the system of rivers and streams everywhere in the province, the accident. Drowning has long been a frequent occurrence in Lam Dong, not only among children but also adults, as reported by MOLISA.
Lam Dong's statistics show that in 2019, there were 22 cases of child drowning in the whole province, mainly negligence during the rainy season or in the summer, when they went to bathe in rivers and streams. The tragic deaths of children leave great pain and loss for families and loved ones.
It is worth mentioning that, until now, the rate of swimming students in Lam Dong is still very low, even though the province has been conducting swimming learning campaigns for many years. According to the Department of Culture, Sports and Tourism of Lam Dong, out of 205,000 pupils of primary and lower secondary school age of the whole province today, the rate of swimming and safety skills in water environment is only accounting for 14.5%.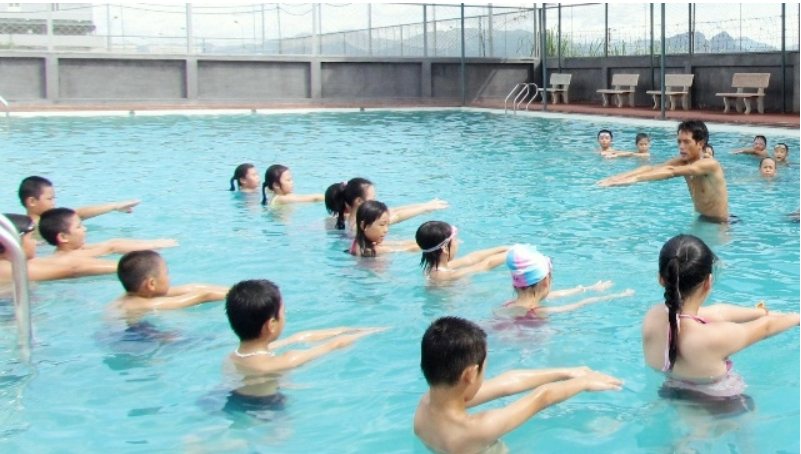 Children need to be taught life-saving skills to prevent drowning when summer comes. Photo: nhandan.
However, it is praiseworthy that there have been certain changes in the campaigning of swimming and drowning prevention for children in the province in recent years. Annually, functional agencies from the provincial to the district level organize a campaign to mobilize the entire people to practice swimming in the community; organize swimming training classes for coaches in the province.
According to Lam Dong functional department, 11/12 districts and cities in the province have been allocated land funds for sport and physical activities, including land for swimming pool construction, but so far, they still face many difficulties in funding for swimming pool construction., how to manage the pool, operating costs, safety conditions ... Therefore, in the immediate future, the "socialized" private swimming pools in localities continue to play a role. Important in teaching children to swim.
The goal set by the Department of Culture, Sports and Tourism in 2020 was quite ambitious: raising the number of children of elementary and junior high school age who can swim from 14.5% today to 40%.
Ba Ria-Vung Tau Province: Launching ceremony calling for swimming and swimming competition
The purpose of the province's plan was to propagate about the benefits and effects of swimming, safety skills in the water environment, and mobilize the entire population to actively practice swimming to improve health and reach. stature, physical strength, disease prevention, balanced body development for children and the community and promoting the role of all levels, sectors, families, schools and the whole society in the development of style swimming lessons, swimming lessons and prevention of drowning, contributing to gradually reducing drowning accidents.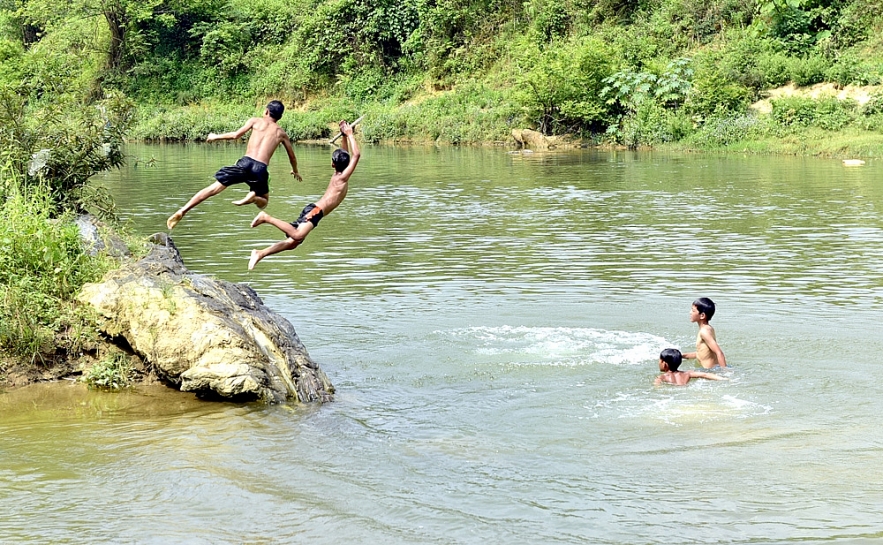 Photo: Baotuyenquang.
Accordingly, the City People's Committee directed the communes and wards depending on the actual situation, the communes and wards organized a ceremony to mobilize the entire population to practice swimming in drowning prevention and control and integrate the swimming competition with the appropriate scale and form with local socio-economic conditions in June 2020.
The City People's Committee directed the Culture and Information Department to monitor and urge agencies, units and coordinated with the Centre for Culture and Information to implement the plan; The Department of Education and Training deployed to schools to organize the movement of swimming lessons and guide drowning prevention for students in 2020; The Centre for Culture, Information and Sports is responsible for organizing the launching ceremony of the City Swimming Pool in 2020; The People's Committees of wards and communes organize propaganda and mobilization to each household in the population areas so that the people can understand and respond to the movement of the entire population to practice swimming and preventing drowning.
Hanoi City: A campaign to encourage the community to practice swimming
According to VOV News, a campaign to encourage the community to practice swimming for drowning prevention was launched on May 19, 2019. The campaign attracted 3,000-5,000 local children and people. Vice Director of the Vietnam Sports Administration Nguyen Hong Minh cited a report by the Ministry of Labour, Invalids and Social Affairs that during the 2010-2015, more than 3,000 youngsters and children die of drowning, including about 2,200 children under 16 years old, each year. However, the number of victims was reduced to 2,000 in 2017 and 782 in the first half of 2018, he noted.
Minh pointed out that the majority of the cases were due to a lack of anti-drowning skills as well as the supervision of adults on children in unsafe conditions and natural disasters such as flooding.
In order to minimise drowning victims, in 2019, the administration and relevant agencies applied a number of measures, including the popularisation of the law on the amendments and supplements to the Sports Law and encourage swimming movements, especially among children.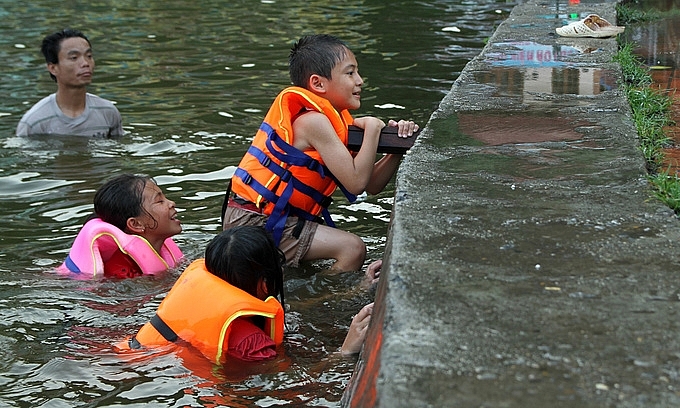 Children swim in a pond in Hanoi. Photo by VnExpress/Phan Duong
Bac Kan Province: Implementing models of safe beaches
Drowning normally happens to children in the summer. Recently, in Bac Kan Province, models of safe beaches have been deployed by union members and young people. Upland children are taught swimming skills, first aid, and handling situations when accidents happen in streams around the village. This is also an innovative content in the form of organizing summer activities at the grassroots. Under the enthusiastic guidance of the youth union members, children were able to swim by themselves and master basic skills to prevent drowning.
Teaching children to swim in Giao Hieu commune, Pac Nam district. Photo: VOV News.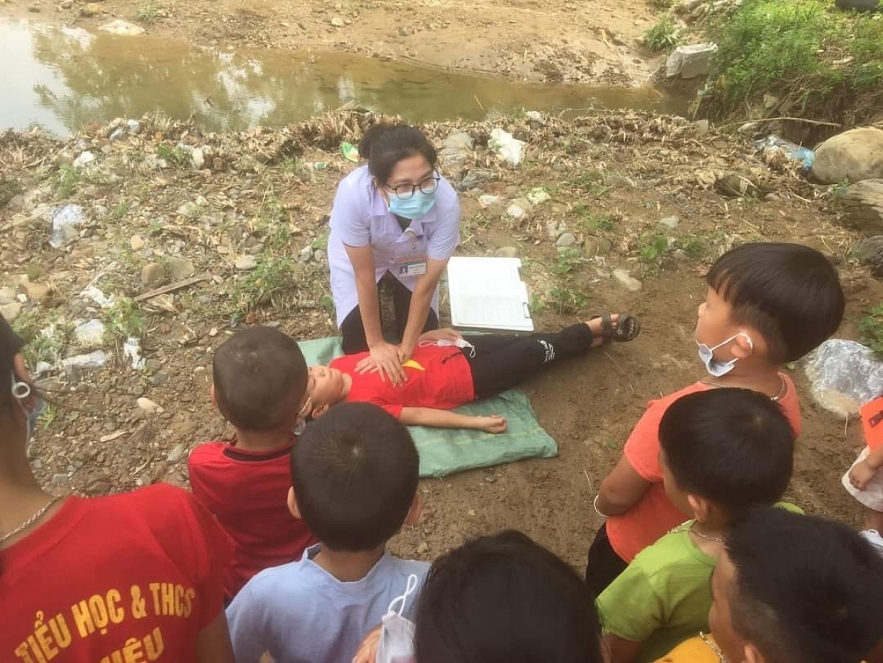 In addition to swimming and diving skills, children were also instructed on how to give first aid if necessary. Photo: VOV News.
The beach was selected by the Youth Union of Na Chao and Nhu Co commune. The area around the beach ensures clean water, there are tall trees that are shaded and airy, then union members and parents clean up and clean the swimming practice area for the children. Each member of the union has a separate job, so they must take advantage of the time to take turns. Although there is no remuneration or funding, the enthusiasm and increasing number of students are also the motivation for volunteers to try harder.
In the highlands, there are lots of rivers and streams, while most parents are often busy with farming, and have little time to guide and supervise their children daily. At midday in the summer, it is not difficult to see groups of children releasing buffaloes, diving and playing by fast-flowing streams or deep lakes. Their hyperactivity while lacking the necessary skills is the cause of dozens of tragic drowning accidents in Bac Kan Province in the past few years. Therefore, safe beach model is a creative and practical way of 2021 summer activities, helping children to equip themselves with more safety knowledge to prevent drowning.
Keeping children water-safe this summer

According to statistics, over 2,000 children lose their lives in drowning accidents every year in Vietnam, making drowning the country's leading cause of death among ...