Vietnam Enterprise Science and Technology Association to donate 1,000 test kits worth US$42,000 to VUFO
The Vietnam Enterprise Science and Technology Association (VST) and Sao Thai Duong Company yesterday announced the news in Hanoi. The set kit RT-LAMP has been popular in Europe because it is applicable in the expansion of the test scale of SARS-CoV-2 in the EU and many other countries in the coming time.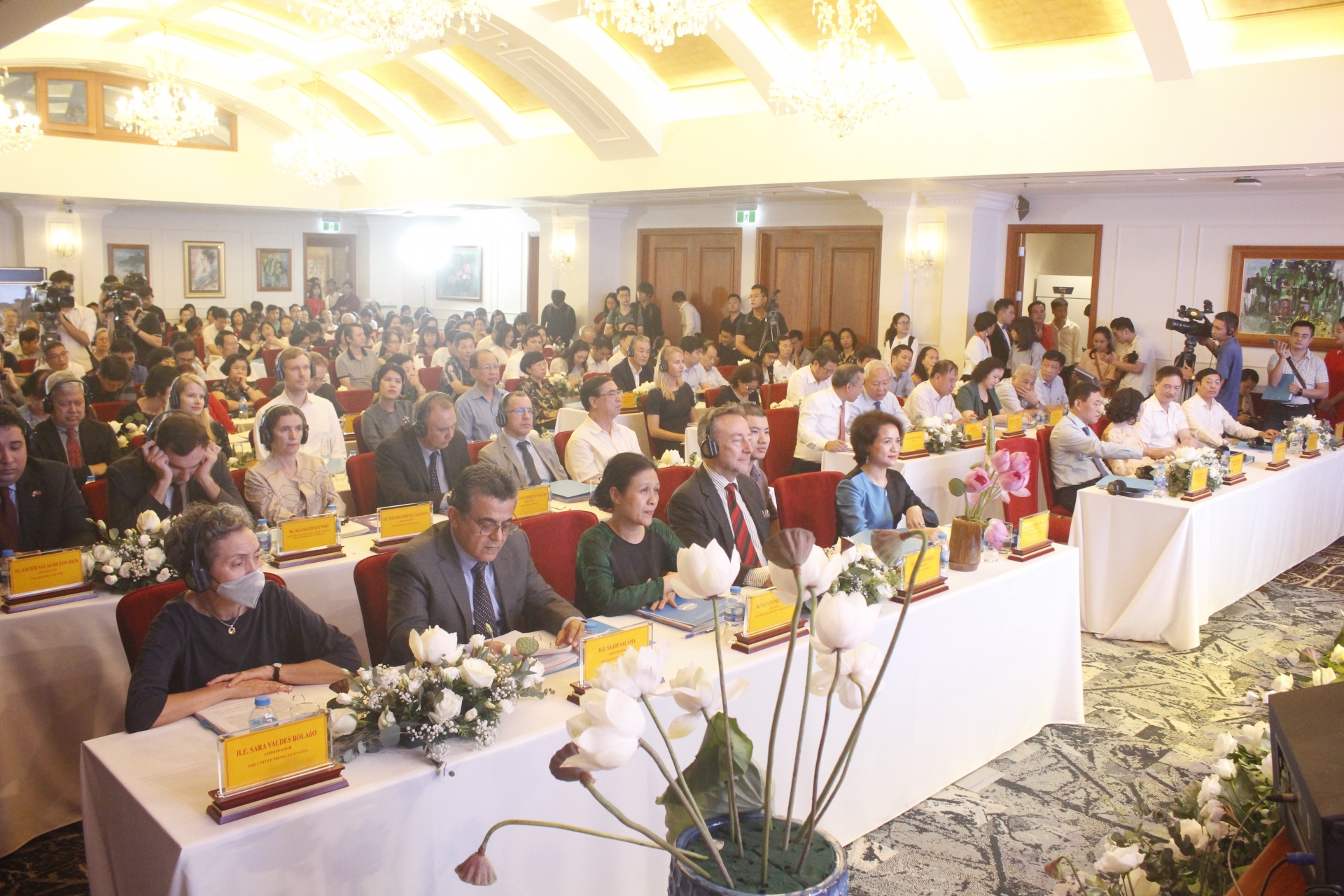 Many VIPs to attend the important event on June 05 in Hanoi
Recently, The Vietnam Enterprise Science and Technology Association (VST) announced its study result of the production of 02 sets of Vietnamese-made Covid-19 test kits, which have been approved for sale in Europe, including RT-LAMP and RT-PCR. At the same time, 1,000 test kits worth US$42,000 were donated to the Vietnam Union of Friendship Organization (VUFO) on this occasion.
There were a number of high-level officers of Vietnam, friendship associations, medical institutions, and Embassies of Czech Republic, Mexico, Palestine, Peru, Uruguay, Indonesia, together with many other diplomatic representatives, and international organizations attending this important event.
Speaking at the ceremony, the chairman of VST, Mr. Hoang Duc Nam said "VST is a social- professional organization of science and technology enterprises that have promoted innovation activities and applied scientific and technological advances to real life. The VST is also responsible to protect the legal right and benefits of its members as well as to coordinate with relevant agencies in developing policies to support science and technology enterprises. The association aims to organize conferences, seminars, exhibitions, and forums, discussing issues related to science and technology. Up till now, VST has attracted over 99 members among more than 600 scientific and technological enterprises across the country. These two kits are great productions that have been approved for sale in Europe and Vietnam. This is a clear example of the close integration among three core pillars: scientists, management agencies, and enterprises".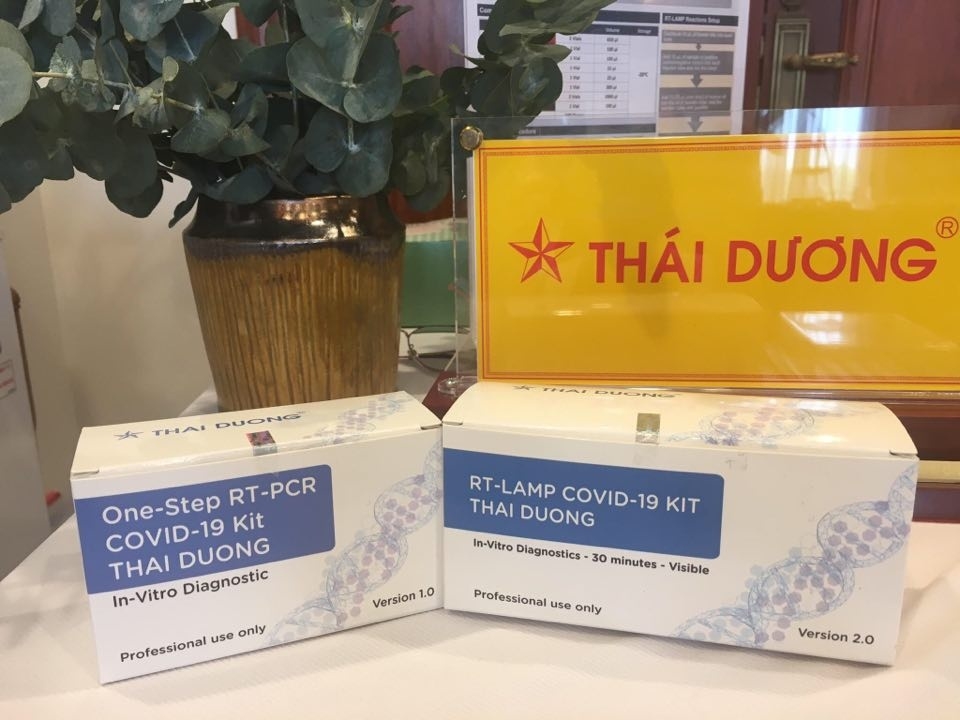 The two test kits produced by VST and Sao Thai Duong company
Through the assessment of these two kits, Mr. Tran Van Tung, Deputy Minister, Ministry of Science and Technology (MoST) remarked:
"Right from the very early days of the epidemic outbreak, together with the whole system of Vietnam, MoST actively implemented timely interventions with the participation of scientists and technological enterprises, which contributed to the success of prevention and fighting against coronavirus. MoST has also provided the coordination and support to relating stakeholders in order to facilitate the process of reviewing and testing medical kits, which then soon put into use with high quality".
Mr. Vitezslav Grepl, Ambassador of the Czech Republic to Vietnam, as the representative of international organizations in Vietnam strongly affirmed that "
"With rapid development in the advanced testing technology developed by Vietnamese scientists and researchers with the success in the commercialization of the products, the science and technology sector of Vietnam has proven that Vietnam has the ability to provide innovative and effective solutions even in the difficult conditions like this period of time. This is an amazing outcome showing that Vietnam can contribute significantly to the world's efforts in the fight against the pandemic globally. Another remarkable success at the present time is that Vietnam is among the 5 countries having the capacity to export COVID-19 testing kits with a large volume. The high quality of these kits is acknowledged by the international community. I hope that Vietnam will contribute more to the support to other countries for the COVID-19 fight".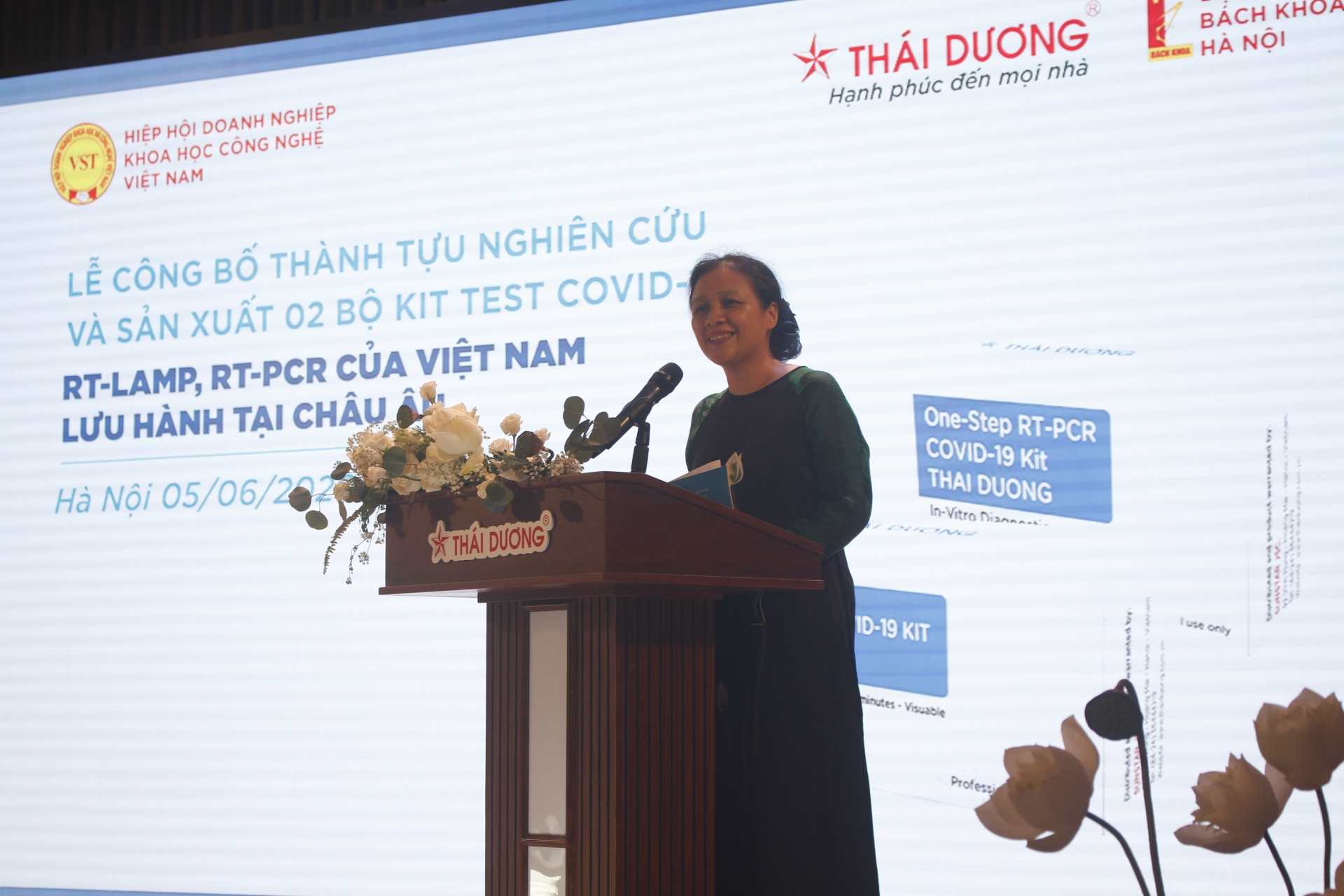 Mrs. Nguyen Phuong Nga, President of VUFO delivered a speech at the event
Mrs. Nguyen Phuong Nga, President of the Vietnam Union of Friendship Organizations (VUFO) shared that "It is very proud and happy for a very new achievement of Vietnam. This success is the outcome of huge efforts of the state, scientists, and enterprises in Vietnam. With these two kits that meet international standards and are allowed to use in Europe, we will again show the determination and willingness of Vietnam to collaborate with the international community to fight against the COVID - 19, which has not been controlled in the world".
Receiving the gifts of 1,000 test kits, Ms. Nguyen Phuong Nga - President of VUFO stressed: "I am particularly thankful to receive this special gift from Sao Thai Duong Company, which will be then donated to international friends. This is a very practical and meaningful gift, expressing the love, the spirit of sharing and supporting each other of Vietnamese people, especially in this difficult period of time. when the whole world is suffering with coronavirus. This is also strong support from Sao Thai Duong Company and The Vietnam Enterprise Science and Technology Association ( VST) in the duty of the external affairs, which will surely contribute to strengthening the friendship between Vietnamese people and the international community. VUFO will deliver this gift to the needy places in the soonest".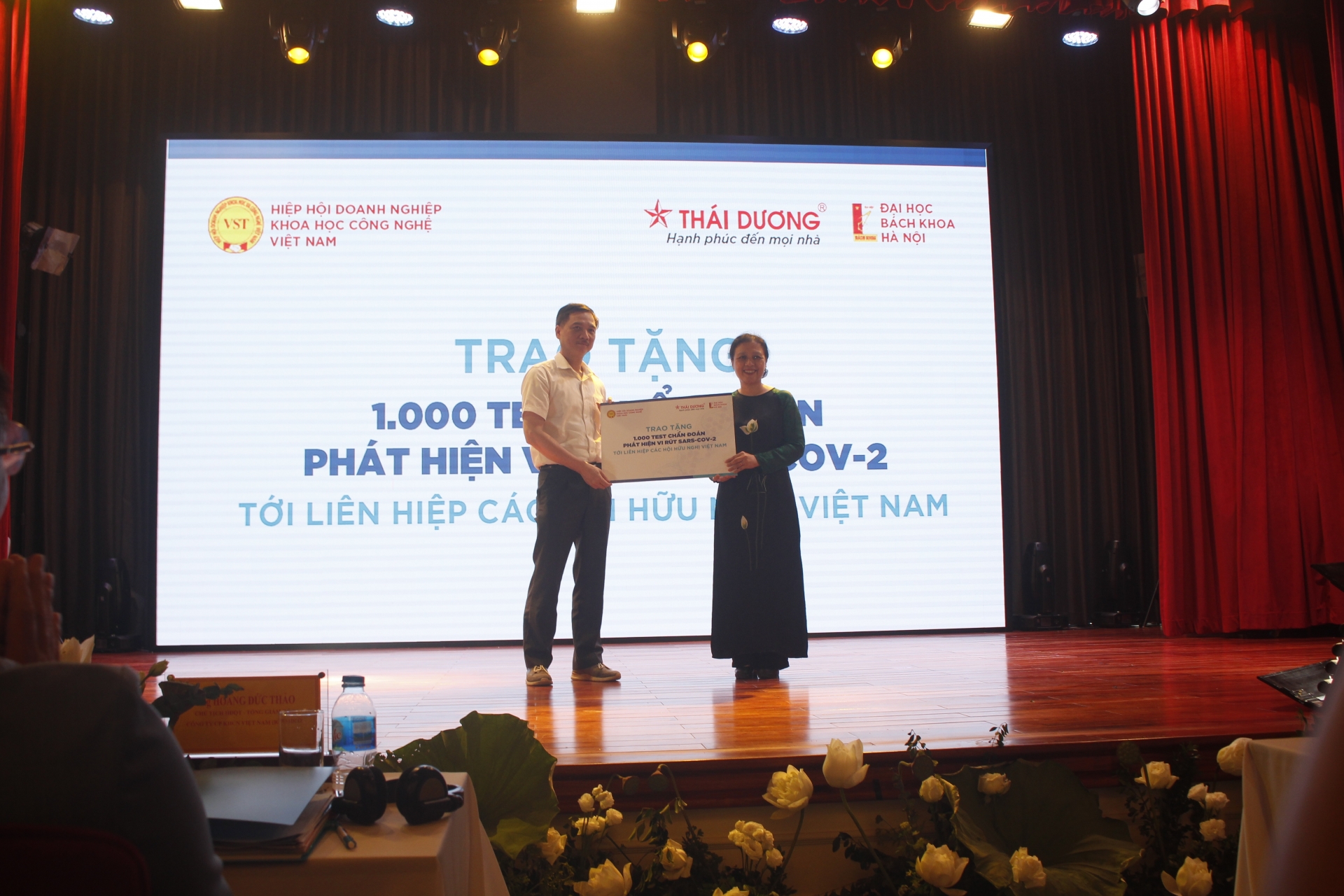 The kits are handed to VUFO by VST
The set kit One-step RT-PCR Covid-19 developed by researchers of the National Institution for Control of Vaccine and Biologicals was successfully undertaken pilot trial in February 2020. The VND480,000 (US$20.6) test kit produces results within hours.
Test kit RT-LAMP Covid-19 is isothermal amplification of nucleic acids - a simple process that rapidly and efficiently accumulates nucleic acid sequences at a constant temperature from 60 to 65 Celcius degree. RT-LAMP Covid-19 is a simple test kit that can be used in grass-root medical facilities.
Noticeably, sets of test kits help reducing analysis time to 30 minutes whereas it takes two hours if using real-time RT-PCR which also produces fake results.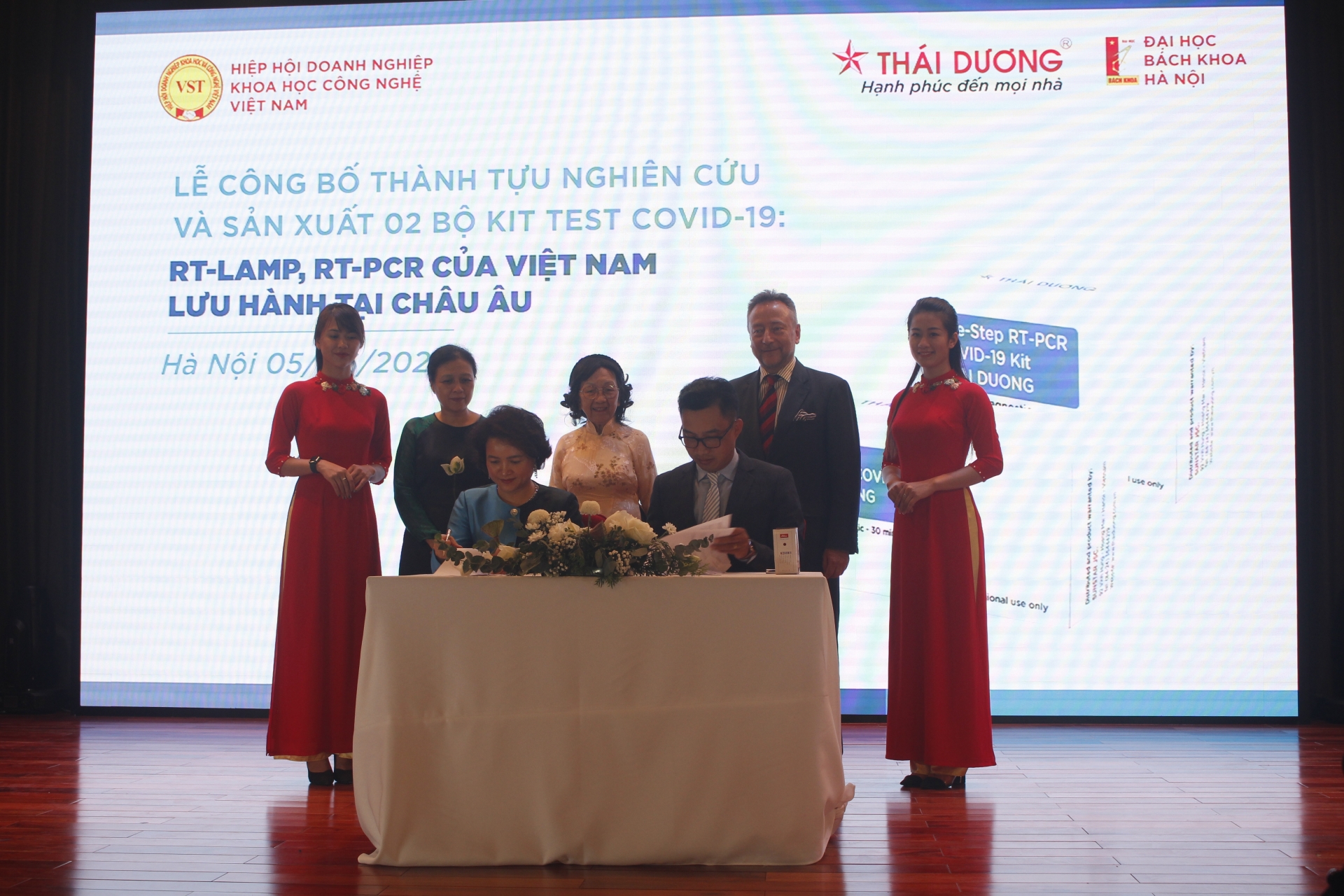 Signing the MoU for the distribution the kits to the markets of the EU