Vietnam repatriates over large numbers of citizens from UK
The Vietnam Airlines flight brought home a number of doctors and nurses who had traveled to the UK to accompany a British pilot, also repatriate over 340 Vietnamese citizens from the coronavirus-hit country.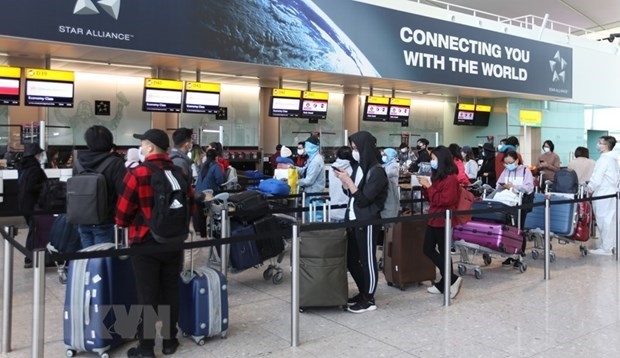 Vietnamese citizens waiting to check in a flight home at Heathrow airport. Photo: VNA
The repatriation flight was arranged with assistance from relevant Vietnamese agencies, the Vietnamese Embassy in the UK and agencies of the host country, according to the Ministry of Foreign Affairs.
The passengers included under-18 children, the elderly, the sick, pregnant women, students and workers with expired visa and labor contracts and stranded tourists.
According to The Guardian newspaper of the UK, as of July 13, the country has reported 289,603 cases of coronavirus and 44,819 attributed fatalities.
The Vietnamese Embassy in the UK sent officers to Heathrow airport in London to assist citizens in making check-in procedures and solve arising issues before boarding the flight, especially in regard to some Vietnamese students who had traveled from Ireland and were in transit in the UK.
Moreover, the flight brought home a number of doctors and nurses who had traveled to the UK to accompany a British pilot known as Patient 91 who had been the nation's most critically ill novel COVID-19 case, on his journey home.
He has boarded Vietnam Airlines' Boeing 787-10 Dreamliner in Hanoi at midnight July 11 on a special flight to his hometown. Three doctors have been deployed to accompany the patient throughout the journey.
Interestingly, this is the same aircraft the British pilot had flown before he was infected with the SARS-CoV-2 virus, VOV reported.
Foreign media outlets, including The Guardian, BBC, Daily Mail, Washington Post, Associated Press and USA Today, have published articles featuring the discharge of Patient 91 after spending more than two months on life support before returning home.
The US Centres for Disease Control (CDC) sent a letter of congratulation to Cho Ray hospital in Ho Chi Minh City where the patient was later given treatment.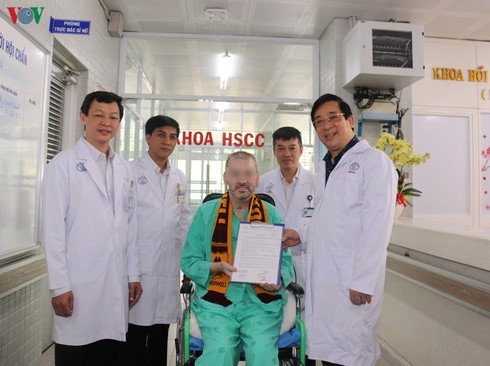 The British patient receives hospital discharge and SARS-CoV-2 negative certificates from health officials in HCM City. Source: VOV
Vietnam has recorded two more imported cases returning from Russia, bringing the country's total number of coronavirus cases to 372, the Ministry of Health said in its update on July 12.
Since the first COVID-19 patient was detected in January, Vietnam has now recorded 372 cases, of which 350 cases have fully recovered and have been discharged from hospital. No deaths have been reported.
According to MoH, Vietnam has gone through 87 days without new locally transmitted infections.
Vietnam Airlines have implemented a range of strict security, safety, and epidemiology measures during the flight to protect the health of passengers onboard whilst preventing the possible spread of the virus.
After landing at Van Don International Airport in the northern province of Quang Ninh, crew members and all passengers had their body temperature checked and went under quarantine as regulated.
The World Health Organization reported a record increase in global coronavirus cases on July 12, with the total rising by 230,370 in 24 hours. The biggest increases were recorded in the United States, Brazil, India and South Africa.
As the COVID-19 pandemic worsens globally, Prime Minister Nguyen Xuan Phuc has allowed about 14,000 more Vietnamese people abroad fly home, who mostly are children under 18, the elderly, the sick, laborers with expired contracts or no accommodation, students without dormitories, stranded tourists, and others of special cases.
The UK lifts quarantine requirements for 59 countries and territories including Vietnam.
Accordingly, from 10 July, travellers arriving from these countries and territories and who have not been to any other country or territory in the preceding 14 days, will not be required to self-isolate for 14 days.
Travellers would still need to submit their journeys and contact details within 48 hours before they are due to arrive in the UK.