Vietnam impressively ranks up in WIPO Global Innovation Index
WIPO Global Innovation Index (GII) 2020 points out that middle-income countries, especially in Asia record impressively step in global innovation figures.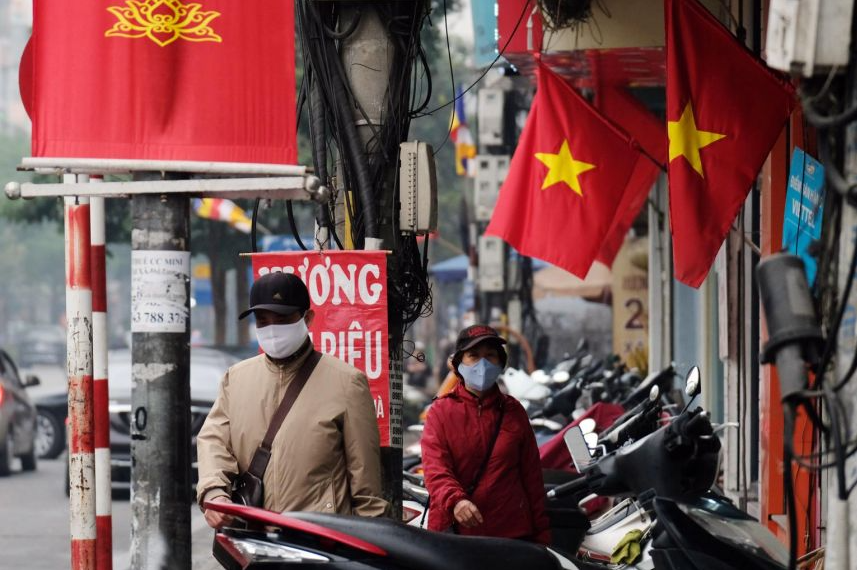 Photo: Straits Times
The coronavirus disease (COVID-19) pandemic has triggered an unprecedented global economic shutdown. At the time of finalizing the GII 2020 edition, restrictive measures are only starting to be relaxed, while fears of a possible "second wave" remain high.
The current crisis hit the innovation landscape at a time when innovation was flourishing. In 2018, research and development (R&D) spending grew by 5.2%, i.e., significantly faster than global GDP growth, after rebounding strongly from the financial crisis of 2008-2009. Venture capital (VC) and the use of the intellectual property (IP) were at an all-time high. In recent years, political determination to foster innovation has been strong, including in developing countries; this is a relatively new and promising trend toward democratizing innovation beyond a select number of top economies and clusters only.

Photo: WIPO
Fundamentally, the pandemic has not changed the fact that the potential for breakthrough technologies and innovation continues to abound. This year, the geography of innovation is continuing to shift, as evidenced by the GII rankings. Over the years, Viet Nam ranked second, just after China, in the economies with the most significant progress in their GII innovation ranking over time.
The top-performing economies in the GII are still almost exclusively from the high-income group. Vietnam ranks 42nd for the second consecutive year-it ranked 71st in 2014. Malaysia (33rd) is the second-most innovative middle-income economy. India (48th) and the Philippines (50th) make it to the top 50 for the first time. India now ranks 3rd among the lower-middle-income group.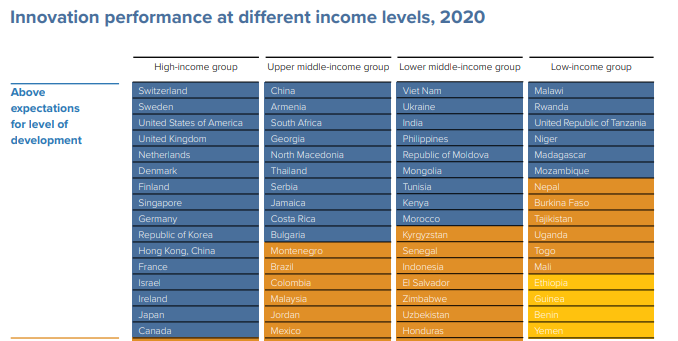 Photo: WIPO
The "GII Bubble Chart" continues to be the GII's most conspicuous means to identify innovation outperformance relative to an economy's level of development. Out of the 25 economies identified as outperformers, Vietnam together with India, Kenya, and Moldova holds the record of being innovation achievers for 10 consecutive years.
In conclusion, the GII said: "The GII 2020 edition—with its main conclusions on innovation developments generally, in the context of COVID-19 currently, and with respect to innovation finance specifically—makes a contribution to this effect. At this juncture, when we face an increase of unilateralism and nationalism, it is important to remember that most economies that have moved up the ranks in the GII over time have strongly benefited from their integration in global value chains and innovation networks. China, Viet Nam, India, and the Philippines are prime examples."
Photo: WIPO
The Global Innovation Index (GII) provides detailed metrics about the innovation performance of 131 countries and economies around the world. Its 80 indicators explore a broad vision of innovation, including political environment, education, infrastructure, and business sophistication. The "Global Innovation Index 2020: Who Will Finance Innovation?" is the result of a collaboration between Cornell University, INSEAD, and the World Intellectual Property Organization (WIPO) as co-publishers, and their Knowledge Partners.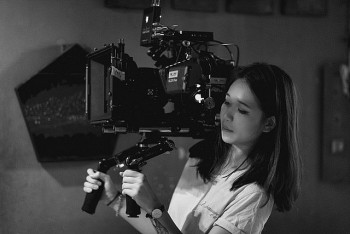 Viet's Home
A film project named 'If wood could cry, it would cry blood' by female director Nguyen Phan Linh Dan has been honoured at the 26th Busan International Film Festival 2021.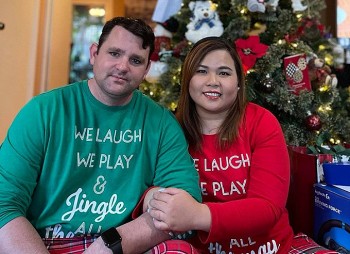 Expats in Vietnam
An American man has removed tattoos on his body so that his Vietnamese girlfriend doesn't feel shy when being with him.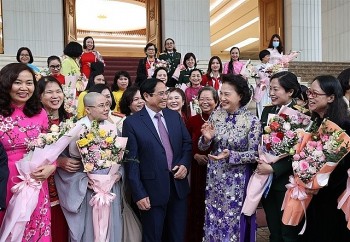 Focus
Prime Minister Pham Minh Chinh has affirmed that Vietnam has created an environment conducive to women's advancement in society.