Vietnam-Laos Relations Thriving amid Covid-19
Despite impacts of the Covid-19 pandemic, Vietnam and Laos have still maintained regular high-level visits and meetings in appropriate forms.
A welcome ceremony for President Nguyen Xuan Phuc and his wife during theỉ official friendship visit to Laos in August 2021. Photo: VNA
The bilateral political and diplomatic ties across a variety of fields are constantly being tightened, according to VOV.
This year has seen the two sides successfully organize many high-level visits by leaders, thereby yielding many important and substantive results, contributing to outlining orientations, and creating the greater impetus for stronger comprehensive cooperation moving forward.
The complicated spread of the Covid-19 pandemic in both countries has slowed down cooperation between the two sides in multiple fields. However, with the great efforts and determination of the two Parties, States, and peoples, both nations have continued to inherit and cultivate their special friendship.
Great friendship
The bilateral great friendship, special solidarity, and all-around co-operation has been constantly fostered by generations of leaders, from the first leaders of the two countries, such as President Ho Chi Minh, President Kaysone Phomvihane, and President Souphanuvong of Laos.
The relationship has been forged and tested through different periods, and years of hardship and sacrifices against the common enemy for national liberation and construction in the new era, along with cooperation aimed at dealing with global and regional challenges.
The two countries have maintained regular high-level visits and meetings in various forms, notably the trip to Vietnam by General Secretary and President of Laos Thongloun Sisoulith in late June, the trip to Laos by President Nguyen Xuan Phuc in August, and Lao National Assembly Speaker Saysomphone Phomvihane's Vietnam visit in early December.
During these meetings, senior leaders of both sides affirmed their determination to continue to develop the joint ties in a deeper, more effective, and more substantive manner.
Multi-faceted cooperation
This year marks the promotion of bilateral co-operation across fields, ranging from politics, defense, security, and foreign affairs to economy, culture, education, and science-technology.
Two-way trade turnover over the initial 11 months of the year reached over US$1.2 billion, marking an increase of more than 33% over the same period from last year, with this figure predicted to hit US$1.3 billion, an annual rise of 30%.
The two countries have also agreed to implement a range of new construction projects over the past year. For co-operation in education and human resource development, during the 2021-2022 academic year, the Vietnamese Government granted over 1,200 scholarships to Laotian officials and students.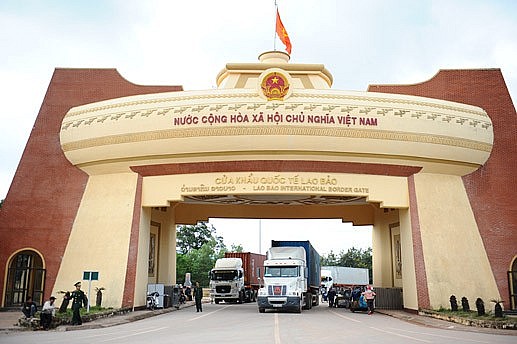 Lao Bao international border gate. Photo: VGP News
Furthermore, the two countries are making great efforts to effectively carry out a project on educational co-operation in the 2021-2030 period and a project on introducing products of the historical project of the special relationship between both sides in order to teach at schools in both countries.
These results, therefore, serve as the driving force for the continuous development of the bilateral relationship, contributing to the cause of national construction and defense in each country.
Year of Solidarity and Friendship 2022
2022 is an important year in the bilateral relationship. Leaders of the two countries agreed to jointly launch a broad array of activities to celebrate the 60th anniversary of the diplomatic relations which began back in 1962, and marks 45 years since the signing of the Treaty of Friendship and Cooperation in 1977.
Moving forward, especially during the Year of Solidarity and Friendship 2022, the two sides will continue to co-ordinate in carrying out specific tasks with a particular focus on strengthening political and diplomatic relations, ensuring national defense and security, and properly realizing the contents of joint statements and agreements as settled by senior leaders.
The two sides will also continue to intensify visit exchanges, whilst offering mutual support at regional and international forums with a view of reinforcing the great friendship, special solidarity, and comprehensive co-operation between the two countries in a practical and effective manner.
The celebratory activities will offer good opportunities for both sides to educate their young generation about the close-knit relations and continue to preserve and cultivate the special ties for the future.
31st annual border meeting
At the 31st annual Vietnam-Laos border meeting. Photo: VNA
On December 29, Deputy Minister of Foreign Affairs Nguyen Minh Vu and Lao Minister of Foreign Affairs Saleumxay Kommasith co-chaired the 31st annual Vietnam-Laos border meeting, VietnamPlus reported.
The two sides reviewed the implementation of border work in accordance with the Protocol on Vietnam–Laos borderline and border markers signed in 2016 since the previous meeting, and outlined orientations and key tasks in the coming time.
They underlined that although the implementation of the agreements and bilateral activities in border management faced various difficulties triggered by the Covid-19 pandemic, the two countries have exerted efforts to maintain stability and ensure security, thus facilitating the Covid-19 prevention and control work and cooperation for socio-economic development and cooperation in border localities.
The management and development of border gates have been paid attention, they affirmed.
Vietnam's Quang Nam province and Laos' Sekong province inaugurated the Nam Giang-Dac Ta Ooc international border gate pair in August, while some border gates were reopened to facilitate trade.
Such efforts have strengthened peace and stability in the countries' border areas, contributing to the great friendship, special solidarity and comprehensive cooperation between the two Parties, States, and people of Vietnam and Laos.
Both sides also agreed to continue coordinating in borderline and border marker management, and propose the Governments allow measures, particularly the application of 'vaccine passports', to create favorable conditions for travel between Vietnam and Laos amid the ongoing Covid-19 pandemic.
The two sides will issue and apply specific policies and mechanisms to attract businesses to channel investment in border areas, especially in the Lao side.
They consented to step up investment in border gate infrastructure and transport connectivity so as to promote trade; and bolster communications on border-related policies for soldiers and people of the countries./.